By Lambert Strether of Corrente.
Readers, I'm sorry I missed Water Cooler Monday. Perhaps it would be simplest to say I was trapped in a chrono-synclastic infundibulum.
TPP
Lori Wallach on the leaked investment chapter [Eyes on Trade (PDF)].
The tribunals would be empowered to order payment of unlimited government funds to foreign investors over TPP claims. Such

compensation orders would be based on the "expected future profits" a tribunal surmises that an investor would have earned in the absence of the public policy it is attacking as violating the substantive investor rights granted by the TPP.
Yikes. Sounds like it could be more profitable for corporations to sue governments than actually run real businesses that deliver value; like patent trolls. TPP trolls, anyone?
"A TPP international arbitration case … could even occur over something like a city's living wage law. If a foreign company said the living wage law affected its investment, the US could get dragged into an international tribunal." [The Stranger].
"The lead negotiator, Michael Froman, was a protege of former Treasury secretary Robert Rubin, and followed him from Treasury to Citibank" [Katrina vanden Heuvel, WaPo]. Oh great, another made man from the Rubino crime syndicate. What could go wrong?
"Japan's economy minister has called on US President Barack Obama to ramp up his lobbying of Democrats" [FT, "Japan calls on Obama to step up personal involvement in TPP deal"]. Paging Clive here, but I read this as Japan saying they've done all they can, and Obama doesn't have enough skin in the game.
"After winding up five days of working-level bilateral talks in Washington, Takeo Mori, ambassador for economic diplomacy, said at a news conference that although the number of issues that need to be resolved has evidently fell [sic], the two countries have not yet reached a stage where they can hold ministerial talks" [Japan Times]. Obama and Abe will hold a summit in DC on April 28.
Maine's Congressional members, of all parties, skeptical on fast track [NPR]. Which makes sense, given that Maine's industrial base has been gutted.
Fast track bill may be introduced after Easter recess [Wall Street Journal]. Meaning that people like you and me back in the district need to visit their local offices and give them an earful.
2016
O'Malley: "The presidency of the United States is not some crown to be passed between two families" [WaPo].
"Hillary Clinton also used iPad for e-mail" [USA Today]. So much for the "one device" talking point. In fact, all Clinton wants to do is do her communication on whatever device is handy at the time, whether personal or business or both. But when ordinary shlubs do that, they get in trouble or can even be fired. Not so Clinton. "Privilege" is private law, as Sam Vimes was wont to say. And that's what Clinton wants. To be fair, it's what all the elite want.
Elizabeth Warren: ""I think we need to give [Clinton] a chance to decide if she's going to run and to lay out what she wants to run on" [HuffPo]. "I'm not running and I'm not going to run." That's not a Sherman statement because she doesn't rule out a draft.
Warren in new forward to paperback version of A Fighting Chance: "Suddenly Dimon got quiet. He leaned back and slowly smiled. 'So hit me with a fine. We can afford it'" [HuffPo]. Yep. Paying off the cops is just a cost of doing business.
Communciations Workers of America and Greenpeace want Warren to run [Politico].
"Who did Gov. Mike Pence invite to a private ceremony at his Statehouse office for the signing of a controversial "religious freedom" bill? His office won't say. The event was closed to the public and the press" [Indianapolis Star].
Why Indiana's "Freedom to Hate" law is different [The Atlantic].
Pence tries to put the toothpaste back in the tube [FOX].
The Hill
Elites getting enthusiastic about a VAT tax [Wall Street Journal, "Tax Proposals Would Move U.S. Closer to Global Norm"]. Last I checked, taxing the rich up the wazoo was a real vote-getter, so it sure is odd that's not on the agenda.
Foreclosures
Barney Frank: In the interim before the inaugural, Obama decided was OK to help auto companies, just not homeowners [David Dayen, Salon]. This was the period when the big topic of discussion among Obama's "progressive" supporters was whether Obama's heart was in the right place.
"However, in a growing number of foreclosure cases filed when home prices collapsed during the financial crisis, lenders may never be able to seize the homes because the state statutes of limitations have been exceeded, according to interviews with housing lawyers and a review of state and federal court decisions.[Boston Globe]. "[T]ens of thousands of homeowners who have missed more than five years of mortgage payments, many of them clustered in states like Florida, New Jersey, and New York, where lenders must get judges to sign off on foreclosures."
Stats Watch
Redbook, week of March 28, 2015: Chain-store sales firm, cool weather holds down spring sales, but a strong March seen relative to February [Bloomberg].
Consumer confidence, March 2015: Consumer confidence jumps (although not spending) but based entirely on expectations, and not current conditions [Bloomberg].
S&P Case-Shiller HPI, January 2015: Prices firming, but year-on-year still soft. All regions show gains [Bloomberg]. "[T]his report nevertheless extends a sudden run of favorable readings out of the housing sector which appears to be gaining momentum."
Emanueldämmerung
Chicago Tribune poll: Rahm doubles his head [Politico].
"The Chicago Housing Authority (CHA) plans to court private investment in as much as half of its public-housing units through the Rental Assistance Demonstration (RAD)" [In These Times]. "RAD arrives in the city as the CHA is already under fire for failing to spend millions of dollars earmarked for affordable housing while amassing at least $440 million in cash reserves, even as more than 280,000 people sit on its housing waitlist."
Black Injustice Tipping Point
"Investigator: Inmates forced like gladiators to fight as deputies took bets" [CNN]. Sick puppies.
Health Care
"'Many patients are simply accepting pure cash pricing for procedures — as if they had no insurance coverage at all — because it is cheaper than if they were to stick with their narrow-network options,' Dr. Kamrava said." [Business Insurance]. All anecdotal. Heaven forfend the administration should collect numbers.
Water
"[P]recipitation variability is more strongly associated with the outbreak of conflict, operationalized as militarized interstate disputes – threats, displays of or uses of military force, short of war – than mean levels of rainfall" [New Security Beat]. Conflict investment advisors take note.
"One promising solution is to create water markets that allow people to buy and sell rights to use water" [Op-Ed, New York Times]. Because markets. And not if water should be treated as a common pool resource.
"About a third of the country's households have simply refused to register with the newly created state authority that is to run the country's water service, though the deadline for doing so has now been extended three times. In some neighborhoods, workers trying to install meters have been met with angry mobs and forced to flee" [New York Times]. Because markets.
A group from Detroit joined the massive Dublin protest in December against water fees that drew close to 100,000 people [Irish Central].
Class Warfare
"Well-off homeowners are more responsible for rising inequality than top-hatted capitalists" [The Economist].
The Corinthian 100 student loan recipients go on repayment strike, face default [McClatchy].
Amazon testing delivery drones at secret Canadian location [Guardian].
News of the Wired
* * *
Readers, feel free to contact me with (a) links, and even better (b) sources I should curate regularly, and (c) to find out how to send me images of plants. Vegetables are fine! Fungi are deemed to be honorary plants! See the previous Water Cooler (with plant) here. And here's today's plant, the first of "I Wish It Were Spring!" week three: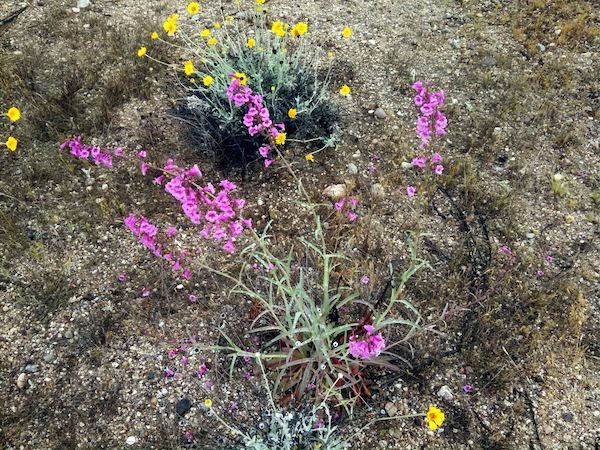 Desert Marigold near Tucson. I keep forgetting that in some places, it is spring. Lucky for you [snarl].
If you enjoy Water Cooler, please consider tipping and click the hat. It's the heating season!
Talk amongst yourselves!