By Lambert Strether of Corrente.
2016
Clinton Email
DiFi: "I think that she needs to step up and come out and state exactly what the situation is" [New York Times]. "From this point on, the silence is going to hurt her."

Gail Sheehy, [New York Daily News].

She has reacted to a series of legitimate press reports raising serious questions about her use of a private email server to conduct the public's business while secretary of state by going into bunker stance and attacking the messengers. We have seen this face on Hillary too often before, and it is deeply unappealing. … The obvious challenger, the one with a real opportunity to sharpen Hillary's candidacy if not derail it entirely, is Elizabeth Warren.

I don't get the logic of this idea. Warren is supposed to run, but not supposed to win? What's in it for Warren?

John Wonderlich, policy director for Sunlight Foundation in [Vice]:

I keep imaging if a cabinet secretary said they were going to have their own office, their own security, and hired a private public relations firm to do all their work. No one would accept that and that's what Clinton set up for her information.

This is such an easy call to make. I don't understand why Democrats have such a hard time making it.

"Governors and other elected officials routinely use private emails, laptops and cellphones for government business, a popular strategy that sometimes helps them avoid public scrutiny of their actions" [McClatchy]. "Just because everybody does it, doesn't make it right!"
Hillary Clinton pens introduction to No Ceilings, a report on the status of women and girls produced by the The Bill and Melinda Gates Foundation, the Bill, Hillary and Chelsea Clinton Foundation, The Economist Intelligence Unit, WORLD Policy Analysis Center at UCLA [AP].
"Watching [Bill] Clinton in Miami, it was clear how his political skills carried him from Hope, Arkansas, to the White House" [CNN]. Like they said in Arkansas, he can shake hands with you while pissing down your leg. Which is why the only way to take him on is with policy. Hang NAFTA and Glass-Steagall round his neck like the stinking albatrosses that they are.
O'Malley on immigration in New Hampshire [Bloomberg]. Kudos:
O'MALLEY: I actually think that when you have people living in the shadows of our society, people living off the books and not being fully recognized citizens, that you create a couple of things that are bad for wages. You create an underground economy. It's bad for our security–you create an underground society. And that's bad for our country. One cannot point to an extended period of time in American history when newly arriving groups of immigrants did anything but make our country stronger."
Lose the "I actually think that…"
Iowa Ag Summit, Republicans on ethanol: Support: Huckabee, Santorum; Qualified support: Walker, Bush; Against: Cruz, Pataki (?!), Mumblespeak: Perry [Des Moines Register].
Iowa Ag Summit, Immigration: Bush, Pataki (?!), Graham for legal protections [Wall Street Journal]. And everybody is for sphincter border control.
Establishment
Liberty City Charter School, co-founded in 1996 by Jebbie, is "a ruin baking in the Miami sun" [New York Times]. Well, I hope at least somebody made a profit!

"42% of Republican primary voters say they couldn't see themselves supporting Mr. Bush for the GOP presidential nomination, compared with 49% who said they could" [Wall Street Journal].

Perry goes on a hiring spree [CNN].
Principled Insurgents
Walker in Iowa, of Dubuque: "I've ridden [US Highway 151] many a time on my Harley" [Bloomberg].
Clown Car
Lindsay Graham on email: "I don't e-mail. I've tried not to have a system where I can just say the first dumb thing that comes to my mind…I've had a chance to kind of carve out some time for myself not responding to every 15-second crisis."

I'm not going to say "He's got my vote!" over this, but it's actually a sane viewpoint.

Chris Christie's campaign bid: "One to forget" [Bloomberg]. Obama's hug of death….
Jonathon Chait's exit interview with White House advisor Dan Pfeiffer [New York Magazine].
The original premise of Obama's first presidential campaign was that he could reason with Republicans—or else, by staking out obviously reasonable stances, force them to moderate or be exposed as extreme and unyielding. It took years [until 2011] for the White House to conclude that this was false.
Craazyman summed up the debacle that has been the Obama administration like this: "[Obama] had a bridge to cross in 2009 and he stayed home." And if Chait and Pfeiffer are to be believed, now we know why. Now does anybody see why when I read the words "Democratic strategist" I want to put my fist through the screen? Obama wanted to "reason with" the party that impeached Bill Clinton over a b******! When Gingrich, Livingston, and Hyde — the leadership — were all adulterers themselves! And they followed that up with the Florida felon's list and Bush v. Gore, and arguably stole election 2004! For starters.
States with voting restrictions since 2010 [The Nation].
The Hill
Megan Brennan, new US Postmaster: The Post Office "embrace a faster pace of change" and "constantly improve our competitiveness" [WaPo]. A Post Office Bank would do both. No word on that.
Herd on the Street
Apple Watch launches, though won't be on sale 'til next year. Nothing on battery life [Verge]. And if a power supply overheats when it's right on your wrist, that would be bad.
Apple considers special show rooms for the Apple Watches meant for conspicuous consumption [WaPo]. "I'm not going to buy a watch if I can't stand on carpet." With a genius polishing your shoes with the oil on their nose, no doubt.
"Speculators pared their net-long position in West Texas Intermediate crude by 19 percent in the week ended March 3" [Bloomberg].
LeNovo is still shipping "notebooks pre-installed with dangerous, HTTPS-breaking [Superfish] adware" [Ars Technica]. Two weeks after the debacle broke.
Health Care
Jonathon Gruber messed up his Vermont billing [CNBC]. Sleazy to the end.
Emanueldämmerung
Secret Rahm memo to Clinton: Step up attack on immigrants. Be Nixon on crime [Fred Klonsky].
Rahm to remove 50 red light cameras, offer first-time offenders the option of classes instead of fines [DNAinfo]. So Rahm reacts to pressure? Good. Keep at it. Interestingly, Rahm calls the classes a "mulligan," "a golf term that refers to a second chance after a one-time blunder." So Rahm still has time — and money — to play golf?
Rahm "plans to use black ministers, elected officials and business leaders to carry his message" to Black voters [Chicago Sun-Times]. Well, the black misleadership class has done well for him in the past, so….
"[T]he promised presidential library rings hollow with voters who backed Mr. Garcia on the south and west sides. They want a trauma center, not a tourist attraction" [Wall Street Journal]. I bet they'd like to keep their park intact, too, instead of slicing 20 acres off it for the so-called library.
Black Injustice Tipping Point
Ferguson is by no means the only St Louis, Missouri, or American city to treat law enforcement as a profit center, and to target blacks [New York Times].
Protests and march over police shooting in Bridgeton, New Jersey [Newark Star-Ledger]. I wonder how many otherwise unknown protests and marches there are. Presumably, the DHS knows…
James Fallows thinks Obama's Selma speech was great [Atlantic]. "When the political passions of our time have passed, people of all parties will quote this speech as expressing an essence of our American creed." Which is a less positive statement than one might think, on close examination.
Long-form atmospheric piece on Selma [Los Angeles Times].
Democrats make Loretta Lynch hold-up an issue in Selma [Politico]. Great optics.
Class Warfare
"…unusually low share of productivity gains going to workers…" [Bloomberg]. Since 2009 — surprise! — and Bloomberg only notices now?
"The Winning Streak Continues" [The Economist]. More triumphalism.
Only a few [industries] have seen employment rise beyond its pre-recession high. Excluding energy, says Mr Blitz, the American economy is shifting to one that really focuses on servicing "those with high enough incomes to afford more leisure time and the increasing number of people retiring—whose time is all about leisure and visiting doctors."
So, "winning streak for whom?" one might well ask.
Miserable wages and working conditions for adjuncts [WaPo]. But administrators are living off the fat of the land, so it's even.
News of the Wired
* * *
Readers, feel free to contact me with (a) links, and even better (b) sources I should curate regularly, and (c) to find out how to send me images of plants. Vegetables are fine! Fungi are deemed to be honorary plants! See the previous Water Cooler (with plant) here. And here's today's plant, the first of, er, Miscellaneous Week* (JN):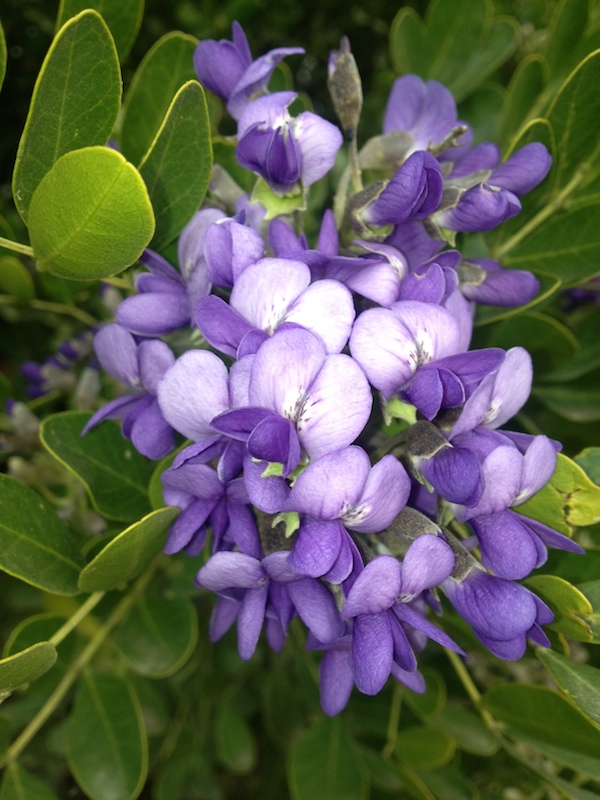 From Zilker Park Austin.
If you enjoy Water Cooler, please consider tipping and click the hat. It's the heating season!
* My concept was "Humorous Vegetables Week" (a Terry Pratchett reference) but the only submission was, well, not suitable for a family blog. So maybe that was not such a good idea. I wonder what would have been better?
Talk amongst yourselves!