By Lambert Strether of Corrente.
Obama's speech at Selma was, of course, great (transcript, as delivered). But then Obama's speeches always are, aren't they? However, I'm not here to speak of soaring rhetoric.
Nor I will not speak of Obama's miserable performance ("depraved indifference") in delivering concrete material benefits to his putative constituency of the black community, an important component for his succesfully achieved policy goal of outdoing Bush for the redistribution of wealth, upward.
Nor will I speak of the malign presence of that avatar of the Black misleadership class, Al Sharpton, at Obama's shoulder (and the concomitant absence, so far as I know, of any of today's organizers and protesters).
Unfortunately, I'm a bit pressed temporally, so I won't be able to get out the Magic Markers for this one. Instead, I want to put the speech into its political context, and then point to a few of Obama's more important omissions and evasions.
None of this should be construed as a dismissal of the importance of the civil rights struggle, past and present. As Faulkner said, "The past is not dead; it is not even past," and this was amply born out by a billboard, within sight of the Edmund Pettus bridge where Obama gave the speech, honoring KKK founder Nathan Bedford Forrest (motto: "Keep the skeer on 'em." Indeed). What follows relies heavily on Ferguson activist @BrownBlaze, who tweeted the speech with a suitably jaundiced eye.
Political Context
As NC readers know, the Democrats held a post mortem for the 2014 mid-terms debacle. Detail here, but this was one key policy recommendation:
The report also said the party should develop a more aggressive legislative and legal strategy to push back on Republican efforts that some view as making voting more difficult. In the name of fighting alleged voter fraud, Republicans have required identification to vote and in some cases put what Democrats view as unfair limits on what counts as ID.
Obama says:
[OBAMA:] How can that be? The Voting Rights Act was one of the crowning achievements of our democracy, the result of Republican and Democratic efforts. (Applause.) President Reagan signed its renewal when he was in office. President George W. Bush signed its renewal when he was in office. (Applause.) One hundred members of Congress have come here today to honor people who were willing to die for the right to protect it. If we want to honor this day, let that hundred go back to Washington and gather four hundred more, and together, pledge to make it their mission to restore that law this year. That's how we honor those on this bridge. (Applause.)
So, Obama is really translating a Democratic National Committee task force bullet point into soaring rhetoric. (Not that there's anything wrong with that, and I'm all for making it as easy as possible to vote; I'm just pointing out that Obama's speech serves a partisan purpose.)
Anyhow, what Obama has to say is all well and good, but it's about 15 years too late. Remember the Florida felons list? That's the list two of Jebbie's Secretaries of State used to purge almost 60,000 mostly Black and mostly Democratic voters from the rolls based on bad data. Of course, what with George W. and Laura Bush actually marching in Selma, and Jebbie running for President himself, it would have been churlish for Obama to mention this. Thing is, the Democrats have only started serious work protecting people's right to vote now? WTF? The only explanation I can think of is that Democrats hate their own base so much that trying to expand it is literally their last choice, the option they'll choose only when all else has failed.
Omissions and evasions
1) Women and Girls
Obama said:
[OBAMA:] Together, we can address unfair sentencing and overcrowded prisons, and the stunted circumstances that rob too many of the chance to become
"Boys" but, apparently, not "girls." "Men," but not (Tanisha Anderson) "women"; "dads" but not (Miriam Carey) "moms".[1]
2) LBGTQ
Obama said:
[OBAMA:] … John Lewis, Joseph Lowery, Hosea Williams, Amelia Boynton, Diane Nash, Ralph Abernathy, C.T. Vivian, Andrew Young, Fred Shuttlesworth, Dr. Martin Luther King, Jr., and so many others ….
(This passage is discussed at [2] as well.) I'm not seeing Bayard Rustin in that list… Just like the movie. That seems odd:
A mentor to a young King, Rustin advised him on the use of nonviolent resistance. He helped organize the Montgomery Bus Boycott in 1955. He was in the forefront with Ella Baker in 1957 along with King in organizing the Southern Christian Leadership Conference. He participated in the Freedom Rides of the early 60s. Rustin also was the one who spearheaded the 1963 March on Washington for Jobs and Freedom, where King gave his renowned "I Have A Dream" speech. In fact, Rustin was the executive director of the historic march.
Would Obama not have mentioned Rustin because Rustin was gay?
Obama also said:
"We are capable of bearing a great burden," James Baldwin once wrote, "once we discover that the burden is reality and arrive where reality is."
Would it really have been too much for Obama to mention that Baldwin was gay?
3) The Changing Parameters of Protest
Ronald J. Krotoszynski Jr. asks in the Los Angeles Times:
Could a march like Selma happen today?
To answer, we need to understand the historical background:
The 52-mile march down U.S. Highway 80 on March 21-25 required more than determination; it required a court order.

After a four-day hearing, in a groundbreaking ruling [U.S. District Judge Frank M. Johnson, Jr.] held that the march could proceed. The protest march on Bloody Sunday, he wrote, represented the exercise of the rights of assembly, petition and speech. "It seems basic to our constitutional principles that the extent of the right to assemble, demonstrate, and march peaceably along the highways and streets in an orderly manner should be commensurate with the enormity of the wrongs that are being protested and petitioned against," he reasoned. "This is particularly true when the usual, basic and constitutionally-provided means of protesting in our American way — voting — have been deprived."
And sadly, the answer is "no."
Today, it would be impossible to obtain a federal court order permitting a five-day protest march on a 52-mile stretch of a major U.S. highway. Under contemporary legal doctrine, the Selma protests would have ended March 8, 1965.
And so it's richly ironic that Obama — who, as President, orchestrated a 17-city paramilitary crackdown of the Occupy protests — is celebrating an event that his administration's policies would prevent, court order or not.
4) Slaves as Labor, not Slaves as Cargo
Obama said:
We're the immigrants who stowed away on ships to reach these shores, the huddled masses yearning to breathe free …. That's how we came to be. (Applause.)

We're the slaves who built the White House and the economy of the South.
Here we have a subtle omission, but perhaps the most important in the speech: Obama speaks of slave labor, but omits the Middle Passage.
Obviously, this omits the genocidal aspect of the slave trade, since millions died on the slave ships. Less obviously, but much more critically, it enables Obama to say "built…. the economy of the South" with a straight face (presumably; I wasn't there to see if he winked). Because slavery didn't just build the economy of the South; it built the economy of the entire United States. "Southern slaves on Yankee bottoms, as the saying goes; meaning (as Dark Bargain: Slavery, Profits, and the Struggle for the Constitution shows us; the Constitutional sausage was made by South slaveholders and Yankee shipping interests in their own mutual interests. So, hanging slavery on the South only is just wrong. Pre-Civil War Manhattan depended on the slave trade itself; on slave-grown cotton for manufacturing; Manhattan was also a center of cotton trading and finance.[3] All this is airbrushed away in Obama's formulation. And omitting the Middle Passage is especially egregious because Obama does mention "immigrants who stowed away on ships." So why not mention slaves who were brought here, chained, on ships, and then sold?
5) Reparations
And speaking of "building the economy" of the slave power:
Haven't heard Obama's speech yet. Did he say something related to reparations? Seriously asking. No sarcasm.

— Ta-Nehisi Coates (@tanehisicoates) March 7, 2015
Too easy, right? You'd think that an article this cogent (Ta-Nahesi Coates, "The Case for Reparations") would at least merit one of Obama's casual dismissals.[2]
6) American Exceptionalism
Obama said:
That's what it means to love[4] America. That's what it means to believe in America. That's what it means when we say America is .

For we were born of change. We broke the old aristocracies, declaring ourselves entitled not by bloodline, but endowed by our Creator with certain inalienable rights. We secure our rights and responsibilities through a system of self-government, of and by and for the people. That's why we argue and fight with so much passion and conviction — because we know our efforts matter. We know America is what we make of it.

Look at our history.
I know we're dealing with America's civic religion, here, but this formulation, too, is false to history, or at least not true in the way that Obama wishes it to be. From a review of James McPherson's 'The War That Forged a Nation:
As McPherson makes clear, one obvious way the United States stands out is that while many other countries also abolished slavery in the 19th century, .

Another distinction: "civil wars tend to attract foreign intervention." McPherson notes that, thanks in large measure to , ours "proved an exception" to that rule.

Our Civil War also wrought unique transformational effects on the United States. It didn't just save the Union and free the slaves; it also .

In antebellum America, McPherson writes, "two distinct socioeconomic and cultural systems competed for dominance": free-labor capitalism in the North and slave-based plantation agriculture in the South. The North's triumph meant that the former model would prevail, leading to the "explosive growth of industrial capitalism" in post-Civil War America, which in a very real sense "forged the framework of modern America."

This, he further observes, "was not an unmixed blessing." While wealth grew enormously, "Labor strife and exploitation of workers became endemic" as well.
Indeed. And as I pointed out in the beginning, the process of wealth extraction has, in another bitter irony, only been accelerated under Obama.
Conclusion
From Obama's peroration:
[OBAMA:] Because Selma shows us that America is not the project of any one person. Because the single-most powerful word in our democracy is the word "We." "We The People." "We Shall Overcome." "Yes We Can." [Oh, puh-leeze. What a tell.] (Applause.) That word is owned by no one. It belongs to everyone. Oh, what a glorious task we are given, to continually try to improve this great nation of ours.
In the punchline of the old joke, "Whaddaya mean, we?" Not, apparently, girls or women (unless their names are already in the history books). Not, apparently, LBGTQ people. Not, apparently, people who support reparations for slavery. Certainly not the "free labor" of the victorious North, then or now. And apparently "we" are no longer "the South," which is made to appear solely responsible for this great evil. And the profits from the slave trade, who made them, and where they went, are airbrushed from the story entirely.
Still, it was a great speech. They always are.
NOTES
[1] To be fair, we also have these passages:
And because of men like John Lewis, Joseph Lowery, Hosea Williams, Amelia Boynton, Diane Nash, Ralph Abernathy, C.T. Vivian, Andrew Young, Fred Shuttlesworth, Dr. Martin Luther King, Jr., and so many others,
And this:
We are Sojourner Truth and Fannie Lou Hamer, women who could do as much as any man and then some. And we're Susan B. Anthony, who shook the system until the law reflected that truth. That is our character.
All well and good, but suggesting either that (1) only women who make their names in the movement, unlike Miriam Carey or Tanisha Anderson, are worthy of mention, or (2) Obama's speechwriters did a piss poor job of editing beyond their boilerplate, and/or (3) Obama can't improvise worth a darn; how hard would it have been to improvise "girls and boys"? The transcript is "as delivered," so he didn't.
[2] I'm not sure I endorse the concept, but so far as I can tell, the bottom line for reparations isn't anything like, say, the F-35 boondoggle.
[3] Finance was essential to the slave trade from the beginning. On the voyage to Guinea, the slavers didn't put chests of gold in their holds and then haul them out when it came time to buy slaves; no, the whole matter was settled by an exchange of notes held back in financial centers like Liverpool. And one the voyage across the Atlantic to the slave markets, the slaves were insured, again by the financial centers. Turner's famous painting The Slave Ship depicts a real historical incident where slaves were thrown overboard for the insurance money (since the slaveship captain had treated them so poorly they were damaged goods).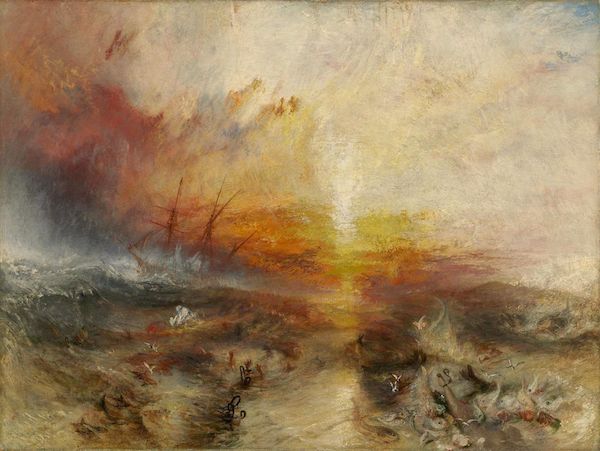 This, too, is airbrushed away in Obama's formulation. One might wonder if he has some motive for protecting the financial centers.
[4] Best antidote to rhetoric like this, from (of all people) Agatha Christie in Dumb Witness:
I love Theresa Arundell and I love her for what she is and not for any imagined qualities.
"[N]ot for any imagined qualities…."