By Lambert Strether of Corrente.
TPP
Anti-TPP Letter to the Editor from Chemung County (New York) Democratic chair [Syracuse Post-Standard]. Worth reading in its entirety, as an example of what to do and what not to do. On what not to do: Portions of the letter were lifted from this Op-Ed in the Denver Post, so Democrats, please stop sucking, because you're supposed to be the smart ones. On what to do: Concise, hard-hitting, with an argument for more coverage in the opening and the closing. Importantly, it opens with a news hook, an anti-TPP protest in a Congressman's office (also an implicit threat, no?). Personally, I emphasize TPP's destruction of sovereignty, because that to me is a clear basis for a left/right strange bedfellows alliance, but the writer hits on talking points appropriate to his constituency.
"The case for or against TPP overwhelmingly hinges on whether you think getting Asian countries to adopt US-style intellectual property rules counts as a win for the United States of America" [Matthew Yglesias, Vox]. No, it doesn't. The case for or against the TPP hinges overwhelmingly on whether you think allowing corporations to extract compensation for "lost profits" from sovereign states on the basis of "settlements" in so-called courts those corporations set up, and where the citizens of those states have no voice, counts as a win for the United States of America. And you define the "United States of America" as a flag of convenience for a class of post- or trans-national squillionaires, I suppose it does. Can do better, Matty. Can do better.
Handy list of sell-out environmental organizations [Whitehouse.gov, "Environmental Advocates Point to the Trans-Pacific Partnership as a Historic Opportunity to Protect Our Oceans, Forests, and Wildlife"].
Australia: "Last year the country's top judge gave a speech about the potential impact of investor clauses, saying, 'My concern is with the judicial system and its authority and finality of its decisions …'. In Chief Justice French's words, investor clauses raise, '… potentially serious questions about the interaction of such an award with the domestic judicial system which may be called upon to enforce it'" [ABC Australia]. Which is hair-on-fire language for a judge.
Canada: "Two weeks ago an international arbitration panel awarded a US company compensation for the way its quarry project in Canada was 'unfairly' rejected on environmental and planning grounds" [Australian Financial Review]. Well, well. So that means Irving OIl (Canada) could use TPP as a club to jam the East-West Corridor right through Maine's heart. Right?
Freedom to Hate
"Pence might be on more solid ground to argue the similarity of the Illinois and Indiana laws if he had not repeatedly ducked questions about whether the law will permit discrimination against gays and lesbians" [WaPo].
Pence "religious freedom" debate said to expose rift in Republican party, though Bush, Perry, and Cruz support Pence [AP].
A second bill in Arkansas [WaPo]. This "Religious Freedom Restoration" nonsense makes my back teeth itch. We've got NBC premiering a Life-of-Christ mini-series on Easter Sunday, and Christianists need their freedom restored? (Yes, I know I'm buying into identity politics divide-and-conquer here, and on multiple grounds, but my teeth itch. I'd welcome advice from readers about how to deal with these issues in a more constructive way than remaining silent.)
2016
Establishment
Jeb Bush quietly endorses Arkansas nonprofit "Right to Rise Policy Solutions," which can collect unlimited amounts of money in secret in Bush's name [WaPo]. I love "Right to Rise," because it's all about bringing in the bread, right? Early squillionaire money is like yeast, I guess…
Clown Car
Fiorina – who said on Sunday there was a "higher than 90% chance" she would run – is uniquely positioned to attack Hillary Clinton in a way others cannot [US News].
The Hill
Durbin and Schumer feuding over power-sharing deal [Politico]. What unlovely choices.
Volatility
Readers, normally, fluctuations like this aren't really newsworthy, except to traders I would think. Plus it's not October. But the coverage of last nights "futures lurch" seemed more skittish than usual, so I included it. If there are sources, especially blogs, I should be tracking, do let me know.
Futures drop: Dow: -0.1%; S&P 500: -0.2%; Nasdaq: -0.1% [USA Today]. Then there was the 1.3% drop and near recovery last night [Yahoo Finance]. Seems odd, in a robust economy like this one.
Stocks tumble at opening: The S&P 500 SPX fell 16 points, or 0.8%; Dow Jones Industrial Average dropped 160 points, or 0.9%; Nasdaq Composite fell 48 points. [Market Watch].
Herd on the Street
Penguin employees get $750 bonus, so book business is not dying [Wall Street Journal].
Stats Watch
ADP employment report, March 2015: "189,000 in March vs the Econoday consensus of 230,000 and vs a consensus of 240,000 for private payroll growth in Friday's employment report" [Bloomberg]. "[T]oday's data are unusually soft relative to expectations."
MBA Mortgage applications, week of March 27, 2015: "Signs of life are suddenly appearing across a host of housing data including mortgage activity which is up sharply for a second straight week" [Bloomberg]. Maybe it's the weather? Kidding!
Motor Vehicle sales, March 2015: "Sales of total light motor vehicles proved soft" [Bloomberg].
PMI Manufacturing, March 2015: "The strength in production, underpinned by a rise in backlog orders, is giving a lift to employment. On the negative side are export orders underscoring the FOMC's concerns over weak foreign demand and the negative effects of the strong dollar" [Bloomberg]. "This report has been running hotter than other anecdotal reports and much hotter than hard government data."
ISM Manufacturing index, March 2015: "Weak exports are pulling down ISM's manufacturing sample whose index fell 1.4 points to 51.5. This is below what was a soft consensus forecast" [Bloomberg]. "This report points to another month of trouble for government data on manufacturing, a sector that, due to weak foreign demand, appears to be pulling down the nation's growth."
Construction spending, March 2015: "[U]nexpectedly dipped" [Bloomberg].
Black Injustice Tipping Point
Ferguson advertises for new Municipal judge, "Familiarity in quality of life cases" a requirement [City of Ferguson]. Which is unfortunate, because "quality of life" offenses were one of the methods used to turn law enforcement into a revenue raising tool (via).
"In-custody, non-shooting" death of Phillip White to be investigated in Vineland New Jersey [Daily Journal]. Seems the arrest was… ugly [NBC].
Health Care
Although many more people now have insurance, the heatlh care system has not been overwhelmed with new patients. However, that's the historic pattern [Sarah Kliff, Vox].
"Several Republican governors likely to run for president have secured hundreds millions of dollars under Obamacare while working to dismantle the healthcare law, according to a Reuters review of federal spending records" [Reuters]. "He was a proud and independent man who was opposed to unemployment insurance and never hesitated to whine, whimper, wheedle and extort for as much as he could get from whomever he could" (Catch 22).
Class Warfare
If you read the sports pages, you'd think everybody wanted to be "blue collar" [Guardian (CB)]. Even the people in the luxury skyboxes.
We'll always have Versailles [New York Times].
A homage to Versailles on NYC's Fifth Avenue http://t.co/1422sOx9Mp pic.twitter.com/zdsi5kyTNz

— The New York Times (@nytimes) April 1, 2015
Study from the Hamilton Project and Larry Summers concludes that more education won't fix economic inequality [New York Times]. And it loads people up with the debt. So, what's to fix?
"The most lucrative, prestigious jobs tend to cause the greatest harm. The most useful workers tend to be paid least and treated worst" [George Monbiot, Guardian]. "Kleptoremuneration"!
First, Republican candidate Tom Schweich killed himself. Then his staffer, Spence Jackson, did [St Louis Post Dispatch]. Here's his suicide note:
I can't take being unemployed again
News of the Wired
"No April Fools: The top 10 IT fiascos of all time" [ZDNet]. In a sane political economy, we'd be worried about basic engineering instead of terror terror terror.
Link my debit card to Facebook? [Economist]. What could go wrong?
The history of Moore's law [IEEE Spectrum]. Here's the investment opportunity/dystopian future part:

Going forward, innovations in semiconductors will continue, but they won't systematically lower transistor costs. Instead, progress will be defined by new forms of integration: gathering together disparate capabilities on a single chip to lower the system cost. … Rather, we're talking about uniting the non-logic functions that have historically stayed separate from our silicon chips.


[W]e could see an explosion of creative applications: bionic appendages that operate seamlessly with the body, smartphones that can sniff the air or test the water, tiny sensors that can power themselves from ambient energy sources, and a host of other applications we have yet to imagine.

Shades of Theodorus Nitz!
* * *
Readers, feel free to contact me with (a) links, and even better (b) sources I should curate regularly, and (c) to find out how to send me images of plants. Vegetables are fine! Fungi are deemed to be honorary plants! See the previous Water Cooler (with plant) here. And here's today's plant, the second of "I Wish It Were Spring!" week three (furzy mouse)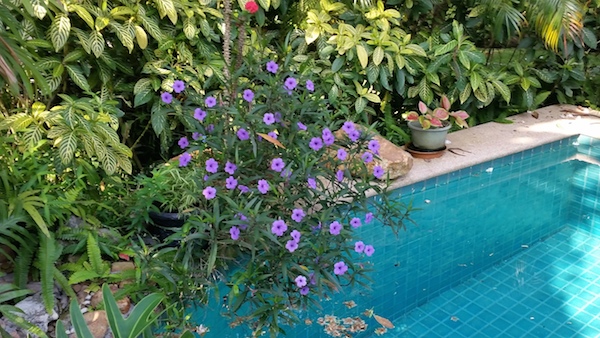 Because what is spring without a pool?
If you enjoy Water Cooler, please consider tipping and click the hat. It's the heating season!
Talk amongst yourselves!