By Lambert Strether of Corrente.
TPP
Clinton on trade at Iowa roundtable [CBS]:
[CLINTON:  The bill] hasn't been fully negotiated yet, so I don't know what the final provisions are yet. But it needs to be very strong on health and environmental rules. It needs to try to address either directly or indirectly the manipulation of currency by countries that would be our trading partners because that's been a big source of us not being as competitive as we want to be."
I didn't know the Clinton campaign had a Department of How Stupid Do They Think We Are?, but apparently these talking points were issued by them. If Fast Track is passed, TPP can't be amended, and so the "final provisions" are all take it or leave it. Currency manipulation is a separate bill, now, thanks to Schumer. And why keep the text of the bill secret from voters, if TPP is all that great?
"[I]f the current TPP talks end up in failure, [ASEAN] 12 partners will probably have another chance to negotiate the trade deal after the 2016 U.S. presidential election" [Nikkei Asian Review]. Need an Asia hand to interpret this, but it reads like "What's the rush?" to me.
More on TPP and paying for TAA with Medicare cuts [David Dayen, Salon]. This "fundamentally breaks that promise — already, before any vote on the Trans-Pacific Partnership or any other fast-tracked agreement — that no laws will change in this new era of corporate-friendly 'free trade.'"
Krugman on TPP: "If you see a lot of lies, or at least misdirection, being used to sell a policy you should be very, very concerned about said policy" [Paul Krugman, New York Times].
2016
The S.S. Clinton
Josh Marshall: "Given the range of organizations and international entities who give to the Foundation, it's virtually impossible that there wouldn't be various potential conflicts of interest with the power Hillary Clinton wielded in her appointive role" [Talking Points Memo]. And now comes the quid pro quo card: " …. all of these claims of pay-for-play deals are merely claims based on circumstantial evidence and are in their nature unfalsifiable." Smoothly played but, as NC readers know, quid pro quo is not how the framers understood corruption. Nor should you, the voter.

"The Clinton Foundation will disclose this week a list of nearly 100 paid speeches given by Bill, Hillary and Chelsea Clinton dating to 2002 for which the foundation accepted the fees" [Wall Street Journal, "More Clinton Fees to Be Disclosed"]. Read through the article for the ridiculously complex rules for what must, or may, be disclosed.

"Democratic presidential candidate Hillary Clinton received nearly a quarter of a million dollars last year for a speaking engagement on behalf of Academic Partnerships, a for-profit education company in which Jeb Bush held an ownership stake and on whose board he served" [The Intercept]. Cozy!

"Hillary Clinton's litmus test for Supreme Court nominees: a pledge to overturn Citizens United" [WaPo].

$50K Clinton contributor Stephanpolous gets seven-year $105 million contract, while newsroom layoffs continue [New York Post]. Something wrong with this picture?
Republican Establishment
Rick Perry to throw his hat in the ring June 4 s-n-o-o-o-r-e [Dallas News].

Iraq: "It was obvious even back then, to anyone who made the faintest effort to look at the situation honestly, that the invasion was doomed, wrong, and a joke" [Matt Taibbi, Rolling Stone]. A very sick joke. And a lot of the same people piling on Jebbie now were cheerleaders back then. As the Howler reminds us: The press is never the story.
Republican Principled Insurgents
Scott Walker eyes official announcement date after state budget in June [Politico]. Not going to wait for the indictments? (Wisconsin's economic performance).

Walkers dilemma in August's Iowa straw poll, which Bush blew off [Politico]. If Iowa evangelicals restore Huckabee's secondary political virginity, Walker could lose, adn that would be bad.

Rubio on Iraq: "The world is a better place because Saddam is not there" [Bloomberg].

"State records say that Gov. Scott Walker received a copy of a 2011 letter pledging a $500,000 taxpayer loan to a now-defunct Milwaukee construction company headed by a Walker donor, seemingly contradicting statements by the governor and his aides that he was not aware of the award" [Journal-Sentinel].
Republican Clown Car
Lindsey Graham throws his hat in the ring [The Atlantic]. Post-Senatorial job security, not that there's anything wrong with that.
Nader on long shot candidates [Los Angeles Times].
"Why the GOP Can't Get No Satisfaction" [Jim Messina, Politico]. Obama operative strutting and preening over electing Cameron. Attaboy.
Why candidates are coy about declaring: Money [CNN]. Film at 11.
"The GOP is dying off — literally" [Politico].
Stats Watch
Housing starts, April 2015: "There were hardly any indications before today, but the spring housing surge is here. Today's housing starts & permits report is one of the very strongest on record" [Bloomberg]. "Today's report is an eye-opener and will re-establish expectations for building strength in housing, a sector held down badly in the first quarter by severe weather." MacBride: "So much for the doom and gloom" [Calculated Risk]. Mosler: Back to 2008 levels (chart) [Mosler Economics].
Redbook, week of May 16, 2015: "Redbook's sample continues to report soft year-on-year rates of same-store sales growth"  [Bloomberg].
"LA area Port Traffic Decreased in April [Calculated Risk]. And "the distortions [sic] from the labor issues are behind us."
New thumbtack index shows small business sentiment rising 5 points over the last year (map) [EconIntersect].
Safe European Home
"Tens of thousands of Macedonians have turned out to support Nikola Gruevski's government in a counter-protest after opposition supporters marched through the capital Skopje a day earlier to demand the prime minister's resignation" [Al Jazeera]. Victoria Nuland at work again?
Big Brother is Watching You Watch
Snowden via video hookup to Stanford: "you have to have a greater commitment to justice than a fear of the law" [Truthdig].
Corruption
The [16 Cleveland police] officers' lack of cooperation led [Cuyahoga County Prosecutor Timothy] McGinty to ask the court to treat them as hostile witnesses. In court documents, he likened their silence to the actions of an "organized crime syndicate" [Los Angeles Times]. Omerta, or "the blue wall of silence."
Police State
Obama's Executive Order on police militarization is — and I know this will surprise you — less than it seems [VICE]. "Technically this doesn't demilitarize police departments, but what it does its put more brakes on the funding streams that support those," Sam Bieler, a research associate in the Justice Policy Center at the Urban Institute." In fact, the only military gear on Obama's list not currently banned is the bayonet [Washington Examiner].
Under Obama's Police Data Initiative, 21 police departments have elected to share information about police use of force, pedestrian and vehicle stops, officer-involved shootings, police behavior, and other data sets on law enforcement activity [City Lab]. One wonders whether the data sets will include residential segration and the funding sources of municipal governments. I'm guessing no. "Data science," forsooth.
Bratton wants 450 cops for his counter-terrorism unit on ISIS threat [Alternet]. Not the budget threat?
Black Injustice Tipping Point
"Why Are White Gang Members Destroying Their Own Community?" [HuffPo]. White leaders call for calm….
"Whites Surprisingly Chill About Becoming Minority" [Bloomberg]. Does anybody really say "chill" anymore?
St Louis cop who whacked Von Derrit Myers not charged [St Louis Today].
California Supreme Court tosses claim against S.F. police who whacked mentally disabled woman [Los Angeles Times].
Class Warfare
"The power of stupid ideas" [Working Class Studies]. In this case, the "three generations that have never worked" idea.
Headline: "Students Veto Campos' Moratorium Plan and Win Big" [MissionLocal].
At a Civics Day hosted by the non-profit organization Generation Citizen high school students from John O'Connell High School argued that David Campos' push for a housing moratorium in the Mission was all wrong. And it won them an award.

The winning students were from at John O'Connell.  Along with 17 other classrooms across San Francisco and the East Bay they presented their semester-long work on community issues to a panel of judges that included representatives from Google, Wells Fargo Bank, Chevron Corp., Microsoft, and the San Francisco Education Fund. The event was held at the Women's Building.
Our plan worked!
"The majority of the 28 percent of retired middle-class boomers who either are working or have worked for pay during retirement say it's not because finances forced them to but because they wanted to work" [Bloomberg]. "Work has a way of being much more fun when you do it out of choice, rather than need." Indeed! Labor as a gift is always better than labor as rental or labor as being owned.
News of the Wired
* * *
Readers, feel free to contact me with (a) links, and even better (b) sources I should curate regularly, and (c) to find out how to send me images of plants. Vegetables are fine! Fungi are deemed to be honorary plants! See the previous Water Cooler (with plant) here. And here's today's plant, the second of Gardens, Week Two: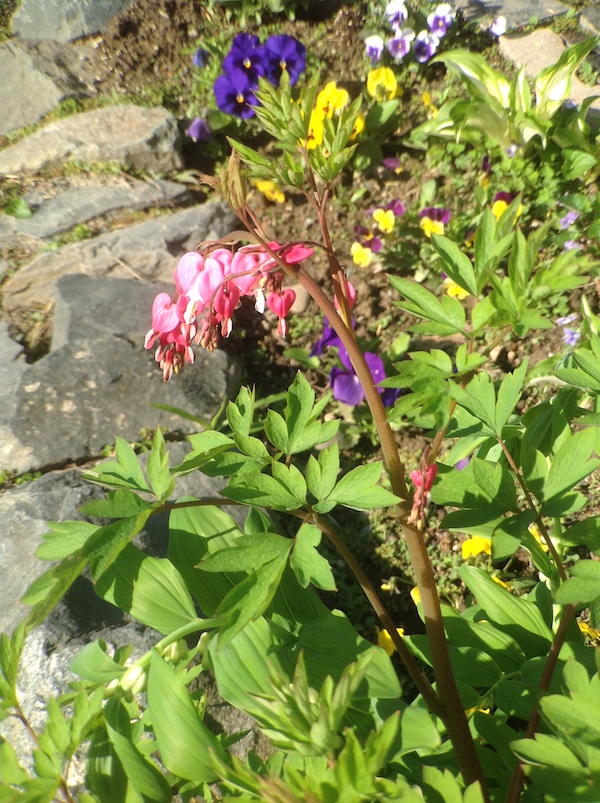 Readers, please send me more pictures of your gardens; it's occurred to me that I started asking too early, before people really got rolling outside.
If you enjoy Water Cooler, please consider tipping and click the hat. It's the soil, seeds, flats, and planting season! Also too Godaddy!
(Readers will notice that I have, at long last, improved the hat!)