By Lambert Strether of Corrente.
TPP/TTIP/TiSA
"Supporting NAFTA Was the Kiss of Death for Democrats — Why Dems Should Think Twice About Voting for TPP" [Down with Tyranny]. IBGYBG….
Democrat traitors in the House: Letsgetitdone puts on his yellow waders and calls out Don Beyer ($-VA; contact, 202-225-4376), Kathleen Rice ($-NY; contact, 202-225-5516, and Jim Hines ($-CT, contact, 202-225-5541).
"After repeatedly hedging their bets on whether the big vote would take place this week, Republican leaders announced the Friday vote at a closed-door caucus meeting" today [The Hill].
Democrats at their own closed-door meeting complained to Pelosi that the Medicare deal wasn't good enough because GOP leaders plan to attach the fix to a separate trade "preferences" bill.

Since the bill granting trade preferences to African countries is not considered must-pass legislation, that means there is "no guarantee of enactment," said a source in the meeting.

Boehner and Republicans don't want the fix attached to either fast-track or Trade Adjustment Assistance (TAA), the bill granting aid to displaced workers. Doing so would alter the Senate-passed package, requiring another vote by the upper chamber.
Here is the Hill's whip list; scroll down, it was updated today [The Hill].
"The obscure legal system that lets corporations sue countries" [Guardian]. Good long-form on the history of ISDS.
"Grass roots opposition to TTiP in Germany" [New York Times]. Note the organizing infrastructure and tactics.
2016
Sanders
Sanders as Burlington mayor and his support of the punk scene [Vice]. Moral: Government can be a force for good.

New Hamphshire polling: "The reason Sanders's numbers are so close to where Obama was in 2007 is because in 2007 Clinton and Obama both also had to contend with the reasonably strong candidacy of former senator John Edwards" [WaPo].
The S.S. Clinton
Editorial: "It is not hard to vote in Ohio. It is especially easy" [Columbus Dispatch]. IMNSHO, it's good that Clinton focuses on voting rights. It would be even better if she also focused on voting systems, and it's especially curious that she does not, given Jebbie's attempted election theft in Florida 2000, as well as the shenanigans in Ohio 2004.
O'Malley's zero-tolerance policing [Baltimore Sun].
Republican Establishment
Jebbie's SuperPAC unlikely to hit $100 million goal by end of June [WaPo]. What a shame!
Republican Principled Insurgents
"It's easy enough to mock a particular media portrayal of Marco Rubio, cast as — shock! — someone who has struggled with his finances yet owns a luxury boat" [The Note]. It certainly is! I mean, I don't own a boat!
Is the conservative brand tanking? [Will Bunch, Philadelphia Inquirer]. "The 'liberal comeback' is more a function of millions of Americans running away from — or, in the case of young people, shunning — the conservative brand." Alas, branding and policy outcomes are not the same thing, as Obama passing the Heritage Foundations health care plan shows.
"At this point, the campaign is largely just performance art for the press and the donor class" [Politico]. In other words, the elite that runs the country, along with their key enablers, are managing their portfolios for next year.
Herd on the Street
"A deer in headlights is stuck in place and too overwhelmed to act. So too are stock investors as they await action from the Federal Reserve" [Bloomberg]. S&P trades in lowest range in  twenty years.
Stats Watch
Portuguese 10-year bonds: "GSPT10YR:IND Yield 2.975; down 0.022; change: 0.73% [Bloomberg]. Mr. Market's mild worries on contagion decrease. Motion is progress, and motion there has been.
MBA Mortgage Applications, week of June 5, 2015: "Calendar factors tied to the Memorial Day weekend made for outsized gains in mortgage bankers' data"  [Bloomberg]. "Cash sales are down sharply, so it seems that buyers have shifted from all cash to borrowing" [Mosler Economics].
Quarterly Services Survey, Q1 2015:  "Year-on-year, information revenue rose 3.0 percent in the first quarter" [Bloomberg].
"In its annual teen summer job outlook, Challenger estimated that the summer employment market would be stronger for this year's teen job seekers" [Econintersect].
Black Injustice Tipping Point
Ta-Nehisi Coates on "the bias of now" [Medium]. Important insight with wide application.
High cash bail: " His family tried to hold bake sales to raise money for his bond, Mr. Wheeler said, but the police came asking if they had a license to sell food" [New York Times].
"[S]olitary confinement creates more violence both inside and outside prison walls"  [Scientific American]. In other words, solitary confinement is a self-licking ice cream cone that tortures people. It's a two-fer! Make that primarily black people. It's a three-fer!
Big Brother Is Watching You Watch
"Justice Department Subpoenas Reason.com To Unmask Commenters" [Buzzfeed]. You're bringing down the curve, dudes!
"Why Google is a political matter" [The Monthly]. Interview with Julian Assange.
Amtrak Crash
Amtrak engineer wasn't using his phone [Bloomberg]. So far, we've had a first world-quality investigation on this, which we can still do with aircraft, although no longer with food (no doubt because the elite take the Acela and sometimes even non-private planes, but don't eat prole food. Or else they have food tasters).
"Feds order trains to have more crew after fatal Amtrak derailment" [USA Today]. Wait, what? More workers? What's wrong with these people?
"The [Federal Railroad Administration] advisory focused mainly on controlling excessive train speeds, which are believed to be the primary cause of the Amtrak derailment last month in Philadelphia and a Metro-North crash in the Bronx in 2013" [New York Times]. 
Climate Change
"It seems perverse, but a load of evidence shows this to be true—our grey matter is set up to instruct us to cope with the here-and-now, and flails in the face of long, uncertain future threats" [Vice].
Avian Flu (H5N2)
"Why Aren't We More Scared of the Bird Flu?" [New Yorker]. Michael T. Osterholm, director of the Center for Infectious Disease Research and Policy: "We used to think we had outstanding biosecurity in poultry. But, except for the outbreak in 1983, which was stopped quickly, we have never been tested before."
The avian influenza virus, as it is constituted now, does not attach to receptors in the human throat. But many of the largest hog-production facilities in the United States are located in the upper Midwest—often on the same farms where millions of chickens and turkeys are bred. That makes for a particularly ominous convergence: epidemiologists consider pigs an ideal mixing vessel for human and animal flu viruses, because the receptors on their respiratory cells are similar to ours.
Headline: "7 maps and charts that explain the looming egg crisis everyone will soon be talking about" [WaPo]. Classic new media, or perhaps I should say "neomedia": 1) Misdirection to price and consumption, as opposed to, say, an epidemic, because markets (ergo, go die); 2) False authority from infographics driven by selective data; 3) Assumed identity of interest between writer and reader (Whaddaya mean, "everyone"? 4) Clickbait headline. No doubt there's more.
Squillionaire Wretched Excess Watch
"John Kerry Saves $500,000 By Docking 76-Foot Luxury Yacht Out Of State" [HuffPo]. In state taxes, mind you, so that really does take away from spending. And Kerry and Rubio both have boat trouble now. How cozy.
Class Warfare
"[T]he monetary authorities have superpowers which environmental regulators could only dream of" [Edward Hadas, Reuters]. "[I]t may take a few hard lessons for investors and speculators to learn about the new world order (!)." Indeed! Of course, investors and speculators never have to learn the really hard lessons themselves, eh?
The productivity puzzle [WaPo]. This is rich:
Or it could be that the financial sector, still damaged by the crisis, is having problems helping the most efficient firms get loans.
As if the banks were even in that business anymore.
"Walmart maintains a steady drumbeat of anti-union information at its more than 4,000 U.S. stores, requiring new hires—there are hundreds of thousands each year—to watch a video that derides organized labor" [The Atlantic]. Very good roundup of Walmart dynasty's congealed decades of union h8te. One might wonder if workers getting squat from a generation's-worth of productivity gains has anything to do with the productivity puzzle, here and in the UK, the neo-liberal heartless land.
"Executives from the finance industry represent a growing percentage of board members, and an even larger percentage of board leadership, at some of America's most influential nonprofits" [Stanford Social Innovation Review].
"Remarkably, it costs less to house, educate, and employ homeless people than it does to maintain their status quo on the streets" [Fast Co-exist]. Another self-licking ice-cream cone.
News of the Wired
* * *
Readers, feel free to contact me with (a) links, and even better (b) sources I should curate regularly, and (c) to find out how to send me images of plants. Vegetables are fine! Fungi are deemed to be honorary plants! See the previous Water Cooler (with plant) here. And here's today's plant, the third of Gardens, Week Six: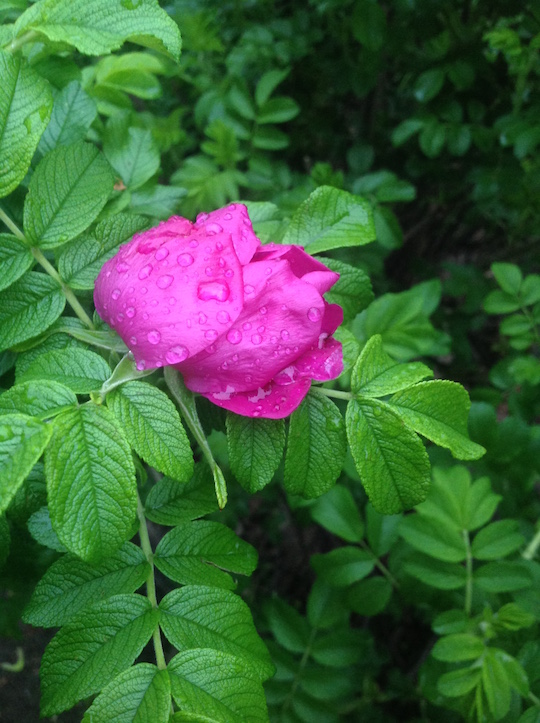 Beach roses are invasive. So sue me!
Readers, the weekend's discussion for "Open Thread on Water" was terrific. So many interesting projects! Please, send me pictures of your projects, at least if plants are involved, and when aren't they? If only of maple twirlers in gutters!
If you enjoy Water Cooler, please consider tipping and click the hat. I need to keep my server up! And pay the plumber….
(Readers will notice that I have, at long last, improved the hat!)