Yves here. While many of us have been busy with other things (watching the toxic trade deal fight, or the seemingly neverending Greece negotiations, or maybe taking a break to visit graduations), the oil industry keeps hoping that its long-predicted rally in the second half is about to kick in. Arthur Berman sounds a cautionary note.
By Arthur Berman, a petroleum geologist with 36 years of oil and gas industry experience. He is an expert on U.S. shale plays and is currently consulting for several E&P companies and capital groups in the energy sector. Berman is an associate editor of the American Association of Petroleum Geologists Bulletin, and was a managing editor and frequent contributor to theoildrum.com. He is a Director of the Association for the Study of Peak Oil, and has served on the boards of directors of The Houston Geological Society and The Society of Independent Professional Earth Scientists. Originally published at OilPrice
The U.S. rig count dropped by 10 rigs this week after only falling by 3 last week. No doubt some analysts will say that this increase is somehow important and that a return to normal–i.e., high oil prices–is around the corner.
Well, don't get too excited because the rig count that matters–the horizontal Bakken, Eagle Ford and Permian plays–only fell by 2 rigs after not falling last week. This is a normal fluctuation when oil is $100/barrel.


Table 1. Rig count summary by play through May 29, 2015. Source: Baker Hughes & Labyrinth Consulting Services, Inc.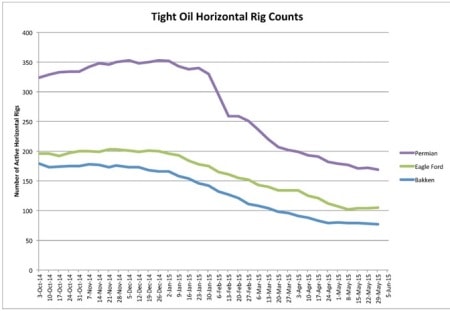 (click image to enlarge)
The rig count decline is effectively over as shown below in Figure 1.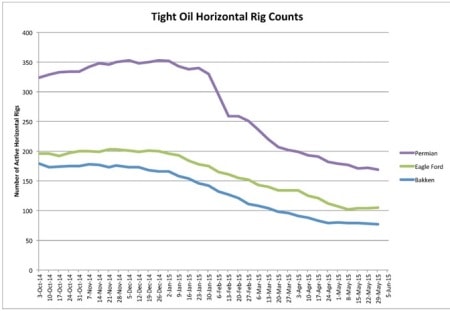 Figure 1. Tight oil horizontal rig counts. Source: Baker Hughes & Labyrinth Consulting Services, Inc.
(click image to enlarge)
Production has fallen and will fall more but rig count is the wrong measure at this time. The real measure is capital given to U.S. tight oil companies. And there seems to be plenty of really stupid capital that thinks that investing now means buying low. Good luck with that once oil prices fall.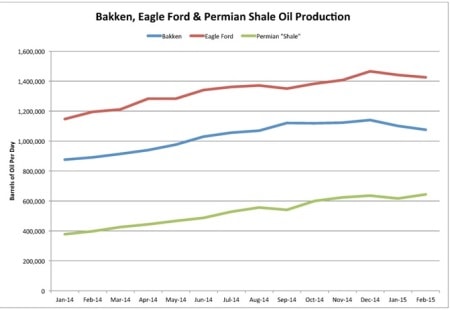 Figure 2. Bakken, Eagle Ford and Permian "Shale" tight oil production. Source: Drilling Info & Labyrinth Consulting Services, Inc.
(click image to enlarge)
There have been a steady stream of articles championing the ingenuity of U.S. tight oil producers for figuring out how to maintain production with fewer rigs. It doesn't strike me as ingenious to produce more oil at low prices that ensure losing money.
OPEC will meet on Friday (June 5, 2015) and most doubt that a production cut will result. If that is the outcome, expect the recent rally in oil prices to end badly. If producers cared about their investors and shareholders, they would be slashing production by shutting in wells. That might help oil prices rebound sooner and then, they could sell the oil at a profit instead of losing money while celebrating their own ingenuity.