By Lambert Strether of Corrente.
Patient readers, this will be a little light; it took me longer than I expected to struggle in and then out of my yellow waders for Covered California.
2016
O'Malley
"Marylanders don't like O'Malley, so why would the rest of America?" [FiveThirtyEight].
Sanders
Sanders draws crowds in Iowa City [Press Citizen]. 400 caucus goers. And 300 in Kensett (pop. 240) [New York Times]. I'm told that Kucinich drew in the tens.

Chris Cilizza: "Do you feel the Bernie-mentum?" [WaPo]. Headline: "Bernie Sanders: So hot right now." They'll start pulling the wings off this particular fly soon, but for now, enjoy.

"The Sanders Trap" [Jacobin].

"Bernie Sanders can't win: Why the press loves to hate underdogs" [Columbia Journalism Review].
The S.S. Clinton
"The former secretary of state plans to kick off the heavy-rhetoric stage of her campaign on June 13. I can't say where or what time because the senior officials wouldn't say" [CNBC]. Hilarious visit to the Brooklyn Bunker.

Clinton has locked up a lot of super-delegates [CNN]. Now if only they stay locked.
Republican Principled Insurgents
Rubio won't compete in the Iowa straw poll either [Politico]. Fading influence of the Christian Right; Christians declining as a percentage of the population is part of that, but the Bush administration was explicitly Christian, and they drove the country into a ditch; it's hard to think that didn't have an influence here.

"[Rand Paul] gets to notch a win this morning after his blockade in the Senate halted the renewal of the National Security Agency's authority to collect telephone metadata, starting at midnight last night" [NBC]. Better than a slap in the belly with a wet fish, I suppose. But see today's Links for the kayfabe; not complete, but definitely there. Optimistically, this is baby steps.

Walker maintains 7-point lead in Iowa [Des Moines Register]. He stomps Democrats!
Republican Clown Car
"Unmarried" Lindsay Graham throw his talking head retirement plan into the ring [ABC]. Graham: "Simply put, radical Islam is running wild. They are large, they are rich, they're entrenched. As president I will make them small, poor and on the run."

Huckabee: "We are criminalizing Christianity in this country. We cannot stand by silently" [Los Angeles Times]. So when has Huckabee ever been silent about anything?
How and why the Republicans could steal the Democrats clothes on immigration [Wall Street Journal].  "Democrats' inability to implement immigration reform presents Republicans with an opportunity." Na ga happen. Converting obstruction into policy isn't a Republican specialite de maison.
19 candidates seems like rather a lot:
Lol. When it's 19 candidates and counting, face recognition is important. pic.twitter.com/TZpaJsWHcW

— TC (@tchopstl) May 30, 2015
However, the real reason this tweet fascinates me is that I can't find it via Google (in, I grant you, only a few minutes searching). I notice it's on a cell. Could I have encountered my first case of material from a walled garden visible nowhere on the web? Readers?
The Hill
"Did Hastert break the law?" [Politico].
"How Dennis Hastert made a fortune in land deals" [WaPo]. The real scandal.
Stats Watch
Readers, we're going to begin tracking European bond spreads in peripheral countries, since increasing yields are a good indicator that Mr. Market fears contagion from a Greek default. An alert reader helpfully provided this chart: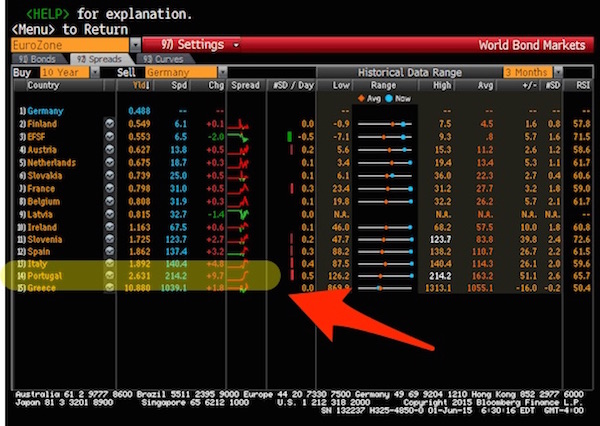 Portugal, a peripheral country, is highlighted: It's yield is already high, and note the upward squiggle. (Greece is already insanely high, and didn't jump so much.) Mr. Market isn't having a sad, but his mood isn't exactly sunny, either. Similar dynamics appeared in the previous crisis.
Personal Income and Outlays, April 2015: "The consumer started off the second quarter slowly, putting income into savings and not spending"  [Bloomberg]. "Consumer spending was unchanged in April with deep declines in spending on both durable and nondurable goods, down 0.7 percent and down 0.5 percent respectively, offset by another incremental increase in spending on services of plus 0.2 percent." "This noisy data series came in mixed. The data this month showed relatively strong income growth, but consumers decided not to spend it" [Econinterect]. Weak start to Q2.
PMI Manufacturing Index, May 2015: "Growth in new orders is the weakest in 16 months" because strong dollar, no exports [Bloomberg]. "Employment is this report continues to run at a much stronger pace than actual manufacturing employment which is flat."
ISM Manufacturing Index, May 2015:  "[M]odestly positive" [Bloomberg]. "Contraction in export orders has been pulling down total orders in many reports but exports were unchanged at 50.0 in this report." "This is the 29th month of expansion" (chart) [Econintersect].
Construction Spending, April 2015: "[S]howing life" [Bloomberg]. "The gain here is no surprise and follows April's big surge in housing starts & permits." Growth decelerates month-on-month but is up year-on-year [Econintersect]. "The deceleration was due to a 1.5% additional growth in the previous month (backward revision)."
Class Warfare
Chicago armored truck workers fired for participating in Fight for 15 drive. [In These Times].
News of the Wired
Coding explained in 25 comics [Medium].

 

Fun!
Woman throws away Apple I computer worth $200,000 [Japan Times].
R.I.P. Dave Sweet, inventor of the modern foam surfboard [Los Angles Times].
In praise of Shadows [Brain Pickings].
Dow pesticide still used in California, despite scientists' warnings [Reveal].
Skiddo, the movie: A trailer [YouTube].
Cops shoot pastor while trying to rescue him from floodwaters [Daily Mail].
Chris Hedges: Karl Marx was right [Truthdig]. Well, not about everything.
"Your kid and my kid are not playing in the pros" [Nuvo].
* * *
Readers, feel free to contact me with (a) links, and even better (b) sources I should curate regularly, and (c) to find out how to send me images of plants. Vegetables are fine! Fungi are deemed to be honorary plants! See the previous Water Cooler (with plant) here. And here's today's plant, the first of Gardens, Week Five (alex):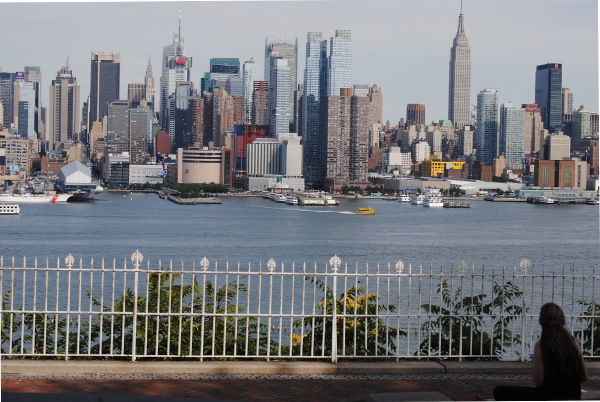 On the other side of the fence…
Readers, the weekend's discussion for "Open Thread on Water" was terrific. So many interesting projects! Please, send me pictures of your projects, at least if plants are involved, and when aren't they? If only of maple twirlers in gutters!
If you enjoy Water Cooler, please consider tipping and click the hat. It's the soil, seeds, flats, and planting season!
(Readers will notice that I have, at long last, improved the hat!)