By Lambert Strether of Corrente.
California is a bellwether state for the such success as ObamaCare[1] has had, as well as for its failures. From the Kaiser Foundation's recent report ("Coverage Expansions and the Remaining Uninsured: A Look at California During Year One of ACA Implementation"):
California is a bellwether state for understanding the impact of the ACA. The state's sheer size and its high rate of uninsured prior to ACA implementation means that its experience in implementing the ACA has implications for national coverage goals. In addition, California was an early and enthusiastic adopter of the ACA; the state implemented an early Medicaid expansion through its Low-Income Health Program (LIHP) and was the first to create a state-based Marketplace.
Long-time health care reporter Trudy Lieberman argues for a focus on California from her outpost at the Columbia Journalism Review:
Why we need stronger coverage of Covered California

It's not easy to figure out how to monitor the progress of Covered California, the country's largest state-run health insurance exchange.
Lieberman then goes on to look at coverage of enrollment figures, and the tendency of our famously free press to write the easy benchmark story and print Covered California's rosy press releases, instead of going out and doing actual reporting; we'll get the numbers below. Lieberman concludes:
[G]oing forward, the exchange warrants closer scrutiny than, for the most part, it got this year. And while reporters should definitely be attentive to outside evaluations both critical and positive—like a recentHealth Affairs study that found exchange plans were of comparable or even better quality than plans bought on the private market—there is a role for journalists to play, too, in getting out there and talking to people about their insurance arrangements.
Amen. And I hope readers who have Covered California policies, or Medical, will chime in with their experiences, good and bad.
Absent in-depth reporting of people's real experiences with Covered California, I'll aggregate the press coverage I can find — there has been an uptick, lately — under the headings of Cost, Complexity, Quality, Coverage, and — saving the juiciest for last — Corruption. Of course, problems in all these areas are functions of ObamaCare's overweening complexity, which is a result of the broken system architecture required by official Washington's determination to preserve the private health insurance because markets, instead of adopting the simple, rugged, and proven single payer approach (see here at "largest controlled experiment in the history of the world").
Cost
Cost of the Exchange. In general, the state exchanges are struggling. The Washington Post reports:
Nearly half of the 17 insurance marketplaces set up by the states and the District under President Obama's health law are struggling financially, presenting state officials with an unexpected and serious challenge five years after the passage of the landmark Affordable Care Act.

Many of the online exchanges are wrestling with surging costs, especially for balky technology and expensive customer call centers [a function of ObamaCare's complexity] — and tepid enrollment numbers [a function of poor quality]. To ease the fiscal distress, officials are considering raising fees on insurers, sharing costs with other states and pressing state lawmakers for cash infusions. Some are weighing turning over part or all of their troubled marketplaces to the federal exchange, HealthCare.gov, which now works smoothly.
Covered California is no exception. Covered California is running an $80 million deficit, because it's not making its numbers, of which more below. Meanwhile, Covered California, including the Exchange, is funded — in classic neoliberal fashion — by a fee tacked on to premiums:
Covered California can't draw on the state general funds, and its primary source of revenue is a $13.95 monthly fee tacked onto every individual policy sold.
So Covered California, in order to hold the line on access fees, is reducing funding on the exchange, reducing funding on outreach, and using up the last of the Federal funds it kept in reserve. Seems rather like a mini-death spiral, doesn't it? Apparently, they plan to increase enrollment by decreasing marketing and failing to improve the website (also of which more below). Let me know how that works out.
Cost of the Policies. Let's recall that "affordable" means that people can afford it. But from Kaiser's "Coverage Expansions and the Remaining Uninsured":
Many Covered California enrollees report difficulty paying their monthly premium. Nearly half of newly insured adults (47%) say it is somewhat or very difficult to afford their monthly premium, compared to just 27% of adults who were insured before 2014. Further, 44% of Covered California enrollees report difficulty paying their monthly premium, versus a quarter of adults with other types of private coverage.
Complexity
As should come as a shock to absolutely nobody, layering the insanely complex ObamaCare marketplace on top of the already insanely complex private heath insurance system costs a boatload of money. Health Affairs:
I don't know about you, but I'd rather see that $1,375 spent on health care, as opposed to being spent on insurance company administrators whose job, after all, is to create profit by denying care, not providing it.
Traditional Medicare runs for 2 percent overhead, somewhat higher than insurance overhead in universal single payer systems like Taiwan's or Canada's. Yet traditional Medicare is a bargain compared to the ACA strategy of filtering most of the new dollars through private insurers and private HMOs that subcontract for much of the new Medicaid coverage. Indeed, dropping the overhead figure from 22.5 percent to traditional Medicare's 2 percent would save $249.3 billion by 2022.

The ACA isn't the first time we've seen bloated administrative costs from a federal program that subcontracts for coverage through private insurers. Medicare Advantage plans' overhead averaged 13.7 percent in 2011, about $1,355 per enrollee. But rather than learn from that mistake, both Democrats and Republicans seem intent on tossing more federal dollars to private insurers.
$249.3 billion siphoned off by rental extractors. That's a lot of money! Of course, to us, that's a bug. To them, it's a feature!
Quality
Yelp gives Covered California a one-star review. Here are some of the reasons why.
Service. Oddly, or not, Covered California's doesn't seem to be collecting, or at least making public, any data on how well policy holders are being served. Kaiser Health News:
No one has tracked how many people had problems like the Chiajis [we'll get to them below] in the first year of enrollment, but many customers reported initial computer and communication glitches. For example, consumers and insurance agents in California said that when they tried to tell Covered California about a change in their income, their insurance plans were cancelled and they had to be re-enrolled, according to the Center on Health Reporting.
Sounds like HAMP.
Anthony Wright, executive director of Health Access, an advocacy group in California, said the percentage of people who experienced problems enrolling in Covered California was likely small.
Actually, Covered California's lousy renewal numbers would argue that the percentage is "likely" large.
"But even if you're dealing with 10 percent or 1 percent, in Covered California you're still talking about tens of thousands of people," Wright said.
With that, the Chiaji's story:
[Kairis and Arthur Chiaji of Sacramento, Calif] had been thrilled to learn last year about the prospect of subsidized coverage under the nation's health law, she recalled. Each of them had been uninsured for years when they signed up for coverage through the state exchange, Covered California.

Arthur, an immigrant from who worked in food preparation, hadn't had coverage since he left his home country, which has . "Everybody can afford insurance," said Arthur, 39, who married Kairis in 2013. "And . That was not the case."
Life's little ironies, eh? They sign up with Anthem Blue Cross at one of those outreach "health fairs":
Kairis and Arthur went home and waited to receive their insurance cards and first bill. Nothing arrived.

At the end of June, they finally received their cards and a bill for May, June and July, Kairis said.

They sent in one month's payment, which they assumed would be for July since they hadn't even known they were eligible for coverage in May and June. But Anthem told them their payment only covered May, Kairis said.

When Kairis called Anthem to ask whether there had been a mistake, "they said you're not covered [now] because you have to pay the months before now," she said.

As she tried to resolve the problem, Anthem told her to hold off paying another bill until the insurer was able to process a change in their income, which would lead to a slightly lower premium. So she waited, but didn't get another bill. …

Kairis tried to clear things up on the phone with Anthem. "You wait on line for an hour, you get disconnected, they say no one can talk to you and hang up on you," she said. "It was really frustrating." When she called Covered California, she said, she got a message explaining operators were busy and she was disconnected.

Kairis estimated that she spent about 20 hours in all trying to figure out their insurance situation. Each time she called, she said, she was told something different.
This is a the "tax on time" Yves talks about. If only Kairis could bill for her time, like one of Covered California's high-paid cronies consultants!
"At some point, [Anthem] said the month that you paid for basically amounted to nothing. There was never a month when we had insurance we could use, and you have to back pay four months worth of coverage in order to get covered right now — $138 times four, they wanted that payment."

That would have been $552 for insurance the Chiajis said they never actually had.
There's a lot to like here, but my favorite part is where Kairis and Arthur assume that the United States has a health insurance system that's as functional as Kenya's.
The Exchange. The blog "Insure Me, Kevin" seems to have taken on the task of tracking changes in Covered California's website for both consumers citizens and insurance companies. Kevin's conclusion, after this spring's batch of changes:
A year and half after the launch of Covered California the CalHEERS enrollment website is still a work in progress.
Awesome. Emily Bazar of The Center for Health Reporting gives an example of progress that has not been made:
Projecting your income for the coming year has become a confounding but critical exercise in determining your eligibility for tax credits from Covered California, the state's health insurance exchange. It's doubly hard for self-employed individuals and freelancers whose incomes fluctuate not only from year to year, but week to week.
Readers will recall that income-based subsidies are a fundamental aspect of ObamaCare's system architecture.
You'd think you could call Covered California or go to its website, report the income change and have your tax credits and premiums updated and applied to your current plan.

But when someone reports an income change, "the person is terminated from the current health plan they're in and they're re-enrolled in the same health plan with the new income information," says Jen Flory, senior attorney for the Western Center on Law & Poverty.
What could go wrong? Well, exactly what went wrong for the Chiajis, as we saw above.
It took [freelancer Marilyn Hammers more than three months to get insured again and sort the matter out. All of this shortly after she underwent surgery and chemotherapy.

Why does this happen? Because Covered California's nearly half-a-billion-dollar computer system apparently can't handle that kind of complexity.

"They didn't build the system in a way that allowed for such changes," Flory says.
(Covered California denies this, but Bazar has numerous counter-examples, because she writes an advice column.) What I want to know is, which well-paid crony technical consultant wrote the specifications for Covered California's website, such that a fundamental requirement of ObamaCare's system architecture was left out? And who signed off on it? Bazar concludes:
I can't advise you not to report an income change because state and federal law requires it, even though there are no penalties for failing to do so.
What a mess, where people need to have sane ways to work with an insane system explained to them with nods and winks!
Finding a doctor. Citizens consumers are still being denied care because of Covered California's narrow networks:
Compared to only 3% of adults with other private coverage, 13% of adults with Covered California and 8% of adults with Medi-Cal say a provider would not take them as a patient because of their coverage. Medi-Cal enrollees also reported higher rates of long waits for appointments (21%) than those with other private coverage. Like the forces underlying choice of usual source of care, these issues may reflect continuing problems with network adequacy, despite the existence of state standards for network adequacy and patient access.
The provider directories from the insurance companies should sort in- from out-of-network doctors, but they aren't accurate, so at a minimum the patient pays Yves's "tax on time" by taking a trip to the wrong office, and at worst they get stuck with a huge and unexpected out-of-network bill.
Coverage
Enrollees Covered. Trudy Lieberman looks at how Covered California reports its enrollment numbers in the press, and if I didn't know better, I'd say they were jiggering the numbers:
It's not easy to figure out how to monitor the progress of Covered California, the country's largest state-run health insurance exchange.

Is it the total number of people who have signed up for an insurance plan on the exchange during open enrollment? The rate at which people renew? The number of new sign-ups in a given year? The number of Latino sign-ups? The number of "covered lives"? The number of Californians who have had coverage through the exchange at any point? Or, simply, the overall rate of uninsured adults across the state?

In recent months, Covered California has cited each of these measures to tout its success. And though outside analysts have raised some notes of caution, press coverage has largely followed the lead set by the exchange. The result is coverage that has too often been reactive, short on enterprise, and with missed opportunities to ask some necessary questions. Covered California may ultimately have a success story to tell—but it will need to face some sharper skepticism before we can be sure.
Coverage Growth. Awful. The health insurance consultancy Avalere ran its own numbers and concluded:
California, the state with the highest enrollment in 2014, only retained 65 percent of their 2014 enrollees.
Explains that one-star rating, eh? And awful in relative terms, as well. Los Angeles Times:
The state made little progress this year. California was one of the worst-performing states, with 1% net enrollment growth, according to a recent analysis by consulting firm Avalere Health.
Unequal Coverage. As we showed here, here, here, here, here, and here ("Obama's Relentless Creation of Second Class Citizens") consumers's citizens' access to life-saving health care under ObamaCare is random with respect to income, age, jurisdiction, and a host of other factors, including education level, language, and race. California was and is no exception. Kaiser:
Mirroring historical patterns and legal barriers to coverage, the remaining uninsured population is more likely than the insured to be Hispanic, to be male and to be undocumented. The high share of remaining uninsured who are Hispanic may reflect barriers in outreach to this population or eligibility limits based on immigration. Though most newly insured and uninsured adults are in a family with a full or part-time worker, the specific work profile differs between groups: newly insured adults are less likely than remaining uninsured adults to be in a family with a full-time worker (versus only a part-time worker). With new coverage provisions in place as of 2014, there were more options for health insurance outside employment, and groups traditionally left out of the employer based system—such as part-time workers or low-wage workers—had new avenues for coverage.
I continue to see no moral justification for treating the lives and health of presumably equal citizens so unequally, except the ideological requirement to preserve the market in private health insurance. (Note that even the Fiscal Times has moved on from TINA, and actually mentions — dread words — single payer.)
Corruption
Corruption in Covered California takes two forms: A Flexian infestation, and regulatory capture:
Flexian Infestation. "Flexian" is a term invented by Jane Wedel in her excellent book, Shadow Elite. In short form, Flexians dissolve the boundaries between public and private in all their affairs; it's not a matter of a "revolving door"; there's no door, or even wall, whatever. This, as Zephyr Teachout shows us, is the very essence of corruption. Flexians band together to advance their mutual interest in "Flex nets," and one such is evidently running Covered California. Consumer Watchdog to Kamala Harris in 2014:
The Associated Press reported today that the state's insurance exchange Covered California "awarded $184 million in contracts without the competitive bidding and oversight that is standard practice across state government, including deals that sent millions of dollars to a firm whose employees have long-standing ties to the agency's executive director."

The contracts reflect a troubling practice at Covered California, which has paid very large amounts to current and former employees of health insurance companies to create the exchange and to oversee contracts and contract negotiations with the health insurance companies on the exchange.

An independent investigation by your agency is warranted to determine whether taxpayer dollars have been misused and whether consultants have inappropriately used their position with the government agency to advance the interests of former and current insurance industry employers.

The Associated Press story focused on $4.2 million in no-bid contracts to Leesa Tori, who is closely connected professionally to Covered California's executive director Peter Lee.

Tori also worked at Blue Shield and her interim role at the agency included negotiating and overseeing contracts with health insurance companies including Blue Shield.

We ask that your investigation include the degree to which consultants who work or or have worked for health insurance companies may have used their official positions at Covered California to advance the interests of those companies at the expense of policyholders and taxpayers.
That is, Lee and Tori are Flexians, part of the same Flex Net. And that $184 million may not seem like much, since we're used to thinking of squillions, but it's a lot at the state level. Sacramento Bee:
The no-bid contracts represent nearly $2 of every $10 awarded to outside companies by the agency and were among roughly $1 billion in agreements disclosed to AP that the exchange executed from late 2010 through July, according to the records.
Consumer Watchdog President Jamie Court concludes:
"This isn't about speed. This is about being opaque," said Consumer Watchdog president Jamie Court, rejecting Covered California's claim that it needed uncompetitive contracts to meet the tight deadlines to carry out the state version of the federal Affordable Care Act. "For $4.2 million to flow to a former associate without any oversight is the antithesis of open government and good government."
And it's also the essence of corruption, as Teachout shows.
Regulatory Capture. Here's a handy chart from California's Consumer Watchdog in a letter to the California Attorney General (link to the full-size version):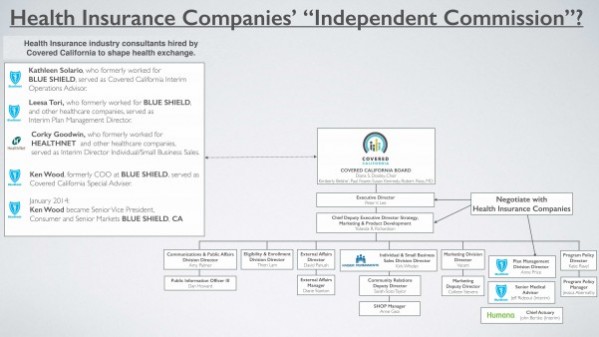 Shockingly, or not, the Covered California Board, which negotiates plans and also regulates the Covered California Exchange, is full of insurance industry insiders (note the blue logos on the small version here).
Conclusion
I'm sorry to have written a such a long long-form post, but I'm afraid that's yet another side effect of ObamaCare's complexity; there's just so much to go wrong, and so many people harmed. (Here I must insert an obligatory troll prophylactic: A program as large as ObamaCare is bound to benefit many people. What I would like ObamaCare apologists to explain is why all should not benefit, equally, with the many that do.)
We might also view ObamaCare as a case study of bootstrapping a major social insurance program on neo-liberal principals. At the heart of ObamaCare is the market: Both the private insurance market, and the ObamaCare marketplace, overlaid upon it. My tentative conclusion is that we should never regard a market as neutral, but always structured for the benefit of those who design and create it: In ObamaCare's case, rent-extracting private insurance companies and Flexians. Perhaps, if we are lucky, we will one day have a health insurance system as inclusive as Kenya's.
Notes
[1] I'm continuing to use the popular "ObamaCare," as opposed to the ACA, PPACA, or "Patient Protection and Affordable Care Act," for search results. "ObamaCare" is, of course, a contested term — although not by Obama — and some outlets have taken to using the anodyne "Health Care Law" to refer to it. That's a particularly unfortunate locution, because ObamaCare is primarily about health insurance, with actual care a secondary consideration.
Addendum
In researching this post, I ran across this from Kevin Knauss:
Should you sell assets to avoid Medicaid and get ACA tax credits?

An unfortunate flaw of the ACA is that determines eligibility for the tax credits to lower the monthly health insurance premium amount solely on income. Many people who have structured their lives to live on very little income, but may have a nice nest egg of assets, are only eligible for Medicaid. This is because their income falls below the federal poverty line established for Medicaid. For those individuals who would like assistance paying for a private plan they are faced with the prospect of selling assets to generate enough income to push them out of the Medicaid or Medi-Cal range.
That people even have to ask that question… That ObamaCare's architects put people in such a position… I'm shaking my head.