By Lambert Strether of Corrente.
Back to 2:00PM! And a belated Happy Bastille Day. –lambert
TPP/TTiP/TSA
List of traitors in House and Senate, with phone numbers. Hat tip, reader Vatch. Be sure to visit them when they return to the district. If a traitor is mentioned in Water Cooler, their name is in bold. (A reader helpfully sent me an updated version with phone numbers which I will install shortly!)
Data: "When organizations can choose to store their data with any provider anywhere in the world, they have access to best-of-breed solutions providers – whether they're located in the cloud or are using servers in another country – that have the best documented track records of securely managing a citizen's or customer's data and protecting their privacy rights" [Christian Science Monitor]. Case for the defense.
Australia: "With Trade Minister Andrew Robb claiming that the Trans-Pacific Partnership (TPP) trade agreement could be concluded "in a matter of weeks", Australian Chamber of Commerce and Industry (ACCI) chief executive, Kate Carnell, has today called for greater transparency in negotiations whilst questioning the effectiveness of DFAT's consultations on the TPP" [Macrobusiness].
Handy hashtag aggregator [#TTIP #TAFTA Watch].
TTiP: "'There will not be any binding provision in this agreement that would force local governments to privatise their public services against their will. I can guarantee that.' asserted EU Commissioner in charge of Trade, Cecilia Malmström" [Council of European Municipalities and Regions (CEMR)].
"David Brodwin, Vice President and Co-Founder of [American Sustainable Business Council] lays out five foreseeable implications of the current negotiations for companies committed to doing business sustainably [Bilaterals.org].
1.) Innovative companies that come up with cleaner, greener, safer ways to do things often depend on rules that require safety hazards to be disclosed (at a minimum) so that consumers can vote with their dollars. For example, a new bank that built its financial model on safe and responsible lending would want the government to require disclosure of true interest rates and fees on all lending documents. TISA could allow unscrupulous lenders to overturn these disclosure requirements.

2.) Governments have a vested interest in locally based economic development because that is more efficient for job creation, and the benefits are more durable and more fairly distributed. Some governments establish contracting preferences to give a slight edge to locally owned and independently operated businesses. TISA could allow non-local vendors to overturn these preferences.

3.) Governments have a major interest in maintaining the stability of financial markets, protecting against asset bubbles like the tech bubble of 2000-2002, the mortgage bubble of 2008, and the Asian currency collapse of 1998. The main tools they use are regulations. TISA may hobble the ability of governments to maintain stable financial markets.

4.) Governments differ in the extent to which confidential data be protected. Under TISA, international communications firms will likely be able to overturn these standards.

5.) Governments are deeply involved in health care services to ensure that their residents have access to affordable care. TISA could limit governments' abilities to structure national health care systems to meet the needs of their citizens.
"A key House Republican supporter of U.S. trade policies [Brady] expressed doubt this week that the United States and its 11 partners will be able to conclude the Trans-Pacific Partnership (TPP) agreement at the upcoming ministerial later this month, but still held out hope for congressional approval of the trade deal by the end of the year" [Inside Trade]. Can't get past the paywall….
2016
Sanders
Sanders gets standing O at La Raza [Alternet].
The S.S. Clinton
"Teachers Say No Freaking Way to AFT Endorsement of Hillary Clinton " [Washington Teacher].

"But [Bill Clinton's rehabilitation came in 2003 when Bush 43, battered by the Katrina hurricane in August of 2005 and castigated for inaction and insensitivity, reached for his father and Clinton as life preservers. At his suggestion, they teamed up as an unlikely duo to minister to the stricken hurricane victims. Clinton was rewarded with a redemptive rise in the polls, bouncing back to 60 percent favorability on Oct. 21, 2005. Soon the pair were en route to Haiti to visit earthquake victims there. (For the Clintons, it was a heaven-sent opportunity for thievery and plunder.) The closer Clinton hugged Bush 41, the better he did. And Clinton's rehabilitation dragged along his wife in its wake" [Dick Morris, The Hill]. Morris, Clinton's Rove, seems to have taken a dislike to his one-time dynastic meal ticket(s).

"She has resided at the center of so many scandals, psychodramas and culture wars that it's hard to even keep track of them all, let alone know what the person within that bubble of attention is actually like" [New York Times]. I have never been able to hate the Clintons, possibly due to my anchoring my views on their integritude against the Little Rock integration-opposing baitshop operators, oppo researchers, bent legals, and conservatives — sorry for the redundancies — who opposed them, and impeached him. But judging from where Clinton's language briefly runs clear in her speech on the economy, she would love to be president of the Children's Defense Fund, and would make a good one. That's not the same as being President of the United States.
Republican Clown Car
"Louisiana Gov. Bobby Jindal's campaign reported on Wednesday that it had raised just under $579,000 during the second quarter of this year" [Politico]. Gee, that's a shame.
"Conflict erupts in Green Party after censorship of Sanders supporters" [Bangor Daily News].
Stats Watch
Readers: As you must know by now, I'm a Maine bear. I know that's not going to help craazy with his ten-bagger, but that's my temperament! However, my sourcing reflects my priors, and I'd be grateful if anyone could suggest regular reading from any of those glibertarian nutballs on the wrong coast Silicon Valley. Nuanced, data-driven, timely — but with a more technical focus, and from a part of the world where you have to suck up to potential funders by constantly creating new and colorable narratives dynamic innovation is prized. I did follow Andreesen on the twitter, but he bellows his book. Thank you!
PPI-FD, June 2015: "Producer prices showed slightly more pressure than expected" [Bloomberg]. "Showing pressure were electric power, pharmaceuticals and cigarettes. Gasoline and food, specifically eggs, contributed to the overall increase." The egg man cometh… "Chicken egg prices jumped 84.5 percent last month, the largest increase recorded since the government began tracking producer costs in 1937" [Chicago Tribune]. And see entry on Avian Flu, below.
MBA Mortgage Applications, July 2015: "[T]he purchase index has slipped 1.4 percent in the two weeks which is a negative signal for home purchases" [Bloomberg]. "Still up from last year this time but seem stalled out at relatively low levels and Q2 not any better than Q1" [Mosler Economics].
Empire State Mfg Survey, July 2015:  "The manufacturing sector isn't picking up any steam this month based on the Empire State index" [Bloomberg]. "And hiring this month has slowed, to 3.19 vs June's 8.65 in yet another soft signal." But this is a noisy series: "The Empire State Manufacturing Survey improved enough to squeak into expansion. Key internals are in contraction" [Econintersect].
Industrial Production, June 2015: "A plus 0.3 percent rise in June industrial production looks respectable but still overstates strength" [Bloomberg]. "A manufacturing sector that is being hurt by weakness in exports and that's dragging down the economy's growth." And: "capacity utilization rate inched up to 78.4%, still down over a percentage point from the 2014 high" [Across the Curve].
Atlanta Fed Business Inflation Expectations, July 2015: "Inching higher" [Bloomberg].
"Federal Reserve Chair Janet Yellen sees a number of encouraging signs that the economy is reviving after a brutal winter and says if the improvements stay on track, the Fed will likely start raising interest rates later this year" [Crain's New York]. But that would take free money away from people who already have lots of it. Generally, that's hard to do. Has anybody made book on a "lift off" date? I mean, besides Mr. Market?
Yellen: "The U.S. economy also might snap back more quickly as the transitory influences holding down first-half growth fade and the boost to consumer spending from low oil prices shows through more definitively" [Calculated Risk]. On low oil prices: Surely if that were going to happen, it would already have happened?
"[Yellen's] speech was very much a rehash of her speech in Cleveland last week and so any one who thought that speech noteworthy had re positioned already anyway" [Across the Curve].
"Bank of Canada lowered its policy interest rate to 0.50% on Wednesday from 0.75% where it had been since a 25 bp cut in January, saying that Canada is undergoing a significant economic adjustment which requires more monetary stimulus" [Market News].
Bill McBride: "Update: The California Budget Surplus" [Calculated Risk]. Warren Mosler: "Fiscal drag from California" [Mosler Economics].
Class Warfare
"I have to work at Trader Joe's to afford to teach at Webster," says Elizabeth Sausele. Sausele, 50, has a master's in divinity and a doctorate in education with an emphasis in intercultural studies" [Riverfront Times]. The elites have made induced agnotology a collective policy goal.
Syraqistan
Iran deal: "Former secretary of state Hillary Rodham Clinton, having embraced the Iran nuclear deal negotiated by President Obama, is now helping to lead the sales effort for it — both with her own party and the electorate at large" [WaPo].
Iran deal: "[T]he United States cannot bludgeon Iran into total submission, either economically or militarily. The U.S. tried that in Iraq. It is precisely this recognition that makes the Iran deal so infuriating to Obama's critics. It codifies the limits of American power" [Peter Beinart, The Atlantic]. Not "the limits." Some limits.
Iran deal: "'This is a stunning accomplishment,' said [former IAEA inspector Thomas Shea]. "'I've been a part of this business for 40 years at this point and I've never seen anything that begins to approach the comprehensiveness of this agreement.'"
Iran deal: "American Israel Public Affairs Committee (AIPAC) and J Street, appear split" [WaPo].
Iran deal: "Iranian Nuclear Deal Is a Win for Anti-Semitism" [Rabbi David Wolpe, Time]. Only if anti-Semitism = not outsourcing U.S. foreign policy to Benjamin Netanyahu.
"Technology gives practically no advantage to any army during urban combat" [Foreign Miltary Studies Office]. Analysis of tactics in Syria.
Black Injustice Tipping Point
"Obama to be greeted on Oklahoma visit by Confederate flags" [Tulsa Frontier]. Totes heritage.s
"But experts say any conversations about race relations in America in 2015 and beyond won't get far without coming to terms with a type of diaspora that is peculiar to the nation's inner cities – a cycle of poverty, violence and drugs that has acted like a neutron bomb to eliminate young men in their late teens, 20s and 30s" [Will Bunch, Daily News].
Avian Flu
"No new detections of avian flu [HPAI H5] have occurred since June 17" [Food Safety News]. "The highly pathogenic avian influenza (HPAI) H5 epidemic spread to domestic poultry by migratory birds may have burned out without getting anywhere near the human food supply, which was said to be an extremely low possibility in the first place."
"Iowa Gov. Terry Branstad Monday signed a disaster emergency proclamation extension for 18 Iowa counties adversely affected by highly pathogenic avian influenza (HPAI), which would assist with disposal and clean-up efforts on affects sites" [Sioux Land Matters].
"[USDA's] Dr John Clifford] also mentioned the epidemiological investigation that [USDA's Animal and Plant Health Inspection Service] had carried out, saying that whilst they could not pinpoint a cause, biosecurity measures that are sufficient in ordinary times were not sufficient in the face of such a large amount of virus in the environment [The Poultry Site].
"'The report of a chickadee testing positive for avian influenza is the first detection of the disease in a songbird,' Lou Cornicelli, wildlife research manager for the Minnesota Department of Natural Resources, said in a statement. 'This is further evidence that while waterfowl species can serve as a reservoir for avian influenza, other species are susceptible to the disease'" [Duluth News].
"Several varieties of avian influenza viruses have recently struck farms in the United Kingdom, Taiwan, and South Africa, affecting poultry species ranging from chickens to ostriches, according to reports today" [Center for Infectious Disease Resarch and Policy].
"LUCAS COUNTY, OH (Toledo News Now) – In an extreme move to protect your families from the Avian Flu, all live bird exhibitions at county fairs statewide have been canceled [Toledo News].
"Iowa, the hardest hit, has euthanized more than 31 million birds, including approximately 40% of the state's 60 million laying hens, according to Randy Olson, executive director of the Iowa Poultry Association" [Guardian]. "[F]or turkeys and broiler chickens, which are floor-reared (ie not kept in cages), the use of water-based foam similar to that used by firefighters is the most effective way to euthanize a large flock in a short period of time." Time to short meat?
News of the Wired
"No one could see the color blue until modern times" [Business Insider]. Dated, but interesting. I wonder if people could have the blues, and if so, when?
"That empty feeling in Singapore's malls" [Nikkei Asian Review (furzy mouse)]. True for new malls in Bangkok, as well. This looks like overshoot, to me; neither city needed (yet another) new mall. And if peak mall in Southeast Asia has passed, who's exposed to big buildings sitting empty on prime real estate sucking cash for aircon and attendants?
"Is this cold, rural state home to the nation's healthiest democracy?" [WaPo]. Violating Betteridge's Law of Headlines, yes.
* * *
Readers, feel free to contact me with (a) links, and even better (b) sources I should curate regularly, and (c) to find out how to send me images of plants. Vegetables are fine! Fungi are deemed to be honorary plants! See the previous Water Cooler (with plant) here. And here's today's plant: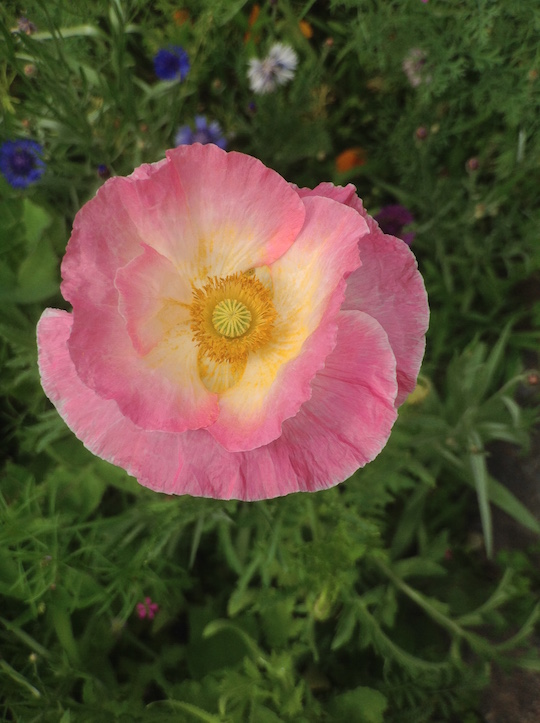 I waited a long time for that wildflower mix to get rolling, but when it did….
NOTE: Please free to test the donation dropdown, where the amount you select should finally appear on the PayPal form! Thanks to kind reader DK, who fixed my code. (And if you have problems, please let me know using the contact link, so as not to clutter the thread.)
If you enjoy Water Cooler, please consider tipping and click the hat. I need to keep my server up! And pay the plumber….