By Lambert Strether of Corrente.
TPP/TTiP/TSA
List of traitors in House and Senate, with phone numbers. Hat tip, reader Vatch. Be sure to visit them when they return to the district. If a traitor is mentioned in Water Cooler, their name is in bold. (A reader helpfully sent me an updated version with phone numbers which I will install shortly!)
Vietnam: "Fast track looks like it will take Vietnam's workers back to a disturbingly familiar pattern: [ Worker Rights Consortium] notes that in 2012 the Labor Department 'added garments from Vietnam to its official list of products made with forced and child labor, making Vietnam one of only seven countries in the world whose apparel received this designation. 'And now it joins another distinguished group of nations: our most reliable trading partners'" [The Nation].
2016
The S.S. Clinton
Clinton I "Concedes His Crime Law Jailed Too Many for Too Long" [New York Times]. How about Glass-Steagall, and Warren's bill to restore it?

"It's an exaggeration for [Clinton] to say that she had been engaging with reporters at the local level for three months. On balance, we rate her claim Mostly False" [Politifact]. Keeping Clinton wrapped in tissue paper…. 
Republican Establishment
"Donors who gave the legal maximum of $2,700 accounted for more than 80 percent of Bush's total haul" [National Journal]. "Haul." Such a crass word.
Republican Principled Insurgents
Scott Walker skates on criminal indictment [WaPo]. "His campaign has been accused of illegally coordinating with conservative outside groups such as the Wisconsin Club for Growth on spending and fundraising." (This was the long-running "John Doe" case.)

"Nothing about this case has been common: The justices took the unusual step of opting to hear no live arguments, instead requesting only written briefings from both sides because of the complicated secrecy rules [for John Doe cases]. Documents released publicly have come only after tense, time-consuming debate over how much to reveal and what portions to redact" [New York Times].

Walker in New Hampshire: "[WALKER:] In the Republican field there are some who are good fighters. They haven't won those battles. There are others who have won elections, but haven't consistently taken on the big fights. We've shown you can do both" [Boston Herald]. Walker stomps Democrats! Also too the goddamned unions!

Wisconsin union membership down 15% since Walker became governor [WaPo]. An unmatched track record of success. 

"Walker won 52% of the vote against Democrat Mary Burke last November, and his approval rating just a week before the election was 49%. By April, though, a Marquette University Law School Poll found that Walker's approval was down to 41%, with 53% of registered voters thinking the state was headed in the wrong direction" [Journal-Sentinel]. Meaning the locals will be only to happy to provide oppo. Unfortunately, most of what Democrats think is oppo — "He's a union buster!" — is red meat for Republicans, and mostly comes across as whining. "He beat us!"
Republican Clown Car
In the debates: "'Trump has one target and one target only,' said an adviser to a rival GOP candidate. "He's going to bring a lawn mower for Bush" [WaPo]. Pass the popcorn.
Stats Watch
Readers: As you must know by now, I'm a Maine bear. I know that's not going to help craazy with his ten-bagger, but that's my temperament! However, my sourcing reflects my priors, and I'd be grateful if anyone could suggest regular reading from any of those glibertarian nutballs on the wrong coast Silicon Valley. Nuanced, data-driven, timely — but with a more technical focus, and from a part of the world where you have to suck up to potential funders by constantly creating new and colorable narratives dynamic innovation is prized. I did follow Andreesen on the twitter, but he bellows his book. Thank you!
UPDATE By "timely," I have in mind something like Econoday's Calendar. Is there something like that for the world proving ground for getting fees between you and literally everything you want to do in life, while looting your personal data Silicon Valley?
Yellen speaks: "'I think we need a systematic policy,' Yellen said in testimony to the House Financial Services Committee, 'but I would strongly resist agreeing to follow any rule where the stance of monetary policy depends on only the current readings of two economic variables, which is what your reference rule relies on.'" [Market News]. If there's no such thing as "equilbrium," rules won't "work," let alone a single rule. But there must be, so it will. Because markets.
Yellen: "Prepare for liftoff. Key FOMC members continue to prepare the market for liftoff this year. Today Fed Chair Janet Yellen in her Semiannual Monetary Policy Report to the Congress made it very clear that she expects to start hiking rates this year. Moreover, with the rate hiking cycle data dependent, Chair Yellen appears increasingly balanced by highlighting also the possibility of upside risk to the economy" [Merrill Lynch, Across the Curve]. When did the bizarre "liftoff" metaphor enter the zeitgeist? I mean, what are we,  a decade or two into the Greatest Recovery EVAH and only now we're "lifting off"? 
On Yellen: "At some point in the not so distant future, Yellen is going to have to walk back her rate hike talk. Expect to hear a lot of finger-pointing at Greece, China, the Eurozone and Canada and none at Wall Street, the casino that broke the banks in 2008" [Wall Street on Parade]. I've got to say, I'm dubious there will ever be a rate hike. We're giving free money to people who already have lots of it and want more. They like that. Why ever would they want it to change? More to the point, why would they allow Yellen to change it? And I'd love to be proved wrong! Readers?
Jobless Claims, week of July 11: "Auto retooling is clouding initial jobless claims data which fell 15,000 in the July 11 week to 281,000. But the 4-week average, inflated by a 14,000 spike in the prior week, rose" [Bloomberg]. "The rise in the average is not a positive indication for the July employment report."
Bloomberg Consumer Comfort Index, week of July 12: "[E]ased slightly in the latest week but is still very solid"  [Bloomberg].
Philadelphia Fed Business Outlook Survey, July 2015: "the Philly Fed's big jump in June was in fact a one-time wonder as the index slowed substantially. Backlog orders fell into contraction" [Bloomberg]. "The June reading for this report stood alone as really the only strong indication this year on the manufacturing sector, but the give back now in July puts the Philly Fed in line with other readings."a
Housing Market Index, July 2015: "[S]ignaling substantial strength for the new home market. This is the strongest reading since November 2005" [Bloomberg]. "The new home market is accelerating and is in place to be the best surprise of the 2015 economy."
Wages: "Measuring from the end of the Great Recession, real wages have barely risen—real compensation per hour has risen only by 0.5 percent, much less than at this point in past recoveries" [Big Picture]. Awesome. Cheap servants!
Rail: "Week 27 of 2015 shows same week total rail traffic (from same week one year ago) contracted after expanding last week according to the Association of American Railroads (AAR) traffic data. Intermodal traffic expanded year-over-year, which accounts for approximately half of movements – but weekly railcar counts continued in contraction" [Econintersect].
Gaia
"[F]rom an observational perspective, the current El Niño event is going full-steam ahead" [California Weather Watch]. Wonky!
"The seismological community is pretty unified in concluding that the big increase in earthquakes in Oklahoma comes from injecting wastewater brought up by oil and gas exploration back into the earth" [Center for Investigative Journalism]. Fun animations….
Everybody talks about the San Andreas Fault, but nobody does anything about it. But nobody even knows about the the Cascadia subduction zone. "FEMA projects that nearly thirteen thousand people will die in the Cascadia earthquake and tsunami. Another twenty-seven thousand will be injured, and the agency expects that it will need to provide shelter for a million displaced people, and food and water for another two and a half million" [New Yorker]. Excellent long read and explainer on how earthquakes work, too; to the standard of the old school, pre-Tina New Yorker.
"The Obama administration is expected to unveil a regulation aimed at protecting streams in Appalachia from the controversial mountaintop removal mining process" [The Hill]. Fracking, landfills, mountain-top removal: All part of the same extractive economy. Reading the story, you'd think this happened from the administration's good heartedness, when it's activists who drove opposition and forced new regulations. No mention of such canaille, of course.
"What's really warming the world?" [Bloomberg]. I've linked to this before, but the animated charts are fun.
New Horizons Mission to Pluto
"First Pluto-Charon Color Image from New Horizons" [NASA]. Pretty small! But there are many others. More photos [CNN].
Via [#PlutoFlyby]:
Flying By Pluto-Charon – 4 Days Of Images Compiled | Video #PlutoFlyby http://t.co/2y5euoDhCG pic.twitter.com/NUFnblSkzd

— SPACE.com (@SPACEdotcom) July 16, 2015
"Little Pluto, smaller than Earth's moon, has a least one giant mountain range, with water ice the only available building material, scientists with NASA's New Horizons mission said Wednesday" [Discovery]. That's wooter ice. What's happened to copy editing standards?
Black Injustice Tipping Point
"Sandra Bland, a 28-year-old Black woman from the Chicago suburbs, was found dead under mysterious circumstances in her [Waller County] cell Monday morning following a traffic stop. Police claim Ms. Bland assaulted an officer during the stop, and Bland's family is claiming foul play" [Hip Hop Wired]. To be fair, that seems plausible. After all, black women driving alone at night in Texas are well-known for assaulting officers. More detail here. Oh, there's video [Salon].
DA to Black minister in Waller County [Houston Chronicle].
"My hounds ain't even started yet dumb ass," [District Attorney Elton Mathis] wrote. "Keep talking. When I talk people will listen. Keep talking and I will sue your ass for slander. It works both ways. 'Dr.' Take your fake Dr. Ass and jump off a high cliff."
Stay classy, Elton!
"Waller County, says Frank Jackson, the mayor of the city of Prairie View 'can best be described as ground zero in the long march for slavery to freedom here in Texas.' Indeed, the state's large-scale slave plantations had their origins in Prairie View" [PBS]. The past is not dead.
Corruption
David Plouffe enlists Al Sharpton to defend Uber [Capital New York]. What an unholy alliance! Filing this under Corruption because Uber's business model is to enter a market by breaking the law (which is what "disruption" is code for).
Class Warfare
"Using concrete examples from nursing, construction, publishing and cleaning, the [Department of Labor] guidance clarifies that it's the "economic realities" of one's work that matter, "not the label an employer gives it" or what's listed on a 1099 tax form for non-employees" [Al Jazeera]. "It was widely read as addressing the gig-based "sharing economy" and sharp anxieties over labor, income inequality and the changing nature of work." Or, if not "addressing," at least mentioning.
"If anything, I think we are vastly underestimating the rise of the class system once again, with the historic gulf in economic equality.  People still tend to remark 'tribal' lines more than they do socio-economic differences, but the class lines are clearly there now.  The upper class knows and notes them, and will go to great lengths to get their children in the 'right schools' and with the 'right crowd'" [Jesse's Café Americaine]. When you've lost the precious metals chart-watchers….
"Under cover of darkness, female janitors face rape and assault" [Reveal]. Must read. I'm filing this under "Class Warfare," but it's really a study in intersectionality.
News of the Wired
Buy button coming to Google Search [Business Insider]. The final degradation, because that's what results will be optimized for. Twitter wants to be Facebook, Google wants to be Amazon… 
"Buenos Aires Censors and Raids the Technologists Fixing Its Flawed E-Voting System" [EFF]. "Flawed E-voting" is, of course, redundant.
"Tech's Hottest Lunch Spot? A Strip Club" [Forbes]. But executives and brogrammers totally go there for the food!
"Most of the concussions sustained by high school soccer players aren't the result of heading the ball, new research shows. Instead, most head injuries come from athlete-to-athlete contact, the kind of rough play that is against the rules" [Los Angeles].
How often do ethics professors call their mothers? [Aeon]. About as often as the rest of us….
"Shift on vaccines: First very slowly, then all at once" [Reporting on Health].
Jade Helm launch quiet. Too quiet [KXAN]. The tunnels under Walmart must have been insulated for sound [WaPo].
Solar Impulse grounded in Hawaii for nine months, for battery repair [Business Insider].
* * *
Readers, feel free to contact me with (a) links, and even better (b) sources I should curate regularly, and (c) to find out how to send me images of plants. Vegetables are fine! Fungi are deemed to be honorary plants! See the previous Water Cooler (with plant) here. And here's today's plant: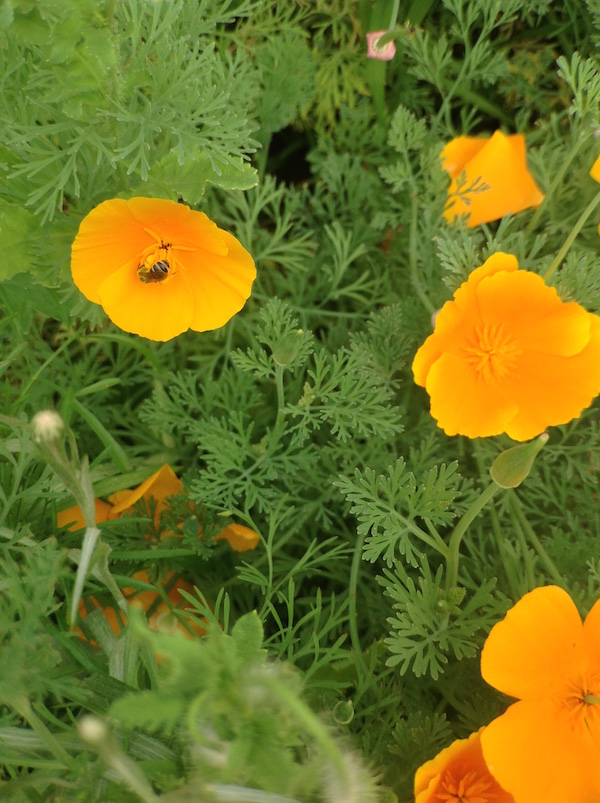 Can't get enough of those poppies!
NOTE: Please free to test the donation dropdown, where the amount you select should finally appear on the PayPal form! Thanks to kind reader DK, who fixed my code. (And if you have problems, please let me know using the contact link, so as not to clutter the thread.)
If you enjoy Water Cooler, please consider tipping and click the hat. I need to keep my server up! And pay the plumber….