By Lambert Strether of Corrente.
TPP/TTiP/TISA
List of traitors in House and Senate, with phone numbers. Hat tip, reader Vatch. Be sure to visit them when they return to the district. If a traitor is mentioned in Water Cooler, their name is in bold. (A reader helpfully sent me an updated version with phone numbers which I will install shortly! I swear it!)
And I'm sent this in mail: "BONUS TRUMKA: HILLARY CAN SUPPORT TPP AND STILL WIN AFL-CIO ENDORSEMENT: Trumka said he could envision a scenario in which Democratic presidential candidate Hillary Clinton would back the TPP agreement and still receive the union group's endorsement. "It's possible," he said, "but what that endorsement would bring would be lessened significantly" by disillusion among voters." Awesome.
2016
Sanders
"[S]etbacks also revealed a withering of the campaign machinery built by Mr. Obama's team more than seven years ago" [Wall Street Journal, "Democratic Party Machinery Shows Rust"]. Obama's Presidential Library, on the other hand, is shiny! Assuming that Obama for America was actually disbanded — certainly as a "mass" "movement" it was — as opposed to key operatives being redeployed, "withering" really isn't quite right.

The National Review calls Sanders a National Socialist [National Review]. Takes one to know one, I guess.
The S.S. Clinton
Clinton on how she would end structural rasicm [Blavity]. Sounds like small ball, to me.

Cllinton on gender: "'There is a gender card being played in this campaign. It's played every time Republicans vote against giving women equal pay, deny families access to affordable child care or family leave, refuse to let women make decisions about their health or have access to free contraception,' Clinton added. 'Anyone who doesn't get that doesn't understand what our lives are like" [The Hill]. More small ball. Why not a Post Office bank, so every woman can have a bank account, and a Jobs and Income Guarantee, which gives everyone who wants it work? 
Republican "prisoner's dilemma" on immigration [WaPo].
Republican Principled Insurgents
"Kasich, like Huntsman, is adored by the media, is seen as too moderate by GOP voters and appears to enjoy telling Republicans they're wrong" [FiveThirtyEight]. Remember Huntsman? Me neither.

Walker steps down as head of State economic development agency [Bloomberg].
Republican Clown Car
Trump surges to big lead [WaPo]. The harder they come… One hopes.

"On Sunday, New Jersey AFL-CIO President Charles Wowkanech — whose federation represents 1 million workers — called on New Jersey Gov. Chris Christie's administration to stop investing state pension money in alternatives. Such investments include real estate, commodities, hedge funds, managed futures, private equity ventures and derivatives contracts" [International Business Times]. "The push to divest comes amid an investigation of hundreds of millions of dollars in pension fees — some undisclosed — that the Christie administration has paid to financial firms. New Jersey has become one of the country's biggest investors in alternative investment firms. Some of those firms' executives have made campaign donations to GOP groups affiliated with Christie." Ka-ching.
[Click-bait Trump-esque headline ignored] [FiveThirtyEight]. This is interesting, however: "This creates the possibility of a feedback loop. Some event sparks a news story about a candidate, which triggers more public attention, which encourages yet more media attention — and so on. It may help to explain why we've repeatedly seen the so-called "discovery, scrutiny and decline" cycle in the past two primary campaigns for candidates like Trump, Newt Gingrich and Herman Cain — bursts of attention that coincide with spikes in the polls but then fade or even burst after several weeks."
Stats Watch
Another light day for stats, so Mr. Market can remain in his hammock!
"Fed: Revised IP [Industrial Production] Puts Past Recovery on Slower Path – Text" [Market News]. "Recovery." Too funny. I suppose if its slower, we'd better keep giving free money to people who already have it. 
"Employers in some sectors are hoarding workers. Similar behavior in the past has been associated with bubbles, and has led to massive retrenchment, usually within 18 months or so. In the housing bubble, similar behavior continued well beyond the peak of that bubble in 2005-06. Employers seem to take their cues from stock prices. The current string is now 4 months beyond the point at which other major bubbles have begun to deflate" [Econintersect]. Hoarding them they may be, but they're not raising their wages.
"The selloff in commodity prices is sending the following market messages: China is highly likely overestimating its economic growth rate of 7 percent that it reported last week; despite six years of central banks' efforts to rev up economic engines, the money isn't reaching consumers – it's still flowing to the one percent" [Wall Street on Parade].
"Housing doing a bit better but remains well below levels associated with prior recessions and remains a much smaller % of GDP" [Mosler Economics]. And this chart appeals to a Maine bear: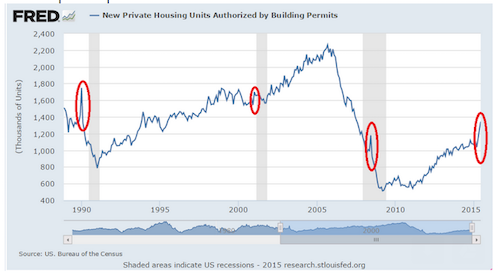 "Beware spikes in permits!"
Greece and the role of the IMF [FT, "Why you can't technically default on the IMF"]. Good detail:
The IMF isn't a creditor in the usual sense of the word. It's a collateralised bilateral swap agent that exists to help countries balance international payment obligations so that they don't have to start wars, grab resources or asset-strip trade partners when they abuse their trust.

[T]he fund is actually made up of capital commitment quotas, not pre-paid lump sums of capital. Pre-paying would be dumb, you see — a waste of perfectly good capital. What if there's no crisis to allocate the funds to?…

What the quotas really are then are capital pledges. This loosely translates to signed up IMF members agreeing to freeze their own potential counter claims on trade partners who can't afford to balance their IMF account, until the country in question can afford to honour them. In the event the "creditor" nations don't have counter claims, they simply agree to assign claims on their own capital resources, and so forth, in exchange for eventual claims on the country in question.

That's why you can't actually technically default. It's not a loan. It's a swap. A swap of one country's relatively crappy currency, for currencies that can actually get you stuff on the market.
China: [Remy Cointreau SA] sales fell 9 percent on an organic basis in the three months through June [Bloomberg]. Maybe I should have filed this under Corruption?
Black Injustice Tipping Point
Review of the Sandra Bland death in Waller County, Texas jail [Los Angeles].
"How railroads, highways and other man-made lines racially divide America's cities" [WaPo]. "The wrong side of the tracks." Surely class too, eh?
Police State
"Custodial Deaths Report" (with CSV file) [Attorney General of Texas]. There are 4226 lines in the file, each line representing a death. The earliest date can find is 2005, the lastest 2015. So, divide by 10, that's handy: 423 deaths a year. Doesn't that seem like rather a lot?
Imperial Collapse Watch
The F-35: "An April GAO report says future technical issues — likely to drive costs up even further — can be anticipated, as nearly 40% of the program's developmental testing must be still be completed" [CNN]. So, the tested parts are the ones that catch on fire? (Sander had better say something on the F-35, or somebody's going to say it for him.)
Class Warfare
"Port truck drivers plan sixth strike against company" in Long Beach and Los Angeles [Los Angeles Times].
"Subprime Auto-Loan Titan Defends Longer Terms as New Normal" [Bloomberg]. And it is, it is!
Intersectionality watch: "Yikes: St. Louis Twitter's Most-Used Curse Word is 'Faggot'" [Riverfront Times].
News of the Wired
"Colgate-Palmolive. India has successfully blocked two patent claims of US consumer goods major Colgate-Palmolive, which wanted intellectual property right (IPR) cover on two oral compositions made from Indian spices and other herbs" [Deccan Herald]. "India opposed the claim using the traditional knowledge digital library (TKDL) database, created in the last decade to fight biopiracy."
"Up in the Air: Meet the Man Who Flies Around the World for Free" [Rolling Stone]. Hacking the insanely complex prices structures of the airline oligopoly.
Game-playing as opposed to formal engineering in debugging software [BBC].
"'Speedometer' neurons discovered in rat brains" [Nature]. "The cells are a missing component of the brain's elaborate navigation system, which helps us to know where we are and where we have been."
"There's a warning out today for those who go online or to apps to figure out why they have an upset tummy or nagging cough or occasional chest pain. Symptom checkers, those tools that ask for information and suggest a diagnosis, are accurate only about half of the time." [CNN].
"A French teenager infected at birth with HIV has shown the ability to control levels of the infection in her body — without being on antiretroviral treatment" [CNN].
Garrison Keillor retires, after four decades [AP]. It seemed longer. No, but seriously, I thought Keillor turned saccharine after he took that trip to Sweden to meet (IIRC) his high school sweetheart; I preferred his humor bitter. 
"Gazprom to charge higher prices in countries that are more dependent on Russian gas" [Bruegel]. Boy, that's a shocker. It's almost like markets are more about power than value.
* * *
Readers, feel free to contact me with (a) links, and even better (b) sources I should curate regularly, and (c) to find out how to send me images of plants. Vegetables are fine! Fungi are deemed to be honorary plants! See the previous Water Cooler (with plant) here. And here's today's plant (Vicky):
Vicky writes:
I have a short video of some amazing bee balm from my sister's garden,
with a bee buzzing through it.
One of the great pleasures of sitting, as opposed to working, in the garden, is seeing and hearing all the animal life: Bees, wasps, dragonflies, damsel flies, hummingbirds, chickadees, cardinals… The biophilia really kicks in. If readers have more videos, I'd love to see them!
NOTE: Please free to test the donation dropdown, where the amount you select should finally appear on the PayPal form! Thanks to kind reader DK, who fixed my code. (And if you have problems, please let me know using the contact link, so as not to clutter the thread.)
If you enjoy Water Cooler, please consider tipping and click the hat. I need to keep my server up! And take a trip….