Our June 4 post CalPERS Admits It Has No Idea What it is Paying in Private Equity Carry Fees, described how its Chief Operating Investment Officer, Wylie Tollette, made an eye-popping claim in a CalPERS board session: that CalPERS "couldn't" track private equity carry fees. These fees are the biggest that CalPERS pays. As we pointed out then:
We've found it hard to convey how badly captured limited partners are, and this example hopefully provides a sufficiently vivid illustration. Here, CalPERS, supposedly the most seasoned and savvy investor in private equity, is flying blind on how much it pays in carry, while going through the empty exercise of meticulously tracking its woefully incomplete tally of visible charges. This is a garbage in, garbage out exercise as far as private equity is concerned. Moreover PE real (as opposed to visible) fees and costs are so high that it means that CalPERS' claims about its fees and costs across its entire portfolio are rubbish.
New York Times' Dealbook picked up on this stunning lapse in, Calpers's Disclosure on Fees Brings Surprise, and Scrutiny, on June 26. As reader Kokuanani wrote in comments:
Quelle surprise that the Grey Lady didn't mention NC's numerous articles on highway robbery by placement agents and hedge funds via their fees for "managing" Calpers $$$.

Is there any doubt that these articles are what woke Calpers and other investigators up to this?
The pressure on CalPERS became intense when the top private equity reporter, Dan Primack at Fortune, excoriated CalPERS over what he correctly depicted as either lying or a "massive breakdown in financial controls." As he wrote on June 29:
Whichever way you slice it, the result should be pissed off pensioners.

CalPERS receives annual audited financial statements from all of its private equity fund managers. These documents do indeed include information on carried interest.

Yes, you may need a calculator to break out your pro rata piece of the fund, or to work out the amount of carry paid since a fund's inception, but it most certainly can be done. I've spoken to a variety of senior LPs at other institutions (including public pensions) over the past day, and each of them is dumbfounded by the CalPERS claim…

A CalPERS spokesman says that, in the system's opinion, this is a "private equity industry issue." No. This is a CalPERS issue.
Today, Primack reported that CalPERS was in full bore retreat, while trying to pretend otherwise:
Fortune has learned that the pension system yesterday sent out emails to all of its private equity fund managers, asking for the amount of carried interest paid — and, separately, the amount of carried interest accrued — by CalPERS since the inception of each private equity fund. The information is due by July 13, with CalPERS asking for detailed supporting documentation that will allow it to "independently recalculate and tie out the amount of carry and management fee."…

I spent some time on the phone with Ted Eliopoulos, CalPERS chief investment officer, and Wylie Tollette, CalPERS chief operating investment officer (and the person who made the April comments about tracking carried interest). They both said that the timing of the emails were coincidental, and that they were part of a longer-term project in which CalPERS has been developing a robust, in-house reporting and monitoring system for its private equity investments.

So far this year, they added that 94% of their private equity partners have provided information on carried interest paid for distributions in 2015, but that the email requests are intended to fill in that extra 6% and generate historical data. As for why CalPERS only is asking for historical data now, neither one had a terribly good explanation. They stressed the lack of standardized private equity reporting, and that they "are not in the practice of doing back of the envelope math" for a portfolio of around 700 fund relationships.
And here is the breathtaking part: CalPERS knew perfectly well that it's possible to get this information and compile it well….because until recently, it had a consultant doing just that!
In fact, multiple sources tell me that CalPERS did used to receive such information in confidential reports from an outside consultant, but that the contract was discontinued shortly after CalPERS installed a new private equity investment chief in 2011. Again, this is as much a CalPERS issue as it is a private equity issue, if not more so.
And if you look at the CalPERS board video, you can see that the "we were in the process of getting this data," is yet another flat out lie. Remember this exchange came up with board member JJ Jelnicic when CalPER staff was giving an update on CalPERS' expense performance, Watch the board video carefully from 2:06:
This is the key part, emphasis ours:
They — it's an industry challenge in the private equity space, where the fees that — the carried interest or the profit sharing fees that are accrued and retained by the management firm, that's not just a CalPERS issue, that's an industry issue. And we're trying to put in place the tools, so that we can have better disclosure and understanding of what they are.
Here the "tools" refers to a system called PEARS, for Private Equity Accounting and Reporting Solution. CalPERS now uses a third party system, Private Edge, provided by its custodian State Street, for its private equity reporting. PEARS is a CalPERS system to replace Private Edge and add functionality. Note that if you look at this slide from a presentation to the investment committee at the May 2015 board meeting, the PEARS system is not yet operational: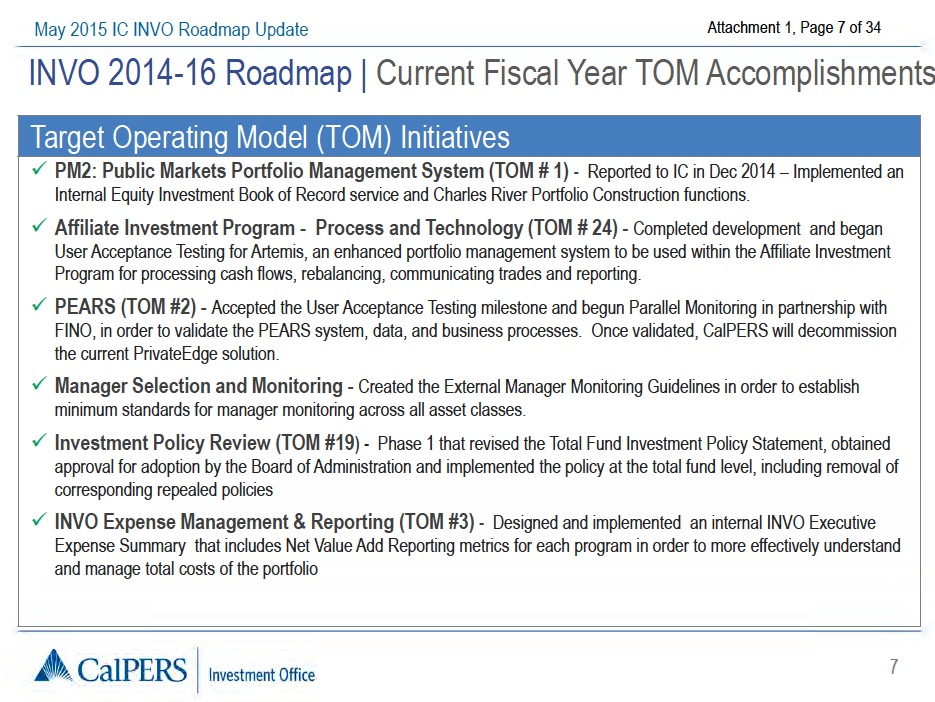 Go back to the Tollette quote with that knowledge. Tollette is blowing off Jelincic. He is saying that CalPERS is "trying to put in place the tools" as in build and test the new system, so that it "can" (not necessarily "will") capture the private equity carry fee information that Jelincic asked about It's clear that even if CalPERS actually intended to get carry fee information that it is rushing to assemble now, the game plan was to start collecting it after the PEARS system was up and running.
Understand what this means in terms of governance. CalPERS' staff has been clearly and knowingly misdirected the board in trying tell them that it couldn't get carried interest fees. It told the board and journlaists like Primack was that the gaping omission was an "industry issue," meaning no one got it or could get it. Then when caught out, it fell back on the tortured excuse to Primack about how they didn't want to do "back of the envelope math." Gee, how hard is it to keep an Excel spreadsheet and dump into into your fancy PEARS system when it's finally in production?
No board should tolerate this sort of obfuscation, above all the board of a giant fiduciary.
If this is what CalPERS CEO Anne Stausboll thinks transparency means, she might try acquainting herself with a dictionary. The only way to prove that CalPERS is prepared to walk its heretofore phony talk is for some heads to roll, starting with Tollette and the Senior Investment Officer responsible for private equity, Réal Desrochers.
I hope all readers in California, particularly those who are current or future CalPERS beneficiaries, will call or better yet write their state legislator about the financial reporting and governance failings at CalPERS. You can find the contact information for state senators and assemblymen here. Be sure to send a carbon copy to the Treasurer John Chiang, who also sits on the CalPERS board:
Mr. John Chiang
California State Treasurer
Post Office Box 942809
Sacramento, CA 94209-0001
Or call his office at (916) 653-2995.
In addition, if you belong to a union, contact your representative and encourage him or her to bring these lapses to the legislature. And finally, e-mail Jon Ortiz, who publishes the at jortiz@sacbee.com. Please let us know what responses you get in the comments section of this post.
Stress that CalPERS hasn't been honest and forthcoming when asked reasonable questions about private equity, acts only when subjected to considerable pressure, and demonstrates that all it is willing to do is make the immediate problem go away. CalPERS needs to address the underlying pathology, that it is putting its fear of rocking the boat with private equity kingpins over its fiduciary duty to beneficiaries.