By Lambert Strether of Corrente.
2016
Policy
"Guest Editorial: I Support Bernie Sanders for President and I Also Support the Black Lives Matter Takeover in Seattle" [The Stranger].
The Voters
Latest GOP National Poll (Fox): Trump 25%; Carson 12%; Cruz 10%; Bush 9%; Huckabee 6%; Walker 6%; Fiorina 5%; Kasich 4%; Rubio 4%.
The Trail
"Who's who in Trump world" [The Hill]. To me, the message of this story is that when the time comes to take The Donald aside, and explain to him that he's reached the end of the trail, that Ivanka, Donald Jr., and/or Eric Trump are the appropriate messengers ("quiet professionalism in their public images").

Biden milks his son's death for votes in Chattanooga [Los Angeles Times]. "'They were my son,' Joe Biden says of servicemen killed in Chattanooga attack." Well, no. They weren't.

"With his blessing, confidants to Vice President Joe Biden have begun strategizing about travel to early primary states and identified potential donors who could bankroll a campaign even as he remains undecided about whether to pull the trigger on a late-entry 2016 run for president" [Politico].

"A Biden candidacy — assuming the vice president ran a credible effort with some decent percentage of support in early states — would be the best possible thing for Sen. Bernie Sanders's (I-Vt.) chances of actually winning the nomination" [WaPo]. "Biden and Clinton occupy lots and lots of the same space within the Democratic Party." 

"Based on the current polling, Sanders's summer surge has left him with a realistic chance of winning one of the first two primary states, and of scaring the favorite in the other. For an insurgent candidate whom some political observers are still dismissing as a no-hoper, these are considerable achievements" [The New Yorker]. So far, however, Clinton is avoiding any leftward pull whatever.

"Iowans could hardly get close enough to take photographs of the former secretary of state, much less talk to her. "What did she say? We couldn't hear a word!" a woman with an H (for Hillary) campaign button shouted after Mr. Harkin's remarks" [New York Times].

On Christie: "Picture some bigwigs sitting around smoking Cuban cigars wondering who's the man to stop Trump" [Star-Ledger]. "Hey, I've got an idea: Let's pick the guy who's dropped so far down the polls that he's within the margin of error for zero?"

Kasich: "Passionate" but "not a marshmallow" [The Hill]. "[W]ill seek to achieve major goals in the White House by building bipartisan consensus." Oh my.
Clown Car
Sanders goes on Meet the Press (the only transcript I can find is behind a paywall, so I'll use this version from Shakespeare's Sister).

CHUCK TODD: BuzzFeed has an article out this morning. Headlines is this: Sanders' campaign reaches out to Black Lives Matter activists. Quote, I apologize it took our campaign so long. Tell me more about it.

BERNIE SANDERS: Well, . Look, we are reaching out to all kinds of groups, absolutely. I met with people at Black Lives Matter. We're reaching out to Latino groups. We're reaching out to the unions. We're fighting to expand Social Security and we're reaching out to senior groups. We're reaching out to health care groups because we believe that everybody in America is entitled to health care. We're reaching out to everybody. But on this issue of Black Lives Matter, let me be very clear, the issue that they are raising is a very, very important issue. There is no candidate for president who will be stronger in fighting against institutional racism and, by the way, reforming a broken criminal justice system. Chuck, we have more people in jail in the United States of America than any country on Earth. And we need real changes. We need to do away with the militarization of local police departments. We need to do away with minimum sentencing. We needed indication and jobs for our young people rather than jails and incarceration.

TODD: I understand that. But you said a staffer put it out but you felt an apology was necessary?

SANDERS: No. I don't. I think we're going to be working with all groups. This was sent out without my knowledge.

Eesh. Senator, with all due respect, WTF do you think you're doing? First, you just threw a staffer under the bus. Do you not think you need those staffers? Second, the "apology," justified or not, is out there, and it's not toothpaste to be put back in the tube. Policy matters more than personality, and it also matters a lot more a candidate's stiff neck. Unlike Shakespeare's Sister, I'm not filing this under dogwhistling, because it's not clear to me Sanders can carry a tune. But sheesh!

"Mike Huckabee: 10-year-old rape victim should be forced to carry rapist's baby" [Raw Story]. Wowsers.
Our Nation's Capital
Whip count on the Iran deal [WaPo]. "Congress has until mid-September to review the nuclear deal President Obama just reached with Iran. Lawmakers will vote on a yes-or-no resolution that could give the deal the go-ahead — or halt it at least temporarily."
"[T]he Finance Committee … deadlocked on the questions at the center of the IRS's singling out of Tea Party groups seeking tax-exempt status: Was there intentional targeting of conservative organizations because of their political beliefs? And did the White House have any influence over the IRS's actions? [The Hill]. "[T]he bad blood between the IRS and congressional Republicans puts the agency in jeopardy of facing further budget cuts." Since the ability of the State to require that taxes be paid in dollars creates demand for the dollar, what happens when the IRS enforcement capability rots from within?
Stats Watch
Empire State Manufacturing Survey, August 2015: "Out of the blue, the Empire State index has plunged deeply into negative column this month, to minus 14.92 in August vs plus 3.86 in July. This is by far the weakest reading of the recovery, since April 2009" [Bloomberg]. "A  reminder that weak exports and weakness in the energy sector are stubborn negatives." However: "As this index is very noisy, it is hard to understand what these massive moves up or down mean – however this regional manufacturing survey is normally one of the more pessimistic" [Econintersect]. What it means: "The lack of support from the lost oil capex continues to ripple out" [Mosler Economics]. And: "This survey has a lot extra bells and whistles which take attention away from the core questions: (1) are orders and (2) are unfilled orders (backlog) improving? Econintersect emphasizes these two survey points – and both remain in contraction." And Mr. Market: "While the Empire manufacturing report is typically a lower-tier indicator, markets reacted sharply to the weak reading due to the proximity of the September FOMC meeting just a month away. We look for investors to remain jittery as even lower-tier indicators increase market volatility, but note that the weaker August Empire manufacturing reading still needs confirmation from its peers" [Across the Curve].
Housing Market Index, August 2015:  "The new home sector is increasingly a central source of strength for the economy and builders are increasingly optimistic" [Bloomberg]. "Strength in the labor market is the driving force behind strength for new homes where lack of supply continues to motivate builders."
E-Commerce Retail Sales, Q2 2015: "Year-on-year, e-commerce sales rose 14.1 percent. These readings dwarf growth in total retail sales" [Bloomberg].
"[T]he biggest cautionary warnings – rising junk bond yields and the rising spread in yields between junk and U.S. Treasuries – are commanding far less attention than they should be" [Wall Street on Parade].
"With recent U.S. macroeconomic data doing little to undermine the current consensus that the Federal Reserve will act at its meeting in mid-September, redemptions from EPFR Global-tracked high yield bond funds accelerated during the second week of August and outflows from emerging markets bond funds climbed to a nine-week high as bond funds overall experienced net redemptions for the seventh time in the past 10 weeks," [fund data provider EPFR Global] said [Market News].
Black Injustice Tipping Point
"Given the Panthers' cultural significance, it's surprising that The Black Panthers is the first documentary to present a thorough examination of the group" [The Intercept]. Or not!
Katrina's not a disaster; it's a blueprint [The New Yorker].
Mitch Landrieu, mayor of New Orleans, and his "preoccupation with the homicide plague afflicting black America" [The Atlantic].
"Why Pinellas County is the worst place in Florida to be black and go to public school" [Tampa Bay Times]. Well-meant data journalism optimizing for swiping, the new stupid.
"At protests to mark the one-year anniversary of Brown's killing, the police show of force has been only a little less aggressive" [Mother Jones]. It's entirely possibly the Ferguson cops, and the Stasi generally, regard Ferguson's approach to policing as a model for future efforts.
"A reporter for The Guardian newspaper has sued the custodian of records for St. Louis County Prosecutor Bob McCulloch's office, claiming he will not provide emails from last year about the police shooting death of Michael Brown in Ferguson and its aftermath, including the grand jury investigation" [Business Journal]. "[U]nder Missouri Sunshine Law, all records of public governmental bodies are public records." McCulloch is such a slimeball. A Democrat, of course. 
Police State
"The Sergeants Benevolent Association in New York has been urging officers and their friends and families to photograph signs of disorder and post them on Flickr. The goal, as the New York Post wrote, is to 'document the decline of the city"" [WaPo]. Call me crazy, but I'd call cops whacking people with impunity a sign of "the decline of the city." #JustSaying.
"Yet police killings of black men by police have continued despite moves toward reform, such as equipping police with body cameras or requiring officers to get out of their vehicles and walk the streets of the neighborhoods they serve" [Duluth New Tribune]. Take away their guns, take away their cars, and make them walk the beat. All of it.
Corruption
"For years, for-profit colleges have been accused of predatory tactics and taxpayer fraud" [Miami Herald]. And in on the scam: Bill Clinton ("Honorary Chancellor"), Marco Rubio (running interference; contributions); Jebbbie (contributions); Donald Trump ("Trump 'University'"). Ka-ching, ka-ching, ka-ching. It's like the only real conflict is which puppy gets to the food dish first.
"The three partners book almost $3 billion in profits a year tax free, by charging their Australian arms for related-party loans at more than 10 times the interest rate that the majors paid to third-party lenders in the United States." [Australian Financial Review, "ATO looks into Chevron, ExxonMobil and Shell's $60b tax-free windfall]. $60 billion! That's real money, even if the dollars are Australian!
Class Warfare
Some handy maps on global trends from [Bloomberg]. "Income inequality" is terra incognita, it seems.
"So that's the scenario I'm looking for over the next few years. Higher wages, borrowing, and demand for/from households. Higher labor costs, interest rates/expenses, capex, and taxes paid by corporations. Less borrowing and fewer buybacks by corporations. If that sounds like inequality reduction and rebalancing that's because it is. It's not clear that financial markets will benefit at all from this scenario, but in any case it's hardly a "recession" in any broad-based sense of the word" [Conor Sen].
"Less recognized is the prominent role Wall Street is playing in the background of two campaigns: the employer of spouses:" Christie and Cruz [Wall Street Journal, "Wall Street Wives Lend a Hand to Republicans Cruz and Christie"]. "This unusually direct connection is simply one more illustration of how Wall Street is deeply entangled with presidential politics this time around. It once provided employment for two GOP candidates—Jeb Bush and John Kasich—and is a prominent funding source for leading Democratic contender Hillary Clinton."
Big Oil trolling real-life meetings [Bloomberg]. It's a form of astroturfing, but more corrupt and reprehensible than usual, since people are paid to take what appear to be sincerely held positions, without disclosing their interests.
"Eric Foner on the abolitionists, Reconstruction, and winning "freedom" from the Right" [Jacobin].
"I call the Civil War the Second American Revolution, as historian Charles Beard did, and as abolitionist Wendell Phillips did. But the Revolution is the destruction of slavery, that's the revolutionary quality. That's Du Bois's point. I call it a capitalist revolution. I don't know if that's the same thing as a bourgeois revolution. It destroys a system that is both capitalist and non-capitalist in ways that are quite difficult to explain, but the consequence of the Civil War is capitalist hegemony throughout the entire United States.
News of the Wired
"Permaculture and the Myth of Overpopulation" [Permaculture News]. I took a hack at the same question here.
"The Neuroscience of Drumming: Researchers Discover the Secrets of Drumming & The Human Brain" [Open Culture].
"OwnStar Wi-Fi attack now grabs BMW, Mercedes, and Chrysler cars' virtual keys" [Ars Technica]. But when cars are self-driving, this won't be a problem!
"Metropolitan Museum Initiative Provides Free Access to 400,000 Digital Images" [The Metropolitan Museum of Art].
* * *
Readers, feel free to contact me with (a) links, and even better (b) sources I should curate regularly, and (c) to find out how to send me images of plants. Vegetables are fine! Fungi are deemed to be honorary plants! See the previous Water Cooler (with plant) here. And here's today's plant (Alex):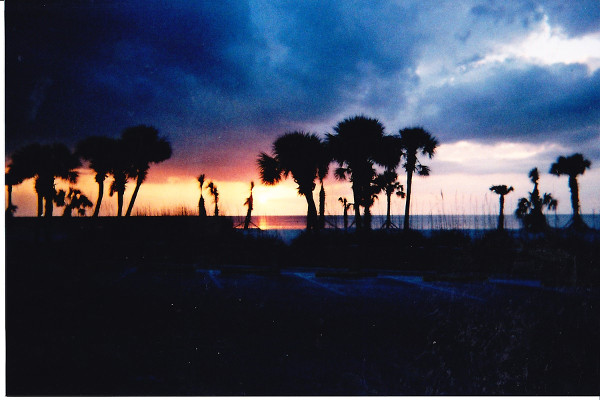 Sunset near Tarpon Springs, Florida. I've gotta say, that looks like a good situation….
If you enjoy Water Cooler, please consider tipping and click the hat. TAhis is turning into a tough month, and I need to keep my server up!