By Lambert Strether of Corrente.
TPP/TTiP/TISA
List of traitors in House and Senate, with phone numbers. Hat tip, reader Vatch. Be sure to visit them when they return to the district this week. If a traitor is mentioned in Water Cooler, their name is in bold.
The timing: "There was no consensus Monday on how soon talks to conclude the Trans-Pacific Partnership trade pact could be revived" [Voice of America]. Democracy is doing what it should be doing:
"The timing really is a challenge at this point, really driven by electoral politics," Asia Trade Center executive director Deborah Elms told VOA.

A Canadian general election is scheduled for October 19 and campaigning began Sunday.

For the Canadians "to make a concession on dairy this close to the election I think is going to be even harder," Elms told VOA.

The U.S. presidential primaries begin in January 2016.

Due to legally binding Congressional rules on trade, even if the negotiators are able to reach agreement late this month, Elms predicts, via Skype, that would leave U.S. lawmakers only a handful of days before they leave for the Christmas recess.
Right as the Iowa caucuses are cranking up. And see here and following for useful nuance on the Canadian elections from NC readers.
New Zealand: "'I think there is probably a window of two or three weeks,' said Mike Petersen, New Zealand's special trade envoy for agriculture. 'There's a window where we could get this deal done. It's going to be really tight. There's going to have to be a lot of movement in the next two or three weeks." [CTV News].
New Zealand: "[Prime Minister Key] expects there will be some hard negotiating behind the scenes before the next formal meeting 'potentially within the next two or three weeks'" [3News]. Abe's deadline was August 29, the last Saturday. 
Japan: "Japanese Prime Minister Shinzo Abe faces re-election as Liberal Democratic Party president on September 30" [The Diplomat].
Japan: "Tokyo on Monday described claims that Washington spied on Japanese politicians and major firms as "deeply regrettable", in its first official response to revelations from whistleblower group WikiLeaks" [Economic Times of India].
Canada, Stephen Harper, in Laval, Quebec: "So it is important that Canada remain at the table; we will remain at the table during this election campaign, we will be there to advance and protect our interests in every sector, including supply management, dairy, and we will make sure that should there be a deal, we will get the best possible deal for this country." [HuffPo].
"The TPP, The WTO, The 21st Century Global Trade Mess And The Poverty Of Nations" [Forbes]. TTP, TTiP, and TSA do not "include any African countries. Were they to materialize, Africa's already meager share of global trade (2 to 3%) will most likely be further diminished as the population soars." Reading between the lines, Africa is for China. Good read.
  "[TPP has] three major flaws, though, that will likely overwhelm any positives the deal may deliver" [East Asia Forum].
The first is that the core of the new rules involves aspects that further private interests (read: large multinationals) at the expense of general welfare in member countries. The most egregious of these is stronger intellectual property (IP) rights protections, which are anti-development and simply transfer wealth to US pharmaceutical companies and Hollywood. … This means a net reduction in trade and a loss in global welfare.

The second flaw is who the TPP leaves out. China, India and Indonesia, among others, are not party to the TPP nor will they be able to join anytime soon….

The third major flaw is that even in the win-win trade enhancing areas, the TPP will either entrench protection in some areas — chiefly agriculture — or, where it succeeds in liberalising, will do so at the expense of non-members.
Also interesting on what happens to countries that are left out of the deal.
United States: "Democratic Rep. Sandy Levin of Michigan [observing in Maui], meanwhile, said it's 'wise' that the deal wasn't concluded this week [CNN].
Labor rules with countries like Mexico, Vietnam and Malaysia still need to be better addressed, and the United States shouldn't curb access to medications, he said.

"We will also need to closely review the still-classified text to assess the extent to which there has been real and sufficient progress on issues such as the environment and investor-state dispute settlement," he said.
Sovereignty issues at the state level: "[U]nder the 11th Amendment to the Constitution, state governments are given "sovereign immunity" from most legal issues in federal court. … [T]he TPP appears to get rid of that, and would open up states, at the very least, to [ISDS]" [Techdirt].
2016
Readers, I need a really good campaign travel tracker. At the National Journal, nobody told the JavaScript dude to consider UX. Any suggestions?
Policy
James Hansen and Bill McKibben on Clinton's solar panels plan [Guardian].

"It's just plain silly," said James Hansen, a climate change researcher who headed Nasa's Goddard Institute for Space Studies for over 30 years. "No, you cannot solve the problem without a fundamental change, and that means you have to make the price of fossil fuels honest. Subsidizing solar panels is not going to solve the problem."

Personally, I think taking carbon from the earth should be subject to a religious taboo, and only performed after expensive, elaborate, and time-consuming ceremonies.

"Credit Supply and the Rise in College Tuition: Evidence from the Expansion in Federal Student Aid Programs" (PDF) [New York Fed].

"Top 5 Ways Obama's 'All of the Above' Politics led to Sanders & Trump" [Informed Comment].
Money
"Clinton, Asked What She'll Do About Money in Politics, Explains 'Mrrph Blvvvr Lrrrrg'" [The Intercept].
The Voters
Why Latinos don't caucus in Iowa [Bleeding Heartland]. Nobody asks them.

City Council primary in Seattle Tuesday; Sawant challenged [Seattle Times]. A "progressive," Pamela Banks, is on the top of Sawant's ballot; here's one look at Banks; and another. Ka-ching.

"[L]ocal Republican parties have courted [Trump] and his polarizing brand for years, eagerly slotting him atop prominent party functions and fundraisers — and happily lapping up the dollars he draws" [Politico]. "In past years, Trump has headlined party fundraisers in Oakland County, Michigan; Syracuse and Erie County, NY; and for innumerable candidates seeking his support and largesse. In recent months, he's appeared at state and county fundraisers in New York, Virginia, Maryland and Arkansas." In other words, the mystery of Trump's continued support in the polls may have a completely rational and utterly normal basis previously invisible to Washington.
The Trail
"Jill Stein presidential campaign, 2016" [Ballotpedia].

"Campaign Consultant Presents Scott Walker Several Human Sides To Choose From" [The Onion].

"Close aide to VP's late son joins Joe Biden 2016 super PAC" [Yahoo]. Clearly, Clinton's legislative record can't compare with Biden's. I mean, look at that loveable goof's stellar work on student debt!

"Biden is planning to wait until next month to make his decision" [Los Angeles Times]. You never roll out a new product in August.

"Hillary Clinton's $2million first presidential campaign adverts try to gain voters by talking about her late mother's troubled childhood as she attempts to show she understands the struggles of Americans" [Daily Mail]. I try not to quote the Mail because of a long history of US oppo planted in the UK, but…. sometimes the headline just tells the story, doesn't it?

"Hillary Clinton is spending $2 million on a flight of ads in Iowa and New Hampshire that seek to re-introduce her to a public who almost certainly feels like they already know everything about the former First Lady, New York Senator and Secretary of State" [WaPo]. a show of strength in the air war may send a message to Biden.
Capital Hill
"With the dog days of August having descended on Washington, the members of the House have returned home for the rest of the summer while the Senate braces itself for a week of largely symbolic votes and positioning for fall fiscal battles" [Market News]. Now's your chance to visit their district offices…. 
Stats Watch
"Federal Reserve officials have fuzzy views on how wage growth fits in with their objectives for the economy. They would like to see wages growing faster. It would give them confidence that the economy is closer to their dual goals of producing healthy job growth and modestly rising inflation. But the linkages between wages, jobs and inflation are unclear, and so they're not banking on faster wage growth materializing. [Wall Street Journal, "Grand Central: Fed Doesn't Demand Wage Growth Before Increasing Interest Rate]
"Consumer-price growth has been running below the Fed's 2% target for three years, and June was yet another month of weakness" [Wall Street Journal, " Inflation Misses Fed's 2% Target for 38th Straight Month"].  An unbroken track record of success! Just like wages, come to think about it.
Motor Vehicle Sales, July 2015: "Running about as expected" [Bloomberg]. Both June and July are "down from May's gigantic spike."
Personal Income and Outlays, June 2015: "The consumer showed less life in June with inflation remaining very quiet." Bloomberg]. Spending as expected, personal income slightly more than expected.  But: "With significant backward revisions this month, the data looks weaker than at first glance" [Econintersect].
Institute of Supply Management Manufacturing Index,  July 2015: "Weak employment and continued contraction in exports held down the manufacturing index" [Bloomberg]. New orders slightly up, exports down, backlog down.
PMI Manufacturing Index, July 2015: "Slow growth is the signal from this morning's manufacturing reports" [Bloomberg]. "[Exports orders, unlike the ISM report, are showing a slight bounce back. … Employment in this report is strong for another contrast with the ISM report. Price data in both reports are mute."
Construction Spending, June 2015:  "Held back by a slight and unexpected decline in single-family homes, construction spending inched only 0.1 percent higher in June" [Bloomberg]. "[S]weeping monthly declines for offices, commercial structures, factories along with power and transportation spending. On the plus side were construction for highways and education." But: "The headlines say construction spending grew below expectations. The backward revisions make this series very wacky. Our view is that if the data is correct – this was a strong growth month" [Econintersect].
Gallup US Consumer Spending Measure, July 2015: "similar to June and essentially matching readings back to April" [Bloomberg]. "Though gas prices remain lower than they were a year ago, which had boosted Americans' confidence in the economy, this does not seem to have had much effect on Americans' overall spending."
Our Famously Free Press
Omidyar to fund a fact-checking organization at Poynter [Poynter Institute]. Why not theory-checking?
Dear Old Blighty 
Corbyn the only Labour candidate to reject Tory/neo-liberal framing on fiscal issues [Prime Economics].
Corruption
"[I]nvestigators looking into the fund have traced nearly $700 million of deposits into what they believe are [Prime Minister Najib's] personal bank accounts" [Wall Street Journal, "Things to Know About Probes of Malaysia's 1MDB Fund"]. Even today, that's real money!
The mess in Albany: "[S]ome of the most efficient workers in state government have proven to be the maintenance workers tasked with stripping convicted lawmakers' names of their office doors" [Capitol Confidential]. " Senate Deputy Majority Leader Tom Libous, R-Binghamton, and Sen. John Sampson, D-Brooklyn." This seems to keep happening…
Agnotology Watch
"How conservatives forced changes to AP US history to make it more 'pro-American'" [Vox].
News of the Wired
"The Real Reason You Can't Stop Checking Your Phone" [Psychology Today].
"The Unemployable Programmer [Unemployable].
"How to spot whodunnit: academics crack Agatha Christie's code" [Guardian].
"HitchBOT destroyed in Philadelphia, ending U.S. tour" [CBC]. "Researchers say Canadian-made hitchhiking robot ruined beyond repair." From the city that threw snowballs at Santa… 
* * *
Readers, feel free to contact me with (a) links, and even better (b) sources I should curate regularly, and (c) to find out how to send me images of plants. Vegetables are fine! Fungi are deemed to be honorary plants! See the previous Water Cooler (with plant) here. And here's today's plant (Kurt):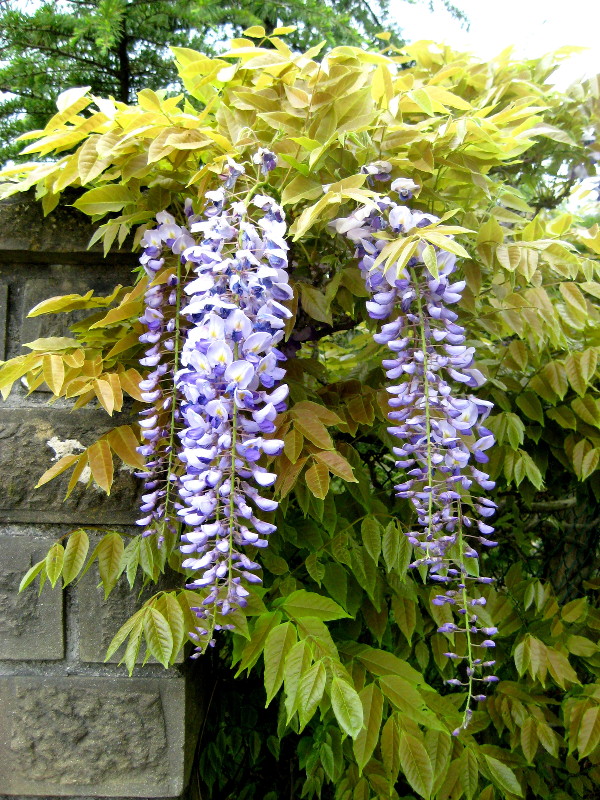 A nice warm garden wall…
If you enjoy Water Cooler, please consider tipping and click the hat. I need to keep my server up! And take a trip….