By Lambert Strether of Corrente.
TPP/TTiP/TiSA
List of traitors in House and Senate, with phone numbers. Hat tip, reader Vatch. Be sure to visit them when they return to the district this week. If a traitor is mentioned in Water Cooler, their name is in bold.
"In the U.S., current and former officials concede that it is now unlikely the TPP can be completed and voted on in Congress this year as the Obama administration hoped" [Wall Street Journal, "Election Cycles Cloud Future of Trade Talks"]. Of course, this is a war, so you can be sure the powers that be are gearing up for the next campaign. And that also shows why every delay was good in June and July.
"Today's fourth 'final' TPP ministerial without a deal means the clock has run on possible U.S. congressional votes in 2015" [Eyes on Trade]. TPP is coming off the front burner.
TTiP: "'We will do everything we can to try to finalize during 2016. That's the optimistic scenario we're working on, but it's possible,' [EU Trade Commissioner Cecilia Malmstrom] told reporters." Europe takes the month of August off, however. And the United States will be thinking about other things in 2016.
TTiP: "[C]ritics argue that if TTIP involves, as the EU hopes, a commitment that would guarantee automatic licences for all future US crude oil and gas exports to Europe, that would result in a boom in US fracking to keep Europeans powered with shale gas, not to mention greater exploitation of oil from Canadian tar sands" [Guardian]. Yikes! Good read, though I think they over-egged with British humor, no doubt to make it accessible. (On the right, Breitbart seems to be paying attention, too.)
TTiP and ISDS: "When it dared to halt the production of a gold mine, the government of Romania found itself facing a massive lawsuit from a corporate mining giant in a secret 'court'. There's nothing about the case that makes any sense – the corporation has said it may seek up to $4 billion in 'compensation', which is half of Romania's annual public healthcare budget. under a controversial trade deal between the UK and America known as TTIP, such cases could become common in Britain" [Independent].
Fast Track: "If the TPP fails to include a meaningful currency provision, the pact could be subject to a disapproval resolution stripping away its "fast track" protections, making it open for amendment and subject to filibuster in the Senate. Ohio Sens. Rob Portman, a Republican, and Sherrod Brown, a Democrat, have been out front in calling for enforceable currency rules, as have Democratic lawmakers from Michigan such as Rep. Sander Levin and Sen. Debbie Stabenow" [Politico].
2016
Readers, I need a really good campaign travel tracker. At the National Journal, nobody told the JavaScript dude to consider UX. Any suggestions?
Money
"Super-PACs and 527s, outside groups that can raise unlimited amounts of money to help candidates as long they don't coordinate, have been relatively quiet thus far, spending only about $23 million of the $261 million they raised in the first half of the year. That left plenty of powder in the keg" [Bloomberg].

"Last week, the main super-PAC backing Kasich's candidacy announced it raised more than $11 million, tapping into a surprisingly deep well of influential Ohioans for a haul that puts him squarely in the middle of a well-funded pack of GOP candidates" [The Hill]. And he got a bump in the polls.
The Trail
Walker keeps getting p0wned, doens't he? First, there's the prank call from Ian Murphy of the Buffalo Beast, posing as squillionaire David Koch. Now there's this:

Pretty sure Scott Walker doesn't realize what the front of this sign says: pic.twitter.com/dmeftDAWBz

— Jenna Johnson (@wpjenna) August 3, 2015

More like this, and I'm going to have to worry about Walker's staff, who should have prevented this, and put him in the Clown Car. (Trump also took a lot of Walker's oxygen and voters; see FOX polling charts here.)

"Gov. Scott Walker has two credit-card debts of more than $10,000 apiece on separate cards and is paying an eye-popping 27.24 percent interest rate on one of them, new federal financial documents disclosed on Monday show" [National Journal]. Poor sap, just like the rest of us. You'd think he'd have more compassion.

Republican debates, round I: In: Kasich, Paul, Carson, Walker, Trump, Bush, Cruz, Huckabee, Rubio, Christie. Out: Perry, Jindal, Santorum, Fiorina, Pataki, Graham [WaPo].  Presidential timber, and the pick of the litter!

I think this is the best Biden quote ever [Bloomberg]:

"I give you my word as a Biden—a serious answer," [Biden] said. "If the Lord Almighty came down and sat at that coffee table and said, 'I guarantee you're the nominee if you say yes now,' I wouldn't say yes now. Because I don't know what the hell four years from now, three years from now, is gonna be like. But I know one thing: I have no intention, if I feel as good and have the same mind-set I have today, of my just saying, 'Well, you know, I put my years in, and I am proud of what I did. And now, you know, I'm going to play a lot more golf.'"

So, he gave his word. But what did he say?

Sadly diminished New Yorker helps Biden milk his son's death for votes [New Yorker]. Anybody But Clinton, I know, I know, but still… 

NBC News poll: "In June, 44% of white women had a favorable view of Mrs. Clinton, compared to 43% who didn't. In July, those numbers moved in the wrong direction for Mrs. Clinton: Only 34% of white women saw her in a positive light, compared to 53% who had a negative impression of her, the poll found" [Wall Street Journal]. I suppose that's why she's reintroducing herself, but how many times can you do that?

Sanders' political biography in pictures [National Journal].
Clown Car
That long-form genre pioneered by the New Yorker where the writer heads into a swamp, lured by the call of a bird believed to be extinct. And, after many pages, doesn't find the bird. Journalists have similar trouble getting quotes from Trump [National Journal]. Personally, I don't think voters mind this a bit.

"Harvard Lampoon tricks Trump with fake endorsement" [The Hill]. That's two pranks in a week… Maybe #BlackLivesMatter could try p0wning Clinton?

"Call Donald Trump's Cell Phone and Ask Him About His Important Ideas" [Gawker].
Stats Watch
Gallup Economic Confidence Index, July 2015: "July's Economic Confidence Index averaged minus 12 in July, down from minus 8 in June and the lowest monthly average since October 2014. The drop is attributable chiefly to Americans' increasing view that the economy is getting worse rather than better" [Bloomberg]. ("When more and more people are thrown out of work, unemployment results." –Calvin Coolidge.) "Although upper-income Americans remain more positive than lower- and middle-income earners about the economy, the gap between the two groups narrowed in July as economic confidence among upper-income Americans was negative for the first time in 10 months."
Factory Orders, July 2015: "Factory orders rose nearly as expected in June, up 1.8 percent for only the second gain in the last 11 months" [Bloomberg]. "[S]hipments of core capital goods [are] up 0.3 percent, a key reading that excludes aircraft, isn't spectacular but is still a solid gain for business investment."
"In its most recent report, [the Office of Financial Research] provides the stunning news that private hedge funds in the U.S. now control one-third of all assets under management in the financial services industry – a stunning $4.1 trillion when leverage is included" [Wall Street on Parade].
"Without the big jump in reported personal dividend income personal income, [yesterdays Personal Income and Outlays figures] would have been lower" [Mosler]. Quoting the report: "Rental income of persons increased $7.4 billion in June, compared with an increase of $7.7 billion in May. Personal income receipts on assets (personal interest income plus personal dividend income) increased $20.2 billion, compared with an increase of $8.4 billion. Personal current transfer receipts increased $8.6 billion, compared with an increase of $8.9 billion."
"[Drewry Shipping Consultants Ltd] lowered its forecast for containers moving through ports in China and Hong Kong to grow by 4.9% this year, from 5.8% in an earlier outlook" [Wall Street Journal]. Simon Heaney of Drewry: "For shipping lines, any decrease isn't particularly great at this moment, [but] in the grand scheme of things…it's a risk but a small one." ("I watch Baltic Dry." "Only way to watch it!" [rimshot. laughter].
"Executives from two of the biggest names in corporate-bond trading [MorganStanley, Blackrock] said concern about liquidity is overdone" [Bloomberg].
Health care
"Celebrating 50 years of Medicare" [Medium].
"Health insurance carrier Blue Cross Blue Shield of Texas has announced it will eliminate its Blue Choice PPO plan next year — a move that will affect hundreds of thousands of consumers statewide. The change is being made because the carrier paid out $400 million more in claims than it collected in premiums for the product in 2014.  [San Antonio Express-News]. "Around 367,000 Texans have such PPO plans through the health insurance company right now, company officials said. The insurance carrier expects to offer another product once open enrollment in 2016 health insurance plans begins Nov. 1. Eliminating the Blue Choice PPO plans will not affect customers who have Blue Cross group health PPO plans through their employers. The change also will not affect those whose PPO plans were grandfathered in 2010."
"I want to stress the need to shop around when looking for healthcare insurance on the exchanges by citing one example of how it can make a difference" [AngryBear]. First, shopping is a tax on time. Second, there should be no need to shop at all, since the health insurance industry, being wholly parasitical, should not exist. Third, shopping is a hedonic treadmill. Suppose you find a good deal this year, and suppose others do, too. Next year, the insurance companies will take it away anyhow, since they are in the business of profiting by denying people care; see the example above in San Antonio.
"Buoyed by new government business, Aetna once again raised its profit forecasts as the health insurer works through a proposed $37 billion acquisition of Humana that will make the company an even larger player in expanding business under the Affordable Care Act" [Forbes].
"The leaders of the top five health insurers periodically get together to discuss policy issues, Aetna Inc. Chief Executive Mark T. Bertolini told investors in a private meeting earlier this month. The group had a nickname, he joked: the G5" [Wall Street Journal, "CEOs at Aetna, Anthem Help to Reshape Health-Insurance Industry"]. Didn't Adam Smith have something to say about that?
"Deals among the nation's largest health insurers in recent weeks have been almost head-spinning. But whatever the details, if the combinations are finalized, the result will be an industry dominated by three colossal insurers" [New York Times].
"Data released last Tuesday by Centers for Medicare & Medicaid Services Office of the Actuary suggest that health spending increases will average 5.8 percent annually through 2024 — well above the 4 percent average increase from 2007 to 2013.  Gross domestic product will average no better than 3.5 percent annual growth in the same period, and wage growth will lag similarly. So at the same time as insurers are consolidating, employers and consumers will be bearing the brunt of escalating health costs" [Hospitals and Health Networks].
Corruption
"Malaysia's anticorruption agency said Monday that 2.6 billion ringgit (about $700 million) was deposited into Prime Minister Najib Razak's personal account and that the money was from a 'donor contribution,' not from 1Malaysia Development Bhd, a state investment fund also known as 1MDB [Wall Street Journal]. "The Malaysian Anti-Corruption Commission didn't say, however, who the donor was, nor the purpose of the contribution." $700 million is a lot of money, even for a squillionaire. Or a state actor with interests in agreements that Malaysia might or might not sign?
"Federal prosecution of white-collar crime has hit a 20-year low, according to a new report on Department of Justice data. The analysis of thousands of records by Syracuse University shows a more than 36 percent decline in such prosecutions since the middle of the Clinton administration, when the decline first began." [International Business Times]. Every paragraph has a horrible detail, and Sirota saved the best for last: Under sequestration, Holder shifted $150 million away from white collar enforcement to the Bureau of Prisons. So, it's a two-fer: Bankers skate, but the carceral state gets a reach-around!
Class Warfare
"We're Making Life Too Hard for Millennials" [Steven Rattner, New York Times]. He blames — hold onto your hats, folks — the Boomers. This would be the Steven Rattner of Quadrangle Group LLC, Lazard Frères & Co., Morgan Stanley, and Lehman Brothers. The locusts eat all the corn and then blame the field.
"The key point is that revenue from extractives is not income. It is simply the reshuffling of a country's portfolio of assets: exchanging resources below ground for cash above it" [Paul Stevens, The Economist,  "Is mining as bad as asset-stripping?"].
"Kansas plans to keep a controversial $25 limit on ATM withdrawals by welfare recipients, despite the possibility that the restriction might violate federal law" [McClatchy]. Hilariously, these knuckle-draggers can't even kick the poors properly: "There is one loophole, however: Kansas' plan — released publicly for the first time this week — places no limits on cash-back money received while making a purchase at a store. Welfare recipients are allowed two free cash-back transactions per month." Interesting, however, to see the payments system used as a(n overt) form of social control, isn't it?
News of the Wired
"Efficient Web Type, c. 1556" [Kenneth Ormandy]. French protestants needed small Bibles under religous repression, which imposed typographic and design requirements.
"Lucky Lobsters Jam China Flights, Sending U.S. Prices to Record" [Bloomberg]. Well, not that lucky…. 
* * *
Readers, feel free to contact me with (a) links, and even better (b) sources I should curate regularly, and (c) to find out how to send me images of plants. Vegetables are fine! Fungi are deemed to be honorary plants! See the previous Water Cooler (with plant) here. And here's today's plant (Alex):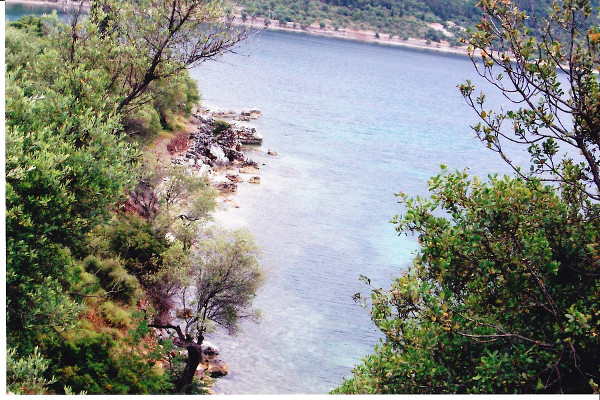 Ithaca, again. Reminds me of the coast of Maine….
If you enjoy Water Cooler, please consider tipping and click the hat. I need to keep my server up! And take a trip….