By Lambert Strether of Corrente.

TPP/TTIP/TiSA
Repeating from yesterday: Thanks to reader TedWa, we find that the USTR has solicited comments at regulations.gov on the "Employment Impact" of TPP (and not on anything else, apparently). Here's the link, which includes the submission procedure. "Written comments are due by Wednesday, January 13, 2016." Thanks to alert readers for parsing through the site, especially dk and JTMcPhee.
2016
SOTU
I can't get excited about the State of the Union address blah blah legacy blah legacy blah blah blah. Here's a link. Hey, maybe he'll quote Auden!

I sit in one of the dives
On Fifty-second Street
Uncertain and afraid
As the clever hopes expire
Of a low dishonest decade:
Policy
"Hillary Clinton took aim at Bernie Sanders' single-payer health care plan on Monday, characterizing it as "turning over your and my health insurance to governors," specifically naming Republican Terry Branstad. It's a pretty clear reference to the many conservative states that have refused ObamaCare's Medicaid expansion — implying that Sanders would allow conservative states to opt out of his plan, and hence partially destroy all federal health insurance programs" [The Week]. "This is absolutely false." (NC readers know this from our debate coverage; see this post from November 15.) Left to her own devices, Clinton wouldn't mention single payer at all. Now that Sanders has forced the issue, she lies.
The Voters
Myth of the independent: "As we noted in August, most independents lean toward one party or the other — and in 2012, the majority of those leaning independents voted for their preferred party's presidential candidate. (According to the book "The Gamble," 90 percent of Democratic-leaning independents backed Obama in 2012, and 78 percent of Republican-leaning ones backed Romney.)" [WaPo].

"[I]f Americans are indeed angry, unsettled, or dissatisfied, in many ways they appear to disagree about why they should be angry, unsettled, or dissatisfied" [WaPo].

"Bernie Sanders has an 11-point advantage over Hillary Clinton among voters under 35" [Vox]. Let's see if they come out to vote…
The Trail
"MoveOn is endorsing Bernie Sanders for president after the liberal challenger to Hillary Clinton won 78 percent of votes cast by its membership" [The Hill]. Granted, Ilya Sheyman is MoveOn's political director, but still: This is better than a poke in the eye with a sharp stick. And 78%!

"The Top 5 Reasons MoveOn Members Voted to Endorse Bernie (with the Most Votes and Widest Margin in Our History)" [Ilya Sheyman, Medium]. #1: "1. Bernie's lifelong commitment to standing up to corporate and 1% interests to fight for an economy where everyone has a fair shot." Not sure where the wording on those "reasons" comes from, but contrast Clinton.

"[FBI] agents are investigating the possible intersection of Clinton Foundation donations, the dispensation of State Department contracts and whether regular processes were followed," one of [three] sources told Fox" [The Hill]. "One of the Fox sources also said that the FBI is especially eager to pursue a high-profile public corruption case in the wake of what they believe was overly lenient treatment of former CIA Director David Petraeus, who pleaded guilty to a misdemeanor last year for mishandling classified information after it was revealed that he had given classified information to his mistress."

O'Malley was the intended sheepdog, not Sanders: "O'Malley's continued presence in the race is helping Clinton. In Iowa we find his supporters would prefer Sanders over Clinton 43/20, and in New Hampshire they prefer Sanders over Clinton 47/13. So to some extent O'Malley is helping to split the anti-Hillary vote" [Public PolicyPolling].

"According to a Monmouth University survey released on Monday, Trump has 32 percent support in New Hampshire, up from 26 percent when the same question was asked in November" [The Hill].

Summarizing Buchanan on Trump: What the Republican electorate says of Trump is what Lincoln said of Grant: "We need this man. He fights" [WaPo].
Stats Watch
Gallup US ECI, December 2015: "[S]lightly better than averages from July through November. Confidence was a bit lower in December than in early 2015, but better than it's been for most of the time since 2008" [Econoday]. It would be a lot higher if only Janet could find that punchbowl…
Small Business Optimism Index, December 2015: "The National Federation of Independent Business's (NFIB) optimism index rose insignificantly in December after many stagnant months" [Econintersect]. "The NFIB says the Index is stuck in a "below average" rut."
Shipping: "Maersk's stock lost 9.8% in the first week of 2016" [Splash247]. "A report out by Nordea analyst Stig Frederiksen says Maersk is being hit 'by a toxic cocktail with challenges in both the oil and the container division, [but] it's now become the oil price that's the main driver.'"
Shipping: "There will be no sustained recovery in the dry bulk or container shipping sectors this year amid overcapacity in the industry and slowing demand for raw materials from China, said "K" Line president and CEO Eizo Murakami" [Longshore & Shipping News].
Shipping: For the maritime geeks I now know we have, Mish thinks the Harper Petersen index provides "more information" than Baltic Dry [Global Economic Analysis]. From their site, here's a shot of the last ten years: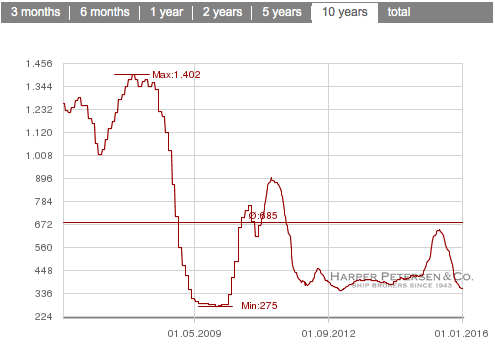 I'm sensing owies on the right hand side, but beyond that I can't go. Maritime geeks! What's Harper Petersen telling us, and is it really better than Baltic Dry?
Carbon: "Arch Coal Inc., the nation's second-largest coal mining company, filed for bankruptcy Monday" [The Hill].
Honey for the Bears: "BofA analysts led by Ken Hoexter look at the past 30 years to see what this type of steep decline usually means for the U.S. economy. What they found wasn't particularly encouraging: All such drops in rail carloads preceded, or were accompanied by, an economic slowdow" [Bloomberg]. Note that Econintersect has been pumping out gloom on rails for most of last year, and their calculations exclude coal.
Honey for the Bears: "This time the warm weather is cited for the weakness as utility spending fell. Yes, capitalism is about sales, and unspent income reduces sales, unless other agents spend more than their income, etc. etc." [Mosler Economics]. "And with the private sector in general necessarily pro cyclical, unspent income stories beg fiscal adjustments, which at the moment are universally out of style."
Honey for the Bears: "The junk-bond market is indicating a 44 percent chance of a recession in the U.S. within one year, according to Martin Fridson, a money manager at Lehmann, Livian, Fridson Advisors LLC" [Bloomberg]. Well, 44 is the answer to everything. Oh, wait…
Fodder for the Bulls: "The US economy could see a Goldilocks scenario in 2016" [Credit Writedowns]. Ed Harrison is a smart guy. So I wonder what readers think of this scenario. I mean, I am a Maine bear, so it's important to challenge my priors.
The Fed: "Margin requirements—rules limiting what portion of stocks or bonds can be purchased through borrowing—are moving up the Fed's to-do list as officials fret about whether they have adequate tools to suppress dangerous asset bubbles that could lead to another financial crisis" [Wall Street Journal, "Fed Eyes Margin Rules to Bolster Oversight"]. "They also allow the Fed to exert influence on all financial firms, not just banks." (The WSJ says that this ruling from the intriguingly named Financial Stability Board (About page) triggered the Fed's thinking.
Today's Fear & Greed Index: 21 (-3); Extreme Fear [CNN]. Last week: 41 (Fear). (0 is Extreme Fear; 100 is Extreme Greed).
Health Care
"In a Dec. 30 letter to Sylvia Burwell, secretary of the U.S. Department of Health and Human Services, [Kentucky Governor] Bevin said he plans to wind down the state health exchange and transition Kentuckians to the federal site, healthcare.gov, to shop for insurance under the law also known as Obamacare" [Courier-Journal].
Our Famously Free Press
History of the "Monkey Cage" blog [Chronicle of Higher Education].
"[H.F. "Gerry" Lenfest,] The owner of The Inquirer, the Philadelphia Daily News, and Philly.com has donated the news organizations to a newly created media institute, the core of a complicated transaction designed to ensure that quality journalism endures in Philadelphia for generations" [Philadelphia Inquirer (Paul Tioxon)]. "The move places the region's dominant news-gatherers under the auspices of the nonprofit Philadelphia Foundation."
The new alignment – while unique and untested – sets out mechanisms by which public-interest reporting can be preserved and enhanced while new electronic distribution methods are developed.
Guillotine Watch
tl;dr: Squillionaire dilettante wants out, moves on [Wall Street Journal, "New Republic Owner Chris Hughes Puts Magazine Up For Sale"]. Yeah, sheesh, remember the great days of the Bell Curve. And how about that Iraq War?
Class Warfare
Shorter Supreme Court: You can be a free-rider as long as you're free-riding on a union [McClatchy].
News of the Wired
"My Right to Die" [Kevin Drum].
~60 Bowie songs [Blckdgrd].
"I Moved to Linux and It's Even Better Than I Expected" [Medium].
* * *
Readers, feel free to contact me with (a) links, and even better (b) sources I should curate regularly, and (c) to find out how to send me images of plants. Vegetables are fine! Fungi are deemed to be honorary plants! See the previous Water Cooler (with plant) here. And here's today's plant (Inverness):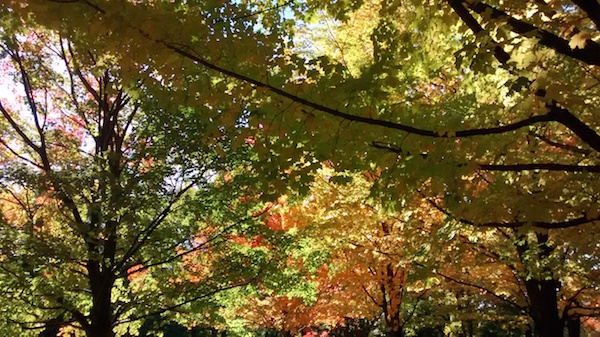 I wonder what these trees look like now…
* * *
If you enjoy Water Cooler, please consider tipping and click the hat. Winter has come, I need to buy fuel, keep the boiler guy and a very unhappy plumber happy, and keep my server up, too.