By Lambert Strether of Corrente.
TPP/TTIP/TiSA
"Watch out for the use of 'science-based' arguments during the coming TAFTA/TTIP: I predict it's a phrase we'll being hearing a lot of, soon" [Open Dot Dot]. If an argument is really "science-based," it won't use proprietary data.
"Analyst: Trans-Pacific Partnership 'unlikely to go ahead'" [New Zealand Herald]. "The TPPA cannot get through the US congress as it is," [Lori Wallach, visiting New Zealand] said. "Under the certification system the agreement won't get voted on or go into effect until the US congress is satisfied."
Malaysian House and Senate approve a motion to sign TPP [Channel News Asia].
2016
Tonight's Republican Debate
"Anecdotally, a potential Trump supporter in Iowa told The Washington Post that she thought skipping the debate fit well with Trump's brand" [WaPo]. "'Everything that he does is so well thought out,' Tara Wachendorf, 27, said while awaiting a Trump rally Tuesday in Iowa City. 'He's good at creating controversy, and that's what's bringing him more voters. People like that.'" Kayfabe, I'm tellin' ya. Except at some point, kayfabe may be broken for the crowd, with real blood in the stands, not fake blood in the ring.

Trump's skipping the Republican debate because Megyn Kelly. "Fox News Statement Taunting Trump Was '100 Percent' Roger Ailes" [New York Magazine]. The statement: "We learned from a secret back channel that the Ayatollah and Putin both intend to treat Donald Trump unfairly when they meet with him if he becomes president," Fox said. "A nefarious source tells us that Trump has his own secret plan to replace the Cabinet with his Twitter followers to see if he should even go to those meetings." "While Trump could cost Fox News debate-night ratings, officials at the network said Rupert Murdoch, the executive co-chairman of Fox's parent company, 21st Century Fox, gave Ailes his support over the phone" [Reuters].
Policy
"Finding a Cure for Bernie Sanders' and Hillary Clinton's Health Care Plans" [Truth Digest]. Good summary from two doctors:

On Sunday, just two hours before the final Democratic debate before the Iowa caucus, Sanders released a new plan. It made two excellent improvements on his previous legislative proposals.

First, he writes that he would create "a federally administered single-payer health care program." This is a major improvement over the complexity, cost and inconsistency of having 50 state administrators—it will save money and provide equal coverage for all. Second, he expanded the coverage of his plan so that all medically necessary services would be covered.

Most of his announcement Sunday focused on how the plan would be paid for. His plan includes a 2.2 percent tax, which he calls a premium, on certain households. For example, Sanders' website states that this would apply to a family of four with income over $28,800. There would also be a 6.2 percent payroll tax. Then it provides for a progressive income tax, beginning with those making over $250,000 annually. Capital gains and dividends would be taxed at the same rate as other income, tax deductions for the wealthy would be limited and the estate tax would be changed.

While this plan gives his opponents a talking point—"Sanders would raise taxes on the middle class"—the reality is that it would actually save people money because families would no longer be paying premiums. In addition, the payroll tax would lower costs for businesses.

"Ta Nehesi Coates' Bernie Sanders Brain Fart Isn't Even About Reparations" [Black Agenda Report]. "[Bernie is] really no kind of socialist at all. Bernie know this, and has rarely if ever called himself one in recent years. But he allows, even encourages us to call him that this year because socialism is popular, even though Ta Nehesi Coates thinks it should not be."
Money
"Campaigning in style: How Jeb Bush blew through his warchest" [Reuters]. "Money donated by both large and small donors kept the Bush camp traveling in style. There were stays at luxury hotels including the Wilshire in Beverly Hills, the Viceroy in Florida, the St. Regis in Dana Point, California, and the W in Stamford, Connecticut, the campaign finance filings show." I'm so happy Bush and his gang of grifters took $250 [million] off some stupid squillionaires. Who are now whining about it.

"Democratic Presidential candidate Hillary Clinton arrived in Philadelphia Wednesday to meet with African American ministers and also to hold a fundraiser" [NBC Philadelphia]. "And also."
The Voters
"Cruz, Trump and the Missing White Voters" [Real Clear Politics].
The Trail
Sanders will agree to more debates if Wasserman Schultz fixes the mess she made [The Hill]. "The campaign is requesting one each in March, April and May. All three must not be scheduled on a Friday, Saturday or holiday, and all three must include Martin O'Malley along with Sanders and Clinton."

"'What the president has tried to do, what Vice President Biden has tried to do, is to be as evenhanded as they could be,' [Sanders insisted after a White House meeting] [AP] "'And I know there was some discussion the other day about a Politico interview in which he was tipping the scale towards Secretary Clinton — I don't believe that at all.' … "[Sanders] emphasized that he owed Obama a political debt for coming to campaign for him in 2006, saying 'I have never forgotten that.'" So, Clinton offers Obama a crude bribe (nomination to the Supreme Court) and Sanders praises Obama's neutrality. Who's the classier?

"On the Democratic candidate side, Representative Nancy Pelosi of California made clear to reporters at a party retreat in Baltimore that she was thrilled with the prospective new voters that Senator Bernie Sanders of Vermont is drawing to his presidential rallies" [New York Times]. "But Ms. Pelosi, the House Democratic leader, is not so enthusiastic about some of his proposals that could require raising taxes. "We're not running on any platform of raising taxes," she said." Not even to save people money. Or their lives.

"Bernie Sanders's political revolution, explained" [Vox]. The explanation:

A Democratic Party–wide move to the left on economic issues, focused on challenging the power of the wealthy and corporations (and, by extension, the power of the Republicans those interests tend to back)
A new economics-focused electoral appeal aimed at nonvoters of all races — and at white voters who've tended to support the GOP
A continued mobilization and organization of many of those core supporters, so they'll keep fighting for change once President Sanders is in office

Interesting. Not seeing it so far, however. But this: "[Obama]'s been criticized for failing to make use of his massive organizing operation once in office." Obama did not not NOT "failing to make use" OFA; he instantly dismantled it. That's the second time I've seen this history airbrushed this week.

"Sanders draws big crowds in Duluth and St. Paul" [Minnesota Post]. "More than 14,000 people came to St. Paul's RiverCentre — a third of them in an overflow crowd — for the Vermont senator's evening speech, and earlier, about 6,000 people packed his afternoon rally at the Duluth Entertainment Convention Center" [Star Tribune].

"With just a few days to go before the Monday caucuses, we believe Clinton is decently positioned to survive Iowa. Momentum and excitement appear to be more on Sanders' side, but he may be over-reliant on a base of supporters that are not well distributed throughout the state and a bit less likely to turn out at the level he needs" [Larry Sabato, Center for Politics]. "If despite all this, Clinton still comes up short, let's not forget that Iowa's Democratic activists are overwhelmingly white and somewhat more liberal than in many other states where Clinton will be favored due to strong minority backing. So a Clinton loss here is far from fatal."

"Six months after it began, the federal investigation into Hillary Clinton's private email server shows no signs of slowing down" [The Hill]. "'It does give pause to Democrats who are concerned that there may be another shoe to drop down the road,' said Andrew Smith, a political science professor at the University of New Hampshire." And then there's this:

The former secretary of State did not appear to send most of the emails now marked classified. Instead, they were largely sent or forwarded to her by aides.

"If I'm in Clinton's campaign, I'm more worried if am Cheryl Mills, Huma Abedin or Jake Sullivan than if I'm Hillary Clinton," [said Bradley Moss, a lawyer who specializes in national security and protection of classified information]. Mills, Abedin and Sullivan were all top aides of Clinton's at the State Department. Abedin and Sullivan continue to hold high positions in Clinton's presidential campaign.

"De Blasio will be joined [in Iowa] by his wife, Chirlane McCray, as they seek to help Clinton defeat U.S. Sen. Bernie Sanders of Vermont for the Democratic presidential nomination, according to de Blasio's political team" [Newsday]. "David Peterson, a professor of political science at Iowa State University, said he didn't believe Mr. de Blasio's visit would make much of a difference. He said Massachusetts Sen. Elizabeth Warren, a Democrat, would be a bigger draw" [Wall Street Journal, "Weekend in Iowa Awaits Bill de Blasio"]. Yes. Clinton can offer a bribe to Obama in the form of support for a Supreme Court nomination. But apparently, she can't (or won't) make an offer Warren can accept, and endorse her. Odd, that.

"Mayor Bill de Blasio won't be going to the Groundhog Day ceremony at the Staten Island Zoo this year" [CBS New York]. "Staten Island Chuck, which was really a female groundhog named Charlotte, famously slipped from de Blasio's grasp during his first Groundhog Day ceremony as mayor. The animal died a few weeks later, apparently from internal injuries." So, Bill, if anybody Iowa offers you an animal to hold, don't do it!

"Paul Krugman Unironically Anoints Himself Arbiter of 'Seriousness': Only Clinton Supporters Eligible" [Glenn Greenwald, The Intercept]. I used to think somebody had kidnapped Operative K and replaced him with an alien replicant, but sadly, I now think he's just becoming more himself.

"The Audacity of Hope: The Trump Version" [Cook Political Report]. Five reasons Trump will lose. "Given how wrong so many of us were about Trump's staying power in the first place, it's understandable why so many are wary to write him off as either the nominee or a general election winner. However, let's not mistake his progress thus far as simply one of his own creation. Trump's success has also been built upon the failure on the non-Trump "establishment" to coalesce around their own standard bearer. He's also faced almost no serious attacks by his opponents."
Stats Watch
Durable Goods Orders, December 2015: "The factory sector ended 2015 with a giant thud. Durable goods orders fell 5.1 percent in December vs expectations for a 0.2 percent gain and a low-end estimate of minus 3.0 percent" [Econoday]. And it's not all aircraft, either: "Orders for civilian aircraft lead the dismal list, down 29 percent in December. The other main subcomponent for transportation, motor vehicles, also fell, down 0.4 percent in a reminder that vehicle sales were slowing at year end. Capital goods industries show deep declines: machinery down 5.6 percent, computers down 8.7 percent, communications equipment down 21 percent, and fabricated metals down 0.5 percent." Some punchbowl that was, Janet. And:
"The headlines say the durable goods new orders decreased. The three month rolling average improved this month but remains in contraction. This is not a good report" [Econintersect].
Kansas City Fed Manufacturing Index, January 2016: "Kansas City manufacturing, along with that of Dallas, are suffering the worst of any regions in the nation's factory contraction. Kansas City came in at minus 9 for the ninth contraction in 10 months" [Econoday].
Jobless Claims, week of January 23, 2016: "Jobless claims, having risen to 6-month highs and raising questions over the strength of the January labor market, fell back a sizable 16,000 in the January 23 week to a lower-than-expected 278,000" [Econoday]. "But continuing claims, where data lag by a week, rose a steep 49,000 in the January 16 week to 2.268 million for the highest reading since August." Then again, it was a holiday week. But "the rolling average marginally improves" [Econintersect].
Bloomberg Consumer Comfort Index, week of January 24, 2016: "The consumer comfort index opened January below 44 and has inched its way, despite all the volatility and losses for the stock market, to 44.6 in the January 24 week" [Econoday].
Pending Home Sales Index, December 2015: "Sales of existing homes popped higher in December but a further gain for January is uncertain given only a 0.1 percent rise in pending home sales which follows a downward revised 1.1 percent decline in November" [Econoday]. "It usually takes one to two months for contract signings to close with greater delays possible given new mortgage documentation rules that were implemented in November."
Shipping: "Rail contraction continues" [Econintersect].
Honey for the Bears, Froth Desk: "Nest Thermostat Goes From 'Internet Of Things' Darling To Cautionary Tale" [Techdirt]. You'd think it would be hard to screw up a thermostat (and bad if you do, because who wants to freeze in a cold snap?) Well, Silicon Valley has done it!
Honey for the Bears, Froth Desk: "Could Theranos Go From Unicorn To Unicorpse?" [Forbes].
The Fed: "Strains are emerging in just about every corner of the global credit market. Credit-rating downgrades account for the biggest chunk of ratings actions since 2009; corporate leverage is at a 12-year high; and perhaps most worrisome, growing numbers of companies — one third globally — are failing to generate high enough returns on investments to cover their cost of funding" [Bloomberg]. "Pooled together into a single snapshot, the data points show how the seven-year-old global growth model based on cheap credit from central banks is running out of steam.
"Japan's financial watchdog has started examining high-frequency trading, algorithms and dark pools, asking brokers for information about the practices" [Japan Times].
Today's Fear & Greed Index: 20, Extreme Fear (previous close: 19) [CNN]. One week ago: 13 (Extreme Fear). (0 is Extreme Fear; 100 is Extreme Greed).
Water
Michael Burris, the market genius from The Big Short: "Fresh, clean water cannot be taken for granted. And it is not — water is political, and litigious" [New York Magazine]. "What became clear to me is that food is the way to invest in water. That is, grow food in water-rich areas and transport it for sale in water-poor areas. This is the method for redistributing water that is least contentious, and ultimately it can be profitable, which will ensure that this redistribution is sustainable." Hmm.
"Piping in Poison" [The New Republic]. "In fact, the health and behavioral effects of lead from the early to the mid-20th century, as suggested by recent extrapolations from our current knowledge, were likely enormous. It's estimated leaded pipe alone increased infant mortality by as much as 30 percent in some cities, and led to as much as a 25 percent rise in homicides." Just… Yikes.
"A day after NBC News reported that none of the corroded lead pipes at the core of the Flint water crisis have been removed, Michigan Gov. Rick Snyder admitted he has no immediate plans to replace them" [NBC]. "Instead, he said, the state is focusing on using phosphates in the water to coat the corroded pipes and keep the lead from leaching out."
Police State Watch
"Death of Mentally Ill Inmate Locked in Hot Shower Until His Skin Fell Off Ruled Accidental" [Alternet].
Black Injustice Tipping Point
"The Bronx Slave Market (1950)" [Viewpoint Magazine]. From 2015, but worth a read.
Gaia
"Intelligent design without a creator? Why evolution may be smarter than we thought" [The Conversation]. "I don't think invoking a supernatural creator can ever be a scientifically useful explanation. But what about intelligence that isn't supernatural? Our new results, based on computer modelling, link evolutionary processes to the principles of learning and intelligent problem solving – without involving any higher powers. This suggests that, although evolution may have started off blind, with a couple of billion years of experience it has got smarter."
Militia Watch
"A small group of holdouts continued the tense standoff at the Malheur National Wildlife Refuge on Thursday, one day after eight others abandoned the site as federal, state and local authorities tightened their grip on the armed occupation" [USA Today].
"Oregon militiamen fell right into the feds' trap: Sorry, liberals, the government was right to wait before taking them out" [Amanda Marcotte, Salon]. A little hippie-punching, as Susie Madrak calls it, along with "liberal" as a term of abuse (helpfully accompanied by "worrywarts" and "hand-wringing"). Fun stuff.
"Report: LaVoy Finicum, armed with a handgun, reached for his waistband just before he was shot" [WaPo]. The official story emerges (the CNN version).
"Three more arrests at Oregon refuge as some holdouts leave voluntarily" [Los Angeles Times]. Atmospheric; includes the non-official story.
Guillotine Watch
So Facebook squillionaire Chris Hughes whinges that TNR costs him "over $20 million," and then buys a Manhattan town house for $23 million [Gawker]. A Harvard man.
News of the Wired
"Unity, Plurality and/or Hybridity? Assessing the Global Pattern of Political Cultures" [World Values Survey Books].
"Wearable sweat sensor paves way for real-time analysis of body chemistry" [Nature]. "Flexible plastic sensor sends molecular test results to a smartphone."
* * *
Readers, feel free to contact me with (a) links, and even better (b) sources I should curate regularly, and (c) to find out how to send me images of plants. Vegetables are fine! Fungi are deemed to be honorary plants! See the previous Water Cooler (with plant) here. And here's today's plant (Tia):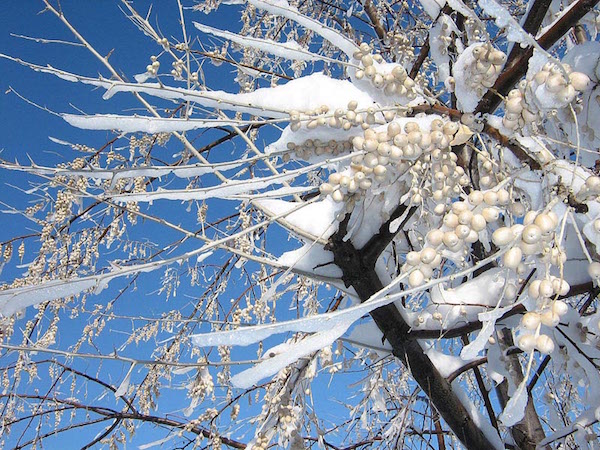 Tia: "Storm-blasted Russian Olive." Wow, that's gorgeous!
* * *
If you enjoy Water Cooler, please consider tipping and click the hat. Winter has come, I need to buy fuel, make a happy plumber happier, and keep my server up, too. Water Cooler could not exist without your support.