Ancient tools may shed light on the mysterious 'hobbit' Science (Chuck L)
Our chemical Eden Aeon (guurst)
Mother Nature's Invisible Hand Strikes Back Against the Carbon Economy Truthout
What will happen to our digital heritage? The Network (guurst)
Brain waves could help predict how we respond to general anesthetics PsyPost (Chuck L)
China?
China to land probe on dark side of moon in 2018: Xinhua Reuters

What happens if China's economy has a hard landing? East Asia Forum
Jeremy Corbyn to confront big business over living wage Guardian
The head of the ECB "shadow council" confirms that eurozone is a financial dictatorship! failed evolution
Greek Jan-Dec central govt budget surplus below target on lower revenue Reuters
We Will Not Be a Party to This Crime! by Academics for Peace Monthly Review (Glenn F). On repression in Turkey.
Syraqistan
Iran Completes Steps to Implement Nuclear Accord; Will Trigger Removal of Sanctions Wall Street Journal

Iran Releases 4 American Prisoners After Months Of Top-Secret Negotiations Huffington
Big Brother is Watching You Watch
Cheap web cams can open permanent, difficult-to-spot backdoors into networks Net Security
2016
The stock market is freaking out about Trump and Sanders MarketWatch. Oh, come on. It's freaking out about deflation, oil (symptom of same) and China, and that the Fed can't and won't do much about any of them.

Ted Cruz isn't presidential material, but not because of where he was born Guardian

Bernie Sanders' Single-Payer Healthcare Plan Will Save American Families $1200 a Year NationofChange (furzy mouse)

Clinton Campaign Underestimated Sanders Strengths, Allies Say New York Times. She though she was better served treating Sanders as a mere ankle-biter. Oops. There are already 1100 comments, which due to my need to turn in, I am not scanning (hopefully some helpful readers will take a gander). Expect to see a disparity between "editor picks" and general sentiment.

Six Responses to Bernie Skeptics Robert Reich. It says a lot about how well the Clintons treat people who do their dirty work, like pimping for Nafta. that Reich is campaigning so hard against Hillary.

Clinton surrogate to demand Sanders release medical records Politico. People in glass houses should not throw stones! Hillary's medical report reads as if it was written by lawyer, and it's from an MD in the town next to Chappaqua, when you have to think her and Bill's main doctors are big ticket MDs in Manhattan, and the local just part of the team. But most important, she's on Coumadin, which is an anti-clotting drug used often in post stroke patients to reduce the risk of recurrence. Coumadin has to be tightly managed. And read this analysis….be sure to get as far as the discussion of the cumulative odds of death were she to be a 2 term president on Coumadin. Are there any doctors in the house who can weigh in on the article? Update: This came in by e-mail from a doctor who treats in this area that I asked to opine:

Clinton apparently had a rare type of stroke, cerebral venous thrombosis. For what it's worth, I had never seen a patient with that kind of stroke in my career. In the blog post, Dr Cundiff analyzed the fairly minimal data available on that kind of stroke. One study showed a surprisingly high bleeding risk for patients on long-term Coumadin. But the study was apparently funded by the manufacturer of a drug that was brought out to be a supposedly safer alternative to Coumadin, the COIs affecting the study were not properly disclosed, and the design of the study was such that the likelihood it was biased is high.

And of course it's actually very difficult to accurately predict what will happen to any patient, much less at a distance using limited information for a patient who had a relatively rare problem.

All patients on Coumadin (and other kinds of anticoagulants) have elevated bleeding risks. How elevated it may be difficult to say for many. Really good medical care and monitoring ought to decrease this risk. Falling and hitting one's head, or having major trauma surely increase it. So I would advise Ms Clinton, from a distance, to avoid contact sports and activities with high risks of trauma (sky-diving, race car driving, working for the police, fire departments, going into military combat, etc). But that's probably not so useful in this context.

Sanders calls for Michigan gov to resign over water crisis The Hill

Bill Maher Explains How Trump Is Making It Easier for a Bernie Sanders Win Salon

Bernie Sanders Is Closing in on Clinton, and He's Not Even Trying Vanity Fair. Jeff W:

The supposedly liberal T.A. Frank thinks, for some reason, that the unfailingly clueless conservative Ross Douthat has a point in asking when Bernie Sanders will take off the gloves against Hillary Clinton, which, of course, ignores the headline of his own piece that Sanders is closing in on Clinton without even trying—i.e., he's far more successful than the pundits expected so he has to change his strategy. Yeah, it makes no sense to me, either.

The underlying assumption—that people have to see a slugfest in order to decide who to vote for, rather than actually decide on, well, you know, the issues and policy—is, as usual, unquestioned.

Donald Trump Says He Is Self-Financing Bid, Despite the Evidence New York Times
Newsletter: Why Protests Will Continue To Grow Popular Resistance. Glenn F: "A more critical analysis of the SOTU speech."
About half of retiring senators and a third of retiring House members register as lobbyists Vox (resilc)
Florida ditches surgical standards after failing hospital donates to GOP ars technica
In Maine, Local Control Is a Luxury Fewer Towns Can Afford New York Times
Forget the Quarterback Sneak: A Deception Play for the Ages New York Times
A lost century in economics: Three theories of banking and the conclusive evidence ScienceDirect
Transcripts of Fed's 2010 meetings show risk of history repeating itself Washington Post
The Productivity Slowdown: Mismeasurement or misallocation…or both? Jared Bernstein. He works his way around to blaming the financial services industry for the fall in productivity.
Junk Bonds Go Sour, but the Question Is How Sour Gretchen Morgenson, New York Times
Don't fear the oil price crash – unless it heralds the beginning of a global downturn Telegraph
Oil Goes Nonlinear Paul Krugman. This is clearly and compactly stated, and it explains why conventional wisdom was wrong. However, a non-trivial number of commentators, including your humble blogger, said when oil broke $70 and looked to have more downside than upside risk over the near term (which has now become the long term) that frackers, who were highly leveraged, were very vulnerable, and that we though the odds of production cuts and loss of high-paying jobs would more than offset gains to the consumer if the downturn lasted long enough that the frackers had trouble getting access to new/rollover financing.
Class Warfare
Drug Overdoses Propel Rise in Mortality Rates of Young Whites New York Times. Notice that this is a new, disturbing finding. The much-ballyhooed Deaton/Case study found that life expectancies were falling for 45 to 54 year old less well-educated whites. This analysis covers 25 to 34 year old whites overall.

The Chart That Explains Everything Mike Whitney, Counterpunch (Oregoncharles)
Convincing the Young to Blame the Old, Not the Rich Dean Baker, FAIR
Antidote du jour (Li). From the Daily Mail story on Bei Bei's debut: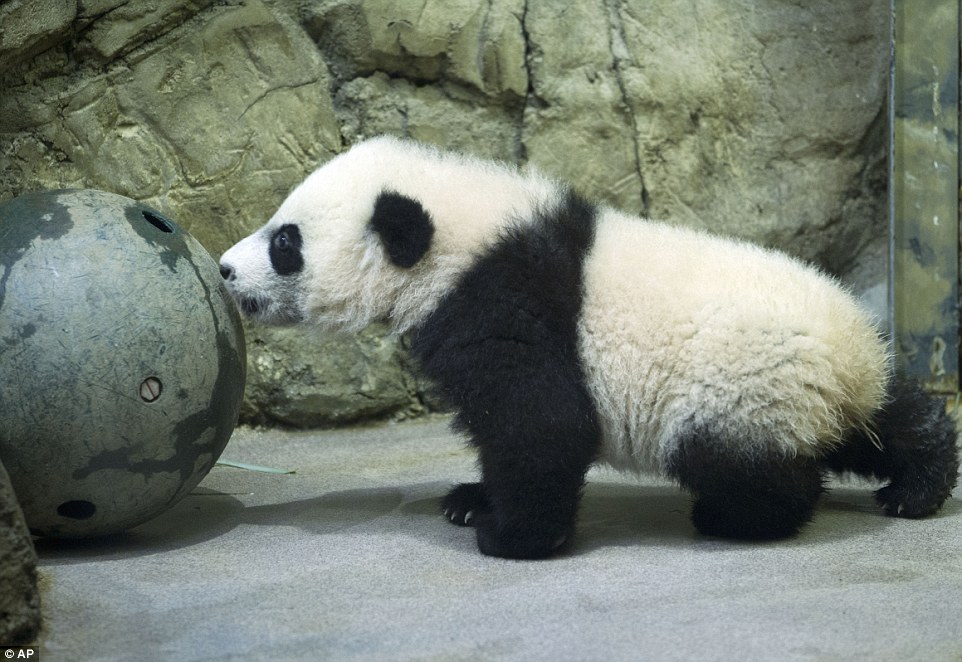 See yesterday's Links and Antidote du Jour here.