By Lambert Strether of Corrente.
TTP/TTIP/TiSA
Australia: "The signing ceremony on February 4 in Auckland for the Trans-Pacific Partnership is mainly a public relations exercise." Let's hope so [Sidney Morning Herald]. "It masks the fact that for Australia and most TPP countries, the public debate and parliamentary process to pass implementing legislation, leading to final ratification of the deal, is just beginning, and it will be a rocky road." And let's hope so.
"There was a 90 day clock that was required between releasing the text and before the US could actually sign onto the agreement. The stated purpose of this 90 day clock was in order to allow "debate" about the agreement. Remember, the entire agreement was negotiated in secret, with US officials treating the text of the document as if it were a national security secret (unless you were an industry lobbyist, of course). So as a nod to pretend 'transparency' there was a promise that nothing would be signed for 90 days after the text was actually released" [Tech Dirt]. "So… uh… what happened to that 'debate'? It didn't happen at all."
"Faith groups oppose the TPP trade agreement" [Maryknoll Office for Global Concerns]. Nice roundup.
New Zealand: "[C]entral Auckland grounded to a halt as trade ministers signed the TPP. All streets around Sky City Convention Centre and motorway on and off ramps leading to the central business district were blocked by protesters" [The Herald].
2016
Readers, this 2016 section will be a little light because I'm got to tug on my yellow waders and do a close reading of the Sanders/Clinton debate transcript. And if there are any special moments in the debate for you, please add them in comments! Also, today is mostly about Clinton, as many other days have been mostly about Trump, simply because everybody is talking about the Clinton candicacy. –lambert
Money
"Hillary Clinton Will Not Commit to Releasing Transcripts of Her Speeches to Wall Street" [Wall Street on Parade]. "[W]e're not talking about some tenuous relationship between Hillary and Wall Street. We're talking about the fact that, according to the Center for Responsive Politics, four of the top five lifetime donors to Hillary's campaigns have been the employees, executives and Pacs of mega Wall Street banks: Citigroup, JPMorgan Chase, Goldman Sachs and Morgan Stanley."

"Even as Hillary Clinton has stepped up her rhetorical assault on Wall Street, her campaign and allied super PACs have continued to rake in millions from the financial sector, a sign of her deep and lasting relationships with banking and investment titans" [WaPo]. "Clinton's success at raising millions from major Wall Street players — even as she blasts some of their most lucrative practices — shows how she continues to benefit from relationships she and her husband forged over decades." Which is the use of public office for private purpose; Teachout's concept of corruption.
Policy
"Hillary Clinton's real theory of change can work — but liberals may not like all the changes" [Matthew Yglesias, Vox]. For example… Wait for it…

A very productive Clinton term could feature things like:

This is the big one, and of course you should never count on it happening. But recall that back in 2011, the Obama administration and John Boehner were close to reaching an agreement on a deal that would cut Medicare and Social Security spending while raising taxes on high-income households.

It fell apart, but mainstream Democratic economic policy aides still think it's a good idea and John Boehner says its collapse is his greatest regret. What's more, in 2017 — unlike in 2011 — there will be a plausible argument that the deficit is actually a problem that's worth addressing. Borrowing as a share of GDP will likely be rising then, not falling, and interest rates should be above zero with the unemployment rate below 5 percent.

So awesome.

"Hillary Clinton's Mixed Record on Wall Street Belies Her Tough 'Cut it Out' Talk" [Pro Publica]. Sadly, by Jeff Gerth, but it's really a link and quote roundup, not reporting.

"Hillary, the Banksters Committed 'Fraud,' Not 'Shenanigans'" [Bill Black, HuffPo].

"[T]here's way too much politics going on when certain people who used to know this [health care policy] suddenly don't anymore and start spouting the company line" [Eschaton]. Linking to: "Meet the New Harry and Louise" [Jacobin]. "Vox's attack on Bernie Sanders is sold as a policy critique. It's actually a dishonest exercise in managing the Democratic Party base." I don't get it. For establishment Democrats, that is a policy critique.
The Voters
Quinnipiac: "The poll released Friday finds Clinton leading the race with 44 percent support, compared to 42 percent support for Sanders, within the survey's margin of error. The last iteration of the poll in December had Clinton leading Sanders nationwide 61–30" [The Hill]. Elections, however, aren't won on a national vote, but state by state by state. And none of the polls have covered themselves with glory this year. Still, Sanders is on an amazing ride, and it's continuing.

"'I love Bernie, and the values that he and Hillary share are so important to all Americans, that electability really matters,' [Senator Claire McCaskill] said [The Hill]. We've linked to this story already, but once again:

The shift in party affiliation over the past seven years is absolutely incredible. In 2008, there were 35(!) states that were either solidly or leaning Democratic, five solid or leaning Republican and 10 judged as competitive. The following year there were 33 Democratic states, 12 competitive states and, still, five Republican ones.

Clearly, the Democratic establishment has no concept of electability whatever. We need a hostile takeover, followed by a management shakeup with mass firings of executives, as well as a purge of vendors.

"Certainly, some voters in the Democratic primaries are levying gendered attacks against Clinton. But many of these voters were not going to support Clinton anyway. The voters who may be most likely to fall back on feminine stereotypes are the undecided primary voters. These undecided Democratic voters could see Clinton's gender as a benefit inferring that she will support progressive women's issues. Alternatively, they could see Clinton's gender as a bane inferring that she is unqualified for the presidency. And for many of these voters, Clinton's gender might not matter at all" [The Monkey Cage, WaPo].

"The men's rights meet-ups planned around the globe this weekend were supposed to be an opportunity for men to get together and commiserate. You know, just , talkin' 'bout booze, babes, game, 'legal rape,' and the systemic oppression of men worldwide" [New York Magazine]. I'm filing this here as a usage example for "bros," so you can understand how, er, artful the "innuendo" in BernieBro really is.
Democratic Debate
"It's objectively weird that someone is willing to pay anybody $675,000 to 'talk about the world,' and anyone who collects those fees and also wants to secure the presidential nomination of a party [with a faction –lambert] that rails against income inequality is going to run into some political problems" [Salon]. "Imagine a voter – a young voter, in particular – who is getting screwed by slow job growth and wage stagnation watching Hillary try and explain away as meaningless the fact that a bank paid more than ten times the median annual income for three speeches."

"There are two ways to see the fight over progressivism. On one level, it's a rather frivolous piece of identity politics [!!]. Who cares what they call themselves? But for Sanders, it's a way to show that Clinton says different things to different audiences. Whatever else you care to say about Sanders, he hasn't changed his story for decades. The conversation also forces Clinton into silly places, such as insisting that she's not part of the establishment. Does any American really believe that?" [The Atlantic]. "But Clinton, playing aggressively, got in a couple good licks at Sanders, arguing that his definition of a progressive would rule out Barack Obama, Joe Biden, and even Paul Wellstone, and adding 'I don't think it was progressive to vote against the Brady Bill five times.'" Wellstone?

Clinton on foreign policy: "A vote in 2002 is not a plan to defeat ISIS, [Clinton] said, noting that she has apologized for what she now considers a mistake. 'When New Hampshire voters go on Tuesday to cast your vote, you are voting both for a president and a commander in chief,' she said. 'And there is no way to predict what comes in the door of that White House from day to day that can pose a threat to the United States or one of our friends and allies, and I think this is a big part of the job interview that we are all conducting with the voters here'" [WaPo]. Look for plenty of gaslighting in 2016.

"Clinton, who has been searching for ways to attack Sanders without alienating his supporters, seems to have fixed on the idea that there is something dishonest, rather than aspirational, in Sanders's talk of initiating a 'political revolution' to upend a corrupt system" [The New Yorker]. "She is walking a fine line by arguing that money has a baleful influence in politics generally but has left her, personally, unaffected—Clintonian exceptionalism."
New Hampshire
"Gov. Hassan: Clinton just might beat Sanders in N.H." [USA Today]. Note the last paragraph, but otherwise reads like a beat sweetener.
Stats Watch
Employment Situation, January 2016: "Headline weakness masks an otherwise solid employment report for January. Nonfarm payrolls rose 151,000 vs expectations for 188,000. December was revised 30,000 lower to 262,000 but November was revised 28,000 higher to 280,000. Now the signs of strength as the unemployment rate fell 1 tenth to 4.9 percent while the participation rate rose 1 tenth to 62.7 percent" [Econoday].
International Trade, December 2015: "The nation's trade deficit widened in December to $43.4 billion from a revised $42.2 billion in November. Exports have been extremely weak and weakened further" [Econoday]. "The decline in exports is the latest hard evidence of global effects made more severe for U.S. exporters by the strength of the dollar, but the [0.3 percent] rise in imports, despite the decline in consumer goods, offers a positive indication on domestic demand, strength underscored this morning by the January employment report." But: "The BLS job situation headlines were disappointing. Jobs growth decelerated this month, some economic internals were weak, continued inconsistency between the household and establishment surveys – all while the establishment survey was re-benchmarked and the household survey reflected updated population estimates" [Econintersect]. And: "While this report was not unambiguously positive, it shows a steady pace of hiring that stands in contrast to a wide swath of economic data that points to decelerating economic momentum" [TD Securities, Across the Curve]. "Keep in mind that this was not a pristine report and the pace of employment would likely be weaker if it were not for the influence of warmer temperatures across most of the country." Even more: "As previously discussed, the numbers are showing that business is hiring more than output is increasing, which doesn't seem to make sense to me. That is, it wouldn't surprise me to see this reconciled by a drop in hiring, or a downward revision to employment in general" [Mosler Economics].
"Billionaire Michael Platt's BlueCrest Capital Management is being investigated by a U.S. regulator over possible conflicts posed by an internal fund that manages money for the firm's partners, according to people with knowledge of the matter" [Bloomberg].
"CREDIT SUISSE CEO: 'The doomsday scenarios are not justified'" [Business Insider]. Good to know.
A long article on Uber that says, in essence, that we have no idea whether Uber's business model works or what its valuation should be (which the headline does not reflect) [Pando]. But boy, can Trav suck in capital from squillionaires and screw over working people like nobody's business!
"[T]he pool of investment banking revenue is already shrinking much faster than anyone expected, as results reported by Europe's biggest banks this earnings season show. Investment banking revenue at Deutsche Bank fell 30 percent in the fourth quarter of 2015 from a year earlier, while that of Credit Suisse was down 26 percent. At UBS, the decline was 10 percent" [Bloomberg]. Correct me if I'm getting this wrong, but doesn't this imply a finanical flow? Doesn't the capital that used to go to investment banks have to go somewhere? If so, where? The article doesn't say.
"The U.S. Federal Reserve is squeezing a good deal of the profit out of mortgage bond trading, and Wall Street banks are increasingly heading for the exits" [Bloomberg]. Another big and wierd financial flow.
Today's Fear & Greed Index: 20, Extreme Fear (previous close: 25) [CNN]. One week ago: 26 (Extreme Fear). (0 is Extreme Fear; 100 is Extreme Greed). The dial's been bouncing all around this week!
Black Injustice Tipping Point
"Much of America's past is the story of white people benefiting from a system that white people designed and maintained, which increased their chances of success as it suppressed those same chances in other groups" [Charles Blow, New York Times]. Like the (white) Irish, for example, coming over here after the (white) British neoliberals of the day failed to alleviate the potato famine, and then (see Gangs of New York) battling U.S.-born (white) nativist gangs. Or the (white) Conquistators from Spain, who slew (see Charles Mann's 1492) several Native American civilizations. Except their descendants are not white, but "Hispanic." My point being that Blow's post strikes me as riddled with category errors, and we have very poor language to discuss fuzzy sets in any case. None of which is to deny brute facts like those expressed in this tweet:
Signed#BlackLivesMatter #whiteprivilege pic.twitter.com/cAbz1qoVol

— BlackMatters (@blackmattersus) February 4, 2016
Modulo, again, "white people" as a category without fuzzy edges and with homogenous properties that enable identification. Nevertheless, basically, yeah; I like that "because" is introduced. (A similar example: I as a (add fuzziness here as appropriate) male can walk alone late at night without having to think about it. Never occurs to me to think about it. Not so for women. Suppose you were designing a world to be born into, but you didn't know which gender you would be. Is that the world you would design?) Right now, the only language we have to discuss these issues is dominated by Democrat identity politics apparatchiks, and the vernacular is optimized for that purpose.
Our Famously Free Press
"Journalists as 'hit squad:' Connecting the dots on Sheldon Adelson, the Review-Journal of Las Vegas and Edward Clarkin in Connecticut" [Press Think]. With Class Warfare and Corruption, this post hits the trifecta.
Corruption
"Paris prosecutors have launched a formal investigation into whether Najib Razak, Malaysia's prime minister, was paid bribes over a long-contentious $1.2bn arms deal when he was defence minister" [Financial Times, "France opens probe into 'bribery' of Malaysia's Najib Razak"]. The idea of the French investigating anybody for bribes is pretty funny, but Najib really is a piece of work, isn't he?
"A federal judge's ruling this morning means the [Chicago] Lucas Museum of Narrative Art is still on hold" [Crain's Chicago Business]. "In a lawsuit, advocacy group Friends of the Parks argues that the $400 million museum, planned for an area just south of Solider Field, violates the public trust doctrine that restricts development along Lake Michigan, and says the lakefront area should be protected. Today U.S. District Court Judge John Darrah denied a motion to dismiss the suit." "Public trust." Huh? (I was originally thinking Rahm sold the public land to the Lucas Museum for a dollar. In fact, that was the deal for the Obama Library. My bad.)
Militia Watch
"[A] growing cadre of county sheriffs, many of them from the rural West, … believe themselves above the reach of federal government, constitutionally empowered as the supreme law of the land" [High Country News]. Sounds like Touch of Evil.
"LaVoy Finicum's death in Oregon occupation prompts memorials across country" [Oregon Live].
Guillotine Watch
Flint emergency manager Darnell Earley — you know, the guy who got promoted to run the Detroit School system after poisoning thousands of children in Flint — has, as a fringe benefit to his contract, lifetime health care [MLive].
Class Warfare
Interview with Didier Jacobs, author of Extreme Wealth is Not Merited (OxFam) [Too Much]. Jacobs: "[M]y research traces 65 percent of the world's billionaire wealth to the rents of cronyism, inheritance, and monopoly."
Well, this is unfortunate. @DeRand:
@stevenbartus I really liked atlas shrugged. Liked it better than her other books. Have you read any others?

— deray mckesson (@deray) 26 พฤษภาคม 2009
And:
In the movement space, I've seen people just attach "capitalism" and "neoliberalism" to everything they disagree with. It's fascinating.

— deray mckesson (@deray) 4 ตุลาคม 2015
Fascinating it may be, but is that always what's going on? See Adolph Reed today.
"[T]here has been a significant uptick of labor activism on college campuses in the past five years, with graduate students and adjunct faculty members demanding the right to join unions. As universities depend increasingly on part-time lecturers and professors without long-term contracts to teach their classes, adjunct faculty members are organizing for fair wages and working conditions" [Al Jazeera]. They're only teaching our children. What's wrong with these people?
News of the Wired
"Repair groups from across the industry announced that they have formed The Repair Coalition, a lobbying and advocacy group that will focus on reforming the Digital Millennium Copyright Act to preserve the 'right to repair' anything from cell phones and computers to tractors, watches, refrigerators, and cars" [Medium].
"Europe's highest court is considering whether every hyperlink in a Web page should be checked for potentially linking to material that infringes copyright, before it can be used. Such a legal requirement would place an unreasonable burden on anyone who uses hyperlinks, thereby destroying the Web we know and love" [Ars Technica].
"Cryptopolitik and the Darknet" [Taylor Francis Online]. Among other things, content analysis of the illicit material on the Tor darknet.
"These Haunting Photos Show the Interior of a Sunken Cruise Ship" [Esquire]. Great metaphor…
"Human Brain's Bizarre Folding Pattern Re-Created in a Vat" [Scientific American].
"Multitasking is Killing Your Brain" [Medium]. Ouch! Ouch!!
* * *
Readers, feel free to contact me with (a) links, and even better (b) sources I should curate regularly, and (c) to find out how to send me images of plants. Vegetables are fine! Fungi are deemed to be honorary plants! See the previous Water Cooler (with plant) here. And here's today's plant (Rex):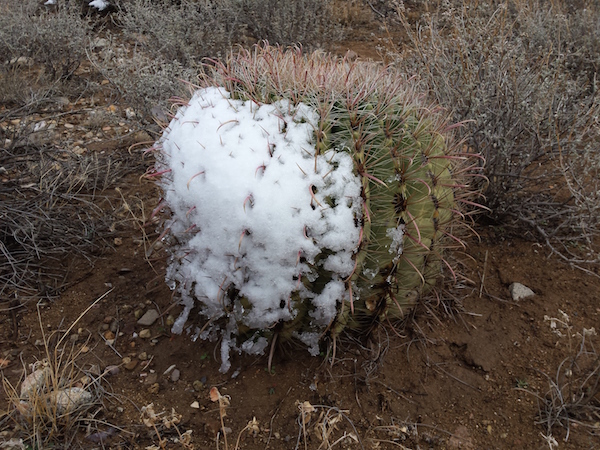 Fish-hook Barrel Cactus, snow blowing in wind to 60 mph.
* * *
If you enjoy Water Cooler, please consider tipping and click the hat. Winter has come, I need to buy fuel, make a happy plumber happier, and keep my server up, too. Water Cooler could not exist without your support.