By Lambert Strether of Corrente.
TPP/TTiP/TISA
"The [TTiP] chapter [on Regulatory Cooperation] is also littered with vague, undefined concepts which – within a trade deal – could be misinterpreted in many ways. We counted more than 20 concepts in the latest EU text which were not self-explaining, such as 'timely information', 'unnecessarily burdensome' and 'pre-normative research'. It will be a lawyer's paradise" [BEUC].
"TTIP: Civil Society statement on the new EU proposal on Regulatory Cooperation" [Lobby Control]. "We consider it a threat to democratic decision-making and regulation in the public interest."
"Who prevails could play out in a [TPP] process known as 'Certification'. This is where the US Government refuses to ratify the agreement until it's satisfied that other countries' laws and practice are compliant with its interpretation of the agreement. It did this with the US-Australia FTA. The US forced Australia to rush additional amendments to its copyright laws, with only a few hours for public consultation and submissions" [New Zealand Herald]. "It's ominous that the US pharmaceutical industry is intensively lobbying the US Congress about the importance of certification. Even more concerning is the support signified by influential Republican Senator Orrin Hatch, chairman of the Senate Finance Committee. There's also support from the US administration."
2016
Policy
"The only way to defeat Trumpism and its fake ideas is not to collectively punish his supporters — even if some are practitioners of rank racism and xenophobia — but to come up with some real ideas to improve the places where these voters live" [Will Bunch, Philadelphia Daily News]. And the only way to get that done is to make such policies universal (and inalienable, so concrete material benefits don't drain out of the hole in the bucket that is institutional racism).

"The Great Unraveling: Your Thoughts" [The Atlantic]. I'll just note this is Ron Fournier. Anyhow, you can write to him. Better Fournier than David Brooks, I suppose.

"Hillary and Trump give virtually identical speeches at AIPAC, get standing ovations" [Daily Kos]. So awesome.

"'She sounds like Netanyahu': Hillary Clinton goes extra hawkish in her biased, die-hard pro-Israel AIPAC speech" [Salon].

"WATCH: Bernie Sanders Skips AIPAC to Give Major Middle East Policy Address in Utah" [Haaretz].
The Voters
"The millions of new voters spurred by Donald Trump and other campaign myths, debunked" [WaPo].

"Most Republicans Feel Embarrassed by Campaign, Poll Says" [New York Times].

"What the Republican elites fear most of all is that the working class voters who have supported them in the past will come to realize that the solution is not the false promise of prosperity for all from tax cuts for wealthy "job creators," or cuts to the programs the working class depends upon, but rather tax increases on those who have done so well within our economic system. The Republican elites are right to be afraid" [Mark Thoma, The Fiscal Times]. Possibly, though some data would be nice. Of course, at the Federal Level, taxes don't pay for spending…

"More than 2,000 counties have voted in Republican nominating contests so far. Mr. Trump, the GOP front-runner, has won the lion's share of them, some 63%. But Mr. Trump has won only 35% of counties that hold state capitals" [Wall Street Journal, "A Bright Spot for Ted Cruz: State Capitals"]. Rubio or Cruz won those.
The Trail
"The poll showed support for Clinton at 51 percent while Sanders stood at 44 percent. This indicates a substantially tighter race than the previous iteration of the same poll in late February, which showed Clinton leading Sanders 55 percent to 38 percent" [Talking Points Memo]. This in the face of an almost complete Sanders news blackout, and near-universal derision by the political class, who have declared the race over.

"Bernie Sanders is set to win several states. Will they be enough?" [Vox]. Well, that depends on how you define "enough," doesn't it?

"What's Wrong With Bernie Sanders's Strategy" [Joan Walsh, The Nation]. Nobody's broken Walsh's identity politics rice bowl yet. Somebody should. That's what's wrong.

"Bill Clinton knocks 'awful legacy' of last 8 years" [USA Today]. This "gaffe" — remember, "A gaffe is when a politician tells the truth – some obvious truth he isn't supposed to say" (Michael Kinsley) — is getting a lot of attention. The Clinton campaign is trying to put the toothpaste back in the tube — Perhaps they could say the Big Dog "evolved"? — and on the Twitter, the line is that "the last eight years" have nothing to do with Obama at all, since, as we know, Obama can never fail. He can only be failed.

"Donald Trump's interview with the Washington Post is totally bananas" [WaPo]. No doubt. Of course, the baseline for sanity at WaPo is pretty low, given how hard those scumbags and weasels waved their pom poms for war in Iraq, war in Afghanistan, war in Syria, war in Ukraine… [UPDATE And how could I forget Libya, and whatever the heck Africom is doing?]
Stats Watch
FHFA House Price Index, January 2016: "Home prices, which had sagged going into year-end, picked up in January based on FHFA's index which rose 0.5 percent in the month" [Econoday]. "Given weakness in wage growth, home-price appreciation is more important than ever for household wealth." Wages aren't wealth, by definition. Idiots! And: "The housing depression continues" [Mosler Economics].
PMI Manufacturing Index Flash, March 2016: "[P]oints to no significant pickup" [Econoday]. "Respondents in the sample continue to report declining demand for energy equipment, the result of low oil prices, and subdued demand for exports, the result of weak global demand tied with the strength of the dollar. A drop in pre-production inventories is a key negative in the report, hinting at a weakening outlook for future business. Destocking is also underway for finished goods which are also on the decline."
Richmond Fed Manufacturing Index, March 2016: "This is the strongest reading since April 2010 and shows the greatest month-to-month change in the report's 23 years of data" (although it's a small sample) [Econoday]. "One regional report is only one regional report and one month is only one month, but this report does confirm the strength in last week's Empire State and Philly Fed reports and, unlike this morning's manufacturing PMI, points to new momentum for the manufacturing sector, momentum that may raise talk of easing headwinds from exports and energy equipment." And: "Of the three regional Federal Reserve surveys released to date, all are in expansion" [Econintersect].
Industrial Production: "The Federal Reserve Industrial Production & Capacity Utilization report declined -0.5% for February on mining and utilities. More ominous is an annual -1.0% decline. January was revised to a 0.8% monthly increase. The G.17 industrial production statistical release is also known as output for factories and mines [Economic Populist]. "Total industrial production has now decreased -1.0% from a year ago." Manufacturing up; mining and utilities down.
"What's Up with Wage Growth?" [Federal Reserve Bank of San Francisco]. "[W]e show that changes in the composition of the workforce propped up wages during the recession, despite a significant increase in labor market slack. As the labor market has recovered, this pattern has reversed. We find that cyclical components, such as the entry of low-wage workers to full-time jobs, have combined with secular components, specifically the exit of higher-wage retirees, to hold down recent measures of overall wage growth." In other words, a two-tier economy.
Shipping: "For the first time in living memory the global dry bulk fleet is set to contract significantly this year, [according to] Khalid Hashim, the veteran managing director of Precious Shipping" [Splash247].
"Oil Industry Group Claims Copyright On Oil Pricing Data, Gets Twitter To Delete Tweets" [Tech Dirt].
Today's Fear & Greed Index: 78, Extreme Greed (previous close: 78, Extreme Greed) [CNN]. One week ago: 73 (Extreme Greed). (0 is Extreme Fear; 100 is Extreme Greed). Last updated Mar 22 at 12:15pm. Still putzing around in the high seventies. C'mon, guys!
Our Famously Free Press
"Inside Jacobin: how a socialist magazine is winning the left's war of ideas" [Vox]. That Jacobin is getting a Vox explainer is so meta I can't stand it.
Dear Old Blighty
"Corbyn, more than most politicians, is innocent of marketing tricks, behavioural economics and the darker arts of persuasion. And yet he benefited from the focusing and salience effects whilst his supposedly more PR-savvy rivals failed. Perhaps this is one more data-point in favour of John Kay's theory of obliquity – that our goals are often best achieved when pursued indirectly" [Stumbling and Mumbling]. Fun read!
"Is it possible to become bored with hopelessness?" [David Graeber, The Baffler]. "There is reason to believe something like that is beginning to happen in Great Britain. Call it despair fatigue."
"The curious tale of £22bn NHS efficiency savings" [BBC]. "They argue that the purpose of the five-year forward view planning was to model different assumptions about the level of productivity gains that could be delivered." Oh, bullshit. The purpose was to gut the NHS.
"The sugar tax tightens Britian's social straightjacket" [CAPX]. "There are few instincts more fundamentally illiberal than the drive towards preventative policymaking." Cf. ObamaCare's "wellness" programs, a scam I should take the time to look at.
Health Care
"The Price Effects of Cross-Market Hospital Mergers" [NBER]. Important paper on consolidation, shows how hospitals increase their leverage over insurers.
"Why venture capital firms are pouring money into health insurance" [Modern Health Care]. "But widespread consumer dissatisfaction with dominant carriers and the Affordable Care Act's new marketplaces for individual plans has created an opening for innovators to come up with alternative approaches and has primed investors to take a chance on what they're pitching."
Water
From #WorldWaterDay.
"Breaking Delhi's water mafia: how access to clean water got political in India" [Independent]. What they need is an Uber for water! Oh, wait…
"According to a WaterAid study published Tuesday, water saps more than half of the meager earnings of many of the world's poorest while those in developed nations spend only a fraction of their incomes on water" [Los Angeles Times]. "Globally, diarrheal diseases caused by dirty water and poor sanitation kill about 315,000 children annually and are the second biggest child killer after pneumonia. An estimated 50% of malnutrition cases are linked to chronic diarrhea, the [WaterAid] report says."
"An estimated three out of four jobs globally are dependent on water, meaning that shortages and lack of access are likely to limit economic growth in the coming decades, the United Nations said on Tuesday" [Reuters]. "As climate change contributes to rising sea levels and extreme weather, at least one in four people will live in a country with chronic or recurring shortages of fresh water by 2050, the United Nations estimates, making it more important to focus on expanding rainwater harvesting and recycling wastewater."
"Sustainability: Transfer project cannot meet China's water needs" [Nature]. "As its limitations become clear, the SNWD [South-to-North Water Diversion] project might well mark the nadir of big-engineering solutions to China's water problems." Chinatown… In China! Very illuminating article.
"The Rio Grande/Rio Bravo River has been considered the most endangered river in North America and one of the most endangered rivers globally for a long time" [IIASA]. "Problems include drought and water scarcity, the degradation of water quality, loss of river habitats, and over-exploitation of groundwater. The water allocation regime between the US and Mexico is over a hundred years old and not adequate any longer. It consists mainly of allocating transboundary watercourses and facing environmental issues within a fragmented structure."
"The world's coal-fired power plants use enough water to meet the basic water requirements of 1 billion people, according to a Greenpeace report released late Monday. Making matters worse, 25 percent of the world's coal-fired power plants — there are about 8,400 already, and an additional 2,700 planned — are in areas where freshwater is being used faster than it is replenished" [HuffPo].
"Draft restrictions for Panama Canal shipping because of El Nino-related drop in water levels" [Splash247].
Gaia
"Everything has a price. Everyone can be bought. We assume this principle is endemic to modern life — and that accepting it is most obvious to the impoverished. Except all over the world, people are defying it for a greater cause. That courage may be even more contagious" [Guardian]. Lax Kw'alaams reject a billion dollars for a pipeline, put Trudeau's climate plan to the test. Fine words butter no parsnips!
Class Warfare
"A recent study found that U.S. universities' costs could increase to a total of $24 billion from $4.3 billion for courses currently taught by adjuncts, if union targets for higher pay are met" [Wall Street Journal, "As Adjunct Professors Unionize, Debate Sharpens Over Cost to Schools"]. So fire some administrators. I bet you could hire ten adjuncts for one fully loaded Dean, and you'd eliminate corporate sabotage of university institutions, too.
"Fast-food CEO says he's investing in machines because the government is making it difficult to afford employees" [Business Insider].
"How Sunday stopped being special for the American worker" [WaPo]. When workers became consumers, maybe? Anyhow, another screw job from Walmart.
News of the Wired
"As The New York Times says, one of the most striking aspects of the [Bataclan] phones is that not a single e-mail or online chat message from the attackers was found on them. That seems to be further evidence that they knew such communications were routinely monitored by intelligence agencies. But rather than trying to avoid discovery by using encryption—which would in itself have drawn attention to their accounts—they seem to have stopped using the Internet as a communication channel altogether, and turned to standard cellular network calls on burner phones" [Ars Technica]. "If they think you're technical, go crude; if they think you're crude, go technical." –William Gibson.
"Boaty McBoatface: What You Get When You Let the Internet Decide" [New York Times]. And so what?
* * *
Readers, I still need to fix my fershuggeneh contact form! Hopefully noting that fact publicly will serve a lash and a spur to my endeavors. (Meanwhile, thanks to readers, who already have my email address, who sent in images of plants!)
See the previous Water Cooler (with plant) here. And here's today's plant (Mrs. Mop):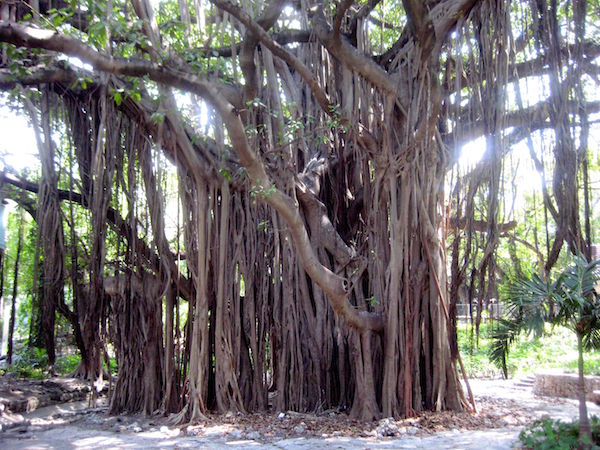 Mrs. Mop writes:
Here's a beautiful picture of an ancient tree growing in Parque Almendares in La Habana, Cuba. Parque Almendares is a huge wild urban jungle located in El Vedado (Habana).

The name of the tree is Jagüey, or "arbol de judas" = the tree of Judas because, in Cuba, this plant symbolizes betrayal and ingratitude, since it tends to grow into other plants' body to support itself, and, in doing so, forcefully embrazes and entangles those plants until they become completely strangled and die.
* * *
If you enjoy Water Cooler, please consider tipping and click the hat. Water Cooler would not exist without your support.