You can tell things are going a bit pear-shaped when single stories in the business press are so meaty as to warrant posts all on their own.
Today's example is a Financial Times story, Oil and gas: Debt fears flare up, which gives a grim update on the wreckage in the wake of the energy price collapse, and how the damage to lenders has only started to play out.
None of the underlying themes will be new to readers. We've been warning for some time, first of the froth in the junk bond market, and its particularly high exposure to energy concerns, and then the correction last year. We were also one of the few to argue that the "cheap gas will prop up the economy" would be offset, and likely more than offset, by the losses of high-paying oil and shale gas jobs and the impact of direct (energy company) and indirect (real estate loans in oil boom areas) lending losses on banks and investors. We further stressed that the energy price rebound was not going to happen in a mere six months, as was the almost universal consensus in early 2015, because shale gas players had strong incentives to keep pumping until their money sources cut them off. Indeed, while we recognized that issue (identified by the Financial Times' John Dizard) as a key driver that was widely ignored, if anything, we underestimated that an analogous set of imperatives – the need to fund national budgets – would also lead energy producing nations to maintain production levels even at what they would have recently regarded as depressed prices.
But what is new, and important, about the Financial Times article, is its effort to put parameters on the severity of the slump and how bad the collateral damage might be, particularly to financial players. Even though Mr. Market is feeling his spring oats, let us not forget that back in January, one of the causes for concern was European banks. It was widely recognized that on top of existing bad loans, the Eurobanks collectively were sitting on an estimated additional $100 billion in energy-related losses. Indeed, the pink paper addresses that concern by mentioning how Crédit Agricole, with the second largest energy debt exposure on the Continent, had to reassure investors, telling them 84% of its book was investment grade.
It's also worth remembering that the recent oil rally is unlikely to be a harbinger of more price appreciation soon. Stockpiles and oversupply remain large. Even the generally upbeat OilPrice warned yesterday that the market was driven lately by sentiment more than fundamentals.
I strongly urge you to read the Financial Times account in full. Key points:
Distress in the oil and gas industry is acute. Many companies are being liquidated or forced to cut to the bone:
About 600 people packed on to the Machinery Auctioneers lot on the outskirts of San Antonio, Texas, last week to pick up some of the pieces shaken loose by the oil crash.

Trucks, trailers, earth movers and other machines used in the nearby Eagle Ford shale formation were sold at rock-bottom prices. One lucky bargain hunter was able to pick up a flatbed truck for moving drilling rigs — worth about $400,000 new — for just $65,000.

Since the decline in oil prices began in mid-2014, activity in the Eagle Ford, one of the heartlands of the shale revolution, has slowed sharply. The number of rigs drilling for oil has dropped from a peak of 214 to 37, and businesses, from small "mom and pop" service providers to venture capital companies, are trying to offload unused equipment.

Terry Dickerson, Machinery Auctioneers' founder, says sales doubled last year, in part thanks to the oil crash. Sellers are sometimes disappointed by low prices for oil-related assets, but they have to accept reality, he says. "I feel like a funeral director," he adds. "I'm the one that has to tell them the bad news."
Lenders went on a spree. While this is a notoriously cyclical industry, the shale gas frenzy drew in a lot of newbies, particularly among investors. The fact that so many players made heavy use of borrowings, with the Fed's negative real interest rate policies all too successfully pushing lenders into risky assets, has amplified the damage. From the story:
From 2006 to 2014, the global oil and gas industry's debts almost tripled, from about $1.1tn to $3tn, according to the Bank for International Settlements. The smaller and midsized companies that led the US shale boom and large state-controlled groups in emerging economies were particularly enthusiastic about taking on additional debt.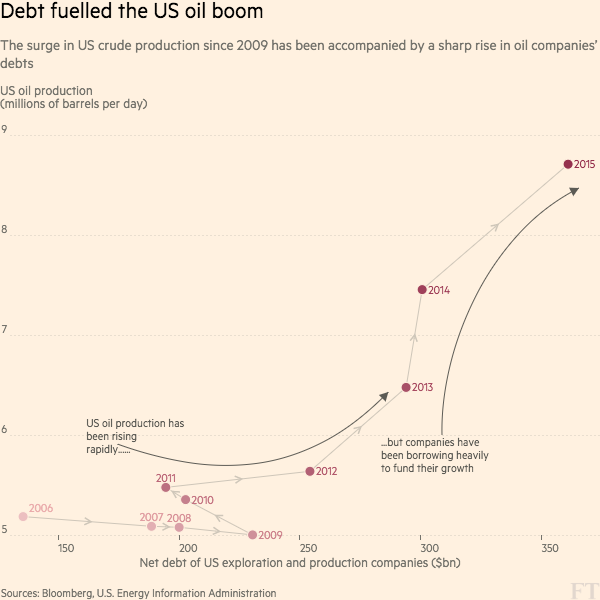 The hangover has only just begun:
Standard & Poor's, the credit rating agency, assesses oil companies based on an assumption of an average crude price of $40 this year. On that basis, 40 per cent of the US production and oilfield services companies it covers are rated B-minus or below. "B-minus is a very weak rating," says Thomas Watters of S&P. "You don't have a long lifeline."
Make no bones about it: a B- or worse means you are barely hanging on. To illustrate:
Linn Energy, one of the 20 largest US oil and gas producers, warned last week that it expected to breach its debt covenants. It has net debts of $3.6bn, but only $1m in borrowing capacity. Many US producers are now having their borrowing limits, which are based on the value of their reserves, redetermined by their banks. The falling value of those reserves means loan facilities will be cut back, leaving some companies without enough liquidity to stay afloat.
Even when companies can be restructured, lenders are taking big hits:
When oil and gas companies go into bankruptcy, there are often slim pickings for creditors. Quicksilver Resources, a Texas-based gas producer, went into Chapter 11 bankruptcy protection last year with about $2.4bn of debt. This year it announced sales of its US assets for just $245m, and some of its Canadian assets for $79m. Its creditors are on course for losses of about $2bn.
Do the math. That's an 83% loss of principal. The story reassuringly points out that even bigger amounts are at risk at national oil companies like PDVSA of Venezuela and Petrobras.
In a worrisome parallel to subprime risk before the crisis, investors are getting rattled by banks increasing their forecasts of losses:
"It's alarming that things [bank loan loss estimates are getting pulled forward so much," says Julie Solar, an analyst at Fitch Ratings. "The pace of deterioration is coming quicker than what was previously disclosed."…

Since crude prices began to fall in the summer of 2014, investors in oil and gas companies have lost more than $150bn in the value of their bonds, and more than $2tn in the value of their equities, according to FT calculations.
The grim reaper tone of the article suggests that things will get worse in energy-land before they get better. The oil bust in 1980-1981, which was a regional affair in the US, was bloody and took down pretty much all of the Texas banking industry. It's hard to know from this far a remove what the trajectory will look like, particularly since even with things his visibly dire, the incumbents all have strong incentives to make things appear less bad than they are. Any reader intelligence would be very welcome.