By Lambert Strether of Corrente.
Readers, I haven't included any April Fools' joke in today's Water Cooler — honest! — because I don't much like practical jokes, but if you feel differently, make up your own jokes!
TPP/TTIP/TISA
"The rise in public awareness of the dangers of corporate sovereignty provisions in agreements like TPP and TAFTA/TTIP has brought with it a collateral benefit: academics are starting to explore its effects in greater depth" [TechDirt]. From a new paper from Krzysztof J. Pelc, who is an Associate Professor in the Department of Political Science, at McGill University in Canada (PDF):
Firms are litigating more and more, and they are winning less and less. To wit, investors win less than 10% of the indirect expropriation claims they bring against democratic countries. The design of the regime, which allows private standing [whereby private firms or individuals can themselves decide to bring a lawsuit against governments], has contributed to such frivolity: compared with analogous regimes like international trade, it features little of the restraint that exists in dispute settlement between sovereign states.
Frivolous ISDS lawsuits!
And then there's this:
Every major internet company is endorsing TPP (aka f2cking users rights)https://t.co/iPO44qd40P #Rightscon pic.twitter.com/O0ywisUSZa

— Andrés Delgado (@AndresDelgadoEC) March 31, 2016
2016
Policy
"President Obama's attempt to diminish the serial crimes that Wall Street continues to inflict upon the public and to bury his head in the sand over the gaping holes Dodd-Frank has left unattended, is an insult to the Office of the President" [Wall Street on Parade]. "Given the fact that the President has a Harvard Law degree, it's difficult to pass this off as ignorance. One might be forgiven for suspecting that the President is attempting to polish his legacy in his last year in office while simply refusing to allow the facts on the ground to get in his way."

"Sachs: Clinton lead agent of every war we're in" (video) [MSNBC].

"We're going to war — either hybrid in nature to break the Russian state back to its 1990s subordination, or a hot war (which will destroy our country). Our citizens should know this, but they don't because our media is dumbed down in its "Pravda"-like support for our "respectable," highly aggressive government. We are being led, as C. Wright Mills said in the 1950s, by a government full of "crackpot realists: in the name of realism they've constructed a paranoid reality all their own." Our media has credited Hillary Clinton with wonderful foreign policy experience, unlike Trump, without really noting the results of her power-mongering" [Oliver Stone, HuffPo]. "Hillary's record includes supporting the barbaric "contras" against the Nicaraguan people in the 1980s, supporting the NATO bombing of the former Yugoslavia, supporting the ongoing Bush-Iraq War, the ongoing Afghan mess, and as Secretary of State the destruction of the secular state of Libya, the military coup in Honduras, and the present attempt at "regime change" in Syria. Every one of these situations has resulted in more extremism, more chaos in the world, and more danger to our country. Next will be the borders of Russia, China, and Iran."
The Voters
"Overall, in fact, the issue of electability is less important than any other issue offered to GOP voters. Specifically, exit pollsters ask voters which of four candidate qualities mattered most in deciding how they voted: can win in November, shares my values, tells it like it is and can bring needed change. The issue of electability has consistently been the least important of the four issues offered" [Cook Political Report]. "However, among voters who value a candidate who "tells it like it is" (about 18 percent of GOP voters) and those who prioritize a candidate who can "bring change" (about one-third of GOP voters), Trump dominates. No one else comes close. In other words, about half of the GOP electorate values shaking up the system more than sticking with the system."

"Americans lost so much in 2008 — jobs and homes, incomes and wealth — that the recession still dominates the public mood three elections later" [Bloomberg]. "They lost something else too, something less talked-about on the campaign trail: a credit lifeline. For households before the crash, borrowing made good times better and hard times bearable. It held out the promise of a step up, even for the millions of working-class Americans whose wages had stalled. Paying down debt after 2008 had the exact opposite effect, amplifying the hurt and anger — and sapping the recovery."
Money
"Fossil Fuel Investors Are Pumping Millions of Dollars Into Hillary Clinton's Campaign" [Vice]. "Approximately one in every 15 dollars given to Priorities USA Action, which took in $50.5 million in contributions last year, came from donors linked to oil and natural gas interests, according to data compiled by Greenpeace."
New York
"Sanders is slowly gaining on Clinton in New York ahead of the April 19 primary. Clinton now leads Sanders by 12 points in New York's Democratic primary, according to a Quinnipiac Poll released Thursday. A poll in February showed Sanders 21 points behind Clinton in New York, and another in March showed him 48 points behind" [Mother Jones]. Will Clinton blow another lead?

"[The Sanders] campaign strategy for New York is to focus intensely on how his upbringing in the city and his family's financial challenges helped shape him into a candidate intent on reforming Wall Street and addressing income inequality. He will also use his personal narrative — told through statewide advertising buys and back-to-back campaign events — to try to persuade voters that his time in the state makes him a better choice than his rival, Hillary Clinton, who is highlighting her years in the United States Senate representing New York" [New York Times].

"On Thursday night, the democratic socialist drew 18,500 raucous supporters to St. Mary's Park in the South Bronx. Although the senator's campaign has often been portrayed as the whitest thing since sliced Wonder Bread, the crowd in Mott Haven was a rainbow coalition: Among the Caucasian Sandersistas were significant numbers of African-Americans, Latinos, Asian-Americans, and even a smattering of Hasidic Jews. BernieBros and BernieBroads were out in roughly equal numbers. The only demographic that went underrepresented was "people who were alive when Ronald Reagan was in office" [New York Magazine]. "'We have to talk to our parents, because the older generation — they on this Clinton thing,' Lee said." I remember in 2008 that some (voting age) children persuaded their parents to vote for Obama. Is that not happening this time, or is there some generational math I'm not doing correctly?

New York Debate: "in the runup to New Hampshire, with Sanders well ahead, Clinton's people desperately sought an extra debate. Sanders agreed — in exchange for her promise to do three more, one of them in April. Will she renege?" [New York Post].

New York Debate: "Used to being treated as a cash machine for candidates, this year the Empire State presidential primary is competitive for both parties. New Yorkers deserve the chance to see the contenders duke it out" [New York Daily News]. I do think a Sanders pitch like, although less crude than, "Thanks to me, your primary vote counts this year" might work in both New York and California.

New York Debate: "'There are private conversations happening, so there will likely be an announcement in the next few days about a new debate,' a Clinton campaign senior adviser said Wednesday. Chief Sanders strategist Tad Devine confirmed that discussions are taking place between the rival camps" [Politico]. No dates yet…. Sanders could debate an empty chair, like Ursula Rozum did. Although that might be grandstanding, or call forth Clint Eastwood comparisons.

New York Debate: "[T]he Clinton campaign's response to Sanders' demand for an additional debate in New York was erratic and deeply weird" [HuffPo]. How Benenson muffed it on "tone." And: "The Clinton campaign team strangely treats the actual process of campaigning as an unnecessary hardship that's been somehow foisted upon them unfairly." Exactly. They'd rather just fundraise. You meet a nicer class of people that way.

"'I'm trying to live out my values," [Deblasio] explained of his Clinton endorsement. 'I have a long history with Hillary and a real belief that she's put forward a real vision. I very consistently note Bernie has made tremendous contributions. What he's doing is very helpful for this country and for the party'" [Politico]. The famously vengeful Clintons will remember the tepid quality of this endorsement. And then there's this: "The mayor also hinted that his famous children, Dante and Chiara, who played major roles in his 2013 mayoral race and starred in campaign commercials for him, may be feeling the Bern. 'We scrupulously don't speak for Dante and Chiara,' he said. 'If they have anything to say, they'll say it.'"
The Trail
"Clinton: 'I am so sick of the Sanders campaign lying about me'" [Politico]. "A frustrated Hillary Clinton forcefully said she was "so sick" of Bernie Sanders' campaign alleging she accepts donations from the fossil fuel industry." Clinton may actually believe what she's saying, and her bubble will support her, but she's parsing.

According to a fact check, it is true that Clinton's campaign hasn't accepted donations directly from the industry — doing so would violate campaign law — and she hadn't gotten contributions from PACs affiliated with the industry, either. But she has received more than $330,000 from oil and gas industry employees.

The Clinton campaign laundered a lot of the money through a PAC ("Greenpeace has found $3,250,000 in donations from large donors connected to the fossil fuel industry to Priorities Action USA, a Super PAC supporting Secretary Clinton's campaign"; and oddly, Greg Sargent's soft piece doesn't consider that the idea that money from individual donors might have been bundled) but "all the perfumes of Arabia will not sweeten this little hand." More interestingly, the Sanders campaign seems to have gotten inside Clinton's head; Clinton's intemperate reaction to a random rally attendee is not a good look. The incident also demonstrates that Clinton simply does not do well on the campaign trail without a script; we might remember her graceless and insulting "Back to the issues," when a #BlackLivesMatter protester confronted her in South Carolina. Finally, Clinton's implicitly writing off both Sanders and Sanders voters; she doesn't want them in the general. I mean, they're liars; she said it. So why would she?

"Bernie Sanders is giving Hillary Clinton a real run for the nomination" [Eugene Robinson, WaPo].

He continues to draw big, enthusiastic crowds, and raises money so easily — basically, just by mentioning his campaign website — that he can afford to stay in the race all the way to the convention.

And why wouldn't he? Calls for Sanders to drop out, at this point, strike me as premature and probably counterproductive. He embodies the views and aspirations of millions of Democrats — including many in large states that are yet to vote, such as New York, Pennsylvania and California. What purpose would be served by denying so many people the opportunity to vote for the candidate of their choice?

Just think: If the "firewall" had been in states that Democrats could actually win in the general, Sanders might well be the frontrunner. Odd. (Sadly, the Robinson column ends with a plea — really, a demand — for Sanders to play sheepdog for the Democratic establishment. Why would he?

"'Some of his ideas for how to get here won't pass, other just won't work, because the numbers just don't add up and that means people won't get the help that they need and deserve," Clinton said to applause from the audience at the Apollo Theater" [CNN]. Amazing, or not, to see the Black Misleadership Class helping Clinton manage expectations down. Apparently, the only aspiration a Democrat should have is walking around money from the local apparatchik. Good to know.

"Bill Clinton pointed to his support of Barack Obama in 2008 in defending the decision not to recuse himself as a superdelegate in the Democratic nominating process" [New York Daily News]. Last I heard, Bill Clinton wasn't married to Barack Obama. Did I not get the memo? More seriously, Bill Clinton doesn't seem to understand what "conflict of interest" means. Unsurprisingly.

"D.C. Democratic Party Chairman Anita Bonds said there's time to correct the mix-up and that Sanders' name will appear on the ballot for the June 14 primary" [AP]. It had better.

"Donald Trump is about to blow up the California primary. Here's how" [Los Angeles Times].

"Appearing on Hugh Hewitt's radio show Thursday evening, Rove said a 'fresh face' chosen at the convention might turn the GOP's fortunes around and win in November" [Washington Examiner]. Rove didn't name names, but presumably Romney's passed his sell-by date. Ditto Ryan (and what was with his temporary beard, anyhow? Gravitas?)

"Top Black Staffers Leave The Republican National Committee" [HuffPo]. They should go to work for Clinton; I'm sure they'd be quite comfortable there.
Stats Watch
Employment Situation, March 2016: "The labor market is growing with nonfarm payrolls up a higher-than-expected 215,000 in March and with the labor participation rate rising 1 tenth to 63.0 percent. The gain in participation, reflecting new job seekers coming into the market, is pulling the unemployment rate higher, up 1 tenth in March to 5.0 percent in what is the result of strength, not weakness, for employment" [Econoday]. But: "This month's data is not quite as good as it seems as last months gains were revised downward" [Econintersect]. Since the press seems to be especially triumphalist on this, consider this chart, from the same article: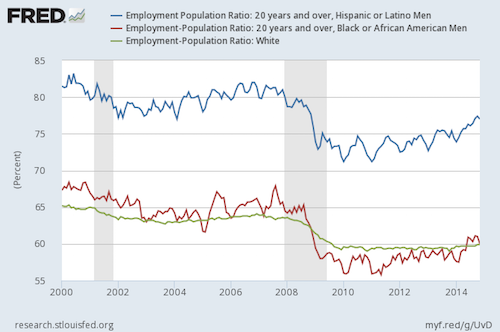 Econintersect goes on to say: "However, keep in mind that population growth is different for each group. Here is a look at employment to population ratios which clearly shows NO group has recovered from the Great Recession." Nobody I know has been made whole for the Crash. When that happens, cue the happy talk.
Employment Situation: "The employment growth in March was largely in retail (47,700 jobs), construction (37,000), health care (36,800), and restaurants (24,800). Retail has added more than 180,000 jobs over the last three months. This is an extraordinary pace that is unlikely to continue. Construction growth also has been unusually rapid the last six months, rising at 37,000 per month. Health care employment growth sped up sharply in 2015 to almost 40,000 a month, from less than 25,000 a month in 2014. That pace appears to be continuing into 2016" [Dean Baker, CEPR].
Corruption: "Oil company Unaoil and the homes of its bosses have been raided by authorities in Monaco as part of a UK-led corruption investigation involving several multinational oil businesses" [Splash247]. Surely it's a more than little remarkable that a shipping vertical writes up the Unaoil story — they didn't just pull something off the wires — but (as of 12:45PM, April 1) the Financial Times, "a global 24 hr multichannel news organisation," has not. From the FT's About page: "With a team of almost 600 editorial staff in more than 40 countries, [the FT] continues to be one of the world's leading news organizations, recognised for its integrity and independence." Time to revise? To be fair, I admire many of the FT's writers greatly. But something's not right here; "'24 hr" means "24 hr." Where's the coverage? The same mysterious silence is true for the Wall Street Journal. Although a scandal of equivalent scope (1MDB) is front-paged, there's nothing on Unaoil.
Shipping: "The Baltic Dry Index (BDI) today advanced by 21 points to 450, the biggest daily increase posted since September 17, 2015" [Splash247]. "Big increases were also seen in the Baltic indices for panamax and capesize bulk carriers, while the handysize and supramax markets stayed static. The period market also saw a brace of panamax fixtures."
"Advanced Economies Must Still Make Things" [IEEE]. "[M]anufacturing is still important for the health of a country's economy, because no other sector can generate nearly as many well-paying jobs." Which, when you think about it, is rather the Achilles heel of capitalism; it's not, after all, about creating jobs, but capital. I mean, duh.
PMI Manufacturing Index, March 2016: "Growth in Markit Economics' U.S. manufacturing sample is marginal," "up only slightly from February" [Econoday]. "Yet for now, the manufacturing sector is just dragging along, evident in durable goods data and also this morning's data on factory hours."
ISM Mfg Index, March 2016: "A big surge in ISM new orders is certain to shake up what has been a very downbeat outlook for the manufacturing sector" [Econoday]. "But it's the new orders index, getting a boost from exports, that steals the show, surging nearly 7 points. ISM's new orders index, which is widely watched and is actually a component of the index of leading economic indicators, fits in with what may be emerging talk of a June rate hike." That, and we have to claw back any wage increases. And: "New orders have direct economic consequences. Expanding new orders is a relatively reliable sign a recession is NOT imminent. However, New Orders contraction have given false recession warnings twice since 2000. This month new orders remained unchanged but is sightly in expansion" [Econintersect].
Consumer Sentiment, March 2016: "There's plenty of complaints about low wages and plenty of confusion surrounding the presidential campaign but they're not dragging down consumer spirits" [Econoday]. "Personal spending posted on Monday was a big disappointment, pointing to slow growth for the consumer sector during the first quarter. But this report, together with Tuesday's consumer confidence report, do hint at a bounce back." And: "So the latest sentiment number puts us 21.7 points above the average recession mindset and 3.4 points above the non-recession average" [Econintersect].
Construction Spending, February 2016: "A 0.5 percent decline for February masks what is otherwise a very solid construction spending report that includes upward revisions and gains for the residential component" [Econoday]. "It's the non-residential component that dragged February's totals lower, down 1.3 percent with weakness in the manufacturing, educational, and highway & street subcomponents." Infrastructure spending down. Madness!
Today's Fear & Greed Index: 74, Greed (previous close: 73, Greed) [CNN]. One week ago: 66 (Greed). (0 is Extreme Fear; 100 is Extreme Greed). Last updated Apr 1 at 1:10pm.
Dear Old Blighty
"In the battle to win over U.K. voters ahead of June's referendum on the European Union, the rival "in" and "out" campaigns have been tapping up businesses and wealthy individuals for cash. Just how much, may never be known" [Bloomberg].
"Tax-avoidance Gibraltar firm behind anti-EU campaign group" [Guardian].
Imperial Collapse Watch
"There are only 5,000 U.S. troops in Iraq—about what a colonel usually commands. But for this ISIS war, as many as 21 generals have been deployed. Why?" [Daily Beast].
Guillotine Watch
"George Mason law school to be renamed the Antonin Scalia School of Law" [WaPo].
Class Warfare
"One of the reasons that Ken Griffin's net worth has more than doubled from $3.7 billion in 2008 to today's $7.6 billion, is that he pays taxes on his hedge fund winnings at a tax rate lower than that paid by plumbers and nurses. The tax dodge is respectably called "carried interest'" [Wall Street on Parade].
"If we allow companies to increasingly push employees into part-time status, we have to strengthen our nation's public social safety net correspondingly to replace the things that are being lost with the loss of full-time employment. That means a strong public health care system, a strong Social Security system, and widely available social services for all" [Gawker]. "Otherwise, you're not just pushing workers off the books. You're pushing them off a cliff." You say that like it's a bad thing!
"Researchers know that it's expensive to be poor. But they are only beginning to understand the sum of the financial, psychological, and cultural disadvantages that come with poverty" [The Atlantic]. "A broader solution begins by seeing this fuller picture of Total Inequality. There are inequities that one cannot account for with income tables no matter how far back they go." The author confuses wealth with capital. Capital is a social relation, and therefore has "financial, psychological, and cultural" aspects.
"Demand for robots in China has quadrupled in the last four years, making it home to nearly a quarter of the world's industrial robots, according to the International Federation of Robotics (IFR). Demand for such machines doubled during the same period in the U.S." [NBC].
"Is a Cambrian Explosion Coming for Robotics? (PDF) [Journal of Economic Perspectives].
News of the Wired
"A teen on why teens are abandoning Facebook" [Daily Dot]. Read the article, because reasons are actually more subtle than the reason given in this YouTube, but I like it so much I'm going to play it anyhow:
"The word [the Montana Salish] use for automobile means "that it has wrinkled feet," which is, incidentally, an example of how the words you have reflect your culture. If you're a tracker, you're going to be noticing the tire tracks—the focus of that particular word" [The Paris Review]. Neat article on "language leakage."
"An Indianapolis pastor has pleaded guilty to manufacturing nearly 100 tons of "synthetic" drugs in an extraordinary conspiracy that involved his fundamentalist church, a married couple who are crooked cops, a music producer and a school teacher" [The Influence]. Tell me it's not a great country!
"In "Game Of Thrones" Litigation, South Carolina State Court Enters Judgment Against George R.R. Martin" [Abnormal Use]. From the opinion:
Adopting McCammon's laches theory, the Court observed that "art, unlike molasses, must move quickly, and thus, an artist's unreasonable delay in releasing a promised work must subject that creator to liability." (citing In Re: Chinese Democracy Litig., 61 F.3d 21 (W.D. Tex. 2007) (mandating that the rock band Guns N' Roses release its long overdue album "with all deliberate speed") and Shearer v. Lewis, 572 S.E.2d 492, 652 (Ga. Ct. App. 2009) (finding that it was "well within the Court's inherent power to order the release of defendant's unreleased film, The Day The Clown Cried"))
I agree. It's about damn time!
* * *
Readers, I still need to fix my fershuggeneh contact form! Hopefully noting that fact publicly will serve a lash and a spur to my endeavors. (Meanwhile, thanks to readers, who already have my email address, who sent in images of plants!)
See the previous Water Cooler (with plant) here. And here's today's plant (Kokuanani):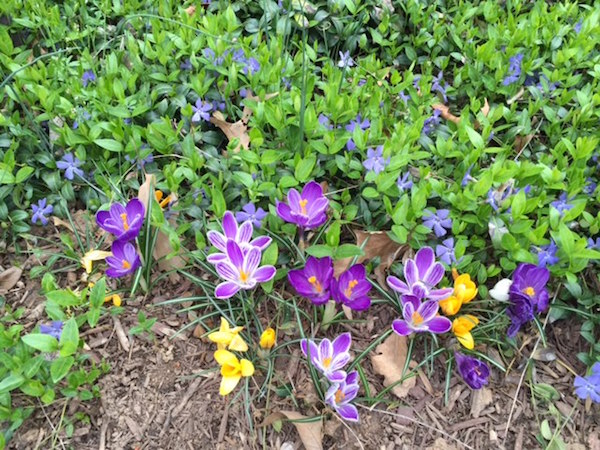 I like margins like this; the flowers between the mulch and the ground cover.
* * *
Readers, thanks, and Fridays's reminder: Water Cooler is self-supporting; NC fundraising does not cover it. Your tips ultimately determine my level of effort (which, with the 2016 election, is considerable). So please consider tipping regularly.
Throughout 2015, tips came in regularly, every day or so. Not only did the tangible sign of support feel good, it was nice to know there might be something in the tip jar to pay the bills. For whatever reason (perhaps the two weeks I took off over the holidays) this pattern stopped in early 2016. Thanks to your help, I'm now where I would have expected to be, had 2015's pattern continued. Thanks!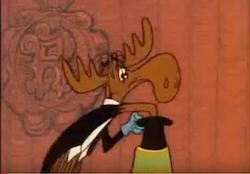 So I'm going to take Bullwinkle down on Monday, but in future:
If you enjoy Water Cooler, please consider tipping and click the hat. Water Cooler will not exist without your support.