By Lambert Strether of Corrente.
Zeitgeist Watch
Quoting mail from an alert NC reader apologizing for a kerfuffle in NC's incomparable comments section: "I briefly lost my mind more than usual." There seems to be a lot of that going around lately. I, for one, have developed an exhilirated demonic laugh, rather like a mad scientist just before the Igor throws the switch. Am I an outlier, or have other readers noticed similar behaviors?
TPP/TTIP/TISA
"The [Ottawa] summit will also provide an opportunity for three key members of the 12-nation Trans-Pacific Partnership to support ratification of the deal. The agreement is in various stages in each of the countries. In Mexico, President Enrique Peña Nieto sent the pact in April to the Senate for consideration. The process is slower in Canada, where Trudeau's Liberal government hasn't formally endorsed the deal and has extended until October a deadline for comments to be submitted to Parliament. And in the U.S., the deal is hung up until after the presidential election" [Politico].
"[Transcanada] Canadian pipeline company wants $15 billion in damages [for Keystone XL rejection]. On Friday, it filed a formal challenge under NAFTA's investor-state dispute settlement framework, charging the Obama administration with creating for climate activists. But now, TransCanada's ISDS bid has itself become a political symbol to environmentalists, who oppose the Trans-Pacific Partnership because it would expand use of the ISDS system, which green groups see as a secret opening for fossil-fuel companies to press for increased access for drilling" [Transcanada]. If corporations can sue because their projects become "political symbols," farewell democracy!
"French Prime Minister Manuel Valls on Sunday blasted a planned EU-US trade treaty, saying the ambitious deal was against 'EU interests'" [AFP]. "The TTIP agreement 'would impose a viewpoint which would not only be a breeding ground for populism, but also quite simply be a viewpoint that would be bad for our economy,' Valls said." "A breeding ground for populism"…. Quelle horreur!
2016
Policy
"Many Americans are woefully ill-prepared for an unplanned expense, so much so that a whopping 66 million U.S. adults have zero dollars saved for an emergency, according to a new study" [NBC]. One of Warren's talking points on Brexit was that Trump was "rooting for" people to "lose their life savings." That appeals to people who have savings, right? In other words, a vote for stability, not volatility.
Money
"Secret campaign cash from groups that aren't supposed to coordinate with candidates has over recent election cycles poured into state and local races where the impact can be much greater than at the federal level, according to the Brennan Center for Justice" [Bloomberg].
Corruption
"Symposium: McDonnell decision substantially weakens the government's ability to prevent corruption and protect citizens" [SCOTUSblog].

The United States Constitution provides a "right of the people…to petition the Government for a redress of grievances." It does not say that a citizen can be charged a fee for exercising that right.

But, in essence, here's what a unanimous Supreme Court said yesterday in interpreting a federal law enacted to protect the integrity of government and of the right to petition:

Citizen X meets with her representative to ask for help in setting up a meeting with a government agency. The representative says I'm happy to set up the meeting if you give me a check for $15,000. No check, no meeting.

The American people clearly would see this as selling your office for personal gain.

And they would be right. Oddly, or not, I can't find a statement on the McDonnell decision from the Clinton campaign via the Google or on the campaign site (which has no search function I can find) as of this writing. Readers?

"House Democrats mistakenly release transcript confirming big payout to Clinton friend Sidney Blumenthal" [Los Angeles Times]. Ka-ching.

Here's an oldie but goodie comedy classic that those who came in late might not have seen. Alert reader Rainbow Girl found the Lanny Breuer parody video that seemed to have been deleted from YouTube:

Breuer famously didn't prosecute any banksters while in the DOJ's criminal division, and oozed under the revolving door to — surprise! — Covington and Burling. Wait for the Bill Black reference!
The Voters
"[T]e Brexit result should jolt American liberals out of any complacence [sic] they may feel about Trump's candidacy. While prediction markets currently give him about a 25 percent chance of winning the presidency four and a half months out, they gave Brexit less than 20 percent chance of winning just this week. And potential economic turmoil, the possibility that the polls can move, and even basic probability are all strong reasons nobody should take Trump's defeat for granted" [Vox]. It's not clear to me how a market can be wrong. Since when did Vox go Communist?

"There is no reason to assume that voters will adopt a simplistic framing of the argument that dictates a false choice between Trumpian protectionism and throw-workers-to-the-wolves free international trade. As Jim Tankersly explains, a third option is very possible: rising worries about globalization could also push public officials towards a more 'worker friendly' approach to the phenomenon, one that focuses on affirmative government efforts to invest more in U.S. manufacturing, to make U.S. workers more competitive in the global economy and to soften the pain of the dislocation they are suffering. This is the approach Clinton — who (now) opposes the Trans Pacific Partership and has called for a variety of government investments in programs to help workers — has adopted" [Greg Sargent, WaPo]. That "approach" sounds complex, and complexity is the enemy of quality. Worse, it relies on the political class to fix the problem using the same people and tools that created the problem. Even worse, it assumes a political class acting in good faith ("I stand between you and the pitchforks"). Finally, "Clinton — who () opposes the Trans Pacific Partership" is rich, even assuming Sargent, by "now," doesn't mean "for now." The DNC platform committee refused the Sanders demand that they oppose the TPP, and the Clinton campaign operates the DNC. Ergo, Clinton supports the TPP. Words are wind. I want receipts.

"Politically, Trump won big in California's June presidential primary. However, Santa Clara County and Silicon Valley, the tech-rich expanse running north from San Jose through Stanford University's campus, proved a reluctant dance partner" [RealClearPolitics]. "And as far as November goes: no interest in dancing at all."

Jesse Williams: "Now, this [BET] award – this is not for me. This is for the real organizers all over the country – the activists, the civil rights attorneys, the struggling parents, the families, the teachers, the students that are realizing that a system built to divide and impoverish and destroy us cannot stand if we do" [Time].
The Trail
Public Policy Polling (Democrat): WI: Clinton 47%, Trump 39%; PA: Clinton 46%, Trump 42% OH: Clinton 44%, Trump 40% NH: Clinton 43%, Trump 39% IA: Clinton 41%, Trump 39% AZ: Trump 44%, Clinton 40% (battleground states) [Public Policy Polling]. if this were 2012, I'd say Clinton had it in the bag. But it's not.

Wall Street Journal/NBC News: "When voters had the option of choosing the third-party candidates, Mrs. Clinton's lead over Mr. Trump dropped from 5 percentage points to 1 point" [Wall Street Journal, "Poll Finds Opening for Third-Party Candidates as Clinton, Trump Remain Unpopular"].

"If there were any doubt that Hillary Clinton and Elizabeth Warren are the 'it' couple of the moment in Democratic politics, it was silenced here Monday when they took the stage together for the first time" [Philip Rucker, WaPo]. That's the lead. Rucker writes well; he should take up reporting!

Assuming this *.gif works (link), I'm not sure Brian Beutler intended his visual summation of yesterday's joint Clinton-Warren appearance in Ohio to convey the message it does [The New Republic].

Sycophancy.

"Hillary Clinton's Memoir Deletions, in Detail" [CEPR]. When I was marking up Trump's "Crooked Hillary" speech, I didn't consider his crack that "She's good at deleting." Boy, was I wrong. Wow. Anybody remember cartoonist Nicole Hollander's wonderful series, "The Woman Who Lies in Her Journal"? Like that.

"Bernie Has It Backward: He'll Have More Leverage if He Endorses Clinton" [Joan Walsh, The Nation]. Since this is Joan Walsh, it's probably best that Sanders not follow her advice, well-meant though it doubtless is.

"The 5 most serious accusations from Republicans' Benghazi report" [WaPo]. "Among the most prominent areas the report doesn't shed light on are allegations that the United States was helping get weapons to Libyan rebels." My goodness. What with the ineptitude of the Republican investigation — except as a fundraising vehicle for the red meat Republican right — it's almost like they never really took the gloves off, isn't it? Surely it's a matter of vital national importance that the first woman President have the administrative chops to run a successful arms-smuggling operation? Basic blocking and tackling, so far as I'm concerned. Remember Iran-Contra?

"House Democrats face ethics complaints for fundraising off sit-in" [USA Today]. "But at least two Democrats, Jared Huffman of California and Ben Ray Lujan of New Mexico, sent campaign emails during the sit-in featuring images of them engaged in the protest on the House floor. Lujan's appeal specifically requested a donation; Huffman provided a link to a signup for his campaign website." That's illegal.
The Hill
"In a 5-3 vote, the high court overturned restrictions passed as part of House Bill 2 in 2013 that required all Texas facilities performing abortions to meet hospital-like standards — which include minimum sizes for rooms and doorways, pipelines for anesthesia. The court also struck down a separate provision, which had already gone into effect, that requires doctors to have admitting privileges at a hospital within 30 miles of an abortion clinic" [Texas Tribune].
Stats Watch
GDP, Q1 2016 (third estimate): "Strength in net exports and less weakness in nonresidential fixed investment gave a boost to first-quarter GDP which rose 1.1 percent in the 3rd estimate vs plus 0.8 percent for the second estimate. Net exports added more than 1 tenth to GDP as exports rose slightly in the quarter and imports fell" [Econoday]. "An upward revision to software helped shave the negative contribution from nonresidential investment by 2 tenths to 6 tenths. On the downward side, the positive contribution from personal consumption expenditures was lowered by nearly 3 tenths to 1 percentage point as service spending was cut. Inventories were little changed in the revision, subtracting 2 tenths from GDP which is welcome news as inventories are poised to be restocked. Residential investment was a main positive in the quarter, adding 5 tenths to GDP. Early estimates for second-quarter GDP are running at about 2 percent, a more respectable rate but still far from robust especially with the third-quarter outlook clouded by Brexit." But: "Tuesday's report may sound alright on the surface, but investors and economic watchers need to understand that this is still dismally slow. This sort of growth should not be conducive to massive job growth, and the economy is nearing full employment (if you don't count the uncounted)" [247 Wall Street]. And: "The big change: spending on intellectual property such as software rose 4.4% vs. a prior 0.1% decline" [MarketWatch]. Sounds innnovative. However: "As is typical, the final revision to GDP in Q1 was a hodgepodge of revisions from relatively esoteric sources" [Amherst Pierpont Securities, Across the Curve]. But: "Real GDP is inflation adjusted and annualized – the economy declined on a per capita basis" [Econintersect].
Richmond Fed Manufacturing Index, June 2016: "Manufacturing activity in the Fifth District weakened in June, with the Richmond Fed Index falling further into contraction, dropping 6 points to minus 7 points after falling 15 points in May. New orders registered the sharpest fall, dropping 14 points to a minus 14, with order backlogs declining 4 points to minus 17 and capacity utilization down 4 points to minus 10" [Econoday]. "Declines were also registered on the employment front." And: "Of the five regional Federal Reserve surveys released to date, three are in expansion and two are in contraction" [Econintersect].
Corporate Profits , Q1 2016: " Corporate profits sank in the first quarter, revised to minus 2.3 percent year-on-year vs the initial estimate of minus 3.6 percent. Profits are after tax without inventory valuation or capital consumption adjustments" [Econoday].
Consumer Confidence, June 2016: "The consumer sentiment report has been strong but less so for the consumer confidence report, at least until today's data for June where the index jumped nearly 6 points to a much higher-than-expected 98.0. This is the best reading of the year, since October last year" [Econoday].
State Street Investor Confidence Index, JUne 2016: Fell 0.1 points, but doesn't take Brexit into account [Econoday]. "Though still confident on balance, North American institutional investors became more cautious in June even prior to the Brexit vote, with the regional index dropping 2 points to 105.9, while European and Asian institutional investors increased the percentage of their equity holdings judging from the index, which rose 3.5 points to the plus equity side at 100.3 for Europe and 2.0 points to 113.4 for Asia, the most confident region in June."
S&P Case-Shiller Housing Price Index, April 2016: "Home sales have been up but home-price appreciation is moderating. Data series that measure prices are slowing, including Case-Shiller's 20-city adjusted index which rose an undersized 0.5 percent in the April report. The year-on-year rate is at 5.4 percent, well underneath the 6 percent area where home prices were trending earlier in the year" [Econoday]. "But the breadth of strength remains solid with 17 of 20 cities showing monthly gains though both San Francisco and San Diego show rare declines." Declines like in a popping bubble? And: "The way to understand the dynamics of home prices is to watch the direction of the rate of change. Here home price growth generally appears to be stabilizing (rate of growth not rising or falling)" [Econintersect].
Housing: "A recent survey by the Bay Area Council found that one-third of respondents would like to leave the area sometime soon… Net migration out of the state is high. In terms of domestic net-migration, 63,300 more people fled the state than entered. This was the highest level since 2011. People are voting with their wallets" [Dr. Housing Bubble]. "People realize the insanity of their choices if they want to stay in California. Some people that I know decide on ridiculous commutes that not only are likely to shorten your lifespan, but will also send your quality of life into the toilet. "I get home and everyone is asleep." Okay. But hey, they "own" a home even though their commute into work is mentally destructive and they have minimal interaction with their family for most of the week. Many people are simply doing the analysis and are bolting out of the state." If they knew about the Lakeland Republic, I bet they'd want to move there.
This is a family that owned a $724,000 shack and decided to get out.  And most house humping cheerleaders only look at principal and interest when running their math.  What about taxes?  Insurance?  Or in this case the $1,000 ridiculous association fee for a gated community.  If every area of California is so "baller" why the need for a gated community?  Who are you trying to keep out?  So they sell their home and use the cash proceeds to buy a "new" home in cash in Ohio.  No mortgage and probably no insane association fee.  The biggest expense is basically eliminated in one move.  Others would rather slog away on clogged up freeways so they can get to their crap shacks so they can rinse and repeat for 30 years.  And yes, long commutes are bad for you.
Retail: "'Get comfortable with days of inventory, not weeks,' Tom Shortt, Home Depot's senior vice president of supply chain, says is the message going out to stores. The retailer is targeting sales growth of nearly 15% by 2018, but wants to keep inventory levels flat or slightly down" [Wall Street Journal, "Retailers Rethink Inventory Strategies"]. "It is a shift happening across the retail sector as companies try to figure out ways to profitably serve the growing needs of online shoppers while making their network of stores less of a financial burden. Chains must predict whether demand will come from the internet or a store visit, and whether they'll ship online orders from a distribution center or a store. Every move of inventory is an added cost that eats away at already thin margins." That sounds an awful lot like very tight coupling to me. In a crisis, when things correlate and tightly coupled systems crash together, it won't matter a lot that I have to wait to buy a light fixture at Home Depot. It would matter with medical supplies. Or food. (And remember that the poor and the working class, being pressed temporally, rely more on restaurant food, which is vulnerable to supply chain disruption, unlike those canned goods you preppers stash in your home.)
Supply Chain: "The world-wide business serving apparel retailers is creating a kind of vast shadow supply chain from castoffs. The business of recycling used clothing stretches from Western stores to sorting shops in India and has built its own logistics eco-system, the WSJ's Eric Bellman reports [Wall Street Journal]. It now faces a glut of goods that is so large it is affecting retailers and regional economic policies. The surplus springs from the rise of fast fashion, which has flooded the world with inexpensive clothing, often produced in the same low-wage countries where it later ends up sold or reprocessed into goods like blankets or pillow stuffing. It may seem a virtuous circle, but some clothing makers in emerging markets say the flood of used apparel stifles the growth of local textile industries. And there are signs the global recycling system is having trouble keeping up with the relentless march of new production." Why don't we throw all the old clothes into the ocean, so they'll churn around for awhile and then end up in the Pacific Trash Vortex, with all the plastic bits? Then we can clean up both problems at the same time, innovatively, say by fusing it all into a giant raft with one of Obama's neato new precision nukes. Then we can sell real estate on it. Why not?
Supply Chain: "To swap freight information, shippers and carriers have traditionally relied on EDI (electronic data interchange), a communication system that dates back to the end of World War II. Though it has undergone refinements during its nearly seven-decade history, EDI is now showing its age, the authors argue. Because it relies on batch processing, EDI creates hours of delay and significant gaps in information availability, rendering it basically unsuitable for today's high-velocity logistics operations" [DC Velocity]. The solution: "Ditch EDI in favor of application programming interfaces, widely known as APIs. Similar to the technology that powers consumer smartphone apps, the API messaging format allows data to flow from one computer platform to another in nanoseconds. That might sound esoteric, but it's not. You're already using APIs pretty much anytime you launch an app on your mobile phone or tablet." If the API's are proprietary and controlled by a giant monopoly, that opens up a tremendous new field for rental extraction, as is common with software projects. A more resilient solution would be a non-proprietary international standard.
Shipping: "The period of exclusive discussions between the Singapore Exchange (SGX) and the Baltic Exchange has been extended by a further two months, from June 30 to August 31" [Splash247]. "Many of the Baltic's shipbroker panellists have objected to the takeover and formed Competitive Ship Brokers Limited (CSBL), which has complained that 'many of the major international shipbroking firms feel a need to have a single voice in a challenging market environment which is undergoing significant change.'"Don't trash the brand, dudes!
ETF: "Exchange-traded funds, which are the vehicle of choice for index-tracking investors, harbor hidden costs that are big enough to dent portfolio performance." [MarketWatch]. "That's the conclusion of recent research, which runs counter to ETFs' reputation as efficient, low-cost instruments that have attracted $2.23 trillion of assets in the U.S. alone. Most investors are unaware of these hidden costs, the researchers say, and don't take them into account in making investment decisions." Hidden rental extraction in a financial instrument? Say it's not so!
Honey for the Bears: "I'm not sure I have a sophisticated, subtle or clever thought left at this stage. Markets are bouncing, and can bounce further but the clouds on the horizon are dark, and they're real." [Across the Curve]. This is an FX technical analyst, so you'll like this post if it's the sort of post you like.
Today's Fear & Greed Index: 45, Neutral (previous close: 38, Fear) [CNN]. One week ago: 66 (Greed). (0 is Extreme Fear; 100 is Extreme Greed). Last updated Jun 27 at 12:59pm. Mr. Market back to neutral. So Brexit is now priced in?
Class Warfare
"Behavioral health seen as growth area by investors" [Cape Cod Times]. "[V]enture capital money is flowing into addiction and mental health treatment." What could go wrong?
"How landlords get kickbacks to lock tenants into big Internet providers" [Medium]. Of course….
"'Organizational Darwinism' among AIDS Groups in San Francisco" [Nonprofit Quarterly]. Yikes!
News of the Wired
"A new approach to gas exploration has discovered a huge helium gas field, which could address the increasingly critical shortage of this vital yet rare element" [Oxford University]. We're gonna need a lot more helium for all the doubleplusgood duckspeaking in our future.
* * *
Readers, feel free to contact me with (a) links, and even better (b) sources I should curate regularly, and (c) to find out how to send me images of plants. Vegetables are fine! Fungi are deemed to be honorary plants! See the previous Water Cooler (with plant) here. And here's today's plant (Timotheus):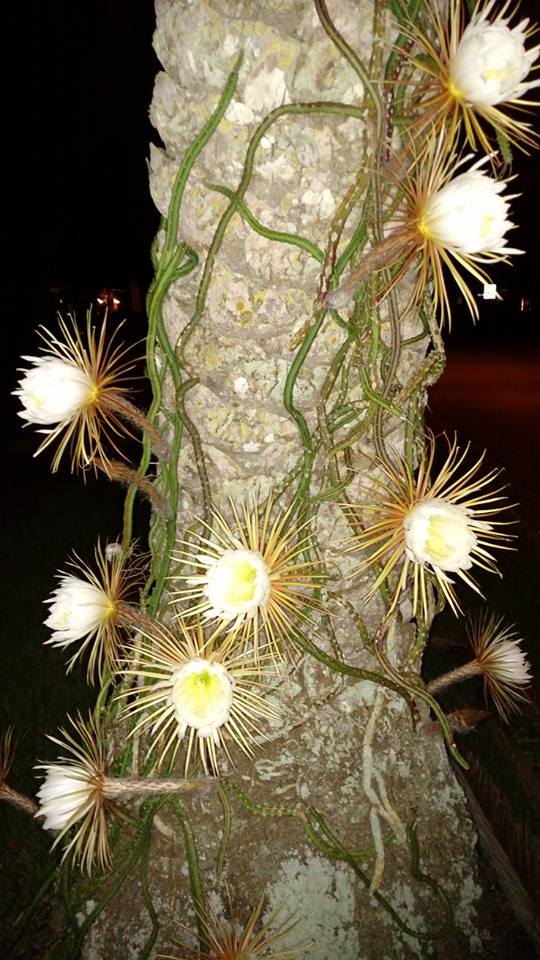 Night-blooming Cereus cactus from Florida.
Readers, if you want to send me some videos of plants in whole systems (bees and blossoms, for example, or running streams) — I can use them to practice with FFmpeg and hopefully post them. Because of download times, they'll have to be measured in seconds, rather than minutes. Thank you!
Adding, thank you again readers for last week's rapid and successful Water Cooler Mini-Fundraiser. Checks are arriving in the mail. I'm still writing thank you notes! Yours will arrive!
* * *
Readers, if you enjoyed what you read today, please use the dropdown to choose your contribution, and then click the hat! Your tip will be welcome today, and indeed any day. Water Cooler will not exist without your regular support.