By Lambert Strether of Corrente.
TPP/TTIP/TISA
"TTIP talks should be suspended, say 40%of Luxembourg residents" [Luxembourger Wort].
"More than 450 groups on Monday called on Congress to reject the Trans-Pacific Partnership if it comes up for a vote this fall, saying the trade deal would allow fossil fuel companies to contest U.S. environmental rules in extrajudicial tribunals" [Reuters]. "Congress is expected [by whom?] to vote on the TPP after the Nov. 8 election during a lame-duck session." (Notice how a lame-duck session vote quietly became the conventional wisdom.)
"The American Cancer Society is urging Congress to support the TPP for one reason: because it offers limited protection for tobacco control regulations from a uniquely corporate-friendly trade mechanism known as the investor-state dispute system (ISDS). Multinational tobacco corporations have invoked ISDS to challenge effective public health protections like requiring plain packaging for cigarettes to discourage marketing to youths" [HuffPo]. "But the TPP's proposed fix is tantamount to a half-dose of antibiotics: relief if any is likely limited and short lived, while the surviving infection can mutate to roar back more powerfully." Clever deal-cutting by Obama, though, very much akin to making a deal with Big Pharma on ObamaCare.
"[T]he Obama administration still hasn't given Congress a draft statement of how it plans to implement the agreement, something it's required to do 30 days before submitting the pact for a vote" [Politico].
2016
Policy
"In attack on Trump, Clinton accidentally admits drone killing of Abdulrahman al-Awlaki may have been a war crime" [Salon].
Money
List of Trump donors [Wall Street Journal, "Who's Who: Meet the Super PACs Backing Donald Trump"]. Seems thin, to me. Readers?
Corruption
"Paul Ryan rips Donald Trump's 'racist' comment on judge in Trump University case" [MarketWatch]. Trump's attempt to browbeat a judge in a case where one of his businesses is involved is an obvious use of public office (his Presidential run) for private gain (a favorable, hence profitable, verdict for him). And yet, oddly, this aspect of completely open corruption goes unremarked by our famously free press. One can only ask why.

"8,491 pages raise more flags about Bondi's Trump money" [Orlando Sentinel]. Note the focus on Bondi and a quid pro quo for dropping a Trump U case, not Trump's corruption of public office on the trail, which is completely open.

"Judge Curiel was appointed to the bench in San Diego in 2007 by Gov. Arnold Schwarzenegger, a Republican. President Obama nominated him to the federal bench in late 2011, and he was confirmed by the Senate" [The New York Times]. What I'm not getting is (a) why couldn't Trump buy his way out of the investigation, as he apparently did in Florida, and (b) if Trump knew this California case was on the way, did he truly think it would pose no barrier to his nomination? Did he even think he would be nominated? Then again, to be fair, Clinton's corruption hasn't gotten in her way, so why should his?
California
"Sanders Dismisses 'Presumptive Nominee' Nod as 'Rush to Judgment' " [Seven Days]. Sanders is far too kind, as usual. We're seeing blatant election fixing by AP (as "nod" in the Seven Days highline backhandedly acknowledges). The story is an anonymously sourced survey of superdelegates, and there exactly one thing that's new about it, and that is the timing: Election Eve. The press has injected itself into the story in the largest possible way. This stinks to high heaven (not to mention being illegal in more civilized countries).

The astute Jake Tapper didn't say anything explictly, but then he didn't have to:

G'night, all. pic.twitter.com/9F7Roh5v23

— Jake Tapper (@jaketapper) June 7, 2016

(For those who can't see the GIF: "It's Chinatown, Jake.") And here's how the AP story played on the front page of the Times:

Democratic nomination was consecrated by media organizations, on a day when nobody voted. https://t.co/f9zZ1oZMKK pic.twitter.com/vNX2xWV3ia

— The Intercept (@theintercept) June 7, 2016

This is a Judy Miller-level crapfest of corruption. And will anybody who didn't think that AP knew this would happen report to the kindergarten room? Thank you!

"In San Francisco, Berniecrats lash out at media for calling nomination for Clinton" [WaPo]. "Berniecrats," WaPo? In a headline? And calling on election eve, one might add.
The Trail
Strengths and weaknesses of Trump v. Clinton [CNN]. Highly selective.

"Trump has held steady to the course that brought him to victory in the Republican primary: keeping his organization small and top-down, holding large-scale rallies, and shrugging off traditional campaign features such as data, polling and fundraising" [RealClearPolitics]. "His style has likewise remained static: He has remained laser-focused on his core issues from the primary, such as immigration, but he has not fleshed out other policy. Meanwhile, rather than soften his rhetoric, Trump has hardened his attacks on perceived adversaries." In other words, Trump is disciplined; Beltway types of both parties insist he is not. Now, you can argue that Trump's management approach won't scale; on the other hand, it's not clear that any conventional approach will succeed. Remember Orca, the debacle that the Republican flavor of campaign tech brought down on Romney? And if I were Trump, I'd think back to what the Democrat Party did to McGovern, back in the day, and consider the Iron Law of Institutions. There are rice bowls at stake! Polling in the next few weeks may show whether the critique of the political class is a whirligig powered by its own wind, or driven by more organic forces.

"Although Trump is running nearly even with Hillary Clinton in national polls, the Vegas bookmakers remain optimistic about Clinton's chances. The online betting site PaddyPower.com currently puts the odds of Clinton winning at 1 in 2, with Trump at 7 to 4. Bernie Sanders is a 20-to-1 long shot" [Sacramento Bee]. "But I wouldn't bet against a Trump victory. Here are five reasons why…."

"The electoral college has a "Blue Wall" (Ron Brownstein's phrase) of 18 states where Democrats won six of the last six presidential contests, totaling 242 electoral votes. That's a hell of a likely head start to 270″ [Los Angeles Times].

"Report: Bill Clinton May Have Encouraged Donald Trump to Run for President" [Vanity Fair]. From 2015, but relevant today. Not to be foily, but:

Sure, Trump's behavior doesn't prove he's a Clinton ringer, but nothing about it is inconsistent with him being one. pic.twitter.com/1xnt4Ac6F7

— Billmon (@billmon1) June 7, 2016

"Liberty House's experience confirms many things we already knew or suspected about at least some of Trump's donations to veterans' charities. The vetting of Liberty House was so brief as to be almost nonexistent, at least as far as we can see; the Trump campaign wanted the award to be part of a political event; the money donated to Liberty House was not only not Trump's, it never even passed through Trump's foundation" [Nonprofit Quarterly].
Clinton Email Hairball
"State Dept. Promises to Release Clinton [TPP] Emails on Day That Literally Doesn't Exist" [Lawnewz]. "Charlotte W. Duckett, from the U.S. Department of State, replied to Mr. Sirota that his "new estimated completion date for you request is November 31, 2016." To be clear, November has 30 days (30 days has September, April, June and November.) That day doesn't exist." Ha ha. What a classy way to say "F*ck you"; "You'll get your emails on the First of Never."

"FBI Reveals 'Additional Details' About Clinton Email Probe in Secret Declaration" [Vice]. "The FBI is seeking permission to file a second, secret declaration in US District Court in Washington, DC describing its search for documents related to the bureau's probe of Hillary Clinton's use of a private email server during her tenure as secretary of state. The declaration is to be submitted in response to a Freedom of Information Act (FOIA) lawsuit filed against the bureau by VICE News." This issue isn't going away.

"FBI asks to make new secret filing in Clinton email case" [The Hill]. "The filing would be the second secret declaration issued as part of the FOIA lawsuit, which was launched by Vice News journalist Jason Leopold." The issue, as I understand it, is whether State conducted a "reasonable search" of Clinton's mail. Since the FBI has (some fraction of recovered) email from Clinton's server, they can cross-check this claim.
Stats Watch
Productivity and Costs, Q1 2016: "Productivity remains a key weakness of the economy and is especially evident during the low output of the first quarter" [Econoday]. "Output during the quarter rose 0.9 percent but the increase was outmatched by a greater increase for hours worked, up 1.5 percent. Not only did hours exceed output, compensation rose at the same time, up 3.9 percent to lift unit labor costs by 4.5 percent." But: "I personally do not understand why anyone would look at the data in this series as the trends are changed from release to release – and many times significantly between the preliminary and final release" [Econintersect]. On the other hand: "[T]hough there seems to still be a consensus among Street economists and market participants that wage growth remains sluggish, in reality, wages have finally begun to move higher in earnest. The anecdotal and survey evidence has been pointing to rising wages for a while, but the data were slow to fall into line. Now they have" [Across the Curve]. Can't have that.
Gallup US ECI, May 2016: "Americans' confidence in the economy was flat in May with the economic confidence index averaging minus 14 for a second month – a seven-month low" [Econoday]. "Americans' confidence in the U.S. economy remains negative, although recent weekly readings of the index could mark a turning point."
Employment Situtation: "The sharp May hiring slowdown revealed in Friday's employment report took a lot of people — including me — by surprise. It shouldn't have. Things have actually been on the downswing for the U.S. labor market for months, according to the Federal Reserve's Labor Market Conditions Index" (from yesterday, see here) [Bloomberg].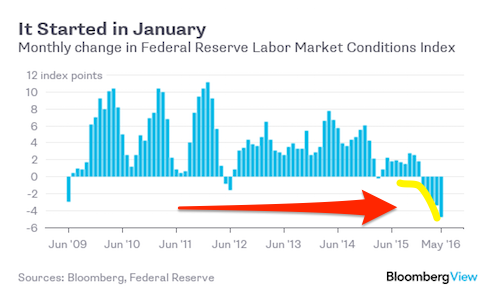 "This went from bad to worse but they don't seem to pay much attention to it" [Mosler Economics]. Compare from Water Cooler of 6/3/2016: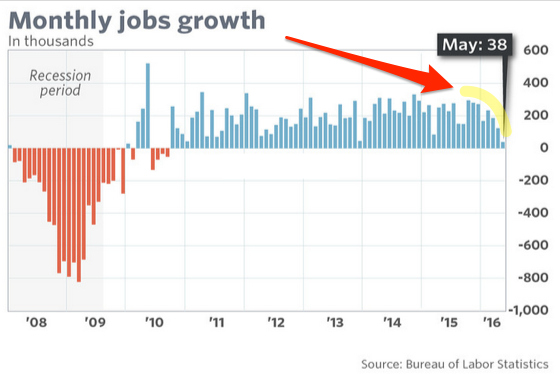 Real Estate: "CoreLogic's Home Price Index (HPI) shows that home prices in the USA are up 6.2 % year-over-year year-over-year (reported up 1.8 % month-over-month). Last month's 6.7 % year-over-year gain was revised downward to 5.5 % [revisions to previous months lately have been significantly downward so I would not take the 6.2 % to the bank]. CoreLogic HPI is used in the Federal Reserves's Flow of Funds to calculate the values of residential real estate" [Econintersect].
http://finance.yahoo.com/news/t-mobiles-legere-why-were-213504433.html
The Bezzle: "'Auto [loans] is clearly a little stretched, in my opinion,' the JPMorgan Chase CEO said Thursday morning, speaking at the AllianceBernstein Strategic Decisions Conference in New York. 'Someone is going to get hurt'" [CNBC]. Added Dimon: "We don't do much of that"
Shipping: "In 2002, the average hourly wage for a warehouse and distribution center worker in the U.S. was $10.31, according to Atlanta-based staffing firm ProLogistix, which on a weekly basis employs about 12,000 people in industrial facilities nationwide. By 2012, that same hourly wage had risen, on average, by a measly 15 cents. During the same period, the Consumer Price Index (CPI), the federal government's broad measure of the direction of consumer prices, had climbed about 22 percent" [DC Velocity].
Shipping: "Technology shift bringing an end to shipping cycles" [Splash247]. From shipowners forum at Posidonia.
Shipping: "A preliminary investigation shows a failure with a bolt that fastens the rail to the railroad ties caused the [Columbia River] crash, said Justin Jacobs, a Union Pacific spokesman. A final report to the Federal Railroad Administration will be submitted sometime this week" [Oregon Live]. (Note: This story has interviews with trailer park residents near the crash. So I could have filed this under Class Warfare, eh? Even if/though half the trailer park residents are Hispanic.
The Fed: "Federal Reserve Chair Janet Yellen said on Monday that interest rate hikes are likely on the way because "positive economic forces have outweighed the negative" for the United States now that risks from earlier this year have diminished" [Futures].
The Fed: "Bottom Line: The May employment report killed the chances of a rate hike in June. And it was weak enough that July no longer looks likely as well. I had thought that, assuming a solid May number they would set the stage for a July hike. That seems unlikely now; they will probably need two months of good numbers to overcome the May hit" [Tim Duy's FedWatch]. "The data might bounce in the direction of July, to be sure. Hence Fed officials won't want to take July off the table just yet, so expect, in particular, the more hawkish elements of the FOMC to keep up the tough talk.
The Fed: "Although this recent labor market report was, on balance, concerning, let me emphasize that one should never attach too much significance to any single monthly report. Other timely indicators from the labor market have been more positive. For example, the number of people filing new claims for unemployment insurance–which can be a good early indicator of changes in labor market conditions–remains quite low, and the public's perceptions of the health of the labor market, as reported in various consumer surveys, remain positive" [Janet Yellen, Board of Governors of the Federal Reserve System].
"Remittances refers to money that emigrants send back to their country of origin, and in the context of global capital flows, they are a big deal" [Conversable Economist]. "Remittances are about the same size as flows of private debt and equity. And while remittances haven't grown as fast as foreign direct investment, it has risen much more steadily and without the peaks and valleys."
Today's Fear & Greed Index: 80, Extreme Greed (previous close: 80, Extreme Greed) [CNN]. One week ago: 75 (Extreme Greed). (0 is Extreme Fear; 100 is Extreme Greed). Last updated Jun 7 at 12:35pm. The important psychological barrier of 80: Cracked!
Big Brother is Watching You Watch
"In a stunning twist in a long-running Medicare fraud case, both the Miami U.S. Attorney's office and the FBI stand accused of spying on a defendant's lawyer by illegally and secretly obtaining copies of confidential defense documents" [Florida Bulldog].
"Clinton and Obama are wrong about Snowden — he was ignored after sounding alarm directly to the NSA" [Salon].
"The Obama administration is seeking to amend surveillance law to give the FBI explicit authority to access a person's Internet browser history and other electronic data without a warrant in terrorism and spy cases'" [WaPo].
Black Injustice Tipping Point
"The Color of Debt: How Collection Suits Squeeze Black Neighborhoods" [Pro Publica]. So, systemic racism from the FIRE sector, right? Major contributors to the Clinton campaign, oddly, or not.
Class Warfare
"Cooperation emerges when groups are small and memories are long, study finds" [Phys.org]. "The work suggests one possible advantage of the human's powerful memory capacity: it has fed our ability as a society to cooperate."
"[E]xecutive pay decisions made inside corporate boardrooms have an enormous impact in the outside world. Outrageous pay gives top executives an incentive to behave outrageously. To hit the pay jackpot, they'll do most anything" [US News]. "We can't rely on shareholders to call a halt to all this. Few shareholders, after all, have any long-term commitment to the corporations whose shares they hold – or to the communities where these corporations do business. aOnly the public can protect the public interest, and this public interest – in matters of corporate executive compensation – demands that we start setting limits on top executive pay."
Remember Charles Murray? Author of The Bell Curve? [Charles Murray, Wall Street Journal, "A Guaranteed Income for Every American"]. "Replacing the welfare state with an annual grant is the best way to cope with a radically changing U.S. jobs market—and to revitalize America's civic culture." Sounds legit.
"Thomas Jefferson's Notes on the State of Virginia is a landmark white supremacist text that serves as a canonical work for the establishment of US whiteness" [Truthout]. "The time has come not to seek access to farcical social constructs used to oppress, but instead to seek liberation through rejection of such." All true. Oddly, or not, the neoliberal thought collective is never framed in terms of "watch whiteness work."
"Moving houses in childhood increases suicide, death risk" [Medical News Today] (study in American Journal of Preventive Medicine from Danish data). In other words, a "flexible labor market" ("Why don't they just move?") puts sellers of labor power at differential risk as opposed to the owners of capital.
This is the iconic photo of 20% protesters against "corruption" in Brazil, via Glenn Greenwald:
Onde eles foram? Sumiram. To com saudades! Não tem mais "corrupção" para protestar? pic.twitter.com/DnNZNPe2gx

— Glenn Greenwald (@ggreenwald) June 7, 2016
Who, in that picture, is more likely to have moved their family?
"This book analyzes a possible future era when software emulations of humans (ems) dominate the world economy" [Slate Star Codex]. Swell.
News of the Wired
"Where Did Twitter's Extra Characters Come From?" [Wired]. Twitter's new data format. It'll be a total mess in less than a decade, guaranteed, like all proprietary data formats.
Why did consciousness evove? [The Atlantic]. "The Attention Schema Theory (AST), developed over the past five years, may be able to answer those questions. The theory suggests that consciousness arises as a solution to one of the most fundamental problems facing any nervous system: Too much information constantly flows in to be fully processed. The brain evolved increasingly sophisticated mechanisms for deeply processing a few select signals at the expense of others, and in the AST, consciousness is the ultimate result of that evolutionary sequence. If the theory is right—and that has yet to be determined—then consciousness evolved gradually over the past half billion years and is present in a range of vertebrate species."
* * *
Readers, feel free to contact me with (a) links, and even better (b) sources I should curate regularly, and (c) to find out how to send me images of plants. Vegetables are fine! Fungi are deemed to be honorary plants! See the previous Water Cooler (with plant) here. And here's today's plant: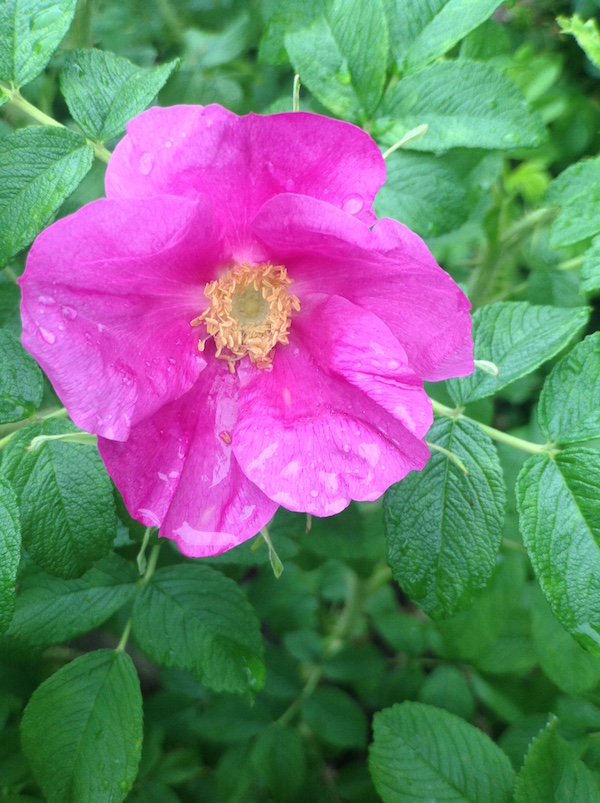 I know Beach Roses are invasive, but nevertheless…
* * *
Readers, Water Cooler will not exist without your regular support. Your tip will be welcome today, and indeed any day. If you enjoy what you're reading, please click the hat!