Porn-sniffing dog leads Utah's fight against smut The Times (TF)
The rise and fall of great world cities: 5,700 years of urbanisation – mapped Guardian (JMP)
Unicorns: Between myth and reality Financial Times (David L). Unicorns are always mythological or fake. The choice of that word to describe these companies was an unintended bit of honesty
Researchers have found a 'striking' new side effect from eating fast food Washington Post. Furzy also sent the link to the study: Recent Fast Food Consumption and Bisphenol A and Phthalates Exposures among the U.S. Population in NHANES, 2003–2010 National Institutes of Health
Study finds Password Misuse in Hospitals a Steaming Hot Mess Security Ledger
Brexit
Iglesias made the same mistake as Tsipras failed evolution
China?
Yuan tanks again MacroBusiness. Important, and being ignored with the Brexit panic. Ambrose Evans-Pritchard warned that a yuan devaluation would send a deflationary shock at a time when the world economy was already weak.

China consumption of cheap goods falls Financial Times
Australia's hidden people smuggling scandal MacroBusiness
Philippines tough-guy leader defies Catholic Church on birth control Washington Post (furzy)
Bill Gates Sparks Outrage Accusing Thailand's Residents of Stealing Electricity Pattaya One (furzy)
Ukraine/Russia
Europeans Contest US Anti-Russian Hype Consortiumnews. This is a big deal. Has to be a real rift for a top German official to go public v. US warmongering. Chuck L: "It looks like John Helmer was on to something with his post the other day on a German-Russian Rapallo Redux."
Syraqistan
Imperial Collapse Watch
NATO Unveils New Headquarters Inspired by the Nazi SS Lightning Bolts? Sputnik News

SemperFuxit: Marine Corps votes to exit Dept. of the Navy Duffelblog (JMP)
Big Brother is Watching You Watch
Millions Off the Books: The FBI's Hidden Surveillance Budget Sputnik News (Chuck L)

Secretive Alphabet division aims to fix public transit in US by shifting control to Google (timotheus)
Clinton E-mail Tar Baby
More Clinton emails released, including some she deleted Associated Press (martha r)
2016
When Justices Thomas and Sotomayor dissent together The Washington Post (furzy)
Carlyle Group's AUM Drops Again PEU Report
Did Brexit Kill The Oil Price Rally? OilPrice
Finance as a driver of growth: New evidence VoxEU. UK data, but finds finance is important for smaller companies, less so for bigger one. And who is well v. badly served by the financial services industry in the US?
NYC's Waldorf Astoria Said to Close in '17 for Condo Rebuild Bloomberg
Antidote du jour. Lawrence R, from National Geographic's Best Photos: "Photographed by Ian McAllister using an underwater housing, this shot captures an intimate portrait of a wolf wading through the inter-tidal zone on the British Columbia coast in Canada. The wolf took a break from eating herring roe to investigate the photographer's half-submerged camera."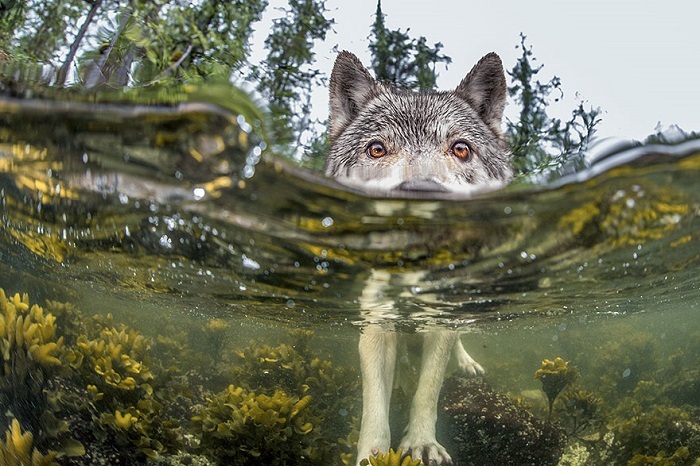 See yesterday's Links and Antidote du Jour here.