David Cameron and Nigel Farage both spoke at a previously-schedued meeting of the European Parliament yesterday. On the one hand, public posturing is always more aggressive than what a negotiator is willing to accept. On the other hand, EU leaders seemed generally well unified on some key, high-level rules of the role for Brexit negotiations. And one of them is at odds with what Cameron and his most likely successor, Boris Johnson, say is an essential condition of any deal, namely, more restrictions on EU immigration.
It's not surprising that there were more signs of hostility than is normal for a high-level meeting. All the parties are still reeling from the implications of last week's vote. Cameron tried blaming the Europeans for the Brexit vote. From the Guardian:
The British prime minster used his last Brussels summit to tell Angela Merkel, François Hollande and other European heads of government that anxieties about unrestricted freedom of movement were at the heart of the decision by Britons to reject the EU.
This chart from the Telegraph shows that the "immigration problem" can hardly be called an EU-only problem. Admittedly, some of these non-EU immigrants were recruited, since the Britain has chronic shortages in some areas, like nursing.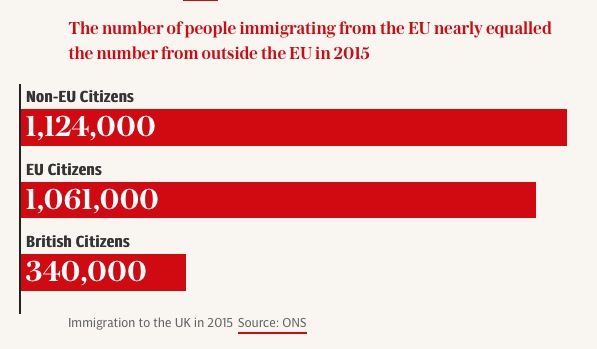 Not surprisingly, Cameron's assertion fell on deaf ears. EU leaders correctly regard the Brexit vote as the result of a disastrous miscalculation of the Tories in playing with what has turned out to be a political nuclear device. But the worst is that Cameron's remarks don't just seem to be fodder for good lines in the press back home; he and his fellow Conservatives seem to believe they really are entitled to a special deal, when they already had a particularly favorable arrangement with the EU. From a Guardian op-ed on Monday by Joris Luyendijk (hat tip vidimi):
The problem with Britain was not that it was critical of the EU. The problem was bad faith and delusional thinking. As the referendum debate has shown, the country has not come to terms with its own global irrelevance – hence its refusal to pool sovereignty. It continues to believe that as a sovereign nation it can get everything it had as an EU member, and more. When Europe's democrats talk about "EU reform" they mean putting arrangements in place to make Europe's pooling of sovereignty democratic. Britons mean the rollback of that very pooling of sovereignty. For this reason, Britain's membership would have hit a wall sooner or later.
EU leaders quickly stamped out several lines of optimistic thinking. Both European Commission chief Jean-Claude Juncker and Angel Merkel said that there would be no negotiations before the UK invoked Article 50.* That is consistent with the insistence from the Eurocrats and the IMF that Britain needs to proceed so as to keep uncertainty from damaging the real economy. And if Cameron was floating a big fat trial balloon that a concession on immigration would allow the Government to have a second referendum and reverse the vote, it was quickly deflated.
Moreover several officials, most critically Merkel, made it crystal clear that a Brexit means having a lesser status, as in fewer rights than full members. Again from the Guardian:
Angela Merkel and other European leaders, meeting for the first EU summit since last Friday's result, ruled out any special favours for Britain, insisting there would be no "cherry-picking exercise" in the exit negotiations. In a speech to the Bundestag ahead of the summit on Tuesday, the German chancellor said: "There must be, and there will be, a palpable difference between those countries who want to be members of the European family and those who don't."

These words have been echoed by other EU leaders including Italy's prime minister, Matteo Renzi. Xavier Bettel, prime minister of Luxembourg, added that the UK could not have a Facebook-style "it's complicated" status with the rest of the EU: Britain could have "marriage or divorce, but not something in between".
And the Europeans are also taking aim at the City. From the Wall Street Journal:
For Britain to secure a close trading relationship with the bloc, the more obligations it will likely have to accept—including many that are unpopular with Britons who voted to leave.

"To access the internal market, [a country] must respect the four liberties: liberty of circulation of goods, of capital, of services and people," Mr. Hollande said. It must also contribute to the EU budget, he said.
Trade After Brexit

Mr. Hollande also warned that after a U.K. exit, transactions in euros wouldn't be able to be cleared in the City of London. The U.K.'s membership in the EU gives institutions based there the right to process financial transactions denominated in euros, an important source of business for London.
This should all seem perfectly straightforward, until you read that against what Boris Johnson, the most likely next Prime Minister, wrote over the weekend for what Brexit will deliver: everything the British have now, save being able to curtail immigration and ignore EU regulations and its courts.
Now it's one thing for Johnson to be promise the electorate that everything will be just great when he is waging a leadership battle. But the Telegraph, which is presumably the preferred messaging outlet for the Conservatives, treated Cameron's and Johnson's fantasies as if they were perfectly reasonable expectations. From the story, David Cameron urges EU to reform freedom of movement rules to maintain Britain's economic ties with Europe:
David Cameron has told the EU it must reform freedom of movement rules if Britain is to maintain close economic ties with the continent in the wake of the referendum…

Setting out the basis for a future British deal with the EU, he said Britain would only be able to maintain access to the single market if the bloc agreed to look again at its policy of open borders…

That could allow Britain to retain access to the single market without having to accept unlimited immigration from the EU.
If you read the story, you'll see how one-sided it is. It is all about Cameron's and Johnson's demands. And it gives an unrealistic impression of their odds of being able to achieve them by citing the support of Poland, which is the black sheep of the EU right now for its intransigence in making wholesale judicial and governmental changes in violation of EU and even arguably Polish law, as well as its open defiance of EU environmental regulations.
So while the Torygraph is all over the internecine war in the Labor Party and its Brexit cheerleading, the Financial Times' live blog yesterday and today is picking up on every tidbit that can feed the hope that a Brexit won't go forward. And several readers called out its original headline for its lead story, that EU leaders were meeting to "plot" their Brexit response as descending to tabloid level. So the major papers are editorializing rather than reporting, which makes it difficult to sus out the state of play.
Nevertheless. the Conservative line, that the EU needs to reform its immigration policies for its own good, not just the UK's benefit, sounds an awful lot like Yanis Varoufakis's seen-as-presumptuous effort to get the Eurozone to abandon its failed austerity policies. The worst was that Varoufakis has the correct economic argument but no one wanted to hear him. In this case, the Tories are butting up against an equally fundamental principle that is under strain due to the refugee crisis. And the Europeans are not going to compromise it to accommodate the UK. As this video by Owen Jones (hat tip Uahsenaa) stresses, the EU will be tough with the UK, not out of pique, but because they regard Brexit negotiations as an existential crisis. They are not going to give the UK the special deal it wants The whole clip is worth watching, and covers many important issues. for instance that immigration will not fall post-Brexit and how that will exacerbate generational stresses, but in particular be sure to see the part staring at 5:25. Any new UK arrangement with the EU will need to reflect tradeoffs made by other countries that have some degree of access to its market.
And as you probably read elsewhere, the Tories have set a date for selecting a new party leader, September 2. That is a tad earlier than what Cameron had envisaged with his 90 day caretaker plan. Opponents of Boris Johnson tried to have a longer timetable and require a woman candidate, both of which were seen as lowering his odds of success, and they got no support.
It's hard to see how Johnson backs out of a Brexit, and he's such a fabulously reckless and dishonest politician that he may actually have convinced himself that the EU will go along with his barmy plan of giving the UK concessions and getting nothing back in return. And he may also persuade himself that the prize of further deregulating the UK economy is worth the cost of the (considerable) near-term economic damage and some loss of the City's prerogatives. Or perhaps he believes he can somehow win party leadership campaigning for Leave yet renege once he is in charge. But the intense media focus on Brexit will cement it more and more in the public's consciousness as a reality as time passes, making it even trickier to walk back.
Maybe Theresa May or another contender will be able to beat Johnson. Or perhaps some event allows Johnson to save face and extricate the UK from the colossal mess that he and Cameron cooked up. But in the meantime, the Conservatives seem stuck in their own private reality, which is not a good basis for navigating such turbulent times.
____
* This is almost certainly what Merkel meant with this remark: "We did not discuss the possibility that the UK will not invoke article 50, and I consider this an impossibility." The Journal interpreted it otherwise but an expert in Eurocratese was pretty confident of this reading.