By Lambert Strether of Corrente.
2016
Corruption
"Top officials at the Clinton Foundation believe the organization was hacked — causing concern that the data breach will show Hillary Clinton and State Department staff giving preferential treatment to top donors" [New York Post]. "But the foundation has hired the security firm FireEye to examine its data systems after seeing indications they might have been hacked, sources told Reuters."

"Trump on the Clinton Foundation: 'Let's give them the benefit of the doubt'" [Washington Examiner]. Head fake? Random noises?

UPDATE "Donald Trump Gave Cash To Chris Christie Group Before And After New Jersey Casino Settlement" [David Sirota, International Business Times]. Clinton supporters rush to Christie's defense: "Yeah, but was it a quid pro quo?"

UPDATE "Newly released documents, obtained by the conservative watchdog group Citizens United and provided to CNN, show the State Department was interested in purchasing land for a new US consulate in a development called Eko Atlantic on the coast of Lagos in 2013, in a story first reported on by Fox News. The development is managed by Ronald Chagoury and funded by an umbrella company owned by him and his brother Gilbert Chagoury" [CNN]. "Gilbert Chagoury has donated over $1 million to the Clinton Foundation, according to the foundation's website, which also notes that The Chagoury Group — run by the brothers — pledged to commit $1 billion to fight coastal erosion through the Eko Atlantic development as part of a Clinton Foundation initiative on climate change. Eko Atlantic is built on reclaimed land protected by a sea wall." The State Department did not buy the land (no quid pro quo) but the influence peddling (public office for private gain) is clear.
Policy
"[A] Hillary Clinton presidency will want to take the country's foreign policy [will not only be] 'bipartisan.' It's the point of convergence between liberal interventionism (as represented by Flournoy, Campbell, Rubin, and Steinberg) and neoconservatism (as represented by Kagan and Edelman). Fontaine, Zoellick, and Hadley tend toward the more realist side of what remains of Republican foreign-policy thinking" [Lobelog].

UPDATE "Yes, Clinton Is a Hawk, and It's Silly to Deny It" [The American Conservative].

It's not credible to say that there isn't much evidence for Clinton's hawkishness. In almost every case for the last twenty years, Clinton has reliably sided with those favoring more rather than less aggressive measures in response to foreign conflicts and crises. She did this during her husband's administration ("I urged him to bomb" [Kosovo]), she did it as a senator with her Iraq war authorization vote, and she did it as Secretary of State (see Libya, Syria, etc.). Unlike many presidential nominees, Clinton has not shied away from her hawkish record as a candidate. During the primaries, she touted the Libyan war as "smart power at its best" and as I mentioned earlier this week she has made no secret of her support for "no-fly" and "safe" zones in Syria that would entail a significant increase in the U.S. military role in that country.

There's that word "smart." Watch for it, because it's a bullshit tell (although highly appealing to the credentialed)).

"Why Did Clinton Just Tap a Pro-TPP, Pro-KXL, Pro-Fracking Politician to Head Her Transition Team?" [Democracy Now]. Because those are the policies Clinton believes in? And that the Republican voters she's seeking support? And because every day is kick the left day in HillaryLand?
Our Famously Free Press
"For Conservative Press, The Post-Trump Reckoning Can't Come Soon Enough" [HuffPo]. Where are the responsible conservatives? Like George Bush?

UPDATE "The Most Venomous Comments on Trump's New Campaign Chief Are Coming From the Right" [New York Magazine]. Now that Breitbart, for the Republicans, has merged with the Trump campaign, as WaPo, the Times, and most of the political class have merged with the Clinton campaign.
The Voters
"Today marked my 250K mile driven in last three years, around the US, visiting places few visit." [Chris Arnade]. Must read.

"Americans' optimism rose sharply during Obama's first months in office, with the passage of a major economic stimulus package and push for an ambitious agenda on health care, energy and education. The share saying the country was headed in the 'right direction' jumped from 19 percent in January 2009 to 42 percent in March and again to 50 percent in April, the highest level since 2003. Optimism fell steadily over the next year of political battles, culminating in the passage of the Affordable Care Act, and by the end of 2010 only 31 percent said the country was headed in the right direction" [WaPo]. One word: Squandered. Or two others: Cashed in.

"The Black Political Establishment Should Never Have Given Hillary Clinton a Blank Check" [Portside]. A little late, now…
Realignment
"Robert Caro Draws Parallels With 1964 Election in Hamptons Chats" [Bloomberg]. Be careful what you wish for. LBJ's landslide against Goldware was followed by Vietnam, and LBJ was a one-term President. Nixon's landslide against McGovern was followed by his impeachment. Caro says: "I believe Hillary Clinton will have an agenda for social justice, and if she has huge majorities, we may see huge advances." But in what direction?

"Why it's smart politics for GOP leaders to cut Trump loose" [Matt Bai, Yahoo News]. "What Republicans should have learned from the tea party uprising is that you don't really appease or absorb these kinds of rebellions. Their guiding principle is to upend party establishments, which is why John Boehner is home in Ohio now, despite having twisted himself like a yogi to avoid alienating the party's angriest new voices."

On Clinton's "triangulation": "There is, in other words, a distinct history of Clintonian coalition-building with right-wing Republicans, undertaken at the risk of normalizing their politics and at the expense of other Democratic candidates, simply to win the presidency. Yet twenty years later, there's reason to believe that we still aren't weighing central strategic tradeoff with any rigor, and that we're still bewitched by the language of Morris-style tactical wonkery" [Carl Beijer]. "The outcome was predictable: Clinton's collaboration with Lott and Gingrich helped him to defeat Dole, but it also helped the House and Senate protect the massive gains they had made in 1994, and prepared the rhetorical ground for George W. Bush's "compassionate conservative" 2000 campaign."

UPDATE Stoller on Trump:

Trump has no attention span. He cannot absorb information or think. He can't strategize, he has a few moves and that's it. Stop overthinking

— Matt Stoller (@matthewstoller) August 18, 2016

Stoller is, as ever, acute. And yet, Trump went through the Republican party apparatus like the Wehrmacht went through the French Army in 1939, and made every mainstream candidate, along with the RNC, look like General Maurice Gamelin. Very strange.
Clinton Email Hairball
UPDATE "The FBI, citing a desire for transparency, on Tuesday gave Republican congressional leaders a package of documents summarizing its investigation of Clinton's use of private email servers. The release of information by the FBI related to a closed investigation is highly unusual" [USA Today]. And then there are the perjury charges, also covered in the story….
Stats Watch
Jobless Claims, week of August 13, 2016: "Claims are low and point unmistakably to strength in the labor market" [Econoday] "Continuing claims are likewise only slightly above the month-ago trend."
Leading Indicators, July 2016: "Solid and hints at a second-half lift for the economy that many expect" [Econoday]. "A bounce back in the factory workweek led a 0.4 percent gain for July's index of leading economic indicators. Stock prices and low interest rates were also strong positives in the month, two factors that are likely to be strengths for the August index as well. Unemployment claims were also a positive in July but have been since been edging higher while consumer expectations, the only negative in July, are not likely to show much life in August either based on this month's early indications." And: "LEI as an Economic Monitoring Tool" (see the charts) [Econintersect].
Philadelphia Fed Business Outlook Survey, August 2016: " Once again the Philly Fed's headline tells an entirely different story than the details. At plus 2.0, the headline may be a bit flat but that's far better than orders or employment which are in deep contraction" [Econoday]. "The headline for this report is not a composite but maybe it should be. If it were, it would be deeply negative." And: "The Philly Fed Business Outlook Survey climbed into expansion. Key elements significantly DECLINED and returned to contraction. The only other manufacturing survey released so far for this month was in contraction" [Econintersect]. "This is a very noisy index which readers should be reminded is sentiment based. The Philly Fed historically is one of the more negative of all the Fed manufacturing surveys but has been more positive then the others recently."
Bloomberg Consumer Comfort Index, week of August 4, 2016: "[S]olid, confirming mostly positive attitudes in other consumer confident measures" [Econoday].
Retail: "Police reports from dozens of stores suggest the number of petty crimes committed on Walmart properties nationwide this year will be in the hundreds of thousands. But people dashing out the door with merchandise is the least troubling part of Walmart's crime problem. More than 200 violent crimes, including attempted kidnappings and multiple stabbings, shootings, and murders, have occurred at the nation's 4,500 Walmarts this year, or about one a day, according to an analysis of media reports. Sometimes they're spectacular enough to get national attention. In June, a SWAT team killed a hostage taker at a Walmart in Amarillo, Texas. In July, three Walmart employees in Florida were charged with manslaughter after a shoplifter they chased and pinned down died of asphyxia. Other crimes are just bizarre. On Aug. 8, police discovered a meth lab inside a 6-foot-high drainage pipe under a Walmart parking lot in Amherst, N.Y." [Bloomberg].
The Bezzle: "In big cities across the US, glass skyscrapers and sprawling spec homes that broke ground to fanfare just years ago are now standing with empty units left to sell. Some have said there has been a slower [??] influx of foreign capital thanks to economic instability abroad. Meanwhile, stricter regulations on all-cash, anonymous real-estate purchases — a favorite of foreign investors — have been introduced, potentially throwing some cold water on the luxury real estate boom of recent years" [Business Insider]. So there are tsotchkes: "Though the penthouse is currently listed for $85 million, that price tag includes a number of extras, including two Rolls-Royce Phantoms and a $1 million yacht." I was thinking of filing this under Guillotine Watch..
The Bezzle: "Uber's First Self-Driving Fleet Arrives in Pittsburgh This Month" [Bloomberg]. "The goal: to replace Uber's more than 1 million human drivers with robot drivers—as quickly as possible." Who insures the cars, and how do they assess the risks? And liabilities?
The Bezzle: "Funding into the [fintech] sector fell 49% globally in the second quarter of 2016 from the first quarter of the year, according to a new report from research firm CBInsights and KPMG. Global funding—from venture capital firms and corporates—fell 51% compared to the second quarter of 2015" [Quartz].
Today's Fear & Greed Index: 77 Extreme Greed (previous close: 76, Extreme Greed) [CNN]. One week ago: 78 (Extreme Greed). (0 is Extreme Fear; 100 is Extreme Greed). Last updated Aug 18 at 12:47pm. Ho hum.
Police State Watch
"Every year, tens of thousands of fugitives and suspects — many of whom have not been convicted of a crime — are entrusted to a handful of small private companies that specialize in state and local extraditions" [The Marshall Project]. "A Marshall Project review of thousands of court documents, federal records and local news articles and interviews with more than 50 current or former guards and executives reveals a pattern of prisoner abuse and neglect in an industry that operates with almost no oversight."
"More than 4,300 federal inmates were kept in prison beyond their scheduled release dates from 2009 to 2014 — some of them for an extra year or more, according to a report released on Tuesday that highlighted wide confusion in the prison system" [New York Times].
"St. Louis area police department has no insurance, no registration and no apologies" [FOX 2].
Our Famously Free Press
"NPR is killing off comments. That's great news!" [Chris Cillizza, WaPo]. "Numbers like that make clear that comments sections aren't fostering conversation, they are killing it. A very small group of people are dominating every conversation, making it more difficult for someone who may be, say, an expert on a particular topic to offer their opinion for fear of being berated for trying to break into the club."
Health Care
"The AEI report represents one promising alternative: every individual would receive a refundable tax credit, rising with age, to buy a basic plan. Insurers would be largely free to design a plan to fit that price point. This would stabilize the market by realigning premiums with risk. Some people with pre-existing conditions would need additional subsidies. For some individuals, the credit may only be enough for catastrophic coverage. But that, they note, is what insurance is supposed to do: "The insistence that only 'comprehensive' insurance coverage is really insurance…encourages a great deal of economic irrationality" [Greg Ip, Wall Street Journal, "The Unstable Economics in Obama's Health Law"]. Oh, great. A certain bill now. An uncertain tax credit later. Swell. Ip also writes: "Barack Obama's signature health-care law is struggling for one overriding reason: Selling mispriced insurance is a precarious business model." No. ObamaCare is struggling because delivering health care through the private insurance system is a very profitable form of rental extraction that turns out to kill a lot of people and create immense human suffering.
"Health care has become so expensive in the United States that a growing number of Americans (and their employers) are finding it more cost efficient to fly across the globe for certain medical procedures" [Business Insider]. The arbitrage between dental care here and dental care in Thailand paid for my ticket. And I didn't end up writing and screaming in the chair, either.
Imperial Collapse Watch
I'll just drop this (via RS) here. Chuck Yeager on the F35:
Waste of money https://t.co/Jti4px5zFr

— Chuck Yeager (@GenChuckYeager) August 18, 2016
"NSA website goes down as hackers auction stolen 'cyber weapons'" [We Live Security]. Note "as" in the headline. That said: "[W]e don't know if the NSA website's downtime is related to the antics of the Shadow Brokers' gang, an entirely separate DDoS attack or something more down to earth. But it certainly is a startling coincidence that the website should be proving to be so temperamental at a time like this."
Gaia
"Bottles, bags, ropes and toothbrushes: the struggle to track ocean plastics" [Nature]. "Bottles, fishing nets, ropes, shoes and toothbrushes are among the tons of waste washed up [at Kamilo beach, on the tip of Hawaii's Big Island], thanks to a combination of ocean currents and local eddies. A study in 2011 reported that the top sand layer could be up to 30% plastic by weight1. It has been called the dirtiest beach in the world, and is a startling and visible demonstration of how much plastic detritus humanity has dumped into the world's oceans."
Class Warfare
"In a near-cashless world vulnerable groups, such as the poor, the elderly and migrants, could become further marginalised, and those who are especially cash-dependent for income, such as churches, charities and the homeless, could expect to see a drop in their incomes. But changes can be made gradually and intelligently, for example by paying benefits on prepaid debit cards and supplying charities with contactless card machines. The switch could in fact increase financial inclusion, by ensuring that the unbanked become banked" [The Economist]. "Intelligently." I think that's Brit for "smart." Whenever you hear the word "smart," especially in tech, look out.
"Using deceptive ad slogans like 'Obama's New Forgiveness Program' and 'We Work for the Department of Education,' private companies are charging student-loan borrowers for services that falsely claim to provide debt relief, forgiveness, and consolidation. The pervasiveness of these so-called debt-relief companies is a growing problem for millions of borrowers—a problem that gets far too little attention" [The Nation].
"Trust" [Our World in Data]. Contains this handy chart: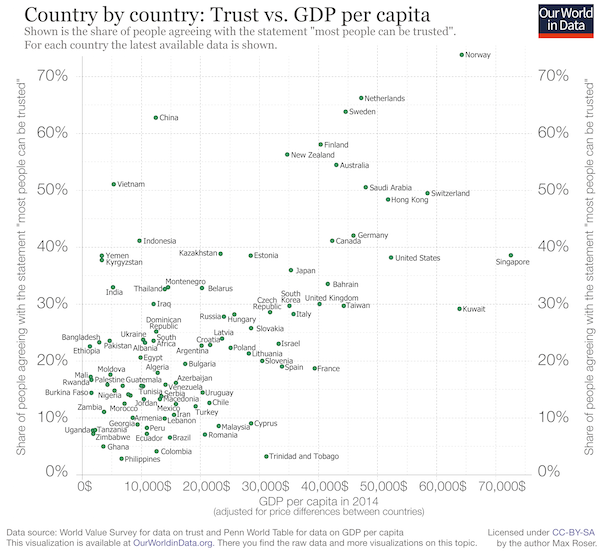 "A kind of natural selection is at work here: only smaller, decentralized leftist movements can survive, because capitalism inevitably co-opts and destroys the larger ones. Black Lives Matter, for example, has long been a movement at war with neoliberal attempts to hijack it, and both Occupy Wall Street and Fight For $15 have had their share of problems too" [Carl Beijer]. "Inevitably, it will become clear that even our liberal activism is just another racket that gets exploited for the profit and power of the bourgeoisie. It is when people begin to truly feel their powerlessness within liberalism, when they feel that their political agency has been absolutely commodified, that capitalism will run out of exploitable activism. What will take its place is the one kind of activism that capitalism can by definition not exploit: resistance to capitalism itself. "
And then there's this:
— jennmoneydollars (@jennschiffer) August 15, 2016
I wonder if offering blood as a perk would move any of that pricey New York real estate?
News of the Wired
"Will the Public Internet Survive?" [The Nation]. " Just as air travel today is a commingling of class and geopolitics that determines how free one really is to travel through various parts of the world, so too is the Internet a complex system of geopolitical and economic interests, with America currently the dominant power in a new global struggle for control."
* * *
Readers, feel free to contact me with (a) links, and even better (b) sources I should curate regularly, and (c) to find out how to send me images of plants. Vegetables are fine! Fungi are deemed to be honorary plants! See the previous Water Cooler (with plant) here. And here's today's plant (AM):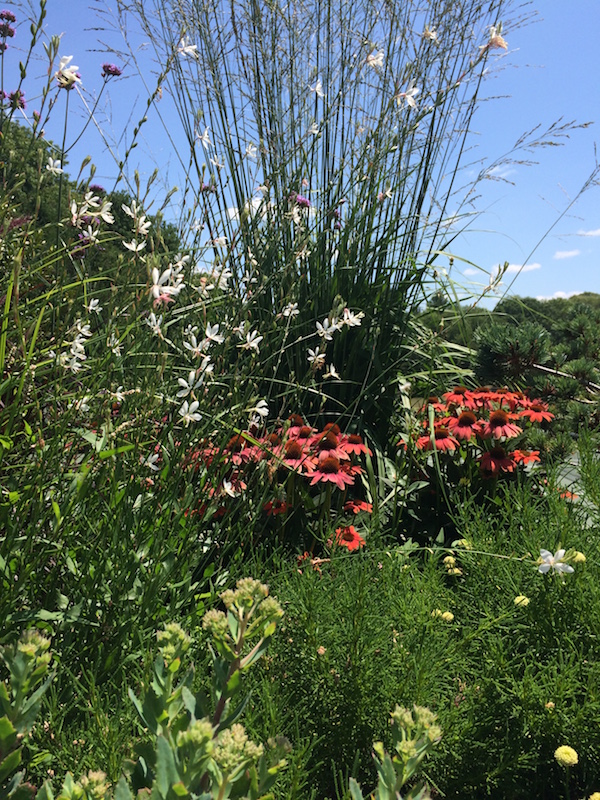 AM writes: "Last one from my mother in law's Rehoboth, MA garden. Lovely flowers, grass and other plants. I'm lucky to have an avid gardener as a mother in law!!!"
Also, think levels. Canopies, mini-canopies. I am very fortunate to have attracted birds to my sunflower patch this year!
* * *
Readers, I know it's the dead days of August, but if you can, please use the dropdown to choose your contribution, and then click the hat! Your tip will be welcome today, and indeed any day. Water Cooler will not exist without your continued help.