This is Naked Capitalism fundraising week. 1109 donors have already invested in our efforts to combat corruption and predatory conduct, particularly in financial realm. Please join us and participate via our Tip Jar, which shows how to give via check, credit card, debit card, or PayPal. Read about why we're doing this fundraiser, what we've accomplished in the last year, and our fifth goal, more original reporting.
Adding: The current fundraising goal is for Original Reporting. And reporting is the reason we set all the other goals; we have a server and a site to do reporting, we want to make sure Yves doesn't burn out so she can do reporting, and so on. But as I update the thermometer, I notice that, paradoxically, as we approach the most important goal, the numbers are updating more slowly. Please alleviate my cognitive dissonance by donating what you can, whether $5, $50, $500, or whatever you can give. Thank you!
By Lambert Strether of Corrente.
Readers, Twitter is down for me, and so I can't grab a number of links for 2016 that are embedded in tweets. If Twitter comes up in a reasonable amount of time, I'll update. –2016
TTP, TTIP, TISA
CETA, earlier: "Late-night talks failed to break the deadlock over a landmark EU-Canada trade deal, as Belgium's Wallonia region reiterated its objections" [BBC]. "The 28 EU leaders will discuss the draft Ceta deal shortly in Brussels…. Walloon PM Paul Magnette is to hold further talks with Canada's International Trade Minister Chrystia Freeland on Friday, Belgian RTBF News reports. Mr Magnette said: "We sense a willingness among our Canadian friends to make more concessions."
CETA, later: "Canada's Trade Minister Chrystia Freeland left the talks in Brussels, saying the EU was 'not capable' of signing a trade deal even with Canada" [BBC]. Ouch! "It was unclear whether the EU would keep negotiating with Wallonia in coming days to solve the impasse."
TISA: "Today is the day that could determine whether the Trade in Services Agreement can actually come together by the end of this year. Participating countries are expected to put forward revised market access offers, with all eyes on whether the European Union will come close to matching the market openings it gave to Canada through a separate trade deal between Brussels and Ottawa" [Politico]. (Politico writes as if CETA were a done deal.)
TPP: "TPP's biggest foe in the House, Rep. Rosa DeLauro, made it clear to John Podesta that Hillary Clinton must oppose a lame-duck vote on the deal, according to a hacked email released by WikiLeaks" [Politico]. "'Clarity, opposed, no claw backs, no dense murky language — just flat out. No lame duck vote,' DeLauro wrote in the message, adding that the issue 'moves the political, electoral needle.'" Dense murky language?! Shocked, shocked. Also note that even Politico, despite all the frothing and stamping from the Clinton campaign and its paid operations, treats the emails as credibie.
TPP: "Japan's parliamentary debate on the Trans-Pacific Partnership turned into a shouting match Wednesday after the agriculture minister suggested the ruling coalition force a vote on the U.S.-led trade deal, with the rancor threatening the government's timetable for ratification" [Nikkei]. Can our Japan watchers say whether shouting matches in the Diet are in any way unusual? And: "The standoff is disrupting other legislative matters as well. The ruling coalition on Wednesday gave up on its goal of ratifying the Paris Agreement on climate change by the end of the week. It instead will give priority to the TPP debate." Priorities!
TPP: "Is Trans-Pacific Partnership trade deal really as dead as Trump and Clinton say it is?" [South China Morning Post]. "'I think being candidates and being presidents are two very different things. We've had a lot of examples in the past,' said Elizabeth Economy, director for Asia studies at the New York-based Council on Foreign Relations. 'People who say they're going to do one thing when they're campaigning end up doing the exact opposite once they're sitting in the White House.'… Several Chinese diplomats, who spoke on condition of anonymity, also expressed doubts that the winner of next month's election would scrap the TPP, despite pledges to that effect by both Trump and Clinton. 'Once in a while, we'll see this kind of public sentiment against free trade and globalisation and naturally candidates just want to tap the voters' mood,' one diplomat in Washington said. 'We don't believe such anti-trade and anti-TPP sentiments will last long after the next president is sworn in.'"
2016
Days until: 17.
Debate Wrapup
UPDATE Wowsers:

'Down Goes Donald! The New Yorker Depicts Clinton's Legendary K…' https://t.co/U5xLFyspNk via @HuffingtonPost pic.twitter.com/WH1PAAHTFt

— GONG! Politics (@Gong_Politics) October 21, 2016

There's so much wrong with this, starting with the grotesque cultural appropriation, and moving to the fact that Ali went to jail for opposing a war.

"Juan Cole: Sec. Clinton pledges not to put US troops into Iraq 'as an occupying force.' It just baffles me that she would say this. There is no prospect of the US occupying Iraq again. President Obama put 6,000 US troops, mainly trainers and special operations forces, into Iraq at the request of Prime Minister Haydar al-Abadi. The question is whether those troops will remain after Daesh (ISIS, ISIL) is rolled up as a territorial entity. She says that keeping US troops in Iraq would cause a revival of Daesh (because Iraqi nationalists wouldn't put up with them), but it isn't clear that she is saying that she won't keep the 6,000 spec ops troops there. The 'occupying' adjective muddies the waters because it is such a strange concept at this juncture" [Informed Comment]. And then this:

Clinton's 'no fly zone' in Syria might have made sense in 2013. But Russia is now in Syria and controls its air space, and Russia has nuclear weapons. There is no way to do it now.

Wallace followed up on this point. Clinton replied that she would negotiate the no fly zone with the Russians and the Syrians. But there is no prospect that they would agree to any such thing, and Syria is now a Russian sphere of interest.

Why keep hitting this point when it is impractical and has been made irrelevant by developments on the ground?

Clinton was secretary of state, so why is she so flat-footed on these foreign policy issues? Why even bring up occupying Iraq? Why suggest a no fly zone in Syria that can't be implemented. It is baffling.

Cole misses that when Wallace asked her if she'd shoot down a Russian plan that violated the no-fly zone, she dodged.

UPDATE "The final debate matchup Wednesday night between Hillary Clinton and Donald Trump brought in 71.6 million viewers, beating the second contest in the ratings but failing to top the record-setting first debate, according to Nielsen" [Wall Street Journal].
Corruption
"Hacked emails reveal internal disagreement among top aides to Hillary Clinton about her determination to hold a Clinton Foundation summit in Morocco that later drew attention over its reliance on large financial pledges from foreign governments" [AP]. "Clinton aide Huma Abedin bluntly wrote in the January 2015 email that "if HRC was not part of it, meeting was a non-starter" and then warned: 'She created this mess and she knows it.'" We wrote about the Morocco conference in 2015. The last paragraph:

In August, former President Bill Clinton said that if his wife is elected, the family's foundation would no longer accept any donations from foreign governments or corporations, or from U.S. companies.

Plenty of time to unwind all the deals before 2020.
Our Famously Free Press
"But none of this is to say that anyone's hands are clean. Of course journalists are shilling for Clinton – and of course they're doing it in a way that gives them plausible denial. I know this is true of particular journalists, but I also know this because I've built political messaging operations myself" [Carl Beijer]. "By keeping transactions informal or implicit and communications indirect, campaigns can exercise an extraordinary amount of control over the press. Journalists, meanwhile, are constantly presented with new, innovative and pathetically unethical ways to sell out. And they do."

Speaking of which–

Here's a Wikileaks email showing some of the liberal bloggers huddling w/the Hillary campaign to push Bernie hits https://t.co/nedhU6kukA pic.twitter.com/hM6JjIkj0c

— Lee Fang (@lhfang) October 21, 2016

The Voters

"Obama, Holder to lead post-Trump redistricting campaign" [Politico]. "The new group, called the National Democratic Redistricting Committee, was developed in close consultation with the White House. President Barack Obama himself has now identified the group — which will coordinate campaign strategy, direct fundraising, organize ballot initiatives and put together legal challenges to state redistricting maps — as the main focus of his political activity once he leaves office." Shaking my head.

"Donald Trump Can't Undermine American Democracy Because It Barely Even Exists" [Foreign Policy]. "Toss in racial gerrymandering, interest group politics, campaign finance rules that give disproportionate political clout to the rich, and a bizarre and often discriminatory patchwork of state voter registration rules, and what you end up with is modern America: an oligarchy in which almost half of eligible voters don't even bother to go to the polls."

"Populism can descend through several circles of hell into fascism and Nazism. Yet, it can also be a cry of despair, of frustration, an appeal for help couched in the language of rejection and aggression. Democrats can beat populists, and usually have, by attending to what underlies the surface ugliness. That's likely to happen in the United States" [Reuters]. No, it isn't.

UPDATE "We are faced with a presidential election between a parody fascist and a breathing embodiment of liberalism's vaguely enlightened trepidations, the latter's marginal superiority achieved mainly by way of not being an incompetent or a rapist" [Newsweek]. Newsweek, mind you. But see below–

UPDATE Since Hillary Clinton has a double digit lead in the polls, she doesn't need the votes of so-called left and progressive activists. But those activists have their own needs. They need to build their own political home, their own political party" [Black Agenda Report]. "If Stein and Baraka get five percent of the vote in November, ballot access for Greens will be a done deal in most states, and the possibility of additional federal campaign funds in presidential years opens as well. So the only ways for left and progressive activists to waste their votes is to stay home, or to give them to Hillary. The only place where your vote matters this year is with the Green Party.

War Drums

"The Foreign-Policy Elite Are Extremely Ready for More War in Syria" [New York Magazine]. "In an election cycle that has pushed American politics to new heights of partisan acrimony, the Washington foreign-policy elite has represented a singular bastion of bipartisan comity. A large segment of the GOP's neoconservative wing broke with Donald Trump in the early days of his general-election campaign. A significant number took shelter in Hillary Clinton's coalition, where they've gotten along amiably with liberal interventionists who share their belief that Obama has betrayed America's obligation to lead. That point of agreement has now been ratified in a flurry of new reports — from an array of think tanks that span partisan divide — all calling for an escalation in U.S. military involvement in the Syrian civil war." Not that I'm foily, but it the entire Clinton campaign looks to me like it's laying the groundwork for war; not only Clinton's known hawkishness and propensity for fomenting war (Iraq, Libya, Honduras), but demonizing Putin, and framing opponents as traitors as a prelude to suppressing any domestic opposition.

"Washington's foreign policy elite breaks with Obama over Syrian bloodshed" [WaPo]. "The Republicans and Democrats who make up the foreign policy elite are laying the groundwork for a more assertive American foreign policy, via a flurry of reports shaped by officials who are likely to play senior roles in a potential Clinton White House." The headline is a little ambiguous, but I take it to mean that the elite wants more bloodshed.

Downballot

Indiana: "350 Rexnord workers found out Friday the company plans to move to Mexico" [WHTR]. "Another 1,400 Carrier workers are expected to lose their jobs when that manufacturer shuts down and moves to Mexico, too."

UPDATE Indiana: "Bayh didn't stay overnight in Indiana condo once in 2010" [AP]. How you gonna keep 'em down on the farm, after they've seen DC…

"Many GOP Senate candidates have so far held steady against the weight of Trump. But their campaigns enter a new and difficult phase now that the final debate is in their rear view. With Clinton ahead by significant margins in the polls, Democrats have the knives out for down-ballot Republicans. And Trump, who could face further slides in the polls after this week's debate, is running like he has nothing to lose" [RealClearPolitics].

"Both Donald Trump and Hillary Clinton have lavished an unusual amount of attention on rural northern Maine this election cycle because the state splits its two electoral college votes between its two congressional districts — one in the northern part of the state, the other in the south. The line that divides them is emblematic of the divides that have emerged this election cycle: urban vs. rural, college educated vs. not, well-off vs. working class, and Clinton vs. Trump" [WaPo]. "'The southern part of the state usually speaks for the northern,' but not this election year, said [Millinocket's Tom] Leet, who plans to cast a ballot for Trump." Still waiting for the Democrats to site a landfill in Cape Elizabeth…

Stats Watch

No stats released today.

Employment Situation: "Unemployment rates were significantly lower in September in 7 states, higher in 1 state, and stable in 42 states and the District of Columbia, the U.S. Bureau of Labor Statistics reported today" [Calculated Risk].

Rail: "Week 41 of 2016 shows same week total rail traffic (from same week one year ago) contracted according to the Association of American Railroads (AAR) traffic data. The weekly data at first glance was better than last week" [Econintersect]. "If coal and grain are removed from the analysis, rail has recently been declining around 5% – but this week was -6.6%. The contractions are across the board except grain and "other". Rail is telling the Federal Reserve the REAL economy sucks and is not improving (as implied in this week's Beige Book)."

Shipping: "China is to build a deepwater tanker port in Malaysia off the Malacca Strait, a key gateway for Chinese oil imports.The $1.9bn port, located on the coast of Malacca City, will be able to accommodate very large crude carriers" [Lloyd's List].

Shipping: "Bankruptcy and restructuring stories dominated Splash once again this week with readers lapping up our reports on Hanjin, Flinter, Ezra, Swissco and Rickmers. We do indeed seem to have entered peak bankruptcy stage in the current shipping and offshore cycle." [Splash 247]. The headline: "Reader interaction yielding plenty of fascinating insights," so we're not the only ones!

Apparel: "Devoid of Famous Faces and Collabs, Zara Shuns Celebrities for Speed" [The Fashion Law]. "In just over a decade, Zara's parent company Inditex has become world's largest fashion retailer…. The company's business model – which is funded upon two core elements, stocking less merchandise and updating its collections often – is revolutionary. Zara disrupted the traditional two collection-per-year model by bringing out a large number of collections each season…. Zara's most central strengths are control and timing. Its products make their way into stores (either online or in brick-and-mortar locations) in accordance with a formerly unheard of timetable because Zara produces them by itself and only continues to manufacture those products that sell the best within its stores. As a result, 'customers of Zara know that if they like a garment, they have to buy it right away, because it can go out of stock and never come back,' says [José Luis Nueno, professor of commercial management at the IESE Business School in Spain]." Very interesting company, though I'd like to know a lot more about wages and working conditions in its plants. Fast fashion is, after all, fast.

Retail: "Delivering fresh food is complicated and the one thing keeping Amazon and other tech companies from disrupting the grocery business. Most consumers still get their milk, produce and meat from Wal-Mart, Kroger and other traditional grocers. But while e-commerce has yet to take hold in the $800 billion U.S. grocery market, Amazon is betting that could change as millennials accustomed to shopping online enter their prime food-buying years" [Bloomberg]. Isn't the grocery business extremely low margin?

Retail: "A major toy maker is taking action over concerns about the financial health of a big customer. Jakks Pacific Inc. has halted shipments of its products to Sears Holding Corp.'s Kmart chain, a troubling sign for the retailer from a supplier heading into the holiday season" [Wall Street Journal].

Retail: "Apple says it has been buying Apple chargers and cables labeled as genuine on Amazon.com and has found nearly 90 percent of them to be counterfeit" [Wall Street Journal, "Apple Says Many 'Genuine' Apple Products on Amazon Are Fake"].

Groaf: "Estimates suggest the new normal for U.S. GDP growth has dropped to between 1-1/2 and 1-3/4%, noticeably slower than the typical postwar pace. The slowdown stems mainly from demographics and educational attainment. As baby boomers retire, employment growth shrinks. And educational attainment of the workforce has plateaued, reducing its contribution to productivity growth through labor quality" [Federal Reserve Bank of San Francisco]. Perhaps I should have filed this under Class Warfare…

Today's Fear & Greed Index: 36 Fear (previous close: 38, Fear) [CNN]. One week ago: 40 (Fear). (0 is Extreme Fear; 100 is Extreme Greed). Last updated Oct 21 at 11:24am. Still hesitating on the brink!

Corruption

"[A] critical issue in US food policy: Trade and industry groups have been free to shape nationwide health policy, with no clear laws governing against or even defining what might count as 'inappropriate influence'" [Business Insider]. "'Essentially it gives license to lobbyists, to people on advisory committees, to people who have very strong financial ties to products that are being considered. It leaves it completely open,' said [Marion Nestle, a professor of nutrition and food studies at New York University]."
Big Brother Is Watching You Watch
"Google Has Quietly Dropped Ban on Personally Identifiable Web Tracking" [Pro Publica].
"How to remove yourself from the Internet: A 5-step guide to going MIA online" [Mic].
"The U.S. Government Wants to Read Travelers' Tweets Before Letting Them In" [The Intercept]. Trying to make the whole country a walled garden.
Our Famously Free Press
"Global spending on newspaper print ads is expected to decline 8.7% to $52.6 billion in 2016, according to estimates from GroupM, the ad-buying firm owned by WPP PLC. That would be the biggest drop since the recession, when world-wide spending plummeted 13.7% in 2009" [Wall Street Journal, "Plummeting Newspaper Ad Revenue Sparks New Wave of Changes"]. "That decline is hitting every major publisher, increasing pressure on them to boost digital-revenue streams even faster to make up for lost revenue and, in some cases, even reconsider the format of their print products and the types of content they publish."
Gaia
"The U.S. Geological Survey (USGS) recently published a paper about the chance of an earthquake that would include the Hayward and Rodgers Creek faults simultaneously. Earlier studies suggest the results could cost 6,000 lives and $8 billion in infrastructure and building damage. The effects, depending on the size of the earthquake, could be much worse" [247 Wall Street].
"Global wine production is expected to fall by 5% in 2016 because of 'climatic events' causing steep drops in production in most of the southern hemisphere, particularly Chile and Argentina" [Guardian]. ""Across the world, scientists have found that each degree centigrade of warming pushes grape harvests forward roughly six or seven days," the report said. This phenomenon could eventually make pinot noir grapes unsuitable for many parts of Burgundy, according to a 2011 study by the climate scientist Yves Tourre."
"There is a small but growing movement across the country to re-educate people about alternatives to the big, expensive funeral industry: home funerals and death midwifery. Death midwives almost all of them women, are spearheading the movement. Not unlike the way a birthing midwife works with a pregnant woman, a death midwife (sometimes called an end of life guide, or death doula) supports a person through the process of dying, helping them prepare mentally, emotionally and logistically for the upcoming event. They counsel the dying through their fears, concerns and questions, and help plan the ceremony for after their death" [Alternet].
Guillotine Watch
"How do you get the best quality health care in the University of California's renowned public medical system? Approaches vary, according to the campus, but at UCLA's Ronald Reagan Medical Center it's a gold-colored wallet card with a personalized number to call. When flashed from a gurney in the ER (or at a club to impress friends), the card means one thing: The patient in question is a VIP" [Capital and Main]. "Welcome to the world of concierge medicine, UCLA-style."
Class Warfare
"Perhaps what places like northern Indiana need is not innovation, but unnovation—to use a term coined by Boston-based journalist Ben Schreckinger. The idea is to resist the magical thinking that our little towns can ensure meteoric growth by trying to launch tech companies with virtually no resident tech talent. Forget Silicon Valley and Route 128 and the endless glorification of knowledge work (you might think of proto-Porcher Wendell Berry here): in the rustbelt, we need a return to economic roots. Schreckinger argues that non-urban Massachusetts—he might have said most of Indiana as well—should return to its traditional industries of farming and manufacturing, both of which have deep cultural roots (outside the big cities) as well as new technological tools" [The American Conservative].
News of the Wired
"Dyn Inc., a significant Domain Name Server that facilitates the loading of web pages, said service was restored at 9:20 a.m. New York time after a DDoS, or distributed denial of service, attack that left people without access to Twitter, Spotify, Reddit and The New York Times, among other sites" [Bloomberg].
"DDoS on Dyn Impacts Twitter, Spotify, Reddit" [Krebs on Security]. "The attack on DYN comes just hours after DYN researcher Doug Madory presented a talk on DDoS attacks in Dallas, Texas at a meeting of the North American Network Operators Group (NANOG). Madory's talk — available here on Youtube.com — delved deeper into research that he and I teamed up on to produce the data behind the story DDoS Mitigation Firm Has History of Hijacks.
That story (as well as one published earlier this week, Spreading the DDoS Disease and Selling the Cure) examined the sometimes blurry lines between certain DDoS mitigation firms and the cybercriminals apparently involved in launching some of the largest DDoS attacks the Internet has ever seen. Indeed, the record 620 Gbps DDoS against KrebsOnSecurity.com came just hours after I published the story on which Madory and I collaborated."
.
"Inside Microsoft's quest for a topological quantum computer" [Nature]. "In most quantum systems, information is encoded in the properties of particles, and the slightest interaction with their surroundings will destroy their quantum state. This means they operate with a precision of maybe 99.9%, or what we call three nines. To do real problems, we need precision at the level of ten nines, so you need to create a massive array of qubits that allows you to correct for the errors. Topological quantum computing has the promise of reaching up to six or seven nines, which means we wouldn't need to have this extensive and expensive error correction."
"Why Twitter is a public space. And why it should be!" [Medium]. " The fact that Twitter is a private company pursuing profit is, in a certain way, a legacy. It's just the only institutional arrangement we can think of (or the one we chose) to put in place a short messaging service available to everybody (in the world). The role of Twitter in Ferguson (as so many other times in other places, like Iran, Egypt, Japan, etc) is truly, to some extent, that of a public service, as is the search engine from Google or the social networking of Facebook or the video-sharing through Vine. These are all social places, that will be as public as we let them be. I think it's in our best collective interest that they are as public as they can be."
* * *
Readers, feel free to contact me with (a) links, and even better (b) sources I should curate regularly, and (c) to find out how to send me images of plants. Vegetables are fine! Fungi are deemed to be honorary plants! See the previous Water Cooler (with plant) here. And here's today's plant (AH):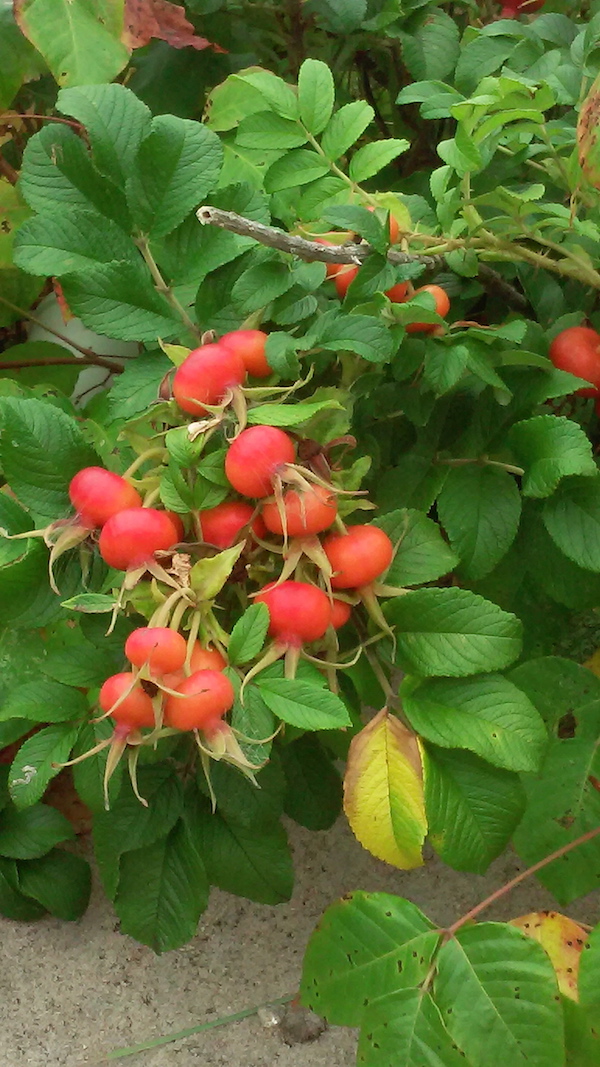 Rose hips.