By Lambert Strether of Corrente.
Here is a third post debunking common talking points by Clinton loyalists and Democrat Establishment operatives. You might hear these myths on Twitter, or at the gym, or over coffee. For both talking points, I'll give quotations that illustrate the myth, followed by rebuttals. (Three previous talking points are debunked here, and two more here.)
Talking Point: Democrats Are the Party of Smart People
Here's an example of the talking point (although the headline confuses the left with Democrats, that's what author means; the lead immediately shifts to talking about Democrats). Politics USA:
Evidence That The Left Is : Democrats Have Bigger Vocabularies, Better Grammar Than GOP
Here's a quote from Congressman Andre Carson:
"Keith [Ellison] is a friend of mine. I've found him to be very thoughtful, very , a very hard worker. He's proven himself as a leader of the progressive caucus. He has shown that he is connected to progressive values," Carson said.
Here's another example:
"Chuck is a very guy," said Nomiki Konst, a Democratic strategist [see here], former Sanders surrogate, and host of "The Filter" on Sirus XM. "He has to be a senator. He has the responsibility in the Senate to make things work, and he knows probably half the Hillary supporters were much more progressive."
I could go on and on and on and on and on and on. Thomas Frank, in Listen, Liberal, gives a final example (page 131):
Obama donor and hedge fund boss William Ackman told Reuters in July 2008: "My goal is to elect an incredibly and capable guy."
(The possibility does exist that Ackman is confusing credentialism and academic polish with smarts, but that is a topic for another day.) Anybody who's been on the Twitter knows that the second or even the first rhetorical move of a Democrat loyalist is to call their interlocutor, one way or another, stupid; it won't even be a subtext. There are at least two reasons this talking point is false.
First, downballot Democrats have been in free-fall since 2008, and this did not stop in 2016. Philip Bump prepared the following chart: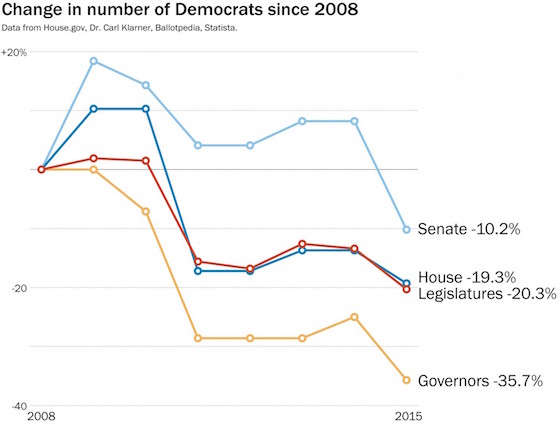 The chart only goes to 2015; in 2016, the Democrats gained a minuscule 5 House seats, 2 Senate seats, 1 legislative chamber, and lost two governships. An optimist would call 2016 signs of a coming Democrat wave, a pessimist would call it a dead cat bounce, and a realist would look at the chart and call any gains a blip. And of course the Democrats lost the Presidency as well.
Second, Democrats schemed to get the 2016 opponent they wanted[1], and still lost. Salon:
The Clinton campaign and Democratic National Committee called for using far-right candidates "as a cudgel to move the more established candidates further to the right." Clinton's camp insisted that Trump and other extremists should be "elevated" to "leaders of the pack" and media outlets should be told to "take them seriously."

It continued, "Our hope is that the goal of a potential HRC campaign and the DNC would be one-in-the-same: to make whomever the Republicans nominate unpalatable to a majority of the electorate."

"In this scenario, we don't want to marginalize the more extreme candidates, but make them more 'Pied Piper' candidates who actually represent the mainstream of the Republican Party," the Clinton campaign wrote.

As examples of these "pied piper" candidates, the memo named Donald Trump — as well as Sen. Ted Cruz and Ben Carson).

"We need to be elevating the Pied Piper candidates so that they are leaders of the pack and tell the press to them seriously," the Clinton campaign concluded.
And if there's one lesson we can take away from the Podesta emails, it was Brooklyn's ability to "tell the press" what to write; the great majority of mainstream publications functioned as an operational arm of the Clinton campaign (and in fact still do).
So, for this talking point to be true, we have to believe that being smart means that you cause your party to collapse. You also have to believe that being smart means controlling the party apparatus, dominating the press, having boatloads of money, getting to pick your opponent, and still losing. All after framing your opponent not merely as a danger to the Republic, but as a fascist. To rephrase Deirdre McCloskey: If you're so smart, why aren't you winning?
Talking Point: Republicans Stole Election 2016 from the Democrats
Here's is an example of the talking point. From The Nation:
Trump undermined the basic tenets of democracy in ways unseen by any previous presidential nominee. He said he might refuse to accept the outcome of the election if things didn't go his way; his supporters explicitly called for "racial profiling" at the polls; and his campaign openly boasted that "we have three major voter-suppression operations under way" to reduce turnout among African Americans, young women, and liberals.

If anyone was rigging the system, it was the Republicans—by making it harder to vote. Evidence of voter fraud never materialized in 2016—except for the case of a Trump supporter in Iowa who voted twice and was caught—but as we saw in states like Wisconsin and North Carolina, voter suppression was all too real.
The subtext here is that the Democrats are innocent victims of Republican perfidy (and yes, the Republicans have been perfidious). That said, there are two reasons this talking point is, if not false, only true when context is not taken into account.
First, Republicans did purge minorities from voter lists. [2] To begin, those of you who listen to podcosts should check out this excellent recent interview with Greg Palast on "This is Hell."[3] This is the best explanation of "caging" and crossheck that I have encountered, and sadly better than the print versions. (Readers, please correct me!) Greg Palast:
What's far more likely to undermine democracy in November is the culmination of a decade-long Republican effort to disenfranchise voters under the guise of battling voter fraud. The latest tool: Election officials in more than two dozen states have compiled lists of citizens whom they allege could be registered in more than one state – thus potentially able to cast multiple ballots – and eligible to be purged from the voter rolls.

The data is processed through a system called the Interstate Voter Registration Crosscheck Program, which is being promoted by a powerful Republican operative, and its lists of potential duplicate voters are kept confidential. But Rolling Stone obtained a portion of the list and the names of 1 million targeted voters. According to our analysis, the Crosscheck list disproportionately threatens solid Democratic constituencies: young, black, Hispanic and Asian-American voters – with some of the biggest possible purges underway in Ohio and North Carolina, two crucial swing states with tight Senate races.We had Mark Swedlund, a database expert whose clients include eBay and American Express, look at the data from Georgia and Virginia, and he was shocked by Crosscheck's "childish methodology." He added, "God forbid your name is Garcia, of which there are 858,000 in the U.S., and your first name is Joseph or Jose. You're probably suspected of voting in 27 states.

Swedlund's statistical analysis found that African-American, Latino and Asian names predominate, a simple result of the Crosscheck matching process, which spews out little more than a bunch of common names. No surprise: The U.S. Census data shows that minorities are overrepresented in 85 of 100 of the most common last names.
So, paraphrasing Palast's podcast, Secretaries of State would send their voter data in to CrossCheck for cleaning. Crosscheck would flag duplicates using matching procedures guaranteed to take minority voters off the rolls, by (for example) saying that "Jose Garcia" in Michigan and "Jose Garcia" in Arizona were the same person, trying to vote in two states. Bad. Indeed, evil (although as Palast notes, the Koch brothers operatives who ran Crosscheck "didn't care about the color of their skin; they cared about the color of their votes." Systemic racism).
Second, Republicans could never have succeeded with their purge if Democrats had expanded the franchise.
Perfidious though CrossCheck is, it's very similar to the "scrub list" that Jeb Bush "cleansed" the Florida voter rolls with when his brother ran for President in 2000. Greg Palast has a detailed description here, but this paragraph leaped out at me:
Smith added that the DBT computer program automatically transformed various forms of a single name. In one case, a voter named "Christine" was identified as a felon based on the conviction of a "Christopher" with the same last name. Smith says ChoicePoint would not respond to queries about its proprietary methods. Nor would the company provide additional verification data to back its fingering certain individuals in the registry purge. One supposed felon on the ChoicePoint list is a local judge.
Again, we have the same kind of "childish methodology" accidentally producing the same outcome: Voter rolls disproportionately purged of minorites, that benefit a sitting party. Bad, indeed evil.
But let me take a moment to break out my calculator: 2016 – 2000 = 16. That's sixteen years that Republicans have been running the same kind of scam, and what have the Democrats done? Squat, absent some targeted election year registration drives after hitting up a squillionare who wants to do some virtue signalling.
Do you think that if Democrats were running a 24/7/365 voter registration operation that the Republicans would be in power to run the CrossCheck scam in the first place? Of course not. Voter ID? Bad! So suppose a million voters lose the franchise because of it. And suppose it costs $50 bucks a pop to get a voter their ID. Let me break out my calculator again: $50 million is a drop in the bucket compared to Clinton's budget for red, white, and blue convention balloons. So why don't the Democrats do it? Because they really don't care about expanding the franchise, that's why.
So, the talking point is true, looked at without context. Put into context, it's the worst kind of falsehood. Crosscheck is a bad thing. But in my book it's even worse to enable the perfidy of others, and then erase your own responsibility for it.
Conclusion
As you can see, I'm moved into more generic indictments of the Democrat debacle of 2016. I hope you've enjoyed the series (so far?), and if other people are coming up with similar lists, I'd very much appreciate it if you'd leave links to them in comments.
NOTES
[1] When John DiIulio became the first Senior Advisor to leave the Bush White House, he blasted the White House staff as "Mayberry Machiavellis." Seems a propos, except that in this case Barney and Opie are from Brooklyn.
[2] Please, nothing about "fraction magic" in the comments. Thank you.
[3] Paraphrasing: Democrats steal primary elections, using retail methods. Republicans steal general elections, using wholesale methods.