Free as a bird: 2 species of orange parakeet are raised at El Tronador, a rescue centre for trafficked animals in El Salvador @marvinrecinos pic.twitter.com/Yn0mvp0Ncf

— AFP news agency (@AFP) February 21, 2017
'Meditating mice' reveal secrets of mindfulness training New Scientist (Emma)
After 32,000 Years, an Ice Age Flower Blooms Again
 Discover (Joe M)
After two decades, the Kennewick Man is reburied Los Angeles Times (martha r)
Researchers Use Big-Brother Tech to Spy on Bumblebees ScienceBlog (Dr. Kevin)
Giant 'Rivers in the Sky' Are Causing Widespread Chaos in California ScienceAlert (martha r)
Will Superweeds Choke GMO to a Timely Death in USA? New Eastern Outlook. Chuck L: "Darwin wins again."
Hardliner's resurgence stirs up Australia's immigration debate Financial Times
NT mining towns a fading relic of the past as FIFO becomes only option, economist says ABC (Australia)
Brexit
Wolfgang Schäuble sends new Brexit warning Politico

UK on track to trigger Article 50 by end of March – David Davis Reuters
Pence seeks to soothe jangled EU nerves with pledge of support Politico
Le Pen Gains in French Polls as Security Concerns Win Voters Bloomberg
Socialist leading presidential election in Ecuador Associated Press (martha r)
Syraqistan
Trump Transition
Obamacare
The Affordable Care Act: The View From a Hospital CEO Wall Street Journal (martha r)
Ditching the Deep State Jacobin (martha r). A must read. Consistent with Lambert's antipathy for the term and gives good reasons why it misleads.
Berniecrats, sincerely asking in the spirit of unity: What do we need to do for you to feel welcome & to fully support DNC going forward?

— Sally Albright (@SallyAlbright) February 18, 2017

Use this link if you have trouble with the embed. Give her a piece of your mind! And please go a few rounds with her. She is aggressively pro-unity and impervious to reason, but the flip side is she appears not to recognize when she is losing an argument. So the game is to play to the gallery. If you read her tweets, she is openly contemptuous of Sanders voters, and deserves an earful.
Senator Bernie Sanders is Kansas bound KSNT (martha r)
Bernie Sanders Gave The Country The Pep Talk It Needed This President's Day GOOD. Martha r: "
Red-State Dems Thread the Needle in Working With Trump RealClearPolitics. UserFriendly: "I can't say I dissagree​."
Can the Left Win? A Q&A With Zephyr Teachout. New Republic (UserFriendly)
GOP loses top Senate contenders The Hill
Two Cheers For a Carbon Tax, But It Won't Fix Everything RealClearMarkets (UserFriendly)
Former Boehner Staffer Follows Revolving Door, Now Latest KXL Lobbyist Steve Horn
Flint water crisis: Report says 'systemic racism' played role
In Connecticut, Calling for Help Carries Risks for Victims of Domestic Violence ProPubica
Baltimore public schools face $129 million budget deficit, plan mass layoffs World Socialist Web Site
Fake News
BS Detection 101 becomes actual University subject The Register (Dr. Kevin). Members of the commentariat in the area should offer to be guest lecturers.
Toys "R" Us Lays Off 10%-15% of Corporate Employees Wall Street Journal
Big pharma bets billions on 'silent' liver disease Financial Times
Colleges Lost Billions to Hedge Funds in 2016 The Chronicle (Emma)
Central bank independence is losing its lustre Wolfgang Munchau, Financial Times
Class Warfare
A Very Bad, No Good, Terrible Idea Jacobin (martha r)

Bank Workers Will Protest to Form Their First US Union — And The Whole World Is Watching Portside

Uber Taps Eric Holder to Investigate Discrimination Claims Bloomberg. And that's supposed to inspire confidence? Help me. And as we've pointed out before, when companies are serious about investigations, they have outside consultants run them and not a law firm. The reason Promontory Group was regularly the go-to on rogue trader cases was that told Wall Street the financial firm really wanted to get to the bottom of it because the investigation would not be subject to attorney-client privilege.

Uber is not the only tech company that mishandles sexual harassment claims TechCrunch (martha r)

UNPACKING THE RACIALLY-CHARGED TERM "SUPERPREDATORS" JSTOR (Micael)

The Rise and Fall of the Socialist Party of America Jacobin (martha r)
Antidote du jour. Subgenius: "Kittens of a friend":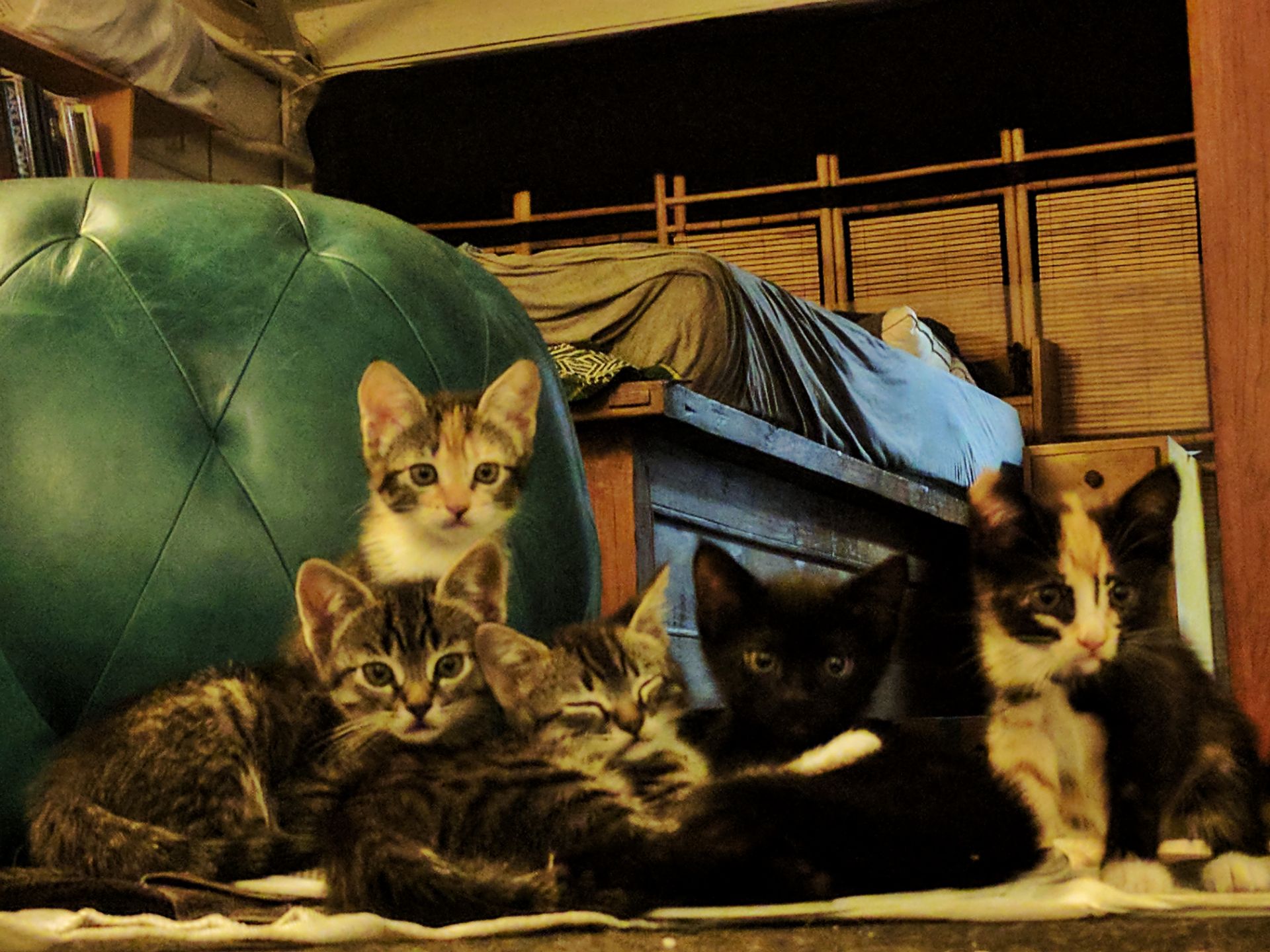 See yesterday's Links and Antidote du Jour here.