Who do you want a war with? Take the Mash test Daily Mash. I suspect readers could create their own version.
Meet the professor who teaches a 7-hour-long class called 'Existential Despair' Daily Pennsylvanian (guurst). Some might say we do that here for free! Actually, though if you read the article, this sounds like using the reading to create the effect of watching the movie Die große Stille and talking about it later.
Philosophy tool kit Aeon (Micael)
See a Ravioli Moon, Jovian Swirls and More Space Treats NBC (furzy)
Smartphones and Cognition: A review of research exploring the links between mobile technology habits and cognitive functioning Frontiers in Psychology (resilc). Some of the findings are wild, such as: "Further evidence suggests that even the mere awareness of the physical presence of a cell phone may impact cognitive performance."
Brexit 1.0: Scientists find evidence of Britain's original separation from Europe PhysOrg (Chuck L)
China?
Trump and Xi: Ahead of Summit, Both Try to Reset U.S.-China Ties Wall Street Journal

China announces "medical tourism" special economic zone on Hainan Island Boing Boing
North Korea greets China-US summit with (another) missile test Asia Times
David Murray warns of 1890s housing crash depression MacroBusiness. Effectively presupposes a China crash, since they'd need to not be able or inclined to bottom fish.
Brexit
May suggests unrestricted EU migration will continue post-Brexit Financial Times

MEPs tell Britain: Without us, no deal Politico

Port of Dover Sounds the Alarm on Post-Brexit Customs Maritime Executive (guurst)
Freeing up the rich to exploit the poor – that's what Trump and Brexit are about George Monbiot, Guardian (Joe H, vlade)
French Election
Alison notes based on the latest polls:

As one might expect, Le Pen appeals to workers who feel disenfranchised, older people like Fillon, and the corporate elites like Macron. Young adults like Macron (age 39) and Le Pen.

Marine Le Pen might do better than expected because probably some people do not want to admit to pollsters that they will vote for the Front National. That was the great shock in the presidential election of 2002, when contrary to polls, the socialist candidate Lionel Jospin was defeated by a whisker in the first round, and Jacques Chirac and Marine's father Jean-Marie Le Pen (founder of the Front National) were the two candidates in the runoff (Chirac won, of course). People remember that election.

Emmanuel Macron accuses Marine Le Pen of 'peddling the same lies as your father': talking points from fiery French presidential TV debate Telegraph

France's second presidential TV debate more surreal than enlightening and Présidentielle : un premier débat à 11 émaillé de passes d'armes sur l'Europe et les affaires France24 (Alison)

Macron accuses Le Pen of wanting 'economic war' Financial Times

Presidential candidates in France hold second televised debate DW (Alison)

Présidentielle 2017 : ce qu'il faut retenir du débat entre les 11 candidats M6Info (Alison)

Débat : une autre parole à onze Liberation (Alison)

Unprecedented Politics in the French Elections Counterpunch
Greece races to secure next tranche of aid Financial Times. Recall the plan was to get this settled well before the French election. Oops. And it isn't clear whether the IMF will get on board.
Dijsselbloem's Parliament boycott inflames tensions Politico. The topic was the Greek bailout.
Sicily: the base for a US/Nato attack Voltairenet (Wat). From last month, still interesting.
Syraqistan
New Cold War
The Sovietization of the American Political-Media Establishment? TruthDig

Senate's Russia Hearings Will Lead Nowhere Real News Network. A talk with Michael Hudson
Big Brother is Watching You Watch
IoT garage door opener maker bricks customer's product after bad review ars technica

ARE YOUR FEELINGS GETTING IN THE WAY OF YOUR ONLINE PRIVACY? JSTOR

The Nasty Truth About the CIA Veterans Today (Judy B). The claim is pretty extreme, so I wouldn't take this as gospel. However, the author allegedly had a front row seat.
U.S. Car Demand Collapse Jeopardizes Trump's Auto Factory Push Bloomberg (resilc)
86 percent of Trump counties make less in a year than 27 Trump staffers are worth Washington Post
Boeing Wins $3 Billion Iran Sale in Potential Test for Trump Bloomberg (resilc)
Trump Transition
'Extreme vetting' would require visitors to US to share contacts and passwords Guardian. You can see where this is going. Americans going overseas would be required to do the same and our Five Eyes poodles would send the info to the US.

Trump's Authoritarian Vision Los Angeles Times. Part three of five. Links to early editorials in the series at the top of the piece

H-1B Visa Overhaul Could Actually Benefit Big Tech Companies Bloomberg
Obamacare
The Push for Single-Payer Healthcare Is On. Democrats Should Get on Board or Get Out of the Way. In These Times (resilc)

Democrats' Medicare-for-all litmus test CNN (Jeff W)
House Panel Wants Obama Aide to Testify, as Russia Probe Widens Wall Street Journal
The Military Is Resisting Trump's Denialism, but It's Still Not a Force for Climate Justice Truthout
Bernie Sanders's Misguided Attacks on the "Liberal Elite" New Republic. Bob K: "This is the definition of a "left" hack. You wouldn't think it possible to get everything wrong about the elites who captured the Democrat party, but this guy is giving it a shot."
Dimon Warns 'Something Is Wrong' With the U.S. Bloomberg. As if he isn't part of the problem.
Productivity and bad bosses Flip Chart Fairy Tales (vlade)
Tarullo Suggests Phasing Out Key Part of Bank Stress Tests Bloomberg
Wells Fargo Has to Pay a WhistleBlower $5.4 Million and Give Him His Job Back Reuters (Ulpanaylaylo). Not related to the fake accounts scam.
U.S. Firms Expected to Post Strongest Quarter Since 2011 Wall Street Journal
Class Warfare
Antidote du jour. neighbor7:
At Newport, Oregon. Imagine this scene x 10 (other, and larger, platforms also). When a newcomer tries to board, there's lots of complaint, aggressive teeth-flaring, etc. Once they are aboard, all is snuggly-wuggly.

They really seem more like sea cows than sea lions.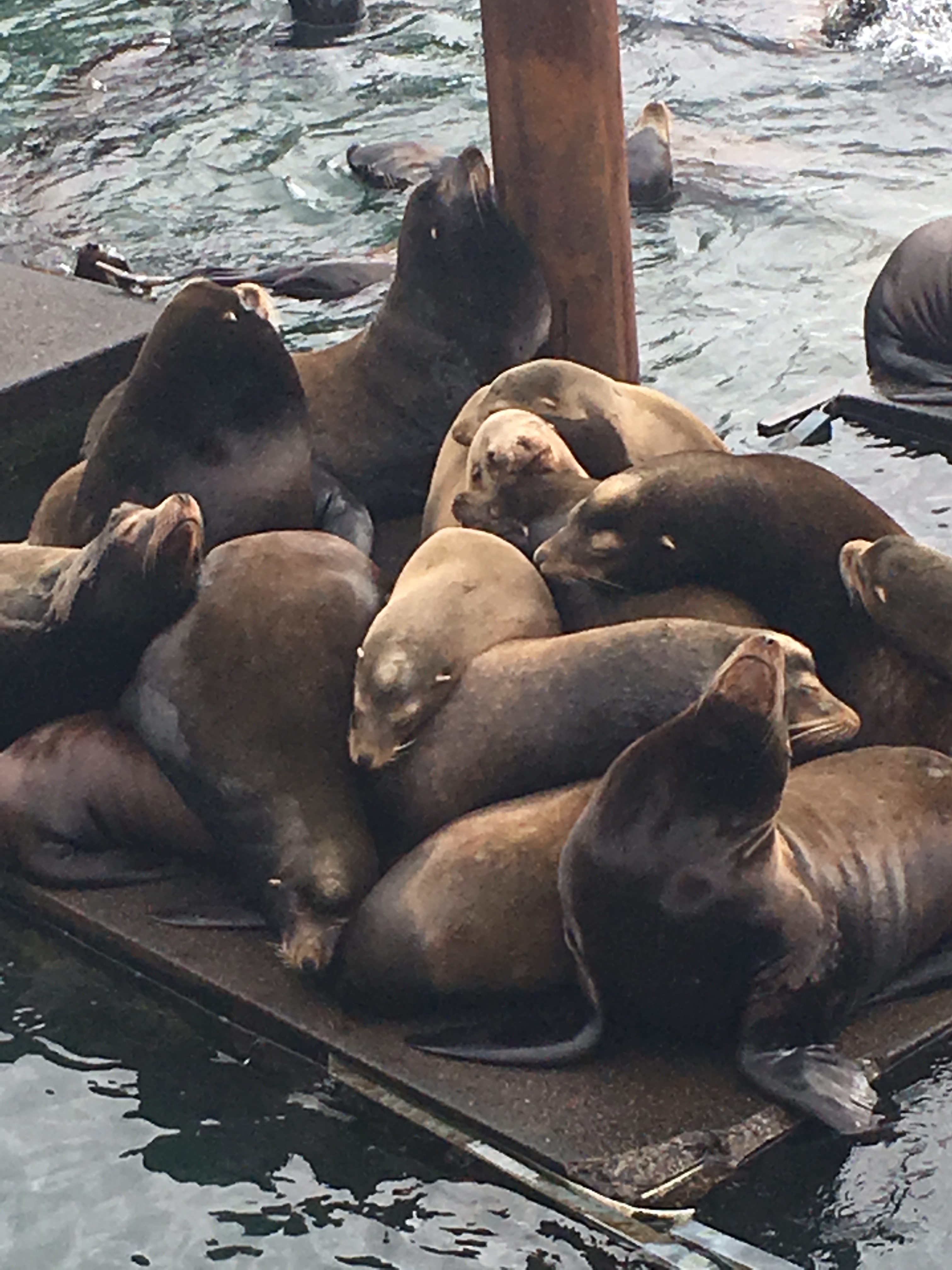 See yesterday's Links and Antidote du Jour here.