By Lambert Strether of Corrente
This is another travel day for me, so I need to put something together in advance. I've been wanting to consolidate my thoughts on the Ossoff race in GA-06 for some time, so herewith. Let me caveat that I'm not in the District or the state of Georgia, and I welcome comments from readers who are! Tomorrow I will return to your regularly scheduled programming. –lambert
* * *
When a creature has developed into one thing, he will choose death rather than change into his opposite. –Frank Herbert, Dune
You know the Democrats regard the Ossoff race in Georgia's Sixth District — freed up by Tom Price's nomination to Secretary of Health and Human Services — as existential because that's where they're putting their money: $8.3 million as of April, 95% of it from out-of-state, and the most expensive House race ever. (Meanwhile, the Sanders-supporting Thompson campaign in Kansas couldn't shake loose $20K from the Democrats for a mailer, despite ultimately improving Democrat share by 24%.)
Note that Jon Ossoff couldn't make 50% of the vote in round one of the special election. Not having won outright, Democrat Ossoff faces — Google actually has a dropdown for the search "who is ossoff running against" — Republican Karen Handel, "a former Fulton County commission chair, she has run four statewide campaigns and has long been a fixture in 6th District politics," who didn't have a spend a dime on TV and radio advertising with a month to go, because of name recognition. Currently, the race is a toss-up:
This is a very close race. Both public and private polling suggests that it is, as of today, a true tossup. Which means that moving a point or two either way could make a huge difference. The prospect of being the deciding voice in a race with this much national import attracts all sorts of outside spending on both sides of the aisle.
Here are the salient points as I see them.
(1) GA-06 is a wealthy Republican suburban district. NBC:
The district is one of the nation's most educated and affluent. It went for Florida Sen. Marco Rubio in the GOP primary and Trump eked out a narrow 1.5 percent win over Hillary Clinton — a far cry from Mitt Romney's 24 percent romp over Barack Obama in 2012.
(2) Ossoff is running as a moderate Republican. NBC:
Ossoff launched his campaign with an invitation for donors to "make Trump furious," but now goes out of his way to avoid discussing the president or the fact that he is a Democrat.

Instead, he's casting himself as a bipartisan pragmatist whose real foils are gridlock and political corruption.

In an interview with NBC News, Ossoff said it's about "staying focused on executing locally."
Here is Ossoff's script for his volunteers from the New Yorker:
Small groups gathered around Ossoff's thirty-year-old campaign manager, Keenan Pontoni, and I heard someone whisper, "He reminds me of David Axelrod!" Pontoni went over door-knocking protocol: "Things to know about Jon that I hope you can bring up at the doors, and are mentioned on the script: First, that he was a national-security expert and aide with top-secret clearance, fighting to stop corruption and cut waste. He did that several times as a congressional aide. Second, that he's a business owner, who's had to balance budgets and make payroll. Third, and probably most importantly, he has, throughout the world, exposed corruption and saved lives against isis; he has exposed sex trafficking; he has done amazing things through his investigative career. Right now, more than ever, we need somebody who knows how to fight corruption in Washington."
(We've already pointed out that Ossoff is opposed to #MedicareForAll; that's one of the policies that "fiscally conservative" is code for.)
A local voter comments in the Atlanta Journal-Constitution:
"It's appealing. I live in Johns Creek and I know that fiscally conservative message will help him reach out across party lines," said Jason Ingraham, an attorney who volunteers for Ossoff. "I'm surprised by how many Ossoff signs are in the neighborhood, but you've got to appeal to Republicans to win this district."
(3) A key Ossoff constituency is up-scale women. The New York Times:
On the ground, though, the people powering the campaign were locals, many of them previously apolitical suburban women shocked into action by the presidential election.

In November's aftermath, Amy Nosek, a 42-year-old stay-at-home mother of two living in an affluent Atlanta suburb, sank into depression, though she'd never been depressed before. "I didn't even want to go pick up my kids from the school bus because I didn't want to talk to the other parents, or see anybody," she told me.

As an antidote, she and a friend founded a local chapter of Indivisible, the network of anti-Trump groups that sprang up after the election. Soon, they were consumed by political organizing. "We're working all the time," Ms. Nosek said. "Sometimes, I fall asleep on the couch at 9 or 10 p.m., and then I wake up at 2 and I'm working until 4."Sign Up for the Opinion Today Newsletter

Like her, most of the activists I met were new to electoral politics. Some had not even known what district they lived in or who their local representatives were.
In general, I think it's better than people be involved in politics than not. However, when the people involved — and they candidates they support — are opposed to universal direct material benefits like #MedicareForAll, I have to oppose them, even if welcoming their involvement. I'd also note that previously apolitical or even pre-political people will have virtually no immune system against whatever bullshit the Democrat Establishment is peddling, starting with who's responsible for Clinton's loss in 2016 (Clinton).
* * *
So, look at those salient points:
1) Appeal to suburban Republicans
2) With Republican-friendly policies
3) Especially upscale suburban women
Does that sound like the 2016 Clinton campaign all over again? Clinton's pivot toward the burbs after the convention? It should, because that's what it is. Democrat leader Chuck Schumer summarized the Democrat establishment strategy very nicely, and it applies to Ossoff in 2017 as much as it applied to election 2016:
For every blue-collar Democrat we lose in western Pennsylvania [or Kansas or Montana], we will pick up two moderate Republicans in the suburbs in Philadelphia, and you can repeat that in Ohio and Illinois and Wisconsin.
In short, the Democrat Establishment's belief that they did nothing wrong in 2016 is bone deep. So they're going to double down, and run the same plays from the same playbook in 2017. And part of my reason for writing this post is to inoculate you against the outpouring of Democrat triumphalism — and kicking the left — that will materialize should Ossoff win. It will be intense.[1]
The election is June 20. I guess we'll see!
NOTES
[1] I'd speculate that it will be along the lines of "Ossoff's blueprint for victory," as if a wealthy Republican suburb were somehow representative of America as a whole. And to the Democrat Establishment, it is!
* * *
And, of course, talk amongst yourselves. Summer travel? Summer projects? Snow all gone?
* * *
Readers, feel free to contact me with (a) links, and even better (b) sources I should curate regularly, and (c) to find out how to send me images of plants. Vegetables are fine! Fungi are deemed to be honorary plants! See the previous Water Cooler (with plant) here.
And here's today's plant (Rainbow Girl):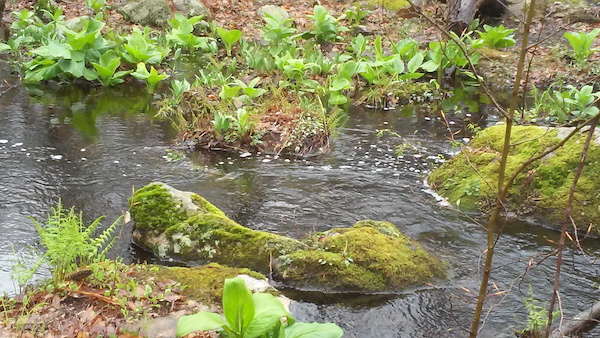 Rainbow Girl writes: "Thrushing brook with mossy rocks (a frog?) and vibrant skunk cabbage."
* * *
Readers, Water Cooler is a standalone entity, not supported by the Naked Capitalism fundraisers. Please use the dropdown to choose your contribution, and then click the hat! Your tip will be welcome today, and indeed any day. Water Cooler will not exist without your continued help.