Not to be sniffed at: human sense of smell rivals that of dogs, says study Guardian (Chuck L)
15 large great white sharks spotted near CA paddleboarders Euronews (furzy)
Thousands evacuated following floods in Quebec and Ontario WSWS (martha r) :-(. Any readers affected? And why no Federal assistance?
A watch fights tremors and woman finds ability to write TechXplore. Chuck L: "On the schmaltzy side, but with good reason."
Global Hack
Hackers use NSA tools in worldwide cyber attack Financial Times

NHS cyber-attack: GPs and hospitals hit by ransomware BBC. Lambert: "Tories -> Budget cuts -> No upgrades -> Hacking […] -> Privatization of the NHS."

74 countries hit by NSA-powered WannaCrypt ransomware backdoor The Register. Richard Smith: "The NHS is thought to have been particularly hard hit because of the antiquated nature of its IT infrastructure. A large part of the organization's systems are still using Windows XP, which is no longer supported by Microsoft, and Health Secretary Jeremy Hunt cancelled a pricey support package in 2015 as a cost-saving measure."

Global cyberattack holds Britain's NHS and businesses worldwide hostage Euronews (furzy)

Cyber-attack hits 99 countries with UK hospitals among targets – live updates Guardian. Martha r: "Live blog of current ransomware cyber attack."

Ransom Hackers Who Hit Hospitals Dealt Setback; May Return Bloomberg

Top NSA Whistleblower: Ransomware Hack Due to "Swindle of the Taxpayers" by Intelligence Agencies George Washington
China?
GDPs vs. what China spent on eating out in 2016 The Atlas (resilc)
India's finance minister meets with Maruti Suzuki chairman WSWS (martha r)
Laptop Ban
EU protests against adding transatlantic flights to US laptop ban Financial Times

Emirates Airlines Reports 82% Plunge in Profits Amid U.S. Laptop Ban NBC (J-LS)
Brexit
Brussels could end up paying Britain a Brexit divorce bill, says Boris Johnson Telegraph. More disinformation. Out of the €40-€100+ billion plus estimated Brexit bill, UK assets are only a €3 to €9 billion offset.

Northern Ireland may leave UK because of Brexit, says Blair The Times

London MPs defy Labour Party on Brexit, demand single market membership/a> Reuters
New poll finds huge public support for Jeremy Corbyn's manifesto promises Business Insider
Sneering at Corbyn does Tories no favours The Times
Why are British Columbians Voting Liberal, Against Their Own Interest? Real News Network. An interview with Michael Hudson
Syraqistan
Bin Laden's son wants to avenge his father, ex-FBI agent says CBS. Resilc: "Great news for DoD/CIA/DHS."

Will Trump Agree to the Pentagon's Permanent War in Iraq, Afghanistan and Syria? Middle East Eye (Sid S)
Imperial Collapse Watch
The First Signs Of A National Mobilization For War Are Appearing Real Clear Defense (Dan K)

The Decline of the West Revisited Pepe Escobar, Counterpunch (Chuck L)

The Losing Warfare State Ralph Nader, Common Dreams (martha r)
Comey Defenestration. The Democrats smell blood. Trump has been making matters worse for himself with every utterance on this topic. The Hill, which is unusually up the center in how it plays things, has far more Trump negative headlines than it typically runs. And critically, Mitch McConnell has relented and has allowed an invitation to be extended to Rod Rosenstein, the #2 at the DoJ, for a closed-door briefing.
But Trump has seemed to be hopelessly damaged goods before and yet has managed to pull himself up to being merely disreputable and wildly unpredictable, which bizarrely has worked for him so far. Will this time be different?
In addition, Rosenstein (see link below) is not backing a special prosecutor, at least for now. As crazy-making, reckless, and destabilizing as Trump's bullshitting is (and I think he is a prototypical bullshitter, he doesn't care what the truth is and makes it all too obvious), until someone can get him in a setting where he has been sworn to tell the truth, his statements can and do have great political significance, but it's far from clear what if any legal significance they have, since Trump contradicts himself all the time. Mind you, Trump asking Comey three times as to whether he was being investigated is terrible optics, but Comey never never never should have seen Trump for dinner (and even worse, Trump claims Comey asked for the dinner to pitch for staying at the FBI) and should never had answered the question re whether Trump was a target.
FBI staffers have issued "Comey would never do that, it's outside protocol" type denials, but Comey flagrantly violated protocol last summer when rendering a legal judgment on Hillary Clinton's e-mails, which is not the FBI's job.
So the question is if Trump can keep this mess from escalating further until the Memorial Day recess. My sense is that even if Republican voters are getting edgy about Trump, when their Congressscritters go home to their districts, they'll find health care is a much bigger priority. On the one hand, the Republicans don't have good answers. On the other hand, if the Democrats succeed in making Trump the centerpiece of what Congress does for the next six plus months, that guarantees the Republicans will get very little done legislatively when it was already hard for them to get anything done with the Freedom Caucus nutjobs acting as spoilers. Not getting anything done is a prescription for many to be turfed out in 2018.
Finally, my guess is the Trump tweet regarding maybe having taped Comey tapes was a high stakes poker play to check Comey. Trump is leery of being recorded in private; recall that when he was accuses in the Steele dossier of having his golden showers party in Moscow, Trump said he repeatedly told his staff to be completely circumspect when in foreign hotels, since they could be bugged. Since the Comey-Trump conversations weren't fresh, and memories are never precise or complete unless you have David Boies' perfect verbal recall, the idea that Trump might have an actual record would put Comey at risk at being caught out in exaggerating or omitting parts of the conversation that could be spun as having a vendetta against Trump. And the proof seems to be that Comey has declined an opportunity to appear before the Senate next week. However, if Trump has been taped, I can't imagine this would be good for him in the long run, and so any immediate win with Comey would come back to haunt him.
Sources: Rosenstein sees no need for special prosecutor in Russia probe CNN
Trump's warning to Comey deepens White House crisis The Hill
Senate panel investigating Russia outraged by Comey firing Politico
Trump on Comey 'tapes': 'I can't talk about that' The Hill
White House Refuses to Say Whether Trump Tapes Conversations Bloomberg
Deputy Attorney General Rod J. Rosenstein to brief Senate on Russia investigation Washington Post. Oddly, I don't see this reported on The Hill or Poltico, which typically are all over this sort of thing. But I can't imagine Schumer's office would misreport this. However, the invitation came from McConnell, and you'd expect his office to confirm the session. And if I were Rosenstein, I wouldn't be keen about facing this sort of thing: Democrats: Rosenstein should resign if he won't appoint a special prosecutor Politico.
Comey won't speak to Senate committee next week The Hill
GOP senators won't buck Trump on Comey firing Politico
Comeytose in Washington Counterpunch. Good except it repeats the story set in motion by the New York Times that Trump fired Comey over asking for more budget for the Russia investigation. The #2 at the FBI denied that before the Senate in hearings the next day. Curiously, from what I can tell, no one in the MSM has taken note of that or corrected the earlier stories. Update: NBC says that Comey said he asked the DoJ not for more FBI resources but more prosecutor resources to write subpoenas and warrants.
Washington's political crisis over the Comey firing: A harbinger of revolutionary upheavals WSWS (martha r)
Lawyers who said Trump has no ties to Russia named Russian law firm of 2016 Guardian (Katharine)
Former Trump Adviser Paul Manafort's Bank Records Sought in Probe Wall Street Journal
Trump Transition
Attorney General Speaks About Stricter Charging, Sentencing Recommendations C-SPAN (Kevin C)

Hundreds arrested in "biggest ever" US gang crackdown Euronews (furzy)

Even Conservatives Know Jeff Sessions Won't Win the War on Drugs Vice (resilc)

Why Would Trump Want to Prolong America's Longest War? Atlantic (resilc)

Mexican Drug Smugglers to Trump: Thanks! New York Times (resilc)

California governor proposes more money to fight Trump Reuters. EM: "'Fight Trump' – unless the policies in question are pro-fracking and pro-corporate-welfare, both of which our dear progressive governor embraces. In that context, Brown's 'support for the undocumented' takes on a rather different light – it's all about maintaining that huge pool of cheap labor."
Obamacare
Americans Demand Single-Payer Health Care at GOP Town Hall Rolling Stone. Martha r: "More details on the Tom Macarthur town hall. in Willington, NJ."

'Medicare for All' — who's in and who's out in the Illinois Democratic congressional delegation? Chicago Tribune
Still Not an Activist Jacobin. Important. Resilc: "When does she get her own cable channel?"
How the Sanders Phenomenon Unleashed a Socialist Movement Counterpunch (martha r)
Bernie Sanders to campaign in Billings on 4-city Montana tour for Rob Quist Billings Gazette
Even The Cable Lobby's Questionable Survey Shows Most Americans Want Net Neutrality Consumerist (Chuck L)
Tunnel Collapse at Hanford Nuclear Dump—Harbinger of the Collapse of the Entire Industry? Common Dreams (martha r)
Concealed Carry on Campus: Why I Resigned From the University of Kansas Counterpunch (Chuck L)
Lawyer with Responsibility for Mortgage Crisis Appointed to Take Care of Mortgage Banks Real News Network. An interview with Bill Black.
When will the next global shock arrive? MacroBusiness. Useful discussion of the very low VIX.
Wells Fargo's Fake Accounts Grow to 3.5 Million in Suit Bloomberg
Class Warfare
How local governments keep poor people in jail just because they're poor Rare (resilc)
For-Profit Colleges Are Reinventing Themselves to Profit Off Low-Income Students Truthout
Antidote du jour. From Michael B:
Here is an antidote from a very faithful reader in Victoria, BC, Canada. Two hummingbird chicks stand up on their nest contemplating their first flight. They flew off the next day.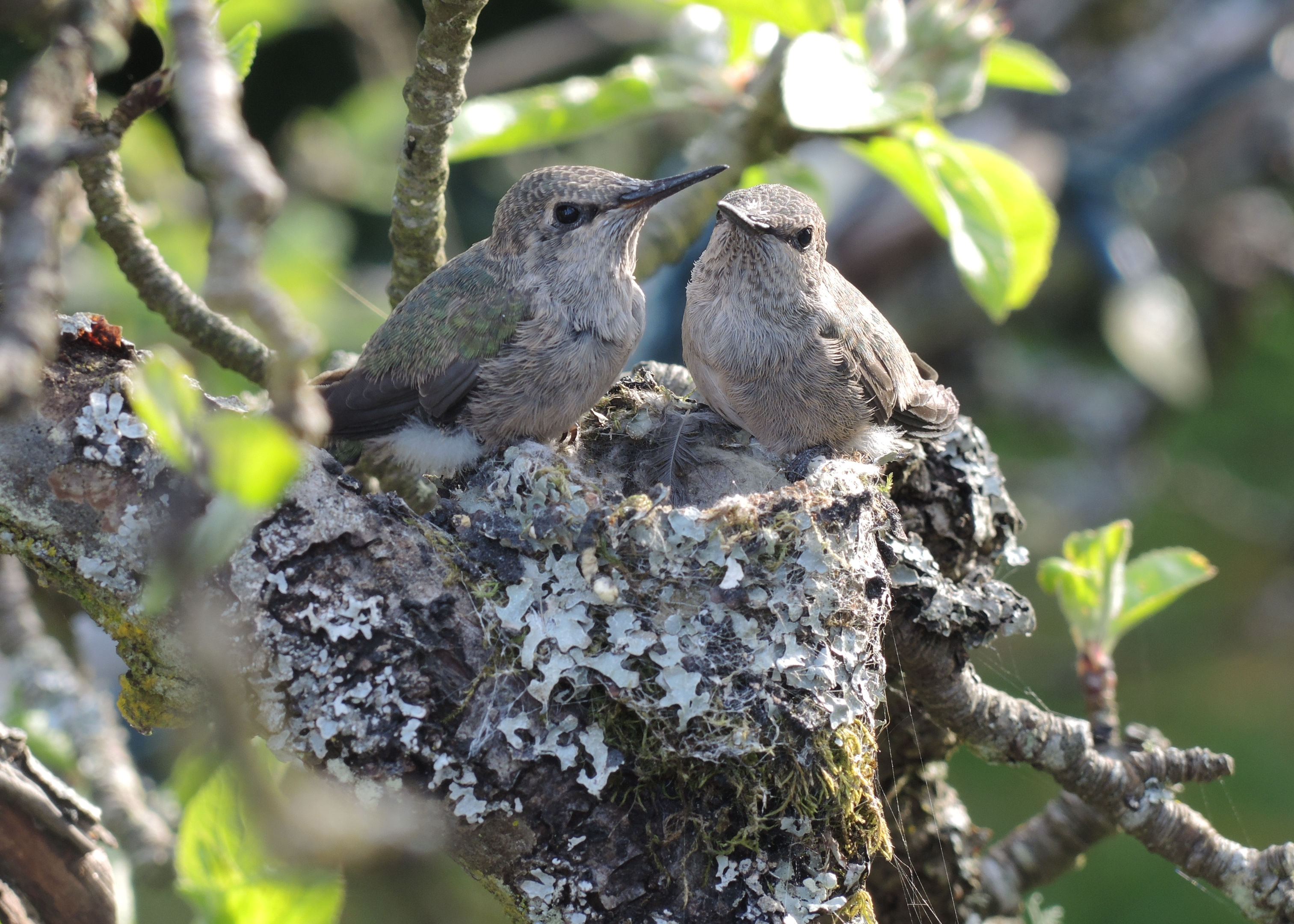 And a bonus video from Pat P. What brave duckings!
See yesterday's Links and Antidote du Jour here.