By Lambert Strether of Corrente
Thanks to the many readers who came to last night's NC Meetup at The Gray Mare. I'm sorry I was late, due to a cascading series of delays that ended in the Third World hell-hole of JFK's international terminal. On the bright side, New Yorkers were even kinder and more helpful — really! — than usual. A young criminal defense lawyer who had, that day, left his old firm to start his own actually guided me to the proper platform — and carried one of my (quite heavy) bags!
This is partly a travel day for me, partly a recovery day, so I'm going to relax by looking at domestic politics, mostly. –lambert
Politics
2020
"[Ivanka Trump] and her husband, Jared Kushner, had bundled $41,000 for Booker's Senate campaign as of May. Booker has raised raised $6.5 million so far this year" [Politico]. Booker's refreshingly open to contributions from all sources, isn't he? Then again, now that he's obviously a Russian stooge, he'll pay the political price.
2016 Post Mortem
"'I take responsibility for every decision I make — but that's not why I lost,' Clinton said" [Newsweek]. Help me.

"Hillary Clinton blames everyone but herself for her 2016 loss" [Vox (Re Silc)]. A Vox explainer! Vox unpacks Clinton's "1,000 agents" claim. And am I the only one who thinks that "1,000 agents" exhibits faux precision and focus-grouped virality in equal measure? ("I have in my hand…"). Anyhow:

At the top of the list is the Russian government, which she believes orchestrated a vast campaign of fake news to discredit her candidacy.

'If you look at Facebook, the vast majority of the news items posted were fake,' Clinton told Kara Swisher and Walt Mossberg, editors of the Vox Media site Recode, which sponsors the conference. 'They were connected to — as we now know — the 1,000 Russian agents who were involved in delivering those messages. They were connected to the bots that are just out of control.'

There was a lot of fake news swirling around Facebook in the closing weeks of the campaign, but I haven't seen any evidence that it was the 'vast majority.' The claim that there were 1,000 Russian agents spreading fake news comes from a March statement by Sen. Mark Warner (D-VA), but he described these as unconfirmed reports, not proven facts.

It's not actually clear to me whether the "agents" are former KGB operatives, complete with trenchcoats and drool-coated fangs, or whether they're only Macedonian teen-agers. Perhaps Clinton — or some anonymous "officials" from the "intelligence community" — will enlighten us at some future date. What I do know is that there were several projects to interview voters post-election, and many news stories as well, and I can't recall a single voter saying their vote was swayed by something they saw on social media — Let alone those in the districts that "flipped" from Obama to Trump and (in part) cost Clinton the election. Can you? It's also interesting how this story?, narrative?, myth? of Facebook's vast power (a) plays into the hands of consultants and strategists in the political class (like Brock) who claim the ability to sway the chtonic powers of social media, for a price and (b) clears the ground for Zuckerberg, no matter which party line he runs on.

Pelosi's opponent:

You know the Democratic Party needs reform by how *no one* was ashamed of or apologetic for the primary rigging exposed by Wikileaks.

— Stephen R. Jaffe (@Jaffe4Congress) May 27, 2017

"DNC host committee spends more in salaries, bonuses than previous conventions" [Philadelphia Inquirer]. Grifters gotta grift. Ka-ching.

"DEMOCRATIC WORKERS SUE STATE PARTIES OVER CLAIMS OF UNPAID WAGES, NO OVERTIME" [Newsweek]. Quite the contrast….
2017
Clinton loyalists now smearing Sanders supporters as traitors:

I question why Turner, a Democratic rep and prominent Sanders surrogate, would run interference on the Russia investigation. So should you.

— Melissa McEwan (@Shakestweetz) May 28, 2017

A lovely, lovely tweet on several levels. The McCarthy-ite language of "I question why" and "so should you" is quite, er, artful. And in the ever-shifting pecking order of liberal Democrat identity politics, we now learn that failure to support Putin Derangement Syndrome tops both womanhood and color (Sanders supporter Nina Turner being both black and a woman). My head is spinning! Honestly, I think forcing Turner into the #BernieBro frame is more effective — no true Scotsman, after all, would support Sanders — but what do I know?

GA-06: "Georgia 6th: Handel agrees to four debates with Ossoff" [Atlanta Journal-Constitution]. The campaigns are still fighting about schedule, though, so it might not be four.

GA-06: Let the attack ads begin! "'Ossoff is a liberal. And immature. And he lied to us about his national security experience,' said Rowe, who served as a nurse in Saigon during the Vietnam war. "Ossoff would vote with Nancy Pelosi to put our soldiers and our dear country at risk.'" [Atlanta Journal-Constitution]. "The ad is part of the [Congressional Leadership Fund] super PAC's $6.7 million campaign to sway Georgia's 6th District. The group, which has ties to Ryan, now has 135 door knockers targeting 300,000 households ahead of the June 20 runoff."

MT-AL: "Those [Republican] outside groups spent big on early attack ads to define Quist, during a vulnerable period in mid-April when the Democrat was not able to defend himself; Quist was still catching on with Democratic grassroots donors, and the DCCC was silent on the sidelines. A GOP operative bragged to the Washington Post, "We knew that because Rob Quist was an unknown quantity with voters, we had the ability to define him negatively out of the gates." Those early attacks – some of them substantive, targeting Quist's past tax and debt troubles and highlighting a rare gaffe in which Quist seemed to back a gun registry – put Quist at an early disadvantage that he never fully recovered from" [Rolling Stone]. In other words, the DCCC prophesied defeat, and then, by failing to give Quist early money, created it, and then congratulated themselves. Well played, all.

"Democrats have taken heart from three recent special elections, where a troika of candidates fell short of victory but still racked up votes in longtime Republicans districts" [McClatchy]. Dear Lord. First, one tires of moral victories. Second, even assuming good faith, the DCCC congratulated itself, as we have seen, on not falling for Quist "hype," and only funding him late, when they were called out for not doing so. That's hardly "taking heart," and I'll speculate irresponsibly that they were very happy with Quist's loss; it's Ossoff they want, because he's running Clinton's 2016 campaign all over again (vacuous centrism plus appeal to suburban Republicans plus enormous media coverage plus enormous amounts of cash. "The real problem with the Maginot Line is that we didn't make it linear enough.")
Realignment and Legitimacy
"Democrats Are Launching a Commission to Protect American Democracy From Trump" [The Nation]. I don't think much of Trump's election integirty commission, as readers know, but stacking a counter-commission with Clinton operatives to counter it looks suspiciously like grifting.
Stats Watch
ADP Employment Report, May 2017: "On the strong side this year, ADP is calling for a resumption of outsized employment gains" [Econoday]. "ADP has been hitting and missing this year, making remarkably good calls for oversized strength in January and February followed by a very bad call for a third month of strength in March, a month that came up well short. ADP's call for April was respectably accurate." But: "This month the rate of ADPs private employment year-over-year growth remained in the tight range seen over the last year" [Econintersect]. "ADP employment has not been a good predictor of BLS non-farm private job growth."
Challenger Job-Cut Report, May 2017: "A big layoff announcement at Ford sent Challenger's May count to 51,692 vs 36,602 in April. This is the highest monthly total since April last year but won't be affecting May payrolls as actual layoffs at Ford have yet to begin" [Econoday]. " Outside of autos, layoff announcements were limited in May."
Jobless Claims, week of May 27, 2017: "A holiday shortened reporting week led to 9 states, including California, having to be estimated for the May 27 week, a fact that raises the risk of a large revision and lowers the impact of an outsized 13,000 rise in initial claims to a higher-than-expected 248,000" [Econoday]. "Jobless claims are at 40-year lows and pointing to unusually strong demand for labor."
Construction Spending, April 2017: "Volatility once again hits the construction spending report where an unexpected sharp decline in April, at minus 1.4 percent, is offset by a giant upward revision to March which now stands at plus 1.1 percent vs an initial 0.2 percent dip" [Econoday]. "This report is yet another bad result for April as the upward revision to March pulled spending out of the second quarter and into the first. And it's the second quarter that is in focus right now and housing, including sales and starts and now construction, have all been disappointing." But: "The reason the headline numbers look bad is because of the significant upward revision in last month's data. The rolling averages did improve. Also note that inflation is grabbing hold – and the inflation adjusted numbers are worse than the headlines – but still better growth than real GDP" [Econintersect]. "The employment gains year-over-year are now better than the year-over-year improvement in construction spending."
Purchasing Managers' Manufacturing Index, May 2017: "Growth in Markit's U.S. manufacturing sample is as slow as it has been in 8 months" [Econoday]. "This report, of all the private manufacturing reports, has been signaling the weakest conditions for a factory sector that opened the year with promise which it has yet to fulfill."
Institute For Supply Management Manufacturing Index, May 2017: "May's composite of 54.9 doesn't look that strong but the details are very healthy. New orders keep coming in at a very strong rate (59.5), including for exports (57.5), and backlogs are building (55.0). Production is strong, import orders continue to rise, and deliveries are slowing which are all signs of strength" [Econoday]. "Strength in the government's factory data has been uneven, unlike the strength of ISM's sample which is steady and impressive." And: Above consenus" [Economic Calendar]. But: "ISM manufacturing index movements have correlated with Industrial Production Manufacturing index only half the time in the last 12 months. Based on this survey and the weak district Federal Reserve Surveys, one would expect the Fed's Industrial Production index to beunchanged in May. Overall, surveys do not have a high correlation to the movement of industrial production (manufacturing) since the Great Recession" [Econintersect].
Chain Store Sales, May 2017: "Chain stores are reporting mostly weaker rates of sales growth in May than in April. This is an unfavorable indication for the ex-auto ex-gas reading of the retail sales report which posted moderate showings in both April and March" [Econoday].
Rapture Index: Closes up 1 on Oil Supply/Price. "The price of oil has rebounded" [Rapture Ready]. Record High, October 10, 2016: 189. Current: 183.
Five Horsemen: "Amazon's doing the "dance of the round number" as it attempts to pole vault over 1,000″ [Hat tip, Jim Haygood].
Today's Fear & Greed Index: 56 Greed (previous close: 50, Neutral) [CNN]. One week ago: 57 (Greed). (0 is Extreme Fear; 100 is Extreme Greed. Last updated Jun 1 at 12:51pm
Our Famously Free Press
"New York Times public editor Liz Spayd on decision to eliminate her position" [Columbia Journalism Review]. Spayd's ridiculous tenure ends with her job abolished. She comments: "The Times is reimagining itself in all sorts of ways, and the decision to eliminate the public editor's role is just one part of that." Corporate drivel. Too bad the Times could never bring itself to create a real ombudsman, instead of the flaccid Public Editor position: "Serving as a liaison between readers and the newsroom." Oh. A liasison. So no authority, right?
News of the Wired
"Did Thomas Kuhn Help Elect Donald Trump?" [Scientific American]. More interesting than the headline. The ubiquitous "paradigm shfit" comes from Kuhn.
* * *
Readers, feel free to contact me with (a) links, and even better (b) sources I should curate regularly, and (c) to find out how to send me images of plants. Vegetables are fine! Fungi are deemed to be honorary plants! See the previous Water Cooler (with plant) here.
And here's today's plant (Lee):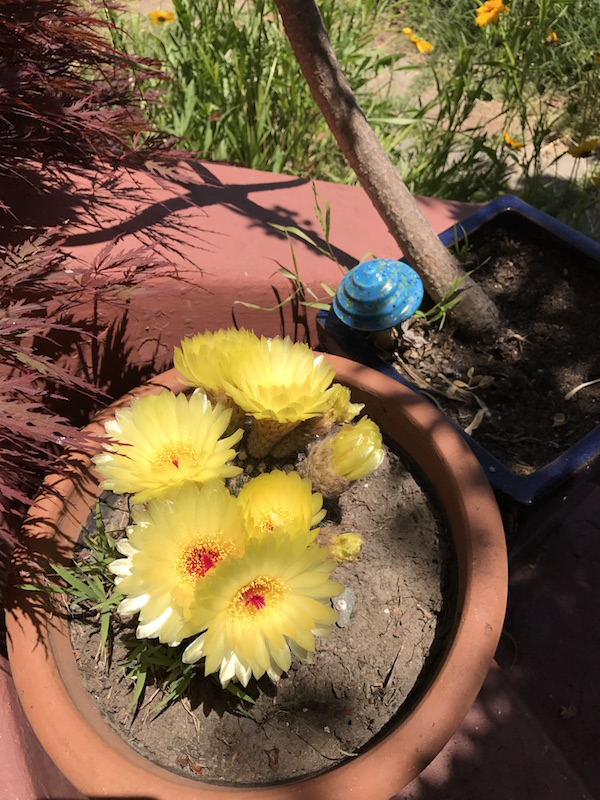 Lee comments: "The cactus below the flowers is about the size and shape of a soft ball. When we bought it years ago it was the size of a golf ball. It survived years of neglect. My son rescued it and brought it gradually to its current state of florescence."
* * *
Readers, Water Cooler is a standalone entity, not supported by the Naked Capitalism fundraisers. Please use the dropdown to choose your contribution, and then click the hat! Your tip will be welcome today, and indeed any day. Water Cooler will not exist without your continued help.