By Lambert Strether of Corrente
London meetup date: June 16, 6:30 PM. Sorry for the mix-up; remind me never to post immediately before catching a train again! And thanks to Clive for catching the error.
Trade
"It appears the 23-year-old North American Free Trade Agreement (NAFTA) is safe—for now" [Logistics Management]. "Hearing pleas from the business lobby, as well as individual transportation companies such as UPS and FedEx, the Trump administration has backed off threats to unilaterally sever NAFTA."
"U.S. Trade Representative Robert Lighthizer still doesn't have any deputy USTRs in place, not to mention a chief agriculture negotiator, with just two months before NAFTA negotiations start. But USTR will announce today that senior staff positions have been filled, including the important role of chief of staff" [Politico].
Politics
2017
GA-06, of Ossoff: "How exactly does a political candidate spend $16 million in two months?" [Atlanta Journal-Constitution]. "On a stream of advertisements and a campaign operation not unlike that of a presidential run, it appears." Ka-ching for the Democrat consultants and strategists, at least! "Ossoff spent a staggering $11.2 million of the money he raised on producing, printing and reserving airtime for political ads on television, in local newspapers such as The Atlanta Journal-Constitution and on mailers sent to voters." Hard to see how this scales. If it doesn't, the Ossoff victory the Clintonites are so desperate to have would be a sport, a freak, a one-off (unless the Democrats plan to spend at the Presidential level for every candidate, which they obviously — Thomson, Quist — do not).

GA-06: "Democrat Jon Ossoff's latest television ad has all the hallmarks of a politician put on his heels by his opponents' attacks on his national security bona fides" [CNN]. "The ad features Ossoff talking straight into the camera. And instead of his own message, he is responding to one that a Republican super PAC spent millions to put on the air in Atlanta. 'Let's put this to rest once and for all," Ossoff says as the 30-second spot begins.'" Eeeew! Never complain, never explain! And: "Ossoff's campaign didn't reply to CNN's request for an interview or comment for this story. His response has been in a series of direct-to-camera ads." The press Ossoff is getting, he can't go on CNN?
Health Care
"President Donald Trump called the House-approved health-care bill "mean" and told a group of Republican senators that their bill should be "more generous," according to reports Tuesday" [MarketWatch].

"Imagine if you're a House Republican, and voted for the leadership's health-care bill in May after being told that you were doing the newly elected president a solid. You listened to the White House's pleading — perhaps you got a phone call from Vice President Mike Pence, Chief of Staff Reince Priebus or even the president himself. The administration was on the Hill nonstop to push their legislation. You explained to your constituents that the late-in-the-game changes made to the bill helped cover more people. You celebrated with him in the Rose Garden after passage" [Politico]. "Now you hear the President has gone behind closed doors and told senators the House bill is "mean" and says it doesn't do enough to cover people. Wouldn't that anger you?"
Realignment and Legitimacy
"House Majority Whip Steve Scalise and others were shot during a baseball-team practice for Republican members of Congress in Northern Virginia on Wednesday morning, and the attacker has died after being wounded by police officers" [MarketWatch]. "The Post's report said the 66-year-old owns a home-inspection business and that his license expired in November 2016. On what appears to be his Facebook page, Hodgkinson prominently features a photograph of Sen. Bernie Sanders, a Vermont independent who ran for the Democratic presidential nomination. The page also has several posts critical of President Donald Trump."

Sanders statement:

Violence of any kind is unacceptable in our society and I condemn this action in the strongest possible terms. pic.twitter.com/hyfmmpgXML

— Bernie Sanders (@SenSanders) June 14, 2017

"Charles Orear, 50, a restaurant manager from St. Louis, said in an interview Wednesday that he became friendly with James T. Hodgkinson, whom law enforcement officials identified as the shooter, during their work in Iowa on Sen. Bernie Sanders's presidential campaign. Orear said Hodgkinson was a passionate progressive and showed no signs of violence or malice toward others" [WaPo]. "'You've got to be kidding me,' Orear said when told by phone. 'I met him on the Bernie trail in Iowa, worked with him in the Quad Cities area.'"

"Belleville suspect killed in congressional shootout belonged to anti-GOP groups" [Belleville News-Democrat]. "The shooter was James T. Hodgkinson of Belleville…Two days ago, Hodgkinson posted an angry tweet about President Donald Trump on Facebook. "I Want to Say Mr. President, for being an *ss hole you are Truly the Biggest *ss Hole We Have Ever Had in the Oval Office," he wrote on Facebook. Hodgkinson is a member of a number of anti-Republican groups on Facebook, including one called "Terminate the Republican Party."

"The Road to Hell is Paved with Republicans"
"Donald Trump is not my President"
"President Bernie Sanders"
"Illinois Berners United to Resist Trump"
"Boycott the Republican Party"
"Expose Republican Fraud"
"Terminate the Republican Party"

"Rep. Ron DeSantis, was in the parking lot at the park, leaving baseball practice early, and says a man approached the vehicle he was in 'and wanted to know if it was Democrats or Republicans practicing. And then he turned around and went to the field.' DeSantis told CNN the man who approached the vehicle was the shooter, based on photos being shown of the assailant" [Deadline Hollywood].

"It is too early to tell if the shooting was a targeted attack, said Tim Slater, a special agent in charge of the FBI's Washington field office" [CNBC].

"Mainstream Media Incitement of Violence Against Republicans Leads to Shooting of U.S. Congressman" [Washington's Blog]. The sourcing seems a little tendentious to me. And see below.

I'll have more to say about this when I think it through. For now, when you heat the pot of water enough, it bubbles. Strategic hate management has consequences, which do not always blow back on those who deploy it, unfortunately. In other words, I don't see the "mainstream media" as drivers; I see factions in the political class (which includes some in the media, mainstream or no) as the drivers. I see reams of stuff like "Terminate the Republican Party" on my Twitter list, and in a zeitgeist composed of hundreds of millions of souls, it seems likely that somebody will act, similarly to Crane Brinton's idea that one of the signs of impending revolution is that revolution is discussed as a possibility. I suppose something systemic we can expect is even more separation between elected officials and the public they supposedly serve, as well as selection for the sort of candidate comfortable with that. It would be nice if there were no cycle of violence.

* * *

"Nearly 200 Democratic members of Congress filed a lawsuit against President Trump on Wednesday morning alleging that his continued ties to his business empire violate the U.S. Constitution" [USA Today]. "The unprecedented legal action accuses Trump of violating the Emoluments Clause of the U.S. Constitution, which prohibits federal officials from accepting gifts or titles from foreign governments without congressional approval. The lawsuit will have the greatest number of congressional plaintiffs of any lawsuit against the president in the nation's history, according to Michigan Rep. John Conyers, the House Judiciary Committee's top-ranking Democrat. ', but because President Trump has left us with no other option," he said.'" Oh, please. See NC here, here, here, and today. Again, constitutional issues aside, I would urge that any oligarch elected to office would have conflicts of exactly the same nature; they own too much! So the real issue is: Should any oligarch be President? A question the Democrats don't ask, probably because they can't answer it.
Stats Watch
Consumer Price Index, May 2017: "very soft" at minus 0.1 percent [Econoday]. "Fundamental cost areas are unquestionably weak with housing up only 0.2 percent and medical care unchanged and continuing its weak run this year. Education & communication is also weak, unchanged and continuing to reflect discounting among telecom providers. Major declines were posted for energy, down 2.7 percent and including a 6.4 percent decline for gasoline, and also apparel, down 0.8 percent for a third straight decrease, and also transportation, down 1.4 percent and reflecting a decline in new vehicle prices. Year-on-year rates are also lower than expected, at 1.9 percent overall and at only 1.7 percent for the core which is noticeably 2 tenths below the consensus. Inflation, lacking any boost from wages, just can't find any traction and is beginning to trend lower, not higher." And: "Many elements of the CPI moderated this month lead by the energy sector. Headline and core inflation is now below 2 % year-over-year" [Econintersect]. And: "Recent inflation data has generally been weaker than expected over the past few weeks. The subdued data has triggered fresh doubts surrounding underlying trends and whether there will be a sustained increase in inflation to the 2% target" [Economic Calendar].
Retail Sales, May 2017: "Consumer spending was unusually weak in the first quarter and doesn't look to be improving this quarter." Fell 0.3 percent, below consensus [Econoday]. "Wages aren't showing any traction and neither is consumer spending. The consumer just hasn't been participating this year and will need to accelerate very quickly otherwise second-quarter GDP is in jeopardy." The beatings will continue until morale improves…. And: "The decrease in May was below expectations. A disappointing report" [Calculated Risk]. And: "The evidence of weakness in areas of discretionary spending such as eating out will trigger fresh doubts surrounding the overall spending outlook and health of the economy" [Economic Calendar]. "There has been clear evidence of a slowdown in consumer spending over the past few months with a sharp dip in the growth rate for the first quarter. Significantly, there has been evidence of subdued spending even with robust consumer confidence." Surveys and data out of line again.
Business Inventories, April 2017: "The news on the second quarter continues to darken as business inventories fell 0.2 percent" [Econoday]. "Declining inventories are a possible signal of business caution and a certain negative for second-quarter GDP." But and: "This was worse month for business sales compared to last month – and inventories have returned to recession levels. Our primary monitoring tool – the 3 month rolling averages for sales – declined but remains in expansion" [Econintersect].
Restaurant Performance Index: "As a result of softer sales and customer traffic levels and dampened optimism among restaurant operators, the Restaurant Performance Index declined in April. The RPI stood at 100.3 in April, down 1.5 percent from a level of 101.8 in March" [National Restaurant Association]. FWIW, the upscale restaurant in my town has simplified the menu by eliminating daily starters and expanding burgers.
Housing: "Mortgage delinquencies fell to a 10-year low in March, according to property information provider CoreLogic, the lowest readings since the nation began to feel the grip of the worst housing crisis since the Depression" [247 Wall Street].
Housing: "California has millions of young adults living at home with parents because they are unable to venture out into an expensive rental or a dilapidated crap shack costing close to $1 million. … Of course Millennials have different habits. And getting stuck with an absurd 30-year mortgage on a dump is not a big aspiration for many" [Dr. Housing Bubble]. "Builders in California are smart. They are targeting multi-family units over single family homes. In some areas they are building out condos because if the market takes a turn, they can simply turn them into rentals since there is big demand for that. The idea that Millennials were going to save the market is off base. Prices are high but for reasons that go against a healthy housing market."
MBA Mortgage Applications, week of June 9, 2016: "Purchase applications for home mortgages fell a seasonally adjusted 3 percent in the June 9 week, though the decline is a result of heavy adjustments for the Memorial Day holiday in the prior week" [Econoday].
Shipping: "This month, Amazon opened six new fulfillment centers across the country. Located in Thornton, Colorado, North Haven, Connecticut, Fresno, California, Miami, Florida, Jefferson, Georgia and Troutdale, Oregon" [Sourcing Journal]. "Innovations, including robotics, will also be used at some of the fulfillment centers. Amazon's new facilities in Miami, North Haven and Thornton, will integrate humans and robots in the same work environment….. Another benefit of the fulfillment centers is reduced delivery costs. According to data from the National Bureau of Economic Research (NBER), Amazon's expansion of fulfillment centers has led the e-tailer to 'save between $0.17 and $0.47 for every 100 mile reduction in the distance of shipping goods worth $30.'" The pennies pile up…
Shipping: "5 points to consider before packing your cargo" [Shipping and Freight Resource]. If I ever pack a shipping container, this is the site for me!
Shipping: "According to The International Air Transport Association (IATA) air freight markets worldwide showed that demand rose 8.5% in April 2017 compared to the year-earlier period. While this was down from the 13.4% year-on-year growth recorded in March 2017, it is well above the average annual growth rate of 3.5% over the past five years" [Logistics Management].
Shipping: "US box imports set for record volumes" [Lloyd's Loading]. "According to the latest monthly Global Port Tracker produced by the National Retail Federation and Hackett Associates, containerised box imports to the US will surge to 1.74m TEU in August. The total would be the highest monthly volume recorded since NRF began tracking imports in 2000, topping the 1.73 million TEU seen in March 2015." Hmm…
Shipping: "May volumes for both the Port of Los Angeles (POLA) and the Port of Long Beach (POLB) were better than just pretty good. The reason for that is that each port, which collectively account for roughly 40% of United States-bound imports, posted their busiest May's ever" [Logistics Management].
Banking: "Central Bank of Kazakhastan is going to use blockchain technology to allow investors to trade in its short term notes (short term bonds)" [Mostly Economics]. "Central banks may worry and not accept bitcoins for payments. But some of them are open to using blockchain technology for security purposes."
The Bezzle: "Lyft is still the smaller player to Uber, with a valuation of $7.5 billion compared with Uber's $68 billion. Lyft also has less of a footprint, with drivers in 350 U.S. cities, while Uber is in more than 70 countries and 460 cities" [MarketWatch]. "But Lyft has taken a route of partnering to expand its global footprint while also teaming up with auto manufacturers, including Alphabet's self-driving car unit Waymo, which is odds with Uber."
The Bezzle: "Subprime Auto Bonds From 2015 May End Up Worst Ever, Fitch Says" [Bloomberg]. "Subprime auto bonds issued in 2015 are by one key measure on track to become the worst performing in the history of car-loan securitizations, according to Fitch Ratings. This group of securities is experiencing cumulative net losses at a rate projected to reach 15 percent, which is higher even than for bonds in the 2007, Fitch analysts Hylton Heard and John Bella Jr. wrote in a report Thursday."
Five Horsemen: "The Tech Wreck is fading except for Apple, which has underperformed the S&P 500 since Apr 26th" [Hat tip, Jim Haygood].
The Fed: "[Narayana] Kocherlakota said he doesn't think that the labor market is at full employment, and doubts reports that businesses are having trouble finding workers. If there was a labor shortage, wage pressure and inflation would not be so tame, he said" [MarketWatch]. Kocherlakota: "I think that the weak inflation data is actually a real opportunity. It is an opportunity for the Fed to continue to provide stimulus without worrying about excessive amounts of inflation. Overall, my strategy would be 'let's wait to see sustainable 2% inflation before we embark on tightening.'"
Today's Fear & Greed Index: 52 Neutral (previous close: 55, Neutral) [CNN]. One week ago: 55 (Neutral). (0 is Extreme Fear; 100 is Extreme Greed. Last updated Jun 14 at 11:36am. Greed, fear, and neutral feel like three-valued logic to me. How does a contrarian handle three-valued logic?
Our Famously Free Press
"The Case For Interviewing Alex Jones" [Buzzfeed]. "Like it or not, Alex Jones is an architect of our current political moment, and as such, the mainstream media shouldn't try to shield its audience from him or pretend he doesn't exist — it should interrogate him…. So an in-depth interview with someone like Jones in front of a big primetime audience is an opportunity, albeit a perilous one. Jones rarely gives sit-down interviews. The opportunity to force him to answer for his most abhorrent views on subjects like Sandy Hook is potentially valuable. At one moment in the teaser, Kelly cuts him off on an answer about Sandy Hook. "That's a dodge," she says. 'That doesn't excuse what you did and said about Newtown. You know it.'"
Gaia
"The Workings of an Ancient Nuclear Reactor" [Scientific American]. "Physicists confirmed the basic idea that natural fission reactions were responsible for the depletion in uranium 235 at Oklo quite soon after the anomalous uranium was discovered…. A nuclear chain reaction very much like the one that Enrico Fermi and his colleagues famously demonstrated in 1942 had certainly taken place, all on its own and some two billion years before."
Class Warfare
"[Autor, Dorn, Katz, Patterson, and Van Reenen] found that while in the early 1980s, the largest four players in any given US manufacturing industry averaged 38% of sales, it had risen to 43% three decades later. In utilities and transportation, the share rose from 29% to 37%, while in retail, it rose form 14% to 30%. In the same time workers share of the economic value added declined from 66% to 60%" [Intelligent Economist] (original study).
"The Hidden Cost of Privatization" [Institute for New Economic Thinking]. "A public good has two distinguishing characteristics: it is 'non-excludable' in use and 'non-rivalrous' in consumption. The first of these properties means that the good is available for free, as there is no way of limiting or restricting its use, whereas the second means that the good is available to all. It can be consumed by one individual without reducing its availability to another. Its consumption does not destroy it, as the consumption of a hamburger or loaf of bread does. The good remains for others to enjoy and many can do so at the same time and over time. The public at large can benefit from it."
UPDATE "Employment rate passes 2007 peak in developed world, says OECD" [Financial Times]. "The organisation's research showed that labour markets had been "hollowed out" across the developed world, with fewer roles in the middle of the jobs ladder and more at the top and bottom. The share of employment in "middle-skilled" jobs fell 9.5 percentage points between 1995 and 2015 in the OECD area, while the share of high and low-skilled jobs rose 7.6 and 1.9 percentage points respectively. About a third of this polarisation was owing to the destruction of factory jobs and their replacement with lower-skilled service sector roles. The rest was because of polarisation within industries. The OECD attributed this more to the development of new technologies than to globalisation, though it said the two trends were difficult to disentangle."
UPDATE "Revealed: reality of life working in an Ivanka Trump clothing factory" [Guardian]. A genre piece: An ugly normal becomes a story if Trump does it. "Workers complain of verbal abuse, impossible targets and 'poverty pay' so bad they have to live away from their children." Yes, that's true for entire subcontinents.
UPDATE "Apple co-founder Steve Wozniak: Why robots won't be taking our jobs for hundreds of years" [CNBC]. "You would have to change every bit of infrastructure [to enable] machines sending orders to other machines … everything in life, there is just way too much to convert. It would take hundreds of years to convert," says Wozniak. 'So I am not worried about 'We are just going to be the secondary species to machines' for quite a long time.'"
News of the Wired
Pursuant to Wozniak's post above: I flew out of Newark, and the international terminal has implemented electronic ordering for all its food vendors: iPads at restaurant seats, and terminals at stand-up fast food ordering places, too. It's horrible. For one thing, as I heard one lady complain, you can't tell what the food is like, or even what it's going to be, from the digitized pictures of the dishes. The terminals also severely discourage cash; only a few terminals take it, and who wants to feed bills into a (badly placed) slot, instead of handing them to a human? In fact, the only time you get to interact with a human is when there's a problem, which is often, and that doesn't make for good morale on either side of the transaction. Plus, whoever did the development didn't take real-life restaurant workflow into account; people need things like straws, napkins, and condiments, which weren't located in the obvious places anymore, because there's no line, just a scrum of people waiting for their digital orders. Oh, the whole process is slower, not just because it's slower to tap your choices into an iPad as opposed to speaking them out loud, but because the screens are all larded up with advertising and incentives. I'm going to enter my frequent flyer ID when I order a bottle of water? Or my email?! Really?!?! All in all, a horrid experience — although granted, a minor horror, given air travel these days — and one that no doubt will never be fixed because it cost millions of dollars to develop and install. I bet it ends up being more expensive, too; every time you want to change your menu you've got to interact with a software developer.
* * *
Readers, feel free to contact me with (a) links, and even better (b) sources I should curate regularly, and (c) to find out how to send me images of plants. Vegetables are fine! Fungi are deemed to be honorary plants! See the previous Water Cooler (with plant) here.
And here's today's plant (RH):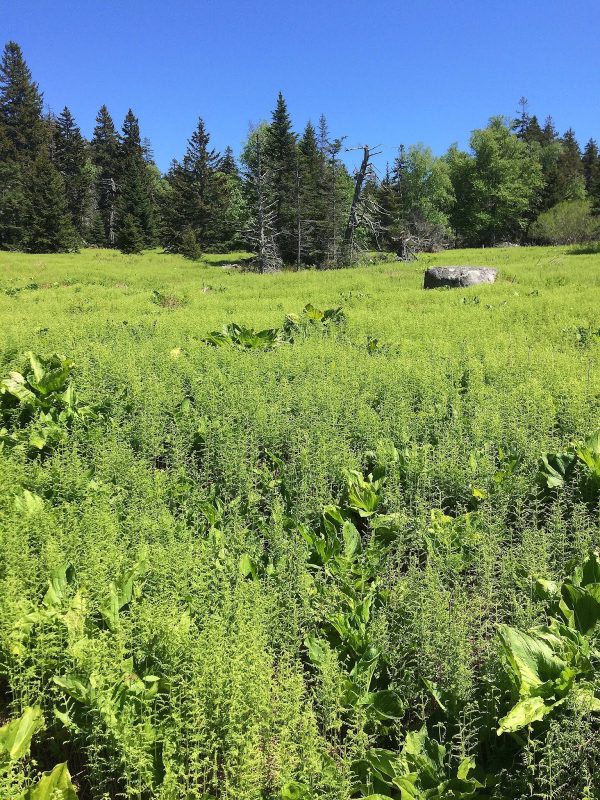 RH writes: Fresh green ferns from Vinalhaven sightings
* * *
Readers, Water Cooler is a standalone entity, not supported by the Naked Capitalism fundraisers. Please use the dropdown to choose your contribution, and then click the hat! Your tip will be welcome today, and indeed any day. Water Cooler will not exist without your continued help.