By Lambert Strether of Corrente
Trade
"The U.S. signed the Trans-Pacific Partnership trade deal last year, then decided not to implement it. The 11 other signatories have given themselves until November to decide whether to go ahead anyway. They shouldn't need half that long. The deal as it stands is far better than none" [The Editors, Bloomberg].
Politics
Trump Transition
"The Commerce Department's Bureau of Industry and Security still has not posted the public comments it received as part of the Section 232 national security probe. A BIS spokesman, first contacted one day before the comment period ended on May 31, said in an email to POLITICO that the submissions should be posted online "in the next couple of days." Contacted again on Friday, the spokesman said he expected the documents to be on the BIS website 'by the end of day'" [Politico]. "But as of Monday, they still had not been posted. When Morning Trade emailed again to inquire when to expect them, we got an automated reply saying the BIS spokesman was out of the office until June 12. We called the number he left for matters requiring 'immediate attention' and got voicemail. We left a message and will let you know when we hear back. Meanwhile, another public comment deadline in a second Section 232 investigation involving aluminum is looming on June 23, with no indication yet when those comments will go online." This could be a result of the Administration's shall we say lackadaisical attitude toward the press. Or it could be an indicator of structural problems: A combination of demoralized and/or resistant worker bees and unfilled executive slots. Or it could be, I suppose, that somebody needs time to massage the submissions. Reinforcing this, however–

"From overhauling the tax code to releasing an infrastructure package to making decisions on Nafta and the Paris climate agreement, Trump has a common refrain: A big announcement is coming in just 'two weeks.' It rarely does" [Bloomberg]. The same structural issue as above, with a different proxy for dysfunction. A third story reinforcing this–

"If this pattern continues, Mr. Trump may find himself running an Administration with no one but his family and the Breitbart staff. People of talent and integrity won't work for a boss who undermines them in public without thinking about the consequences. And whatever happened to the buck stops here?" [Wall Street Journal]. Trump's management style needs to scale. If it does not, it will be scaled for him, and not by him.

"Trump's California Henchmen" [Capital and Main]. "California's 14-member Congressional delegation has formed the backbone of Trump's legislative efforts. With House Majority Leader Kevin McCarthy of Bakersfield leading the delegation, the group has marched largely in lockstep with the Trump agenda, even in districts where Trump priorities like his American Health Care Act might adversely affect large numbers of their constituents. In the 30 votes to date in the new Congress, 10 of California's Republicans have voted with Trump 100 percent of the time, and even Tom McClintock, the most skeptical of the group, has voted with Trump 90 percent of the time. As a bloc, they swung the health care vote. They have systematically dismantled environmental regulation. And they have been silent on immigration reform and on the border wall with Mexico, and on ramped-up enforcement actions by Immigration and Customs Enforcement (ICE)."

"Four top law firms turned down requests to represent Trump" [Michael Isikoff, Yahoo News]. "The concerns were, 'The guy won't pay and ,' said one lawyer close to the White House who is familiar with some of the discussions between the firms and the administration, as well as deliberations within the firms themselves." Which strikes me as a sound and simple diagnosis. Shorter: "Trump has a big mouth" (and, as we find out, it's killing him as President, though it didn't as CEO , and Trump brand ambassador generally). In the same way that Clinton's coumadin use was, IMNSHO, sufficient to disqualify her, and so by Occam's Razor there was no need to go further afield for more baroque medical theories, "Trump has a big mouth" — "to speak loudly and openly in public; to tell secrets" — works for me (and perhaps we should be focusing on that, and not his small hands). In fact, I'm trying to think of a President with a bigger one, and I really can't. Not even W!
New Cold War
"The National Security Agency conducted "blanket" warrantless surveillance of Salt Lake-area residents during the 2002 Olympic Winter Games, according to a former agency senior executive" [Salt Lake City Tribune]. "The declaration by Thomas A. Drake contradicts one given earlier this year by the former director of the NSA, Michael Hayden, that said neither the President's Surveillance Program (PSP), nor any other NSA intelligence-gathering activity, was involved in indiscriminate and wholesale surveillance in Salt Lake City or other Olympic venues during the 2002 Winter Games." I'm filing this story here because of the wierd liberal Democrat tendency to treat the words of intelligence community chiefs as authoritative, when in fact they're proven liars, with every incentive to lie in this case. Seventeen agencies? 17 * 0 = 0. 17 * 0 ≠ 17!

"This is how not to leak top secret documents" [The Outline] (for example, be aware of printer steganography!) Weirdly, the media focus has shifted to Reality Winner (!) and her "crime," not the substance of the leak (or lack thereof).

"Do Not Trust The Intercept or How To Burn A Source" [Moon of Alabama].

And then there's this, from the Intercept. Look at the last bullet on the bottom right:

What we know and don't know about the Russian government hacking effort days before the 2016 election. https://t.co/MeqLXphTxC pic.twitter.com/4BrisTmdeS

— The Intercept (@theintercept) June 5, 2017

"It's unclear why the hackers targeted email accounts associated with the American Samoa absentee ballot system." I dunno…. I think an editor should have given consideration to intervening on that one. And (see above) statements like "the NSA believes" are not confidence builders for me. Anonymous sources in the intelligence community believe all sorts of things, but that they're telling the truth about their beliefs assumes facts not in evidence, especially considering that the stakes are enormous, and the money available is virtually infinite.
2016 Post Mortem
"What Eisenhower's Unsent Letter Reveals About True Leadership" [JSTOR Daily]. "Before the D-Day landing on June 6th, 1944, Eisenhower, commander of the invasion force, wrote two letters for public consumption. One was released, praising the efforts of the soldiers and sailors who successfully gained a foothold into Nazi-occupied France. The other was not." From the unreleased letter:

My decision to attack at this time and place was based upon the best information available. The troops, the air and the Navy did all that bravery and devotion to duty could do. If any blame or fault attaches to the attempt it is mine alone

Yes, this is the anniversary of D-Day, but I can't help thinking there's a subtext here…
2017
GA-06: "Jon Os­soff has be­come the face of the Left's res­ist­ance against Don­ald Trump" [National Journal]. That's the lead, which author Ally Mutnick was paid to write.
2020
"Former Vice President Biden to headline Romney summit" [Desert News]. Because if there' s one thing the American people and the Democratic base want, it's centrist bipartisanship!

"If the past 25 years of Democratic presidential nomination contests are any guide, the process for 2020 will follow a familiar pattern: One candidate will dominate the Deep South and walk away with the nod, and everyone else will whine about how they got screwed by the party establishment" [Bloomberg]. "The truth is, while recent party nominees John Kerry, Barack Obama and Hillary Clinton hailed from large urban areas, it's the Deep South that ultimately anointed them. Going back to 1992, seven states have voted for the Democratic Party's eventual nominee every time — Illinois and Missouri in the Midwest; Virginia; and the four Southern states of Georgia, Alabama, Mississippi and Louisiana. If John Edwards hadn't won his home turf of North and South Carolina in 2004, we could add those two to the list. Washington, D.C., has a perfect record as well. This isn't a fluke. Not counting superdelegates, the Democratic Party's nomination process awards delegates on a proportional basis. As a result, blowouts count for a lot, while narrow victories count for little more than bragging rights…. The common denominators of these Southern states are their large black populations and racially polarized electorates."

"A food sovereignty law in Maine moved one step closer to reality after the state House and Senate approved a bill giving towns and communities the authority to enact ordinances regulating local food and water distribution free from state control" [Bangor Daily News].
Realignment and Legitimacy
UPDATE "Was Berniecrats' choice to lead California Democrats cheated out of the chairmanship?" [Sacramento Bee]. "Ellis' team alleges hundreds of ballots have corresponding signatures that don't match the credential sign-in signatures, or are missing, and said it found "multiple documented instances" of duplicate voting – described as a person voting as a proxy, or someone who casts a vote on behalf of another, on more than one ballot. They further charge that several individuals who served as proxies were not listed in a commonly used political database as registered Democrats. Ellis' six-page document comes as a growing number of party activists, including supporters of her opponent [surprise!], are calling for her to step aside and concede the race, many in the name of party unity as Democrats lay the foundation for the 2018 elections." It's certainly odd that those calling for unity aren't calling for the little matter of a clean vote to be handled first. You'd think they'd want that, right?

"Why We ALL Need to Be Activists Right Now" [Lauren Duca, Teen Vogue]. Inaugurates a new Op-Ed column, "Thigh High Politics." This is good:

Way too many Americans think about politics in the way of the Olympics — like it's some big event that happens every few years, all but forgotten until the ad campaigns start up again. That's unacceptable from an intellectual perspective and also a practical one. America the idea wasn't magically complete because a bunch of white dudes in wigs wrote their names in fountain pen. The Declaration of Independence was always intended as a beginning, the formation of a dynamic entity that requires input, participation, and occasionally protest. The past few months' spike in political action has been painted as radical, but it should be closer to a core requirement for daily life in this country. Or, a bit less romantically, if America wants to be exceptional, we need to stop treating democracy like a self-cleaning litter box.

But Duca then goes on to recommend resources for activism and further reading: Clintonite identity politics second-rater Joan Walsh, the Times, the Post, and Michael Moore's Resistance Calendar. Ask the usual question: What does victory look like? To some in the resistance, like revolution. To others, like reformation restoration. I'd put Teen Vogue firmly on the restoration side.

On the Massachusetts Democrat convention just past: "Eventually, the journey resulted in a platform that is among the most progressive ever passed by a state party. It's likely the most progressive platform by a major party in the nation's history, period. It calls for single-payer healthcare, a $15 minimum wage, paid family leave, forgiveness of student loan debt, a ranked-choice voting system, an independent commission to draw the state's congressional districts, the abolition of Massachusetts superdelegates, an end to for-profit prisons, a carbon tax, more accountability for police officers who use excessive force, and more" [In These Times]. "There were about 750 delegates organized by [Our Revolution] at the convention, out of more than 4,500 registered delegates. In April and May, many of them attended meetings devoted to drafting the party's platform. In part because of that work, the platform draft called for single-payer healthcare and a $15 minimum wage. But OR and other progressive delegates [including the DSA] wanted it to go much further.. .. [E]arly Saturday morning, activists presented a stack of petitions—calling for votes on their proposed amendments—to party officials. They delivered them by wheeling a stack of documents, several feet tall, on a bellhop's luggage cart through a series of hallways and 'about eight freight elevators,' says Andrew Shelton, a delegate and member of Young Democratic Socialists. 'Then we showed up at the desk, and people had no idea what we were doing. Because it had never been done before.'" That's the stuff to give the troops!

"President Donald Trump's poll numbers have turned negative in military communities and exurbs amid a broader overall slide, a poll analysis finds, but other community types are more stable" [Wall Street Journal]. Uh-oh…
Stats Watch
Gallup US Economic Confidence Index, May 2017: "While Americans' confidence in the economy remains stronger than it was before the 2016 presidential election, it is not as strong as it was earlier this year. Though still historically high, confidence in the economy declined to a six-month low in May, largely dragged down by Democrats' worsening economic attitudes" [Econoday]. "[I]ndependents' economic ratings have also dipped in recent months. After peaking at plus 5 in January, independents' index score fell into negative territory in April, when it averaged minus 1. It remained negative in May with the score reaching minus 3. Even as some Americans become more pessimistic about the economy overall, attitudes about the economy's current conditions have been relatively stable. "
JOLTS, April 2017: "Job openings are nearly 1 million ahead of hirings in a widening spread pointing to skill scarcity in the labor market" [Econoday]. "The gap between openings and hiring first opened up about 2 years ago signaling that employers are having a hard time finding people with the right skills. Today's report offers confirmation that demand for labor, in distinction to hiring, is a chief feature of the economy." Remember "on-the-job training"? Good times. And: "JOLTS had been showing little year-over-year job openings growth. Historically, this indicates weaker employment growth. This month both employment and JOLTS job openings year-over-year growth improved. This aligns with Econintersect's Employment Index which is forecasting improving employment gains" [Econintersect]. And: "Job openings are at a new series high. The number of job openings (yellow) are up 7% year-over-year. Quits are up 4 year-over-year. These are voluntary separations" [Calculated Risk]. "This is another solid report."
Debt: "Household Debt Service Payments as a Percent of Disposable Personal Income" [Federal Reserve Bank of St Louis].
Retail: "Talk of the demise of the shopping mall may be overdone, according to Fitch Ratings, which on Monday took a neutral stance on retail REITS, or real estate investment trusts, the entities that own and manage malls and rent space to tenants" [MarketWatch]. "But Fitch is upbeat that bricks-and-mortar stores will continue to exist and attract shoppers, despite the inroads made by Amazon into just about every category. The ratings agency expects that about 70% of retail sales will still take place in a physical store in 2020, down from 80% today. 'Consumers by and large still enjoy shopping as a leisure activity, plus a significant portion of online sales are connected with a store visit,' Fitch Managing Director Steven Marks wrote in the first issue of the agency's new Equity REIT Handbook."
Commodities: "DeepGreen is one of a handful of private companies that have succeeded in obtaining licences from the International Seabed Authority (ISA) to a reserved area of the Clarion Clipperton Zone (CCZ) of the East Pacific Ocean. Others big name players interested in the space include China Minmetals, Lockheed Martin, and DEME Group" [Mining.com]. "DeepGreen has two exploration licenses in the CCZ, known to host a massive resource of high grade polymetallic nodules since the 1870's. These nodules are rich in nickel, copper, manganese, cobalt, and other important rare earth minerals, amounting to a copper equivalent grade of over 7%…. From an environmental standpoint, DeepGreen is aiming for zero tailings generation, with the potential for this to be a step change for the minerals industry….". Maybe. The corporate hagiography at the start of the story is amusing.
Commodities: "Russia is expecting to export about 36m tonnes of grains in the forthcoming season, which runs from July to June, lower than previous assumptions" [Lloyd's List].
Shipping: "At least four Middle East countries severed diplomatic and some economic ties with Qatar on Monday, including sea and air routes, triggering a wave of panic among ship brokers and other market participants" [Lloyd's List].
Shipping: "Less-than-truckload (LTL) carrier Old Dominion Freight Line Inc. said today that daily tonnage in May rose 5.8 percent from May 2016, due almost exclusively to a 5.7-percent year-to-year gain in shipment count. Weight per shipment rose a scant 0.1 percent year over year, Thomasville, N.C.-based Old Dominion said" [DC Velocity]. "David S. Congdon, Old Dominion's vice chairman and CEO, said the May results, coupled with good April tonnage figures, reflect 'an improving domestic economy.' They may also reflect a trend toward more lighter-weight shipments that are generated by online orders."
Corruption: "A new survey found that Chief Compliance and Ethics Officers are struggling to effectively aggregate and analyze data due in part to outdated technology and a lack of available tools at their disposal" [The FCPA Blog].
Political Risk: "Recent economic data from around the world suggest that growth could now accelerate. And yet one cannot rule out the possibility that the current expansion will turn into another global slowdown — if not an outright stall — if some downside risks materialize. For example, markets have clearly been too bullish on Trump. The U.S. president won't be able to pass any of the radical growth policies he has proposed; and any policy changes that he does make will have a limited impact. Contrary to what the administration's budget projections claim, annual economic growth in the U.S. has almost no chance of accelerating from 2% to 3%" [Nouriel Roubini, MarketWatch]. "At the same time, markets have underestimated the risks of Trump's policy proposals. For example, the administration could still pursue protectionist measures that would precipitate a trade war, and it has already imposed migration restrictions that will likely reduce growth, by eroding the labor supply. Moreover, Trump might continue to engage in corporatist micromanagement, which would disrupt the private sector's investment, employment, production, and pricing decisions. And his fiscal-policy proposals would provide excessive stimulus to an economy that is already close to full employment."
The Fed: "Following Friday's weaker than expected US employment report, futures markets are still indicating over a 95% chance that the Fed Funds rate will be increased next week. There were no comments from Fed officials ahead of the blackout period, which strongly suggests that there will be a move to tighten on June 14th" [Economic Calendar]. "Even if rates are increased, however, there will be a very strong debate within the FOMC over future policy direction."
Five Horsemen: "GOOGL joins AMZN in the 1000-plus club" [Hat tip, Jim Haygood].
Today's Fear & Greed Index: 55 Neutral (previous close: 58, Greed) [CNN]. One week ago: 53 (Neutral). (0 is Extreme Fear; 100 is Extreme Greed. Last updated Jun 6 at 2:11pm
Health Care
"Economic Analysis of the Healthy California Single-Payer Health Care Proposal (SB-562)" (PDF) [Robert Pollin, University of Massachusetts]. "We estimate that, through implementation of Healthy California, overall costs of providing full health care coverage to all Californians could fall by about 18 percent relative to spending levels under the existing system. There will be two broad areas of cost saving under Healthy California. The first is a set of structural changes in the areas of: 1) administration; 2) pharmaceutical pricing; and 3) fee structures for service providers. We estimate that cost savings in the range of 13 percent of total costs are achievable through structural changes in these areas."
"Nevada, with little fanfare or notice, is inching toward a massive health insurance expansion — one that would give the state's 2.8 million residents access to a public health insurance option" [Sarah Kliff, Vox]. Understand the history here: The so-called "public option" magic sparkle pony always appears when single payer gains traction, and then disappears again when its work of distraction is done. This has been true for every single payer effort, including 2009's. So, with this background, it's really not surprising that Kliff would tweet: "Nevada's Medicaid-for-all bill seems like a more realistic path towards universal coverage than CA's single payer" (even though Nevada has a Republican governor) or that Ezra Klein would tweet that the "public option" is "a radical plan." Putting the wonkocrats aside, however, this is more than a little distressing:
As everyone predicted, the fight for a single payer solution begins in Nevada https://t.co/C9tmZ9JY5q

— David Dayen (@ddayen) June 6, 2017
Remarkably, with "begins in Nevada," Dayen manages to erase the already-started single payer efforts in California (see above at SB-562), while simultaneously insulting both California's National Nurses United, who are driving that effort and would doubtless be very surprised to learn that the single Nevada legislator, by introducing what has always been a bad faith competitor to single payer, "started" anything, besides insulting the many, many organizations, among them PNHP and HCAN, who've worked tirelessly to bring the merits of single payer before the public. "Starts here," forsooth.
Guillotine Watch
"Harvard Business School's celebrity students are dropping up to $100,000 for seminars" [Moneyish].
"One Philadelphia teenager's mom took his prom to the extreme, spending $25,000 on a camel, three tons of sand and exotic cars. He brought three dates , all in custom-made gowns, and wore three different outfits himself" [AP].
"Voucher Program Helps Well-Off Vermonters Pay for Prep School at Public Expense" [Pro Publica].
Class Warfare
"I was walking the dog last week in a South Pasadena park when I glanced at a man and woman having breakfast at a picnic table" [Los Angeles Times].
I'd seen them before; this time I said hello. Margaret and her son Chris told me they live in their car. 'We're lucky,' said Margaret, who asked that I not use her last name. 'We've got income, and we've got the car. There's a lot of people who are suffering and don't have that.' That's kind of how things are going in Los Angeles. Rents have risen while pay remains flat, the homeless population is growing, and some folks consider themselves fortunate to live in a car."
"Katie Orzehowski says her miscarriage last fall almost cost her a job" [New York Times] (full report). "A cashier at the Walmart in North Huntingdon, Pa., Ms. Orzehowski said she tried to use doctors' notes and hospitalization records to excuse her missed shifts, to no avail. Worried that another absence would get her fired, she went back to work. 'I still had a lot of bleeding going on, and that's embarrassing,' Ms. Orzehowski, 26, said." Great labor market. Best economy ever!
"Climate Science Meets a Stubborn Obstacle: Students" [New York Times]. The article takes the teacher's perspective — not a bad thing, since the teacher is IMNSHO doing good work — but here's the climate that matters to students in Wellston, OH:
At Wellston, where most students live below the poverty line and the needle-strewn bike path that abuts the marching band's practice field is known as "heroin highway," climate change is not regarded as the most pressing issue. And since most Wellston graduates typically do not go on to obtain a four-year college degree, this may be the only chance many of them have to study the impact of global warming.
Where to begin…
News of the Wired
"To explain natural time, physicists and philosophers back eternalism, according to which the past, present and future are all equally real. 'There is absolutely nothing particularly special about the present: under eternalism now is to time as here is to space,' writes [neuroscientist Dean Buonomano]" [The New Scientist]. "The other main explanation of natural time is presentism, according to which only the present moment is real – a view that tallies with our sense of subjective time. The past is gone, the future hasn't happened yet. 'Neuroscientists are implicitly presentists,' says Buonomano. 'But despite its intuitive appeal, presentism is the underdog… in physics and philosophy.'"
* * *
Readers, feel free to contact me with (a) links, and even better (b) sources I should curate regularly, and (c) to find out how to send me images of plants. Vegetables are fine! Fungi are deemed to be honorary plants! See the previous Water Cooler (with plant) here.
And here's today's plant (WW):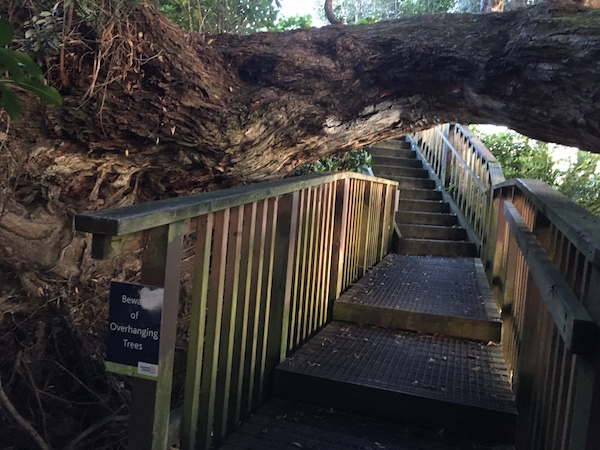 I like the signage…
* * *
Readers, Water Cooler is a standalone entity, not supported by the Naked Capitalism fundraisers. Please use the dropdown to choose your contribution, and then click the hat! Your tip will be welcome today, and indeed any day. Water Cooler will not exist without your continued help.