Lambert here: Yves apologizes for the lack of original posts. Her cat had to go to the dentist to have some teeth pulled and came back with a mouth full of sutures and one of those plastic cones over his head, so he's hiding (or panicking, because of the cone). On top of all that he has kidney issues and needs to drink and he doesn't seem able to do that with said cone, causing stress to both cat and his human. So her focus is naturally on him.
Robot Journalist Accidentally Reports on Earthquake from 1925 Gizmodo
Ride-hailing business model fails to show profits FT. Wait, what? I thought the issue was "culture"…. And of course see Hubert Horan, NC. November 30, 2016.
Exclusive: Fake online stores reveal gamblers' shadow banking system Reuters (RS).
Biggest U.S. banks clear first hurdle in Fed's annual stress tests Reuters
Balance of Power: The Yellen Wild Card Bloomberg
Consultants are taking taxpayers to the cleaners Macrobusiness
Shining a light on the dark corners of the web Nature
In Opinion Mostly Rejecting Jeffrey Sterling Appeal, Fourth Circuit Criminalizes Unclassified Tips emptywheel
Wikileaks Docs Show How the CIA Allegedly Infected Offline Computers Motherboard
Syraqistan
In Yemen's secret prisons, UAE tortures and US interrogates AP

U.S. Torture, A Saudi Coup And ISIS Crimes – "By, With And Through Allies" Moon of Alabama

Why Is Syria Hell on Earth? Here's the Ugly but True Answer… Medium (GF).
Brexit
Hard or soft Brexit? The six scenarios for Britain FT

Brexit: UK offer on EU citizens a good start, says Merkel BBC
UK Election Aftermath
"People on the Left Have Dreamt of This Situation for Generations" Jacobin

Jeremy Corbyn overtakes Theresa May for first time as voters' choice for best Prime Minister, poll finds Independent

Why the 2017 election was much worse for Theresa May, and much better for Jeremy Corbyn, than it looked The New Statesman
Building firm responsible for Grenfell cladding accused of supplying sub-standard panels to other council blocks Telegraph
Cities for the rich Le Monde Diplomatique. On Grenfell Towers.
China
China's Struggle With Demographic Change The Diplomat
2nd US Navy Carrier Strike Group Arrives in Asia Pacific The Diplomat
New Cold War
Wasserman Schultz disputes homeland security claims about DNC hacking Orlando Sentinel. Wait, what? Is Obama's Jeh Johnson the Savior of the Republic, or is Clinton's Wasserman Schultz? Could be neither, of course.

Trump says he did not record conversations with former FBI chief Comey Reuters

Russian youths are taking to the streets, but let's not over-hype the revolt of the "Putin generation" just yet Open Democracy
Democrats in Disarray
Ghost Candidates Are Not Acceptable Current Affairs (DK, DCBlogger). Must-read. Extraordinary. Even I wasn't cynical enough!

Democrats raised just $4.3M in May The Hill

Thomas Frank on the Demise of the Democratic Party TRNN.

Can Democrats take back the House in spite of themselves? WaPo

Special Elections: I Don't Believe In Moral Victories Tim Ryan, Medium. "We are heading into July, and I can't believe I'm saying this, but our party still doesn't have a clear economic message. Are you kidding me?" No. The message is quite clear: Rule #2 of Neoliberalism. Of course, that's true for the Republicans, too. It's bipartisan!
Liberals are playing just as dirty as conservatives did in the '90s — and it sounds great Mic. Despite the headline, this is about podcasting.
Health Care
Trump Transition
Why The Koch Brothers Have So Much Influence On Trump: It Starts With Pence International Business Times
Family: Peter Tosh's son left in coma following jail beating AP
Class Warfare
Bill Cosby to Teach Young People How to Avoid Sexual Assault Charges Rolling Stone
Capitalism Can Thrive Without Cooking the Planet Bloomberg
Up a wombat's freckle TLS (J-LS).
Antidote du jour (Soren Nielsen):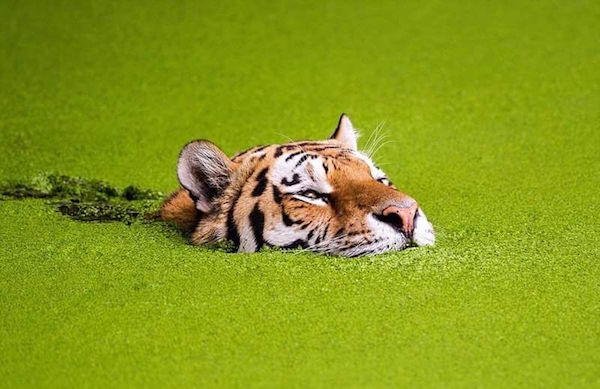 Siberian tiger emerges from a pool full of chlorella.
See yesterday's Links and Antidote du Jour here.