By Lambert Strether of Corrente
Politics
Health Care
I'll look at the health care debate more in Links this evening when things have shaken out (here's a summary of McConnell's bill; note McConnnell is bribing Murkowski, and, if the story is correct and exhaustive, Murkowski alone, so the vote is still very close). But this is very important:

"But, here's what else should worry Republicans, especially those up in 2018. The forces opposed to the legislation are outspending those supporting the bill $5.8 million to $354,000" [Cook Political Report]. More:

According to data supplied to the Cook Political Report from Kantar Media CMAG, a nonpartisan tracker of political TV advertising, there have been 26,713 ads run between May 23 and July 10 that mention the health care bill. Just over 25,000–or 94 percent–of those ads have been critical of the GOP plan. Note that these figures don't represent digital or radio ad buys.

Take a look at Nevada, for example, where publicly came out as opposed to the Senate legislation in late June. Since May 23rd, a combination of four groups – AARP, Planned Parenthood, Save My Care, and the Community Catalyst Action Fund – have run almost 5,000 ads at a cost of approximately $1.6M, irging Heller to vote against the bill. On the other side, two ads (at a cost of $140), sponsored by the Trump campaign SuperPAC – America First Policies – urged Heller "to keep his promise" of repealing and replacing Obamacare. Those ads were pulled at the urging of Sen. McConnell.

And:

Other GOP senators who have expressed hesitation about supporting the GOP bill – of West Virginia and Lisa Murkowski of Alaska, have been bombarded with ads that criticize the bill and urge them to oppose it. In West Virginia there have been over 1,700 ads attacking the bill at a cost of approximately $245,000. In Alaska, outside groups have spent over $277,000 on 3,881 ads urging Murkowski to vote against the bill. As for advertising that supports the bill – or even urges these two swing Senators to support it: a big fat goose egg. Nada. Nothing.

If I'd had this information Tuesday, I would have added it to this post (but see this commment). Note again, however, that this gives an account for two defectors (Heller; Capito) but not all. And more from Cook:

Almost all the advertising defending the GOP bill came from one source, the American Action Network, a GOP nonprofit aligned with Speaker Paul Ryan. Of the $10.2M spent on pro-AHCA ads like this one in the spring, $7.7M –or 76 percent– came from AAN.

Those outside groups remain on the sidelines today. …

Wary incumbent Republicans should rightly wonder if the cavalry will be there to give them cover when the arrows from the anti-GOP health care side are raining down on them. As it looks today, they are on their own.

At this point, it seems like the Democrats did a better job servicing the health insurance oligarchs than the Republicans are doing. And at the end of the day, as we say in the Beltway, #SaveTheACA will still leave 25 million without coverage, many more millions denied care amd/or with crapified care, and citizens being sent to Happyville or Pain city at random (although, to be fair, ObamaCare is a jobs guarantee for credentialled gatekeepers, medical coders, etc. in the Democrat's 10%-er base). Thanks, Obama!
2020
"Sanders told the host of 'Make It Plain with Mark Thompson' that while it's too early to make a definitive statement about whether he'll run, he is 'not taking it off the table.'" [Common Dreams]. If Biden isn't too old, Sanders isn't too old. But if the Democrats have a weak bench (as they do), how much weaker is the left's bench (implying that Our Revolution's focus on local and state races is absolutely the way to go).
Trump Transistion
Chuck Todd: "Trump's big problem: 'It's a White House that doesn't know what it's doing. They have no idea how to make legislation happen. They have no idea how to work with Congress. They came in with no big plan, no big agenda'" [Axios]. "The White House right now: 'We're at a point where it's every man and woman for themselves. It's not a point where everyone is abiding by that, but it's more and more every day.'" It's noteworthy, though, that Trump did have a "big agenda," but some of the big items were negative: (1) No TPP, (2) No war with Russia. The negative items didn't require action by others, including Congress! And Gorsuch was easy (and solidifies the Christian right with Trump for the forseeable future. They're not purists!). As far as The Wall? No. Immigration? Kinda. Infrastructure? Hell no. And I distrust all gossip about the workings of the White House on principle, absent documentation (like the Podesta emails, or Shattered). So, while Todd effectively encapsulates the conventional wisdom of the political class on its precious norms, it's not clear to me what's left when you factor out that point of view. Todd does say — and this is a prior of mine — that "Trump needs someone to help him calm the waters in Washington — like Howard Baker did for Ronald Reagan during the Iran-Contra affair" (or James Baker did). It's hard to see who that person would be, and in some ways the gossip, the general hysteria, and above all warmongering by The Blob prevents that person from coming forward. It's interesting to imagine what an "every man for himself" scenario would look like…
2018
"Don't Worry, America: Kid Rock Says He's Running for Senate From Michigan" [The Wrap].
Realignment and Legitimacy
UPDATE "39 photos that show why everyone misses George W. Bush" [MSN]. W's rehabilitation is one of the more amusing aspects of The Trump Era….

Classy:

Watch Dem NYC councilman @FCabreraNY tell supporters "it's harder being rich than being poor" while blaming low wages on laziness. pic.twitter.com/m45LCajCVD

— Walker Bragman (@WalkerBragman) July 13, 2017

"Don't Say Ivanka Is Bad for Women if You're Gonna Be All Sexist About It" [Vice]. Joan Walsh demolishes the liberal version of feminism single-handedly…..

"How Did Berniecrats Claim the Jackson Mississippi Movement? Do They Want To Be Claimed? Should They?" [Black Agenda Report]. Not a good look…

"Democrats aim to block funding for Trump's election commission" [USA Today]. "Rep. Cedric Richmond, R [sic! He's a D]-La., chairman of the Congressional Black Caucus, said for many people, the right to vote 'is their only voice in the democracy.'" I'm so torn on this. On the one hand, Trump's Election Commission is horrid. On the other, this article starts by quoting the horrid Cory Booker, and goes on to quote the horrid CBC. And the worst of the worst on the Democrat side are getting funding to take on redistricting. I'm not sanguine…
Stats Watch
Producer Price Index (Final Demand)k, June 2017: "Inflation data, wherever one looks, are weak" [Econoday]. "However GDP or employment is moving, inflation is a fundamental indicator for general demand. These results will not move up expectations for tomorrow's consumer price report where similar weakness is the unfortunate expectation." But: "The Producer Price Index is now on a noticeable moderation cycle – with most components declining year-over-year. My only conclusion is that generally there is an overabundance of goods and services – despite the Fed's insistence the USA is near full employment" [Econintersect].
Beige Book, June 2017 (yesterday): "Wages are on the rise but only a modest-to-moderate rise, with economic growth described as slight-to-moderate across the Federal Reserve's 12 districts. And a few of the districts are now saying that overall price pressures have eased. Consumer spending is rising in most districts but at a slower pace. Two districts, Cleveland and Philadelphia, are reporting slowing in overall growth. Two other districts, Atlanta and St. Louis, are reporting flat employment levels" [Econoday]. "Looking at the report on net and putting aside the word "slight", modest-to-moderate is still the call across most regions and most economic readings. These results will not pull forward expectations for the next rate hike." And: "The latest Beige Book compiled by the Federal Reserve Bank of Kansas City showed economic activity expanding across all twelve districts in June and expectations for modest to moderate gains in the months ahead" [Economic Calendar]. And but: "First 'weak' report in a long time. And not to forget the Fed sees it their role to manage expectations…" [Mosler Economics].
Bloomberg Consumer Comfort Index, week of July 9, 2017: "In the least upbeat reading since January, consumer comfort fell a sharp 1.5 points" [Econoday]. "Consumer and the emerging confidence slump does not point to any spending strength." So, surveys not being borne out by data yet again; this is starting to look like the norm. Can old hands in the readership reall a time when such a divergence was so sustained?
Jobless Claims, week of July 8, 2017: Little changed, slightly higher four-week rolling averages [Econoday]. And: "Overall confidence in the labour market will remain firm in the short term. Although there is evidence of a slight upward drift in the weekly data, overall claims remain at historically very low levels" [Economic Calendar].
Housing: "Less than 18 percent of young adults own a home in the greater L.A. metro area" [Dr. Housing Bubble]. "The greater L.A. area has the worst homeownership rate for younger buyers, even worse than tech drunk San Francisco. Why? Because in the Bay Area, even though home prices are insane so are salaries for young professionals. So even though the Bay Area is nuts and has a massive amount of tech froth, people do earn higher incomes. Here in SoCal especially in the greater L.A. metro area people don't make high enough incomes to justify current home prices. Thus the low rate of ownership from younger buyers… According to the analysis, it would take the typical young L.A. couple 32 years to save for the standard 20 percent down payment. Hey, if you start at 30 you can buy when you are 62! Just around the time you can collect on your Social Security benefits."
Real Estate: "Leading Index for Commercial Real Estate Increases in June" [Calculated Risk]. "According to Dodge, [the Dodge Momentum Index] leads 'construction spending for nonresidential buildings by a full year.' This suggests further increases in CRE spending over the next year."
Shipping: "The Department of Transportation's Bureau of Transportation Statistics (BTS) reported this week that its Freight Transportation Services Index (TSI) headed up 2.2% from April to May, following two months of declines en route to its highest recording ever" [Logistics Management]. "he Freight TSI measures the month-to-month changes in freight shipments in ton-miles, which are then combined into one index. The index measures the output of the for-hire freight transportation industry and consists of data from for-hire trucking, rail, inland waterways, pipelines and air freight….. As for what drove May's strong performance, BTS explained that it was broad based with gains in most modes, especially water and pipeline, while air freight and trucking were stable."
Infrastructure: "The choices over U.S. infrastructure needs may be most acute at the country's airports" [Wall Street Journal]. "The FAA sent $2.7 million to the Charleston, [W. VA] airport this week [vs. a "wish list" for $395 million] in new grants totaling $185 million to 40 airports. Those sites include the country's biggest airports along with smaller, rural facilities that have a tough time making their case to federal planners."
Commodities: "A looming global diamond shortage is driving extreme changes in the world's supply chain for precious gems. A small band of adventurous miners is braving bone-chilling winds at the world's highest mines to extract stones worth as much as 20 times the global average" [Wall Street Journal].
The Bezzle: "Once Again: Do Not Insider Trade While Posing As Your Own Mother" [DealBreaker]. Very funny with some useful tips, but the real story is the SEC devoting resources to this relatively trivial level of crookedness. "Ever since the SEC decided that its raison d'etre was rooting out every inside trader in existence, no matter how puny or inconsequential…."
The Bezzle: "Banks are beginning to admit a new rule on revenue recognition will have an impact" [Francine McKenna, MarketWatch]. For more complex businesses that use long-term contracts, such as global financial services firms but more typically defense and construction companies, the new guidance could significantly affect the amount and timing of reported revenue."
The Bezzle: "50 Smartest Companies 2017" [MIT Technology Review]. Uber was #50 in 2015. "Smartest" was the tip-off I'd find it. To be fair, many of these companies are smart, for a definition of smart — "combine[s] technology with an effective business model" – that includes ginormous monopolies like Amazon. Have fun with the list…
Five Horsemen: "Facebook gives Alphabet a run for the money, as Apple catches back up to the S&P index." [Hat Tip, Jim Haygood].
Today's Fear & Greed Index: 55 Neutral (previous close: 47, Neutral) [CNN]. One week ago: 44 (Fear). (0 is Extreme Fear; 100 is Extreme Greed. Last updated Jul 13 at 11:59am.
Corruption
Obama's chief of staff….
Powerful union leader, Rahm ally indicted for extorting $100K from business https://t.co/52SrfjlsRv pic.twitter.com/MPNfTOnVis

— DNAinfo Chicago (@DNAinfoCHI) July 13, 2017
Dear Old Blighty
Burn!
Dear @theresa_may, you asked for ideas so I've sent you our manifesto. I hope it helps to "clarify and improve" your policies #ForTheMany pic.twitter.com/mWu1ezlzLQ

— Jeremy Corbyn (@jeremycorbyn) July 11, 2017
Imperial Collapse Watch
"Dr. Strangelove and the Los Alamos Nuclear Fiasco" [The American Conservative]. Handing our nukes over to Bechtel through privatization turned out to be problematic. What's a conservative to do?
Class Warfare
"Rethinking the Marxist Conception of Revolution" [Hampton Institute]. "In brief, I'll conclude that in order to make Marxism consistent with itself it is necessary to abandon the statist perspective to which Marx and Engels arguably were committed, and which they transmitted to most of their successors. It is necessary to conceive of revolution in a gradualist way, not as a sudden historical 'rupture' in which the working class or its representatives take over the national state and organize social reconstruction on the basis of a unitary political will (the proletarian dictatorship). According to a properly understood Marxism, even the early stages of the transition from capitalism to post-capitalism must take place over generations, and not in a planned way but unconsciously and rather 'spontaneously,' in a process slightly comparable to the transition from feudalism to capitalism. I will also argue that my revision can be the basis, finally, for a rapprochement between Marxists and anarchists." And if the Jackpot happens first? (I wish somebody would invent a "Jackpot Index." Unless they already have…)
News of the Wired
"Raytheon EMP weapon tested by Boeing, USAF Research Lab" [Military Embedded Systems (CM)]. We can build a death ray, but we can't repair the track under Penn Station.
"'Trap streets,' [is] a collective term for cartographic fictions with the intent to deter copyists" [Cabinet Magazine]. "[Trap Streets] may not all be streets: any geographic alteration can be used, from the fabrication of a remote nonexistent town to the mislabeling of the elevation of a mountain range. The existence of such doctored locations is routinely denied in public statements by publishers, even when acknowledged in closed legal proceedings, and so the Ordnance Survey's denials should be viewed with a certain circumspection." What an interesting new term! (And what will happen to an autonomous vehicle that relies on a map with "trap streets"?
Gaming self-driving cars:
Using salt circle runes to trap an A.I. car is possibly the most cyberpunk thing ever. pic.twitter.com/4ckbQlMyBS

— Kasper Hawser (@Gossenphilosoph) July 11, 2017
Like a lobster trap, isn't it?
Because I must:
The use of sans-serif could leave Pakistan sans-Sharif. https://t.co/XtRrkVVRfI

— Dhruva Jaishankar (@d_jaishankar) July 12, 2017
Browser Tab Clutter Is The New Hoarding" [JSTOR Daily]. With some useful tips on (Chrome) tab extensions. But it looks to me like there are enormous opportunities to improve the browser, which our genius developers in Silicon Valley are ignoring, because Juicero, Uber, etc….
* * *
Readers, feel free to contact me at lambert [UNDERSCORE] strether [DOT] corrente [AT] yahoo [DOT] com, with (a) links, and even better (b) sources I should curate regularly, (c) how to send me a check if you are allegic to PayPal, and (d) to find out how to send me images of plants. Vegetables are fine! Fungi are deemed to be honorary plants! See the previous Water Cooler (with plant) here. And here's today's plant (AB):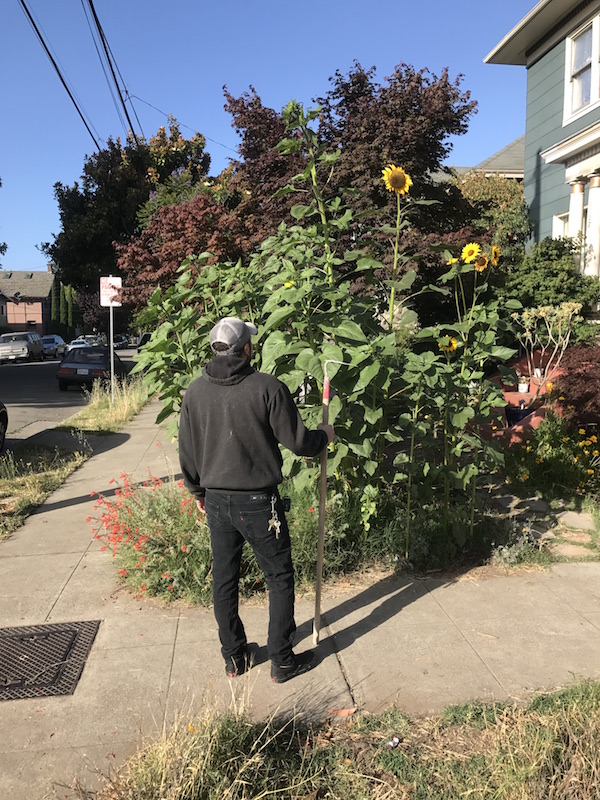 AB writes: "Man with hoe views sunflowers" (the allusion (?)).
NOTE Readers, if you want your handle to appear as a credit, please put it in the subject line. Otherwise, I will anonymize by using your initials. Thank you!
* * *
Readers, Water Cooler is a standalone entity, not supported by the Naked Capitalism fundraisers. Please use the dropdown to choose your contribution, and then click the hat! Your tip will be welcome today, and indeed any day. Water Cooler will not exist without your continued help.