By Lambert Strether of Corrente
Readers, I'm sorry that all the usual sections aren't populated quite as they should be. I found myself writing mini-posts on the events of the weekend, and the clock just ran out. –Lambert
Trade
"Speaking of the G-20, this will be former Senate Finance Committee aide Everett Eisenstatt's debut in his new role as White House 'sherpa' for big international meetings. Some of his pals in the international trade sector, under the heading of the World Economic Forum, have prepared a brief and a letter for all 20 nations' negotiators. Their topline advice? 'Depart from global trade cooperation at your peril.' Gulp. Sounds pretty serious" [Politico]. "Pals."
"Impact of the North American Free Trade Agreement on high-fructose corn syrup supply in Canada: a natural experiment using synthetic control methods" [Canadian Medical Association Journal]. "NAFTA was strongly associated with a marked rise in HFCS supply and likely consumption in Canada. Our study provides evidence that even a seemingly modest change to product tariffs in free trade agreements can substantially alter population-wide dietary behaviour and exposure to risk factors."
"NAFTA opened the Mexican market to U.S. corn producers who were subsidized by the U.S. government." [CNN]. "That led to a boom in U.S. corn exports to Mexico — and a bust in Mexican farming jobs like Benancio's. In the first decade of NAFTA, U.S. corn exports to Mexico quadrupled while Mexican corn prices fell 66%, according to Tufts University professor Tim A. Wise, a trade expert." And of course: "[T]he more significant story may be how genetically modified corn from the U.S. is threatening the integrity of maize cultivars that have been grown for thousands of years. Essentially, subsidized U.S. corn sold on international markets is making locally grown corn economically unsustainable."
The global market is subverting Mexican maize, which functions as a commons – the interplay of community, ecosystem and crop over thousands of years." [On the Commons (2010)].
Politics
Health Care
"So, do Hill Re­pub­lic­ans be­tray all of those prom­ises to their base to re­peal and re­place Obama­care, or do they pass something that people will hate even more? That's what you call a di­lemma" [Charles Cook, Cook Political Report]. That's the dilemma. It has always been the dilemma: Whether to replace a bad Republican plan (ObamaCare) with a worse one (AHCA; BCRA). There's a lot on Cook's narrative of 2009-2010 that I disagree with, but this: "Simply put, on health care, con­gres­sion­al Re­pub­lic­ans are damned if they do and damned if they don't. The fact that the ini­tial plan from Sen­ate Ma­jor­ity Lead­er Mitch Mc­Con­nell's (a pretty smart guy) had at least four Re­pub­lic­ans (Ted Cruz, Mike Lee, Rand Paul, and Ron John­son) who thought it didn't go far enough in elim­in­at­ing Obama­care, and at least five (Susan Collins, Lisa Murkowski, Shel­ley Moore Capito, Dean Heller, and Rob Port­man) that wor­ried it went too far showed that this was a mat­ter of split­ting the baby. If I were a Sen­ate Re­pub­lic­an, I would sup­port the bill, know­ing that it would prob­ably fail any­way, then tell my base that 'I tried,' then move quickly on to oth­er is­sues. …This is le­gis­la­tion that would be bet­ter handled next year, in a back room, with prag­mat­ic House and Sen­ate mem­bers from both parties try­ing to fig­ure out what is work­ing, what isn't work­ing, and how to make it work bet­ter." But "know­ing that it would prob­ably fail" is handwaving. The BCRA is poised on a knife-edge; but which Republican is going to be the one to tip it either way? That Republican is going to have to decide between party loyalty in their district and perceived public benefit to voters in their district. And the Republicans, feral, ruthless, and effective as they are, haven't ended up controlling all three branches of government and taking 1000 seats away from Democrats by being squishy on party loyalty. (Oh, and Cook agrees with The Donald, who originally said to kick the can down the road, presumably so the Republicans could get on with what they see as the real business of government: Handing out tax breaks to cronies. And so it goes.)

Sanders on #MedicareForAll:

We do not need to throw 22 million off health insurance. We need Medicare-for-all, and I will introduce that as soon as this debate is over.

— Bernie Sanders (@SenSanders) July 3, 2017

OK. That was followed by this tweet, which I read and nearly stroked out:

In the short-term, to improve the Affordable Care Act, we should have a public option in 50 states and lower the Medicare age to 55.

— Bernie Sanders (@SenSanders) July 3, 2017

Prompting this reaction from Yglesias:

Clinton endorsed public option last year, and she was right. https://t.co/pNlIqXqlRO

— Matthew Yglesias (@mattyglesias) July 3, 2017

"And she was right." Ouch.

Lambert here: What Yglesias ignores, conveniently, is that Clinton used the so-called public option as a way to prevent single payer and silence single payer advocates, exactly as career "progressives" did in 2009. Sanders urges that the so-called public option be the path toward #MedicareForAll. That said, "lie down with dogs, get up with fleas," Yglesias being one such flea, as are public option advocates generally. And I'll need to see actual legislation from Sanders to see how direct and forceful his path toward #MedicareForAll is, because you can be sure liberals and conservatives will fight it every step of the way, turning the public option, yet gain, into a bait and switch operation. (Charitably, Sanders could be doing what it takes to get a Senator to co-sponsor his bill. Somebody's got to make the sausage, and I'd rather, at this point, it was Sanders than anyone else. Still, since the bill won't pass, why compromise now?)

This feeds into my general sense that single payer advocates — perhaps the left generally — don't have such an easy time with success, not having experienced it. After years, decades of organizing, Medicare for All is now on the national agenda. We're talking about implementation details at this point, and naturally the waonkosphere is doing everything it can to divert the discussion into the weeds, delay matters, and save the health insurance "industry" because markets. Then again, (1) where is the full-throated statement from single payer advocates, Sanders among them, that #MedicareForAll will nuke the most hated industry in the country? It's gonna happen, so why not embrace it? And (2) where is the sound-byte on how those jobs will be replaced? Yes, I know this argument is almost always made in bad faith by people (like Obama) who otherwise show no concern for the working class whatever, but that doesn't mean it doesn't need to be answered. And yes, I know denying people health care for a salary deserves moral opprobium; but a party that seeks — or, if reconfigured, would seek — to put direct universal material benefits, especially for the working class, at the heart of its appeal, shouldn't be just throwing workers out of work. And yes, I know that HR676 provides for retraining, but in other circumstances the left would be the first to say that retraining is problematic, as indeed it is.

And while we're at it, the fight on SB562 isn't going all that well either. (Perhaps there's a reason the odious Nancy Pelosi said it was best to try at the state level. Eh?) Leaving aside the ins and outs of California fiscal policy, the bill is stalled. Whatever temporary political advantage there may be to firing up the base by epater-ing the California Democrat establishment, that pales before the loss of not having a serious policy proposal in place. One of the reasons that Corbyn won (at least the Labour leadership) was that voters read the Labour Manifesto and said, "Yeah, I can vote for that!" And that is when the polls began to turn. Would voters have done that if the Manifesto was full of blank spaces and handwaving? No. Well, that's how SB562 was. And it doesn't matter if "It's not f-a-a-i-r!" that the Democrat Establishment didn't work to improve the bill; that's just whining. Liberals do that. The left should not. And this is before we get to the question of whether a state that is not a currency issuer should even be passing such a bill. We need full-throated advocacy for MMT as well, something that Sanders, sadly, did not provide. Again, this is a matter of the shift from policy advocacy to implementation proposals. You can win the battle on the first, and lose the battle on the second. McClellan, in the Peninsular Campaign, had the church towers of Richmond in sight, and his troops could hear the bells ringing. Where, oh where, is the U.S. Grant of the left?
New Cold War
"Podesta: 'It's on the FBI' That DNC Servers Weren't Turned Over" [FOX]. "The head of the failed campaign called the FBI's approach to the DNC Russia hack 'fairly casual' and 'lackadaisical.' 'If anything, it's on the FBI that didn't come forward and really inform the DNC about what was going on until long after,' Podesta stated." So, the matter was of vital national importance to prevent a Russian "puppet" from becoming President, but not vital enough for the DNC to have some intern put the servers into the truck of an Uber, drive them over to the FBI building, and drop them off (after backing them up, of course). Alrighty, then. A little exaggerated for vividness, but you see what I mean.

"Investigators explore if Russia colluded with pro-Trump sites during US election" [Guardian]. If a few websites propagating Russia Today clips on Facebook could take down the Clinton juggernaut, then Democratic strategists and consultants who jammed $1.4 billion down the toilet of the Clinton campaign and then flushed have a lot to answer for.
Stats Watch
Gallup U.S. Job Creation Index, June 2017: "June's job creation index was plus 36, just shy of the record-high plus 37 recorded in May. . Regionally, the South led in job creation, while the East continued to be last" [Econoday]. "In June, 45 percent of employees said their company was hiring, about matching the 46 percent in May. The percentage who said their company was letting workers go held steady at 9 percent. Forty-one percent of workers said their employer was not changing the size of its workforce."
Factory Orders, May 2017: "Forecasters thought factory orders would get a lift from nondurables but they didn't as total orders fell" [Econoday]. "But there are positives in today's report and they include a small lift for core capital goods orders (nondefense ex-aircraft) which, boosted by a jump in mining equipment, rose…. But manufacturing activity, as described in last week's PMI manufacturing report, is no better than subdued… There are bright spots in this report which overall, however, is consistent with a sector that is struggling to find momentum."
Motor Vehicle Sales: "Also decelerating in line with deceleration of bank auto lending. One by one the data releases seem to be confirming the last 6 month's rapid deceleration of bank lending" [Mosler Economics].
Construction: "[Spending] decelerating in line with the deceleration in real estate related bank lending" [Mosler Economics].
Construction: "Early in 2013 lumber prices came close to the housing bubble highs – and prices are once again near the bubble highs" [Calculated Risk]. Although lumber does fluctuate seasonally.
Fiscal (Federal): "In its latest monthly report, the Congressional Budget Office said the federal government's tax income is running 3 percent below projections over the previous eight months, which works out to a shortfall of as much as $70 billion" [Washington Times]. "The CBO said the chief cause is smaller than expected individual and corporate tax receipts."
Fiscal (States): "As of July 5, 42 states have enacted full-year budgets for fiscal 2018" [National Association of State Budget Officers]. "As of July 5, 42 states have enacted full-year budgets for fiscal 2018. In 5 states, the legislature has yet to finalize the budget (Connecticut, Massachusetts, Oregon, Rhode Island, and Wisconsin). In Oregon most agency spending bills have been approved while in Massachusetts, the governor signed a temporary spending bill. Rhode Island and Wisconsin have statutory continued budget authority in place until a new budget is enacted. In 2 states, the fiscal 2018 budget is awaiting the governor's signature or veto (Michigan and Pennsylvania); Michigan's fiscal year begins October 1. In 1 state, the legislature is considering overriding the governor's veto of the budget (Illinois)."
Fiscal (States): "While states have mostly recovered since the 2007-2009 recession, their revenue growth has not always kept pace with the national economy. In some states without full budgets, including Connecticut and Pennsylvania, lower-than-anticipated income tax collections exacerbated budget gaps and led to disputes over how to close them" [CNBC].
Fiscal (States): "The [New Jersey] stalemate stems from the Horizon proposal: . But Assembly Speaker Vincent Prieto (D., Hudson), has refused to consider that bill, which he has called a "Christie tax" on Horizon's 3.8 million policyholders. As a result, Prieto couldn't get enough Democratic votes to pass the budget — because Christie had pledged to line-item Democratic-backed spending if lawmakers didn't pass the Horizon bill" [Philadelphia Inequirer].
Fiscal (States): Chris Christie's beach outing:
Chris Christie: From beach to meme eternity https://t.co/7hl1Iyr8Z4

— The New York Times (@nytimes) July 4, 2017
Forgive my counter-suggestibility here — NJ residents please chime in — but it looks to me like Christie was at least trying to look like he was clawing back some profits from Big Pharma. It also looks to me like all the snark and derision about the beach photo didn't mean squat as far as the budget deal went, and might also have been Christie's Trumpian-style gigantic upraised middle finger to his detractors (and perhaps Christie's sign-off from the national stage. It's hard to imagine him running for President again; they will write "Defenestrated by Jared Kushner" on Christie's tombstone).
Shipping: "New Panama Canal Boosts Ship Sizes" [Port Technology]. "Most interesting of all was the average 5.9 daily vessel transits (of which containerships accounted for about 51%) – far above the original forecast of two to three daily transits expected in the first year."
Rail: "Railroads adding more cars to trains in effort to trim costs, raising some concerns about safety" [Omaha World-Herald]. "[John Risch, national legislative director for the Sheet Metal, Air and Rail Transportation union, or SMART] said all the talk and statistics are one thing, and what his union members see on the ground is another: trains of up to three miles long, sometimes with hazardous materials, such as chlorine or ammonia. This year, the SMART union sent a letter to the Federal Railroad Administration asking for an investigation and an order ending 'excessive train length.' The letter cited what the union said was higher likelihood of mechanical failure, difficulty maintaining brake pressure when a trains exceed three miles and communications problems." It's all about the operating ratio in rail…
The Bezzle: "Export documents are taking a role in a federal probe of Caterpillar Inc. Federal investigators believe the heavy-equipment manufacturer failed to submit numerous required export filings in recent years, the WSJ's Andrew Tangel and Aruna Viswanatha report, potentially as part of an effort to avoid paying taxes. It's the latest inquiry centered on Caterpillar's management of its international supply chain as the company handled sales and replacement-parts distribution overseas. Investigators are finding discrepancies between Cat's filings through the U.S. Automated Export System and documents seized from the company" [Wall Street Journal]. Out of curiosity… Are there any heavy machinery geeks out there who can say if Caterpillar's newest lines are being crapified? I remember driving through Peoria as a child, and seeing miles of tractor parts in Caterpillar's iconic yellow. But they have brutal relations with their workers, and this "latest inquiry" reminds me of the crooks in Silicon Valley. So maybe the bad business practices have corroded product quality?
The Bezzle: "If the dawning of the Age of the Woke VC feels a little bit late in coming and, at this point, a bit self-serving, it's also ridiculously vague. So I have a suggestion: Rather than grandstanding about decency, Silicon Valley venture capitalists might try something of substance—such as, for instance, doing something about the industry's culture of secrecy. In particular, tech companies should stop abusing nondisparagement and nondisclosure agreements." [Bloomberg]. "These clauses are common in Silicon Valley. They are not supposed to apply in cases where an employee is acting as a whistleblower, but in practice that is exactly what they do."
The Bezzle: "China's Vision for a Straddling Bus Dissolves in Scandal and Arrests" [New York Times]. "'The truth is the bus was a fake science investment scam, with no scientific innovation,' a Beijing News op-ed said on Monday. 'The test was nothing more than a trick to attract investors.'… A New York Times reporter who visited Huaying Kailai's office in September saw walls lined with photographs of the owner, Bai Zhiming, with celebrities, entrepreneurs and local officials. A half-dozen investors stopped by over an hour. Some left with gifts and grocery bags full of cash." Classy!
Honey for the Bears: "The slowdown in the auto industry is only getting deeper, putting a cloud over U.S. industrial demand" [Wall Street Journal]. "Adding to the troubling trend are significant reductions in deliveries to car-rental companies, long the Motor City's biggest customers, suggesting that auto makers are girding for a longer-term retrenchment. Auto makers traditionally have used lower-margin sales to rental companies to keep factories rolling even as dealership traffic slowed, but now it looks like they want to clear unsold inventory from dealer lots before they take another look at factories. That's already evident in shipping networks, with U.S. railroad shipments of motor vehicles and auto parts down 4.9% in the first five months of the year."
Rapture Index: Closes up 1 on drought. "Drought is burning up crops in the Upper Midwest" [Rapture Ready]. Record High, October 10, 2016: 189. Current: 182.
Today's Fear & Greed Index: 48 Neutral (previous close: 47, Neutral) [CNN]. One week ago: 52 (Neutral). (0 is Extreme Fear; 100 is Extreme Greed. Last updated Jun 30 at 12:50pm.
Crapification Watch
Readers, please feel free to contact me with other examples of crapification, digital or otherwise, using the contact information below. –lambert
Google's new misdesign of the news page. The "View Full Coverage" link: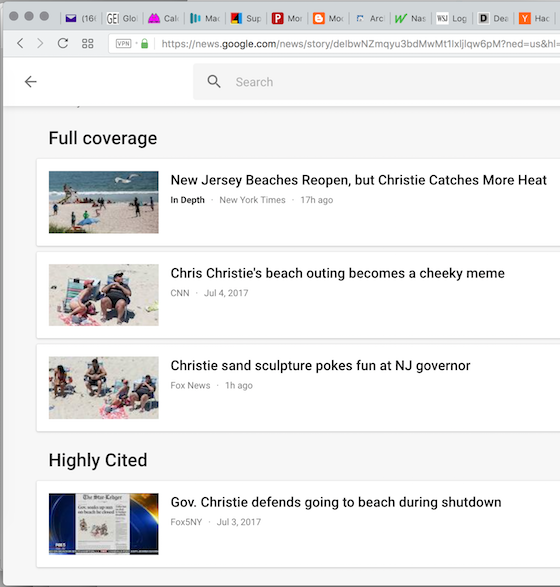 The entire screen for four links? Really, Google?? Really??? Could Google actually be so impoverished or indifferent that they didn't bother to do usability testing for laptops? Or could it be that my screen real estate [sniff] simply doesn't mean anything to a ginormous monopoly? Maybe if Google were broken up, the News functionality could become standalone, and a smaller, nimbler, more focused company wouldn't suck do badly. Heck, maybe the search would improve. It needs improving.
Dear Old Blighty
Episode 116 (podcast) [Chapo Trap House]. I have Chapo Trap House in heavy rotation, and I really enjoy it. Boy howdy, do they skewer the phonies! (They seem to have cut back on the scatology, sometimes taken to be a sign of authenticity or transgressiveness, which I found distracting.)
Black Injustice Tipping Point
"The Devastation of Black Wall Street" [JSTOR]. The Tulsa "race riot" of 1921.
Guillotine Watch
"NASA Revives Plan to Put Nuclear Reactors on Mars" [NBC]. Elon might need them?
* * *
Readers, feel free to contact me at lambert [UNDERSCORE] strether [DOT] corrente [AT] yahoo [DOT] com, with (a) links, and even better (b) sources I should curate regularly, (c) how to send me a check if you are allegic to PayPal, and (d) to find out how to send me images of plants. Vegetables are fine! Fungi are deemed to be honorary plants! See the previous Water Cooler (with plant) here. And here's today's plant (TH):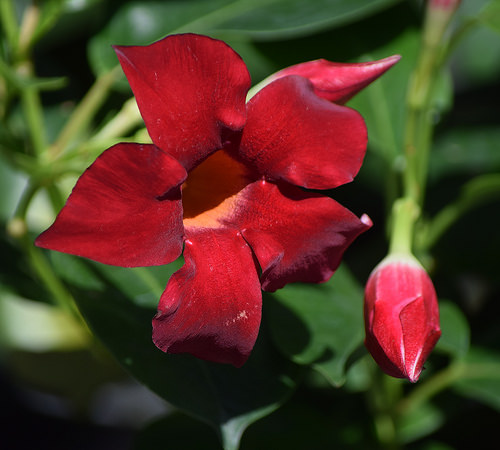 TH writes: "Mandevilla hybrid 'Madinia (TM) Deep Red' at Roger's Gardens (nursery), Newport Beach, CA"
NOTE Readers, if you want your handle to appear as a credit, please put it in the subject line. Otherwise, I will anonymize by using your initials. Thank you!
UPDATE Now that that the 2017 Water Cooler fundraiser post is launched, I can say that directions for sending a check will include a request to send me a parallel email so I can thank you. I was not able to thank all you sent me checks this year, because I was unable to connect physical mail identities to online identities. Apologies!
* * *
Readers, Water Cooler is a standalone entity, not supported by the Naked Capitalism fundraisers. Please use the dropdown to choose your contribution, and then click the hat! Your tip will be welcome today, and indeed any day. Water Cooler will not exist without your continued help.