By Lambert Strether of Corrente.
But the treacly smooth, re-assuring voices! The civility! The diversity! The safety! And at this point, readers are probably snorting, saying "What, you still listen to NPR?" And in fact, I don't have a radio, so I don't. Worse, I'm about to look at the written word, not the spoken. But you know what I mean: The branding! The branding!
Anyhow, you may have friends who still listen to NPR, so perhaps the points in this quick post will help you in their conversations with them. But put down your coffee before you read Ron Elving's article at NPR: "Trump's Big Repealing Deal: 8 Takeaways On The Senate's Health Care Meltdown Moment." I didn't, and I regret it! I'll pull out five six quotes, in order from the article, by topic area:
1) Health Care Did Not Cause Democrats to Lose Control of Senate
[NPR:] People are always anxious about their health, their care and its cost, but when they actually get sick, lose their coverage or find their premiums rising, they get scared and angry.[1] Politically, it is often enough just to make them fear those things might happen.

Democrats found that out eight years ago, before they even got their bill across the finish line.
Anybody else remember what else was happening in 2009? That's right: The Crash, and the worst economy since the 30s. And that's what caused Democrats to lose control of the Senate in the Scott Brown v. Martha Coakely race in Massachusetts, not health care. Thomas Ferguson and Jie Chen, "1, 2, 3, Many Tea Parties? A Closer Look at the 2010 Massachusetts Senate Race" (pdf):
This paper takes a closer look at the Massachusetts earthquake. It reviews popular interpretations of the election, especially those highlighting the influence of the "Tea Party" movement, and examines the role political money played in the outcome. Its main contribution, though, is an analysis of voting patterns by towns. Using spatial regression techniques, it shows that . All these factors are likely to remain important in the November congressional elections.
No. Liberal Democrats have constructed a warm-cocoon of reflexive virtue-signaling for themselves about their 2010 midterm debacle: They lost because they did the right thing on health care, and the stupid voters weren't grateful. It's not so. In fact, it was Obama's miserable handling of the Crash ("foaming the runway," "I stand between you and the pitchforks") that caused voters to throw the bums out, not health care.[2]
2) The Role of the Public Option Is to Prevent Single Payer
[NPR:] Democrats in 2009 and 2010 did not necessarily want to protect and preserve the private health insurance industry. Many of them would have preferred .
No. Just no. The so-called public option was a bait-and-switch operation, run by career "progressives," to head off single payer, not provide a path to it (and a followup for the sordid story here). And that's before we get to the fact that Obama had already traded it away to Big Pharma, even though "progressives" kept pushing it. (More here on the liberal version of events, as opposed to what actually happened, at "The Underground History of the So-Called Public Option (Plus Underpants Gnomes)."
3) Cost is an Ideological Red Herring
[NPR:] For more than a decade now, one major party or the other has been agitating for big changes in health care and insurance. The ever-escalating costs of high-tech care and the near-constant debate in the media guarantee the issue's salience will continue to grow [as opposed to the deaths from lack of care]. The average American wants good health care, and has been increasingly promised "the best." until necessity arises. Nor do we realize the true cost and reality of insurance coverage. As this changes, health care will demand more political attention, not less.
This is just silly. If cost were the primary focus for health care policy, we would long since have adopted Canadian single payer, which demonstrably bent the cost curve with no loss of care, and of course we didn't, because markets. It's neoliberal ideology, shared by Democrats and Republicans alike, that prevents "big changes," not cost. As I wrote in 2013:
We are blessed, on this continent, with the closest thing you can get to a controlled experiment in the real world on how to do health care right, and how to do it wrong. We have two countries, of continental scale, both from the English political tradition, each with a Federal system of government, and similar economies. The two countries are similar enough culturally that their citizens can move with ease from one country to another. Canada has a single payer system; the United States has a private health insurance system. And Canada "bent the cost curve" in the mid-70s, when it adopted single payer, and the United States did not.

What the chart shows is that the our private health insurance system is purely parasitic; it is useless; it exists solely for the purpose of rental extraction from its host, the body politic. Abolish it, and you bend the cost curve to look like Canada's. If single payer had been adopted in 2009, and given a year to implement (like Medicare) the country would already have saved a trillion dollars, and several thousand people would not be dead. That is the cost, the harm, of the tapeworm that is the health insurance industry. Not science fiction; sober fact. (Because Canadians are always sober!) And ObamaCare seeks to fasten that tapeworm's hooks and suckers to our body politic's gut. Forever.

So you can understand when I hear people saying "Well, what we need to be doing is keeping our tapeworm healthy and happy, and maybe buffing it a little" I get annoyed.
4) Single Payer Is Not "Anathema" to All Republicans
[NPR:] Even without the friendly label of "Medicare for all," government-guaranteed health care single-payer polls better today than it has for generations. Democrats are increasingly likely to favor it as a logical extension of current programs for children, retirees and lower-income families. — just as when it was first proposed in the late 1940s.
No. Wrong. Gallup: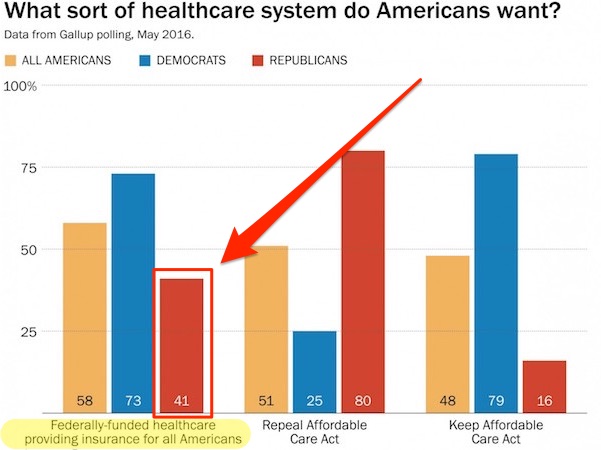 Now, I grant that 40% support among Republicans is not a majority, and of course results vary by the question asked. But "anathema"? No. Republican views static since the 50s? No.
5) The Key Battleground in Health Care Has Been Getting Single Payer a Hearing
[NPR:] ——But extending them to cover the generations from young adulthood to seniority remains in health care politics.
No. The "key battleground" has been getting single payer a hearing, and there liberals have been just as much an obstacle as conservatives. Again:
A summary of what single payer advocates were up against; I hate to keep quoting myself on this, but the history is important and has been systematically erased:

I suggest the real constraints came from three sources, as indicated by their behavior from 2009, when battle for health reform was joined: (1) The Democratic nomenklatura, which censored single payer stories and banned single payer advocates from its sites, and refused even to cover single payer advances in Congress, while simultaneously running a "bait and switch" operation with the so-called "public option," thereby sucking all the oxygen away from single payer;1 (2) Democratic office holders like Max Baucus, the putative author of ObamaCare — Liz Fowler, a Wellpoint VP, was the actual author — who refused to include single payer advocates in hearings and had protesters arrested and charged; (3) and Obama himself, who set the tone for the entire Democratic food chain by openly mocking single payer advocates ("got the little single payer advocates up here"), and whose White House operation blocked email from single payer advocates, and went so far as to suppress a single payer advocate's question from the White House live blog of a "Forum on Health Care." (Granted, the forums were all kayfabe, but even so.) As Jane Hamsher wrote, summing of the debacle: "The problems in the current health care debate became apparent early on, when single payer advocates were excluded [note, again, lack of agency] from participation."

In short, if single payer was "politically infeasible" — the catchphrase of that time — that's because Democrats set out to make it so, and succeeded.

6) Democrats Could Have Passed Single Payer in 2009 Had They Wished To Do So.

ZOMG, I forgot the quote that caused me to spit up my coffee in the first place:

[NPR:] [T]o cobble together the votes to prevail, they went for a hybrid model of public-private insurance, which in the 1990s had been a Republican-proposed compromise alternative

Np. Just no. "Cobble together the votes" is sloppy language that conflates two arguments: First, a sin of commission: The argument that Democrats needed 60 votes to pass the bill against a filibuster. This is a lie, since the filibuster rules can be changed with a majority vote, which Reid did in 2013 (but something mportant like judicial nominees, not saving American lives). Second, a sin of omission: ObamaCare was passed under reconciliation with a majority vote, so Democrats could have passed a real solution like single payer, as opposed to the best possible Republican plan, ObamaCare, which, as good neoliberals seeking a markets-rist solution, is what they did.

Conclusion

I want to thank NPR for consolidating so many liberal Democrat lies myths and shibboleths into a single article. It's handy! Clearly, however, NPR is not a "safe place" for reliable health care reporting. They're not trustworthy.

NOTES

[1] Elving omits other options like — let me just go ahead and be crass here — staying sick, or dying. It's not just about the feels. Or oozing empathy.

[2] To be fair to Coakley, she had all the demeanor of a wooden puppet on the trail was not a natural campaigner, but the national Democrats forced her to run on ObamaCare, instead of letting her run on the $60 million fine she clawed back from Goldman Sachs as Attorney General for their foreclosure practices, in a year when voters hated banks.