By Lambert Strether of Corrente.
Krugman's latest — "The Obamacare Worm Turns" — is homer-esque even by the tribal Democrat standards of "Conscience of a Liberal." But sadly, Krugman's got the wrong worm. Let me explain. I can best do this in the form of a table:
| | |
| --- | --- |
| | |
| WRONG. Contra the image in Krugman's column, the turning worm of ObamaCare is not like the Dune Sandworm (Shai' Hulud). | RIGHT. ObamaCare is like a tapeworm (Taenia solium), turning or not; notice the crown of hooks and the suckers through which the worm attaches itself to the intestine of its unhappy host. |
There's little point analyzing Krugman's column in detail; it might as well have been ripped from a West Wing blast fax as part of the latest, greatest public relations offensive.[1] Heaven only knows why Krugman picked the Dune sand worm image to accompany his column; I mean, it can't possibly be that Krugman regards Obama as a charismatic, messianic, prescient, master strategerist with the God-like powers of Paul Atreides, the hero of Dune, right? Because that would be over the top.
Anyhow, why do I say that ObamaCare is like a tapeworm, a parasite that exists for no other reason than to extract nourishment from its host? Because it is, that's why. This chart (again) tells the story: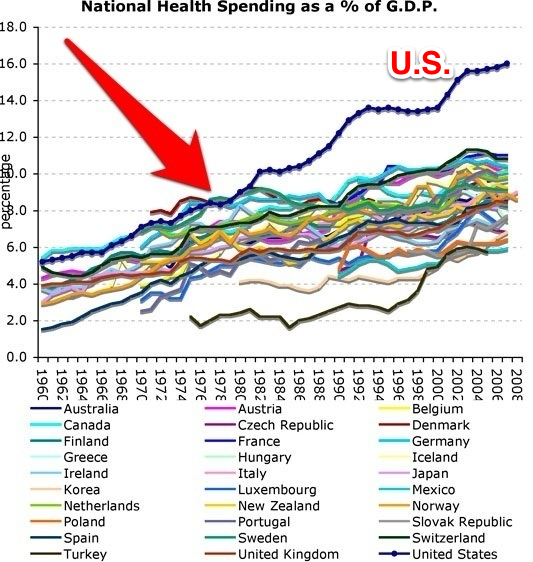 We are blessed, on this continent, with the closest thing you can get to a controlled experiment in the real world on how to do health care right, and how to do it wrong. We have two countries, of continental scale, both from the English political tradition, each with a Federal system of government, and similar economies. The two countries are similar enough culturally that their citizens can move with ease from one country to another. Canada has a single payer system; the United States has a private health insurance system. And Canada "bent the cost curve" in the mid-70s, when it adopted single payer, and the United States did not.
What the chart shows is that the our private health insurance system is purely parasitic; it is useless; it exists solely for the purpose of rental extraction from its host, the body politic. Abolish it, and you bend the cost curve to look like Canada's. If single payer had been adopted in 2009, and given a year to implement (like Medicare) the country would already have saved a trillion dollars, and several thousand people would not be dead. That is the cost, the harm, of the tapeworm that is the health insurance industry. Not science fiction; sober fact. (Because Canadians are always sober!) And ObamaCare seeks to fasten that tapeworm's hooks and suckers to our body politic's gut. Forever.
So you can understand when I hear people saying "Well, what we need to be doing is keeping our tapeworm healthy and happy, and maybe buffing it a little" I get annoyed. Here are two fine examples of how to make a tapeworm happy from yesterday's Washington Post. Ezra Klein:
The next challenge for the law, as the White House knows, will be the outreach challenge of signing up enough young-and-healthy people to balance out its risk pools.
"One of the things I've been curious about is any demographic information about who is and isn't signing up, so we can get a sense of how to best adjust and tailor our public efforts," Chris Abele [a country official from Milwaukee] asked.

No dice. "Chris, at this point we hope to add that to our statistics very soon but we don't have the breakdown by age and zip code and area," Sebelius responded. As to how to focus outreach efforts, Sebelius directed Abele to "focus on the general population in terms of likely uninsured but also young and healthy individuals."
So here we have yet another insane, sociopathic statement from the political class, and everybody who hears it nods and smiles away as if everything is perfectly normal. And it is! It is!
Did you hear what the Secretary of Health and Human Services really, actually said? She said her first priority was not health. Rather, her first priority is the actuarial soundness of the ObamaCare pool. For example, if every sick person in the United States who doesn't have insurance signed up, and nobody else did, that would be a disaster. (Not to the sick people, of course.) And why? Because the insurance companies would lose money. In other words, the tapeworm couldn't fatten itself![2] Contrast single payer's "Everybody in, nobody out" philosophy. And do note that with single payer, our body politic would be healthy and strong enough to do that, because we wouldn't be feeding the tapeworm any more, and giving all our energy to parasites. That trillion dollars freed up by single payer would have bought a lot of care!
As with any disease, the first step to a cure is admitting you're sick. It would be helpful — especially to the many thousands who will lose their lives even after ObamaCare is fully implemented — if Krugman would take that first step. 
And if you want to "clear the room" at your Thanksgiving dinner table… Try comparing ObamaCare to a tapeworm!
NOTES
[1] Though I cannot forbear to quote this howler:
And in any case, insurance with restricted networks is hardly something new to Obamacare.
Careful NC readers — many of whom are far more likely to be personally affected by ObamaCare than Krugman, which explains why they are careful — know that the insurance companies can manipulate thin networks to price people out of the market for care they need (and that's before we get to balance billing). Krugman, good Democrat that he is, throws them under the bus with an "in any case" aside, with an oh-so-casual "hardly." Single payer, with its "Everybody in, and nobody out" philosophy, is far less casual, and doesn't toss people aside.
[2] At this point, Obots tend to mutter about living "in the real world." (Next stop: "The best is the enemy of the good." Next stop: "Purist!" Next stop: "Racist!") No. Look at the chart. The real world is the rest of the world, including Canada's single payer system. In this country, we live in a bizarre neo-liberal fantasy world — a world that Obama, and his enablers and apologists (like America's favorite quasi-Nobelist) have done nothing to combat, and much to reinforce because free markets. For shame!
NOTE I'm not a tapeworm expert, so if I've given the name of the wrong species to the tapeworm image, please correct me.