One of Lambert's principles of neoliberalism, up there with "Because markets" is "Die faster". It's now playing out as US life expectancy hasn't just stalled out but has actually declined as older people are shuffling off the mortal coil at a faster rate. But in our best of all possible worlds, Bloomberg tells us that this is a Good Thing because it's helping reduce pension fund underfunding, since actuaries had assumed increasing lifespans. No joke, the headline is Americans Are Dying Younger, Saving Corporations Billions.
From Bloomberg:
Steady improvements in American life expectancy have stalled, and more Americans are dying at younger ages. But for companies straining under the burden of their pension obligations, the distressing trend could have a grim upside: If people don't end up living as long as they were projected to just a few years ago, their employers ultimately won't have to pay them as much in pension and other lifelong retirement benefits.

In 2015, the American death rate—the age-adjusted share of Americans dying—rose slightly for the first time since 1999. And over the last two years, at least 12 large companies, from Verizon to General Motors, have said recent slips in mortality improvement have led them to reduce their estimates for how much they could owe retirees by upward of a combined $9.7 billion, according to a Bloomberg analysis of company filings…

The fact that people are dying slightly younger won't cure corporate America's pension woes—but the fact that companies are taking it into account shows just how serious the shift in America's mortality trends is…

Absent a war or an epidemic, it's unusual and alarming for life expectancies in developed countries to stop improving, let alone to worsen. "Mortality is sort of the tip of the iceberg," says Laudan Aron, a demographer and senior fellow at the Urban Institute. "It really is a reflection of a lot of underlying conditions of life." The falling trajectory of American life expectancies, especially when compared to those in some other wealthy countries, should be "as urgent a national issue as any other that's on our national agenda," she says.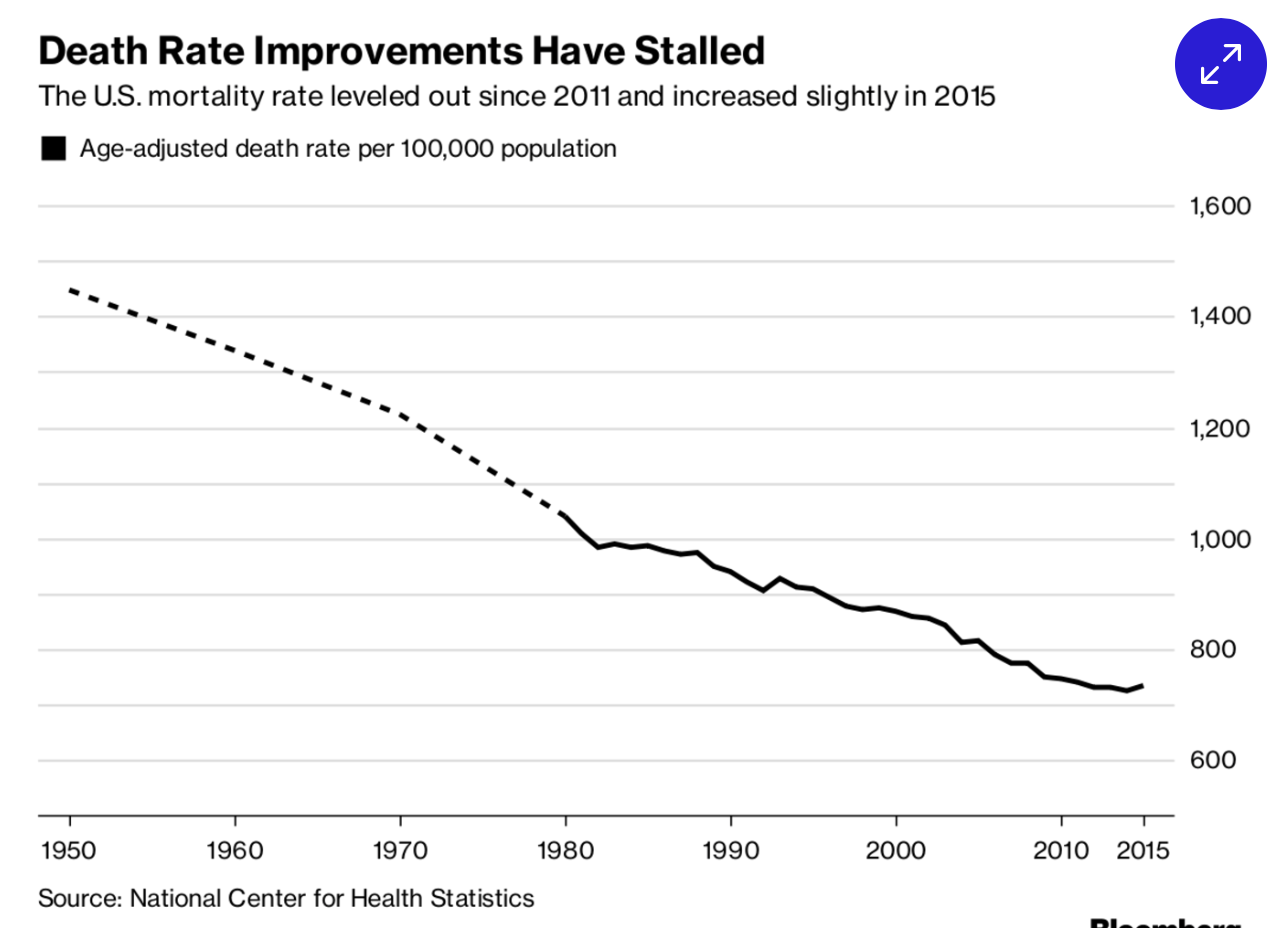 And Bloomberg had similarly only superficially cheery news about Social Security:
It's not just corporate pensions, either; the shift also affects Social Security, the government's program for retirees. The most recent data available "show continued mortality reductions that are generally smaller than those projected," according to a July report from the program's chief actuary. Longevity gains fell short of what was projected in last year's report, leading to a slight improvement in the program's financial outlook.
As you can see from the chart, the decline is recent, but the underlying causes have been grinding along for some time, like termites eating away at a foundation. Neoliberalism seeks to treat people as isolated actors operating in impersonal markets. Therefore social relations, like involvement in one's community, attachments to colleagues at work, or even one's family (caring for an aging parent, not moving to pursue a "better" job because it would be bad for the kids), are seen as secondary. If you make enough money (as in are a winner at playing the neoliberal game), these things are all supposed to take care of themselves.
Nevertheless, the crisis and the way it was resolved is a major contributor to the decay. 9.3 million families lost their homes, due either to foreclosure or forced sales, out of a total of 54 millionish homes with mortgages. This was a tsunami of financial and psychological trauma. During the "recovery," until the last few years, only the top 1% benefitted from GDP growth, leaving everyone else in aggregate worse off. The racial wealth gap is now wider than in the 1960s.
And even those who on paper might be doing OK are generally not in a very secure position unless they are exceedingly affluent. Half of Americans live paycheck to paycheck. Ever-rising medical costs and loophole-filled insurance policies mean a costly medical problem will also lead to stressed finances and potentially a bankruptcy. Job tenures are short and if it takes more than 6 months to land a new job, you may be permanently unemployed. Until 2013, most of the jobs created in the recover were part-time, and even now, the level of part-time jobs is high for an economy which the Fed keeps pretending is near full employment. And those in part-time jobs are subject to depression at a 50% higher rate than those in full-time jobs. And even those who look comfortable on current income basis are unlikely to be putting enough away for retirement.
In other words, members of the shrinking middle class often recognize that the gap between them and the precariat is not large. As we pointed out from the inception of this site, high levels of inequality in and of themselves impair health and longevity, even among the top income group. Among other reasons, highly stratified societies have weak social ties, which is a negative for health. People at each level know they would lose their supposed friends if they were to suffer a meaningful fall in income. They'd no longer be able to afford to participate in the events that were normal for their peers (for the rich, catered dinner parties, memberships in the right clubs and boards, keeping a second or third or fourth home in a posh community, participating in the mutual backscratching of political and charitable fundraising).
Even though the author of Bloomberg article on pensions had the good sense to sound alarms about the broader societal implications, another Bloomberg story tonight is bizarrely depicting older Americans as selfish, or at best inconvenient, for staying in houses they've owned a long time: Baby Boomers Who Refuse to Sell Are Dominating the Housing Market. "Refusing to sell"? Why is anyone who owns anything obligated to sell? If you believe in markets uber alles, people who have property rights are free to exercise them as they please. And if there's a dearth of new building, it's simple-minded to blame existing owners, when longer term factors are often in play. For instance, as Robert Fitch has documented, New York City has had a long-term plan of turning Manhattan into a community for the wealthy since the 1930s.
Moroever, astonishingly, the article omits the fact that in the wake of the crisis, the number of rentals has increase by 5 million, not just the famed private equity buyers but plenty of traditional small scale landlords. Experts on this trend say that rentals are attractive at home prices of $200,000 and below (that cutoff may have moved up a bit as the "recovery" has progressed). The removal of what would have normally been starter homes for the young has increased generational stress, yet the article perversely heaps all blame on older stick-in-the-muds.
Particularly in light of a dearth of safe, income-producing investments and strained market valuations, many if not most retirees have become even more frugal with spending. That means if you are in a home at a low annual cost, staying there will often be cheaper than any other option. Moving to a smaller home means transaction costs, often fix-up costs, and given how high prices are, not necessarily a reduction in burn rate (as in freeing up equity is likely to translate no lower and probably higher current expenses).
Moving into a retirement community is even more expensive. Most require $400,000 to $500,000 deposits which are either not refundable or only partially refundable upon death. The big motivation for many to move in isn't cost savings but the risk of needing more care later on (assisted living, nursing home care) and not being able to get into a "better" facility (retirement homes use the lower-cost "independent living" to subsidize the higher-care programs).
But even then, staying in one's home and having care-givers come in is almost always cheaper than being in a nursing home…provided you can find a reliable service. That usually requires oversight by family members, and if they aren't nearby, the higher-cost nursing home option is the default.
That is a long-winded way of saying that the Bloomberg posture of implicitly treating older people as selfish for not getting out of the way of young people ignores the realities of the need of retirees to minimize costs, which above all includes hanging on to housing. And that's before you get to the psychological benefit of staying in a familiar setting with established neighbors and friends.
And for those who would argue that homeowners are standing in the way of needed denser development, let me quote liberally from an important post by Steve Waldman, using the poster child of housing stress, San Francisco, as his point of departure. I strongly suggest you read the entire piece in full. Key sections:
Conventional wisdom has coalesced on the notion that it is NIMBY-ism and exclusionary zoning that are responsible for the crazy, crazy housing prices in San Francisco and other high rent cities, and so the solution to the problem must be a bloody, painful battle to overcome greedy incumbents' attachments to their homes and neighborhoods. But before we destabilize neighborhoods and displace humans in the name of housing supply, we might want to ask, will all that pain really address the problem? Sure, at the margin, more construction will yield lower prices. And I understand that, following construction boom years, rental prices have stabilized in cities like DC and Chicago.

But within developed cities, construction booms are short and finite. Chemotherapy may be worth the nausea and hairloss if it adds years to ones life, but would it be worth it for an extra week? Infill densification is socially painful and physically expensive in terms of demolition and retrofitting infrastructure. And, yes, buying off the evil NIMBY's and the permitting authorities who serve them adds to those costs. But how many examples are there of cities that have grown their housing stock in place at anything like the rate that would be required to meet the burgeoning demand in San Francisco or New York? Before we wage war on ourselves, maybe we should inquire whether victory is plausibly achievable. And, if it isn't, maybe we should come up with a different plan?…

. To people who characterize homeowners' informal sovereignty over their neighborhoods as a subsidy to the "upper middle class" at the expense of the "economically vulnerable", I'd ask a few simple questions.

In a country where the homeownership rate is more than 63%, is it right to characterize homeowners broadly, even in San Francisco, as "upper-middle class"? Many homeowners have lived in their homes for years, and many new homeowners are mortgaged to the hilt.
Given that even an ahistorical, sustained trebling of unit growth would probably only stabilize, not reduce, the real price of housing in San Francisco, is it fair to characterize the people who would be helped by increased space for new residents as the "economically vulnerable"?
And given that, for perfectly understandable reasons, homeowners and residents resist fast-paced densification of their neighborhoods, which homeowners and residents would most likely be forced to tolerate changes they dislike or that threaten the value of properties? San Francisco has its share of stunningly beautiful neighborhoods affordable only to plutocrats. Will we put high-rises in those neighborhoods? Or, in the anodyne language of economists for every bad thing, will it be the economically vulnerable who must "adjust"?

Is Tyler Cowen right, then? "Basically SF is ****ed?" No. San Francisco could be just fine. The thing about San Francisco is that while greenfields have been exhausted in the city, the San Francisco Bay Area is largely undeveloped. We are always arguing over San Francisco, or Palo Alto (ick). Outside of the 47 square miles of San Francisco proper are almost 3200 square miles in San Mateo, Santa Clara, Alameda, and Contra Costa counties. (I'll leave out the hoity-toity North Bay counties — Marin, Sonoma, Napa — but if it's Latin-America-style land reform you want, the vines there are ripe for revolution!) Nobody wants new suburban sprawl, thank goodness. But dense development is not sprawl, even when it is greenfield development. When I argue that Singapore is an example we look should look to, people think I'm trying to make some left-wing point about public housing. I'm not. I don't actually care very much about that. What excites me about Singapore is this:

t's silly to characterize what Singapore does as "basically greenfield suburban growth". Singapore's new towns are denser than any US city, and nicer than most of them. They are designed for their density, not retrofit. What distinguishes Singapore is a "can do", dirigiste approach to developing new living space, and a remarkable competence at making density green and livable. Singapore is an exuberant site of architectural experimentation, in both private and public building projects. Singapore's "new towns" can house 100,000 people in less than 5 square miles. In the San Francisco Bay Area, there is plenty of space for Singapore-style new towns. Even Back East, room could be found for these compact conurbations….

But it is in the San Francisco Bay Area, with its dreadful, painful housing situation, and its science fiction tycoons (several of whom individually could provide the necessary finance) where a full-scale, ecotechnological US microcity should really be attempted.
Back to the present post. Now some may point out that Manhattan has had an apartment construction boomlet and rentals have fallen to a meaningful degree. But even this burst of building is expected to take pressure off rents only till 2020, meaning even the addition of new units is merely providing some relief in a long-term trend of price increases.
Others may argue against new building for ecological reasons, although the tradeoff is that denser living is way more energy efficient, particularly if you incorporate decent public transportation into the plan.
But the bigger point is that many of the problems we face are being defined in terms of symptoms as opposed to root causes. Until we can properly define the real drivers, we will be putting band-aids on gunshot wounds.