This is Naked Capitalism fundraising week. 903 donors have already invested in our efforts to combat corruption and predatory conduct, particularly in the financial realm. Please join us and participate via our donation page, which shows how to give via check, credit card, debit card, or PayPal. Read about why we're doing this fundraiser, what we've accomplished in the last year and our current goal, funding our guest bloggers.
By Lambert Strether of Corrente.
Trade
"After a second bilateral meeting on KORUS on Wednesday, the United States and South Korea appear to finally be on the same page when it comes to their five-year-old trade deal: It's time to amend it. A South Korean government statement released Wednesday evening said the two sides reached a common understanding on the need to reopen the deal to increase the benefits for both countries" [Politico]. "South Korea had been resistant to Lighthizer's attempts to sit down and negotiate, telling reporters after the first strategic meeting in August that Seoul would 'not agree to the unilateral proposal' to amend the deal until they first examined the cause of the trade imbalance. The change in tune comes after Trump first threatened to withdraw from the agreement and later said the U.S. would 'try and straighten out' the deal and 'make it fair for everybody.'"
Politics
New Cold War
"The Senate intelligence committee has said it has confidence in an US agency finding earlier this year that Russia intervened in the US presidential election in an effort to skew the vote in Donald Trump's favour" [Guardian]. More:

"There is consensus among members and staff that we trust the conclusions of the ICA," Burr said. It was a significant statement from a senior Republican, as the president has dismissed accounts of Russian meddling in the election as "a hoax".

"The issue of collusion is still open. We continue to investigate both intelligence and witnesses," Burr said. But he added that the 2016 election demonstrated "the Russian intelligence service is determined, clever and I recommend every campaign and every elected official take this seriously".

So the "17 intelligence agencies except really four" thingie is now the agreed narrative? Please kill me now.

"Senate investigators: No conclusion about collusion with Russia in 2016" [Politico]. Well, that was a foregone conclusion when "interference" mutated into "meddling." And I'm not seeing frothing and stamping from the usual suspects, so the whole Russian hacking thing is starting to look like a ginormous nothingburger, although not without benefit in terms of clicks for the media, walking around money for talking heads and security mavens, and smearing and suppressing independent voices. So it's all good.

"The leaders of the Senate Intelligence Committee delivered a stark warning on Wednesday to political candidates: Expect Russian operatives to remain active and determined to again try to in elections next month and next year" [New York Times]. Let the outside agitator gaslighting continue! Anyhoo, if $100K in Russian Facebook efforts neutralized and defeated the billions of the entire donor class, that's really good news. A budget like that puts the Presidency within reach of the DSA, for pity's sake. Heck, a few more fundraisers, and Yves could run!

"Does The Media Cover Trump Too Much? Too Harshly? Too Narrowly?" [FiveThirtyEight]. "natesilver: On Mueller/Russia, there certainly is a lot of news, but it also feels like left-leaning outlets spend a lot of time "connecting the dots" when there isn't much news." When you've lost Nate Silver…
Trump Transition
From the Department of Reaction Was Not Positive

My guess is Trump is of distinctly above-average intelligence and not at all a moron. #confessyourunpopularopinion

— Matthew Yglesias (@mattyglesias) October 4, 2017

Reacts including armchair diagnosis that Trump was senile (from the Brockists), and so forth. FWIW: I went to see Trump in Bangor, and heard him speak for over an hour, and altnough I'm not a medical doctor, I didn't see signs of senility, and whatever he was, he clearly wasn't a moron. And FWIW: Liberal Democrats made exactly the same claims about Eisenhower, I am told. Today, the claim that Trump is senile is the weaponized, high-octane version of "Republicans are stupid" which the credentialed classes that (see Thomas Frank) control the Democrat Party have been deploying to such good effect that they've lost 1000 seats in state legislatures, most governorships, and all three branches of government, not to mention having no bench. So who's stupid? I remember very well, back in the days when I was a Democrat blogger, dog-piling Bush on a daily basis about how stupid he was. And all that snark was so effective that Bush won a second term. Why do Democrats keep doing what doesn't work? Some of them are certainly paid to lose, but not all of them. So why? Why?
Realignment and Legitimacy
"Democrats have made a lot of hay out of special election upsets this year in deep red legislative districts in New Hampshire and Oklahoma. But, those races have featured infinitesimal turnouts. For example, on Tuesday, Democrats flipped a state House district east of Manchester, New Hampshire, that gave Trump 59 percent of the vote last fall. But only 1,804 voters cast ballots in a district that cast 10,023 ballots last November" [Cook Political Report]. "As those elections show, Democratic voters are hyper-motivated right now. But their chances fall as turnout rises. On June 20, Republican Karen Handel defeated Democrat Jon Ossoff in Georgia's 6th CD after a $50 million contest that generated 56 percent turnout. The very same day, Democrat Archie Parnell came within three points of a shocking upset in a South Carolina race that attracted a fraction of the money and generated 19 percent turnout."

"The GOP is on its deathbed" [Globe and Mail]. "We should recall that few saw the demise of the old Canadian Tories coming. Only nine years before their collapse in 1993, that party won 211 seats, the most in Canadian history. But populist and nationalist movements at the provincial level took hold. The populism fomented in the West, chiefly Alberta, under the Reform Party banner while nationalism soared in the province of Quebec with the Bloc Quebecois. Those insurgent forces captured 52 and 54 seats respectively in the 1993 election while the Progressive Conservatives fell a staggering 209 seats short of their 1984 tally." A Bannon-organized, Mercer-funded new party is envisaged.

"The Republican Party Isn't Cracking Up. It's Getting Even Stronger." [Jeet Here, The New Republic]. "[L]ike Samuel Beckett's Godot, the Republican crack-up is always due to arrive, but never does. Not only does the party stay together, it flourishes. The Tea Party helped the Republicans capture the House of Representatives. GOP extremism didn't stop the party from winning the Senate in 2014. And Trump ran the most openly racist national campaign in decades, but won a commanding electoral college victory. If the Republican Party is on the verge of a crack-up, it's a very strange one indeed that sees them gaining a stranglehold on all three branches of government." Yeah, but have you seen the other guys? Concluding: "What's striking is that this so-called war between the establishment and the populists always ends in the same way: with the establishment absorbing elements of the populist agenda to win elections. Seen in this light, these so-called insurgencies or civil wars never really hurt the Republican Party."

* * *

"Conservative Democrats Embrace Parts of GOP Tax Plan" [Bloomberg]. "The Blue Dog coalition, which has 18 members in the House, said it's open to lowering business taxes, the first significant sign of a crack in Democratic opposition to the GOP approach. Their position was included in a plan released Wednesday outlining the group's stance on taxes." Apparently, the Blue Dogs don't think Trump is Hitler. Remember when everybody did? Good times.

"Blue Dogs Urge Ryan To Ignore Pelosi– Negotiate With Them Instead" [Down with Tyranny]. "Jim Costa (Blue Dog-CA), Henry Cuellar (Blue Dog-TX) and Dan Lipinski (Blue Dog-IL) are three of the most right-wing Democrats in Congress. They are the co-chairs of the 18-member Blue Dog Coalition… Are they in red districts where they have to vote like a Republican to be reelected? Not at all. Hillary beat Trump in all 3 of their districts — very blue districts. The real tragedy is that the DCCC is now openly and publicly admitting that they are working with the Blue Dog caucus to recruit even more right-wing fake Democrats from the Republican wing of the party to run for Congress disguised as actual Democrats." It will be telling if Our Revolution does not challenge any of them.

* * *

"Two years ago, no state had AVR. Today, 1 in 4 Americans live in a state that has approved automatic voter registration" [Governing]. "The idea is sometimes assumed to be good for Democrats, in the same way that many reforms to broaden the electorate, such as early voting and same-day voter registration, are presumed to be…. But AVR has deep support from good-government groups, and its potential partisan impacts have been uncertain enough that Republican states have also been among those that have adopted it. So could there be a largely unnoticed upside for Republicans with AVR? Possibly. In only two AVR jurisdictions — California and the District of Columbia — do unregistered but eligible African-Americans, Hispanics and Asian-Americans collectively outnumber unregistered but eligible non-Hispanic whites, according to Census data for the 2016 electorate. In the other states, unregistered whites outnumber unregistered minorities: Alaska, Illinois, Oregon, Rhode Island, Vermont and West Virginia."

"Michigan's largest county voted overwhelmingly for Democratic candidate Hillary Clinton, but officials couldn't reconcile vote totals for 610 of 1,680 precincts during a countywide canvass of vote results late last month. Most of those are in heavily Democratic Detroit, where the number of ballots in precinct poll books did not match those of voting machine printout reports in 59 percent of precincts, 392 of 662" [Detroit News]. "According to state law, precincts whose poll books don't match with ballots can't be recounted. If that happens, original election results stand. [Daniel Baxter, elections director for the city of Detroit] blamed the discrepancies on the city's decade-old voting machines, saying 87 optical scanners broke on Election Day." Hand-marked paper ballots, hand-counted in public. About as cheap as you can get.
Stats Watch
Challenger Job-Cut Report, September 2017: "Layoff announcements remain low and stable" [Econoday]. "Challenger also tracks hiring announcements and here the news is not positive. Hiring intentions in September, which largely reflect holiday plans in the retail sector, fell to 422,726 vs 487,075 in September last year. The decline underscores retail's move toward e-commerce and hints at payroll trouble for the fourth quarter's employment reports."
International Trade, August 2017: "August trade data are positive for third-quarter GDP, at a deficit of $42.4 billion which is right at expectations and includes gains for exports and declines for imports" [Econoday]. "The export side shows gains for consumer goods and capital goods while the import side shows declines for industrial supplies and capital goods." But: "The data in this series wobbles and the 3 month rolling averages are the best way to look at this series. The 3 month averages are appear flat (no change in rate of growth)" [Econintersect]. "The data is much worse if one considers inflation is grabbing hold in exports and imports – and the numbers are not inflation adjusted."
Jobless Claims, week of September 30, 2017: "Hurricane impacts appear to be fading as initial jobless claims fell" [Econoday]. "[T]he message of this report is positive, suggesting that the labor-market impact from this season's heavy run of hurricanes will prove far more limited than Katrina's strike in 2005." But: "These remain impossibly low historically, particularly on a population adjusted basis. To me this further confirms my suspicions that the reason for the lower claims is that they've been made a lot harder to get than in prior cycles. Consequently, markets are getting a 'false signal' as to underlying employment conditions, and, more importantly, the 'automatic fiscal stabilizer' effect has been largely neutralized, which means a return to growth will require that much larger of a pro active fiscal adjustment" [Mosler Economics].
Factory Orders, August 2017: "Increasing strength in capital goods is the good news in today's factory orders report where a headline 1.2 percent gain is 2 tenths above Econoday's consensus" [Econoday]. "The strength in ex-transportation and especially capital goods are outstanding positives and help offset what has been a very disappointing run in the manufacturing component of industrial production, a separate report released by the Federal Reserve, where August fell 0.3 percent and July was unchanged. Today's factory orders report closes the book on what was, despite Hurricane Harvey, a mostly strong August for manufacturing." And but: "According to the seasonally adjusted data, it was civilian aircraft that caused the improvement. The data in this series is noisy so I would rely on the unadjusted 3 month rolling averages which modestly weakened" (but note above that transportation is backed out) [Econintersect]. "Backlog of orders continues in expansion year-over-year."
Commodities: "The U.S. is becoming an export powerhouse in an unlikely arena. U.S. crude oil exports surged to 1.984 million barrels a day last week…, busting by nearly 500,000 barrels a day a record that had been set only the week before. The crude export rate is approaching a level that is almost as much as Kuwait sends abroad and the latest sign that the U.S. is remaking the global oil distribution map as it resets its own domestic energy production" [Wall Street Journal]. "The U.S. is still an oil importer. But net imports of crude fell to a record low last week, and analysts at Citigroup said almost all of the imported crude last week was from Canada, writing that the data was 'a harbinger of a more sustainable trend to come.' The U.S. is gaining sales because the crude is cheaper than oil from other markets, and the revenue may help draw investment for even more exporting capacity."
Retail: "How the Factoring Industry Has Adapted to a Changing Retail World" [California Apparel News]. "Factors are getting more sophisticated with technology to ease the process of applying for money, checking on retailers' creditworthiness and collecting funds. Inventory financing, trade financing, term loans and acquisition financing have become more common. While there are fewer bricks-and-mortar stores out there these days, there is still a healthy demand for clothing sold in various venues."
Retail: "Starbucks actually benefits from the proliferation of coffee stores because category growth raises awareness of specialty coffee shops" [247 Wall Street]. The article puts Dunkin' Donuts, Starbucks, and McDonald's in the same category, which seems right. I think Dunkin' Donuts serves better coffee than Starbucks (it's not burnt) but McDonald's serves worse. And everybody has WiFi these days. So I guess it's the horrid caramel macchiatos that keep Starbucks in business.
Shipping: "World air cargo traffic rose by 12.1 percent in August over the year-earlier period, the fifth month out of the last six that demand has grown at double-digit levels, the International Air Transport Association (IATA), the leading world airline group, said today" [DC Velocity].
Shipping: "The global orderbook: fools rushing in?" [Splash 247]. It seems that Splash 247 has taken out a Communist Party card:
The United States, Japan, and the European Union are still plodding along economically. Income inequality keeps increasing. There is growth, but nothing for the majority of middle-income and low-income workers who are the real spenders; hence, the engine of a consumer driven economy.

Although there are some indications of central banks increasing interest rates, they do not appear to be aiming at normal levels within the next couple of years; in fact, rates will not achieve historically average levels in the next few years. National governments still think the solution is providing cheap money to Wall Street, The City, Frankfurt, et cetera as a way to stimulate economies. The conservative governments do not want to spend on massive infrastructure programs which would create real jobs. Unfortunately

Often we hear, "Do the math." It would be better to forget the mathematics, do the simple arithmetic! If you are reaching for the orderbook, think about two years or so down the line when the new ship is delivered. What if demand has not gone up and the dry bulk index has dropped to the average of the last five years. Can you offset your increased capacity by scrapping at the average scrap price for the last few years? If this little mental exercise doesn't pan out, close that cheque book and put it back in the desk. Bankruptcy courts are filled with petitioners who were overly optimistic.
The Bezzle: "Amazon.com Inc. shares saw a nice bump on Thursday on reports that it is experimenting with its own delivery service. This is not good news for the likes of FedEx Corp. and United Parcel Service Inc. It seems that Amazon has found another industry to terrorize, and even though the drop seen at FedEx and UPS might appear to be marginal, it could hurt if Amazon can get its delivery service off the ground" [247 Wall Street]. Mr. Market and I haven't the slightest affinity, but if Amazon's going into the grocery and trucking business, why is it valued like a unicorn? And why not spin off AWS and unlock all that value for shareholders? Isn't that what you're supposed to do with conglomerates?
Climate Risk: "No forecasts of investor flight from insurance-linked securities" [Business Insurance]. "There has been some speculation among observers within the insurance and reinsurance sectors that the insurance-linked securities market and wider alternative capital markets might suffer a test of confidence in the wake of catastrophe losses and see capital flee, but sources indicate otherwise. Will investors flee if the catastrophe bond market takes a hit? "I don't think that's the case," said Brad Adderley, a Hamilton, Bermuda-based corporate partner at offshore law firm Appleby. One of the leading ratings agencies agrees."
Political Risk: "Who are Puerto Rico's creditors?" [MarketWatch]. "A mix of hedge funds, mutual funds and retail investors, many of whom are Puerto Rican residents, are holders. The hedge-fund groups, most vocally, have been ensnared in tense negotiations with Puerto Rican officials and the U.S. government, which designed an aid package, known as Promesa, or Puerto Rico Oversight, Management and Economic Stability act, to help facilitate a way out of the island's dilemma. Promesa offers the territory a largely out-of-court process, known as Title VI, that focuses on financial debt and 'relies on a collective action mechanism to bind dissenting creditors to the agreement of the debtor and a supermajority of its creditors to restructure its debt.'"
Five Horsemen: "Laggard Amazon catches a break as stocks' slow-motion meltup rolls on toward its Wile E Coyote moment" [Hat tip, Jim Haygood].
Today's Fear & Greed Index: 94 Extreme Greed (previous close: 91, Extreme Greed) [CNN]. One week ago: 79 (Extreme Greed). (0 is Extreme Fear; 100 is Extreme Greed). Last updated Oct 5 at 12:30pm.
Our Famously Free Press
"Los Angeles Times Newsroom, Challenging Tronc, Goes Public With Union Push" [Los Angeles Times]. "After months of organizing, the committee behind the push for a union drafted a one-page letter laying out its reasoning and left printouts on employees' desks Tuesday night….. The letter also says "a majority of the newsroom" had signed union cards supporting representation by the NewsGuild, which represents 25,000 reporters, editors, photojournalists and other media workers at news organizations across the United States."
Here's the letter:
The Los Angeles Times is unionizing. A note left on everyone's desk this morning: pic.twitter.com/5iFqr7ONOK

— Matt Pearce (@mattdpearce) October 4, 2017
"Here Are All The Hoaxes Being Spread About The Las Vegas Shooting" [Buzzfeed].
"Covering President Trump in a Polarized Media Environment" [Pew Research]. "Seven-in-ten stories from outlets with a left-leaning audience and 62% from those with a more mixed audience included at least two of nine types of sources evaluated, such as a member of the administration, a member of Congress, or an outside expert. That was true, however, of less than half the stories (44%) from outlets with a right-leaning audience." But if the (so-called) left-leaning sources are constantly dog-piling, do they really count as separate?
Class Warfare
"These 6 charts explain why some Americans have gotten much richer than others" [MarketWatch] (original). "'Federal policies fail to promote asset building by lower-income families," the [Urban Institute] report concluded. 'It spends over $400 billion to support asset development, but those subsidies primarily benefited higher-income families.' About two-thirds of homeownership tax subsidies and retirement subsidies go to the top 20% of taxpayers, as measured by income. The bottom 20% however, receives less than 1% of these subsidies."
"Looking busy is now a status symbol at work, experts say. "It's the new badge of honor," says executive coach Marc Dorio. "If you're not busy you're not seen as being important." Call to Career founder Cheryl Palmer adds that "in many workplaces there is a push to appear busy all the time" with the issue being "not so much how much you actually produce" but "that you have many irons in the fire — or at least appear to." And sometimes, she adds, that kind of behavior gets "rewarded by promotions." Or at the very least gets rewarded by someone avoiding a pink slip, adds New York City-based success strategist, Carlota Zimmerman" [Moneyish].
News of the Wired
"Doing aerobic activities, no matter how often or intense, contribute to mental wellness and provide protection against depression, according to the findings of a recently published study by the American Journal of Psychiatry" [247 Wall Street] (original).
"Why We'll Have Evidence of Aliens—If They Exist—By 2035" [Nautil.us]. "[T]he rapid growth in digital processing means that far larger swaths of the radio dial can be examined at one go and—in the case of the Allen array—many star systems can be checked out simultaneously. The array now examines three stars at once, but additional computer power could boost that to more than 100. Within two decades, SETI experiments will be able to complete a reconnaissance of 1 million star systems, which is hundreds of times more than have been carefully examined so far. SETI practitioners from Frank Drake to Carl Sagan have estimated that the galaxy currently houses somewhere between 10,000 and a few million broadcasting societies. If these estimates are right, then examining 1 million star systems could well lead to a discovery. So, if the premise of SETI has merit, we should find a broadcast from E.T. within a generation."
"Steemit, a nascent social media platform, is trying to change all that by rewarding its users with cold, hard cash in the form of a cryptocurrency. Everything that you do on Steemit—every post, every comment, and every like—translates to a fraction of a digital currency called Steem. Over time, as Steem accumulates, it can be cashed out for normal currency. (Or held, if you think Steem is headed for a bright future.)" [Steemit]. "Today, Steem's market capitalization has settled in the vicinity of $294 million. One Steem is worth slightly more than one United States Dollar, and the currency remains a regular presence at the edge of the top 20 most traded digital currencies." Here's the site; you need a phone that accepts SMS to join.
"Wayback Machine Playback… now with Timestamps!" [Internet Archive].
* * *
Readers, feel free to contact me at lambert [UNDERSCORE] strether [DOT] corrente [AT] yahoo [DOT] com, with (a) links, and even better (b) sources I should curate regularly, (c) how to send me a check if you are allergic to PayPal, and (d) to find out how to send me images of plants. Vegetables are fine! Fungi are deemed to be honorary plants! If you want your handle to appear as a credit, please put it in the subject line. Otherwise, I will anonymize by using your initials. See the previous Water Cooler (with plant) here. Today's plant (Chris):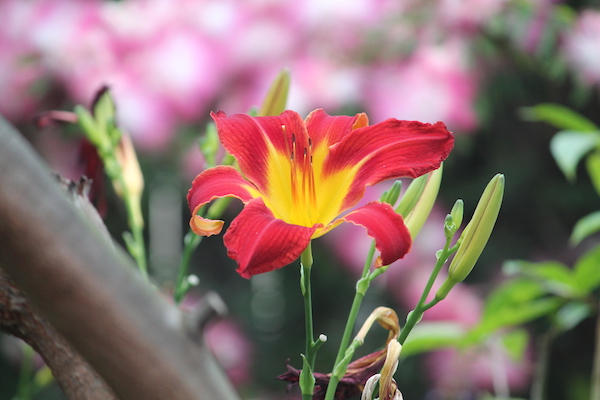 Chris writes: "A beautiful lily with the pink in the background too."
Readers, I'm running a little short of pictures of plants (that aren't my own).