Dear patient readers,
We had a very good meetup in Boston. One of the most striking things I heard from a participant who'd seen this first hand: the corridors of hospitals are prowled by the representatives of for-profit nursing homes and rehab facilities who pitch the families of patients about to be discharged. The hospitals apparently do noting to stop this. The story I was told was of a case where the family was persuaded to look at a $10,000 a month assisted living facility which was obviously sub-par.
Have any other readers come across or heard of this practice? If so, please pipe up in comments.
Separately, I had to go to the oral surgeon last week :-(. I am exhausted, for reasons that are not obvious to me.
Kea or Kākāriki? Bird of the Year contest gets New Zealand in a flap Guardian
Inside the Minds of Very Good Dogs New Yorker (furzy)
Edible Innovations: This Hive Lets You Grow Insects at Home Makezine (resilc)
Can We Still Rely On Science Done By Sexual Harassers? Wired (Dr. Kevin)
Laptops could be banned from checked bags on planes due to fire risk CNN
China bans foreign waste – but what will happen to the world's recycling? PhysOrg. Used aper is a major US export to China, but I don't know whether that is "mixed paper" or kraft paper (think paper bags and boxes), which is high value because it is made from long-fiber pulp.
Where North Korean rockets meet US antimissile shields Asia Times
Brexit
Three-quarters of the public say Brexit is going badly, poll reveals Independent. You almost never see percentages this high in polls. And 12% said "I don't know".

The EU is treating Britain like a naughty child: it wants to humiliate us into a bad deal Telegraph. A window into the Brexit booster alternative reality.

May's Brexit weakness focuses EU minds Financial Times

1/ So what did the 27 EU leaders say about Brexit in their summit room? And what does it mean for talks? A thread

— Alex Barker (@alexebarker) October 20, 2017
Catalonia
Catalonia vote: Spain expected to impose direct rule BBC

200,000 protest jailing of Catalonian nationalist leaders in Barcelona WSWS. From a couple of days ago, not widely reported.

The roots of Catalonia's differences with the rest of Spain PRI
Pablo Neruda 'did not die of cancer', say experts BBC
Trudeau on Quebec face-cover ban: not our business to tell women what to wear Guardian
New Cold War
Imperial Collapse Watch
At least 46 attacks in area of Niger where U.S. troops killed: U.N. Reuters (furzy)

What Does the Latest F-35 Data Breach Teach Us About Defense Industrial Espionage? The Diplomat. Resilc: "Maybe it is a fake plane used solely for disinformation. Can't be a real plane it's so bad."
Big Brother is Watching You Watch
Security Flaws in Children's Smart Watches Bruce Schneier

Body Cam Study Shows No Effect On Police Use Of Force Or Citizen Complaints NPR
Trump Transition
5 things Trump did this week while you weren't looking Politico

GOP Gears Up for Tax-Overhaul Push Wall Street Journal

Financial industry worried GOP tax plan will change 401(k)s The Hill. 401(k)s were not designed to be a primary retirement vehicle but to supplement pension plans. But these high-fees schemes are better than nothing, particularly with an employer match. This is not going to go over well with lots of corporate middle managers and retail brokers, both of which I would expect to lean Republican.

John Kelly and the Language of the Military Coup Masha Gessen, New Yorker (furzy)

White House: Kelly 'Absolutely' Stands By False Claims About Wilson Daily Beast (furzy)
Feud: Elena and Neil: Why rumors of a Gorsuch–Kagan clash at the Supreme Court are such a bombshell. Slate
Obamacare
A Compromise on Obamacare Is Still Practically Impossible Vice
ACLU slams Houston suburb for withholding hurricane relief to anyone boycotting Israel Haaretz (Dr. Kevin)
A Cub Scout pressed a lawmaker about gun control. Then his den kicked him out, his mother said. Washington Post (Dr. Kevin)
Gov removes KY TV Reporter with police FaceBook (Chris Tobe)
Hillary Channels Nora Desond
Clinton, Assange and the War on Truth Counterpunch
Some Famously Efficient Japanese Manufacturers Are Now Lying to Compete Bloomberg (resilc)
Trump is About to Own This Credit Cycle Bloomberg (resilc)
Ikea Dresser Reportedly Kills Eighth Child Despite Recall Fortune
Weinstein board members claim lawyers hindered sex inquiry Financial Times. Even sexier than the headline suggest, pun intended. The lawyer the board says withheld information about Weinsteins's settlements is star litigator David Boies. But this strikes me as even more of an eyepopper:
He [Weinstein] used TWC's [The Weinstein Company's] credit facility to advance himself funds against the licensing of movies that he owned personally;
TWC "never made a profit" and generated a loss of $65m in 2015.
Big or small cities: On city size and economic growth VoxEU
Incoming Data Supportive of December Rate Hike Tim Duy
Is the Fed Getting Cold Feet about the QE Unwind? Wolf Richter
Wells Fargo Fires Four Foreign-Exchange Bankers as Woes Spread to Investment Bank Wall Street Journal. This wan't just any four bankers, which suggests that, contrary to the current story, there had to be more than one client involved:
The issue that led to the firings, along with the reassignment of a senior executive, couldn't be fully determined. It involves one specific transaction with a client, who has been notified by the bank, according to a person familiar with the matter….

Within the investment bank's foreign-exchange operation, those fired, people familiar with the matter said, were Simon Fowles, recently head of foreign exchange trading; Bob Gotelli, recently head of foreign-exchange sales; Jed Guenther, recently a regional head of foreign exchange; and Michael Schaufler, chief spot dealer.
Oh, and the Office of the Controller of the Currency says Wells may need to refund as much as $80 million more than the bank had estimated for misleading sale practices with auto insurance.
Sprint, T-Mobile Deal Announcement Is Likely to Be Delayed Bloomberg. I have T-Mobile and wish this wasn't happening.
J&J Wins Reversal of $417 Million California Talc Verdict Bloomberg
Uber-SoftBank deal threatened by dispute over terms Financial Times. As we said, this deal has never looked solid. Which does not mean it may not get done, but more delay and sticking points (and new ones keep popping up) are not a good sign. And this term has a direct impact on price, which should not be so up in the air in a deal this far along. Consistent with what we have been saying:
The delays, and continuing signs of ill-will between some investors and board members, have led to growing frustrations, and brought a warning from one person close to the negotiations that the transaction could founder altogether if the wrangling drags on too much longer.
And the part that is supposed to ratify the current valuation clearly doesn't:
The new investors, which include SoftBank, Dragoneer and General Atlantic, will purchase between $1bn and $1.25bn of new preferred shares from Uber. They will pay the same price of $48.77 that buyers paid last year, which implies a valuation of Uber of $68bn. Those preferred shares will come with a high degree of investment guarantees, making them more valuable than Uber's common stock.
What Are We Doing Here? New York Review of Books. On the humanities.
Class Warfare
Antidote du jour. Tracie H: "Hmmm, my "trick or treat" basket?"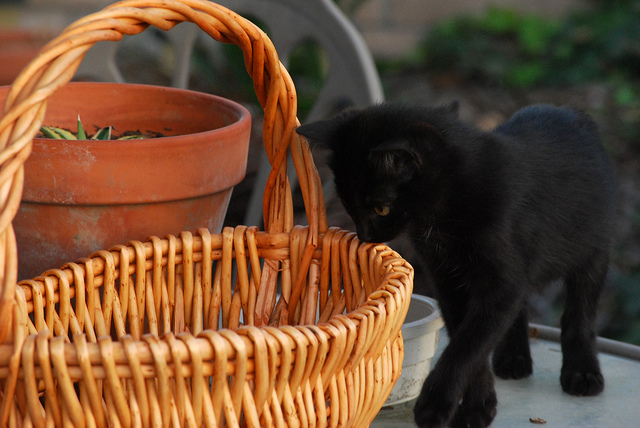 See yesterday's Links and Antidote du Jour here.
.