By Cat McShane, a journalist and filmmaker based in London, Yiannis Panagiotopoulos, a journalist in Athens and Pere Rusinol and Esperanza Escribano, journalists in Barcelona. Originally published at openDemocracy
Banks and vulture funds make money from ordinary people's distress. The only way to fight back is to outsmart them.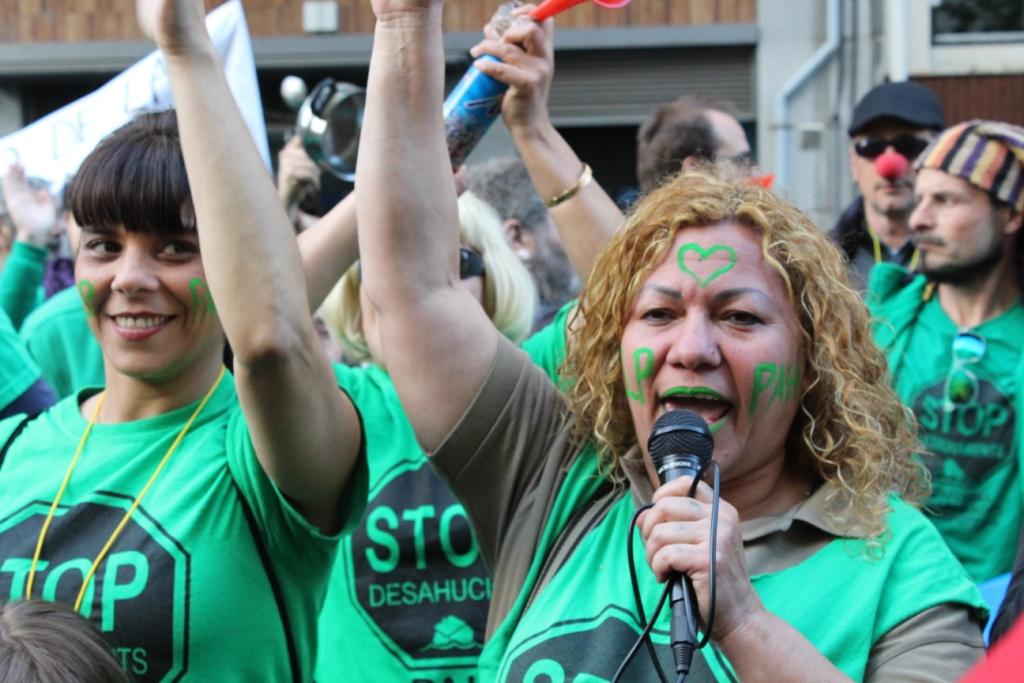 Activists from PAH in Barcelona. Credit: Esperanza Escribano. All rights reserved.
Thank you, for making the impossible, possible," a beaming Ada Colau told thousands of whooping supporters packed tight on the cobblestones of central St. James Square in Barcelona's old town. It was June 13th 2015, and she had just been sworn-in as Mayor of Barcelona.
Colau won on a wave of support for the way she had fought the housing crisis as founder of Spain's Platform for People Affected By Mortgages (PAH), an extraordinary movement that has mobilised thousands of ordinary citizens to take direct action against forced evictions and rising mortgage costs.
Its target are Wall Street giants—the so-called 'vulture funds'—that have been on a house-buying spree across Europe and the United States since the 2008 financial crash. According to the New York Times, Goldman Sachs, Cerberus Capital Management, Lone Star Funds, Blackstone Group and other US companies have bought more than €223 billion worth of troubled real estate loans in Europe in the last four years.
The profits made by these institutions from ordinary people's distress have made them the target of a backlash that has bought together homeowners, renters and housing activists across the world. Campaigners have one common fight—to protect the right to decent and affordable housing for everyone.
"Capital operates globally, as Blackstone does, and we must set up a global movement too. People have the same problems in Madrid, Dublin and New York and they face exactly the same actors," said Santi Mas de Xaxàs in an interview with us, a PAH activist and speaker for its international network.
Blackstone and the others have quickly proved themselves to be ruthless landlords. Paquita Rivas, for example, is retired and is now a PAH activist. During the recession, her daughter was forced to sell the apartment she'd bought during the boom times but for a rock bottom price, leaving her owing €55,000 to the bank. When Blackstone took over the mortgage, they came after her parent's home as payment.  "I spent day and night crying until a friend put me in contact with PAH. We were very afraid, but ultimately we decide to fight and we won. Yes, we can!"
The PAH has sought to create alliances with groups like Right to the City in the USA, a network of grassroots organisations from some of the poorest communities in America. Blackstone began buying up the homes that were vacated by people no longer able to pay their mortgages in the aftermath of the 2008 crash cheaply and in volume—up to a 1,000 homes a day—and then rented them back to the newly dispossessed. Almost overnight, Blackstone became the biggest landlord in the United States.
Tony Romano is Right to the City's executive director. He told us that organising tenants is tough because Blackstone's purchases were spread out across the country, but a visit to Spain proved transformative:
We went to learn about the movement and their model of organisation. There are few examples of activist led movements that have reached scale. We made a partnership, and put that into a manifesto of seven international demands against Blackstone.
This partnership turned into the first ever day of action against Blackstone in New York, Dublin and London, along with a drive to jam their phone lines and to speak to or email Blackstone CEO Stephen Schwarzman with this message:
Mr. Schwarzman, I stand with Blackstone tenants and community organizations around the world. Stop buying up our foreclosed homes and public housing, stop all your unjust evictions and make your rents affordable. I support this important struggle and will not let up until you meet the tenants' demands. Homes are NOT a commodity!
Since then, Right to the City has acted more aggressively in mobilising tenants across the US. "We're moving into places that are not organised and starting from scratch," Romano told us.
In September 2017 it held its first nationwide 'Renters Week of Action,' with groups across the country holding marches, staging sit-ins and confronting landlord lobbying associations with demands that included rent controls, the prevention of unjust eviction and the right of tenants to bargain collectively with landlords without fear of reprisals.
Romano and his army of grassroots activists can expect no support from the current US administration. Blackstone founder Schwarzman is a close ally of President Trump and donated $5.5 million to the Republicans in the 2016 election. In January 2017, Fannie Mae (the US government agency responsible for expanding homeownership) announced that it would underwrite Invitation Homes, the company Blackstone set up to purchase all of its new rental housing, so if Invitation goes bust, American taxpayers will bail it out.
Romano is honest about his chances: "We've won some victories but the reality is that our power to influence is limited." Since the beginning of the last recession a decade ago, the number of poor families in the United States struggling to pay their monthly rents or living in "deplorable accommodations" has grown by 41 percent.
Across the Atlantic in Ireland, vulture funds now own 48,199 mortgage accounts, with one in ten homeowners behind with their repayments. Byron Jenkins is one of them, though he's an unlikely hero—a construction boss who went bankrupt after the 2008 crash and faced eviction in 2013. He and his wife set up a non-profit organization called 'The Hub' above a shop in Dublin to help others like them by advocating for people to stay in their homes and fight proceedings brought against them by banks or vulture funds.
The Hub gives people the tools to represent themselves at court and has also learned from the PAH. "We were watching other countries experience the same as us but it didn't sink in what we could learn," Byron told us, "we wanted to know how to bring a country together."
In Ireland, he added, pride has prevented people from talking about their financial problems, often suffering in silence until eviction day looms. James and Kathleen, for example (not their real names) are being chased by a vulture fund for  €150,000 despite receiving an original loan of only €55,000, the total escalating through interest and fees. Negotiating through official routes hasn't worked.
"It's the mental strain of what those people do to you," Kathleen sobbed down the phone, "they will chase you until the day you die." We heard this refrain many times. This year, legal actions against borrowers in Ireland have rocketed: Goldman Sachs, Cerberus and CarVal (another US fund) have already pursued 370 prosecutions compared to 160 in 2016.
One of the first things The Hub did after its visit to Barcelona was to explore ways to help people feel less intimidated by a courtroom setting. They wrote a free guide and instigated role-plays of court scenarios for those representing themselves. Kathleen told me a visit to Byron was the first piece of hope she had of keeping the family home. Today they have a legal team and are fighting in the high court.
Renters too have found that the old ways of negotiating don't wash in post-crisis Ireland, which has seen the private rental sector (PRS) become the target of large corporate landlords backed by international finance. "The PRS in Dublin is a home run," said a US investor in a recent report issued by accountancy firm PWC; equity is flowing into Europe "from all corners of the globe and all types of investors… residential is on the radar and is undervalued because it gives long-term, stable returns." As a consequence of this growing power, rents have steadily risen, with Dubliners this year spending an average of 55 per cent of their income on rent.
When we met one of them, Mariana, in a busy cafe in Dublin, she was still reeling from losing her home after her apartment block was bought by a corporate landlord called IRES. Set up by a huge Canadian firm called CAPREIT to buy homes in Ireland in 2014, it's now the country's biggest private landlord. IRES raised her rent by nearly €300 a month and acted aggressively to remove her when she attempted to negotiate.
"Their attitude was, we don't care about you, you're not a person, you're just a number," she told us. IRES argued that the rent increase was 'in line with the local market,' but the reality was that the company had distorted the local market through buying so many apartments and raising the rent every time someone moved out. The new rent would have taken up over half of her pre-tax pay packet.
IRES forced Mariana to give three months notice at the new level of rent and took that extra money out of her deposit. She told us that she was too scared to fight them any longer. In the last year IRES has made 43 applications to the courts to evict people, mainly those refusing to pay the higher rents. These tactics are effective: in 2016, IRES' profits rose by over half to €47 million.
At the time we talked Mariana was sofa-surfing with friends' until she could raise the money for a deposit, her belongings stored in a basement at work. "I know I'll get through it but it's embarrassing. You feel like you've failed at something but you've done nothing wrong."
The Irish Housing Network (IHN) is a loose affiliation of activist groups that also went to Barcelona last year, where they heard about PAH's "Obra Social"—direct  action to help evicted people occupy empty apartments owned by bailed-out Spanish banks.
IHN's most notable success is "Home Sweet Home," the occupation of an empty former government building called Apollo House in Dublin by 90 people without homes. When the Irish government threatened HSH with eviction they organised a rally to defend themselves.  Apollo House was only returned to the government once its demand for every occupier to be properly housed had been met.
Activists internationally will need to work hard over the coming years to defend the right to housing, since Wall Street has made clear that its appetite for real estate is undimmed. Over the last year, both Cerberus and Blackstone have made major incursions into the UK with the purchase of mortgages held by failed banks like Northern Rock and Bradford & Bingley, with further sales pencilled in for 2018. In the United States, Blackstone has expanded into multi-family developments like Stuyvesant and Kip Bay.
For most people, the economy has never recovered from the crash of 2008. Others are too young to have known a more financially secure way of life.  Meanwhile, some of the richest people in the world like Schwarzman continue to profit handsomely. Now they want to make more money from our homes, and they'll devise endless innovative tactics to do so. The only way to fight back is to outsmart them.
This article was developed with the support of Journalismfund.eu.