Dear patient readers,
Tech hiccups today impacted getting original posts done. So still behind on saying something re the latest Brexit developments. But the Government meltdown seems to be taking center stage for the moment.
At Least Eight Sheep in the World Can Recognize Barack Obama Motherboard (resilc)
Twitter doubles character count for all the verbose Financial Times
Something Is Wrong On the Internet Medium. John S writes:
This is a long article and hard to grasp, but basically, they are using algorithms to find as many ways as possible to exploit children's dopamine production in order to generate youtube views. Churning out colorful videos with nursery rhymes and familiar characters that will appeal to kids, who will view them over and over, as kids do. With nonsensical titles cobbled together from whatever words are trending or popular, unsupervised kids just stream one after the other on youtube, and some of these videos end up with millions of views. They don't have to be coherent or well-made or tell a story, they often seem like just random familiar images and characters strung together with crude computer animation.

Whether these are created by actual humans in third world sweatshops, or generated by bots, either way the videos come across as disturbing and "off" somehow, even when the content is harmless. On top of that, there is some obviously intentional troll content, seemingly created by 4chan types to dupe children into watching seriously messed-up images, that gets mixed in.

The article has a bit of moral panic about it but the author has definitely described something very weird and unhealthy.
Carbon nanofibres linked to mesothelioma Cosmos (furzy)
Trump warns Pyongyang: 'Do not try us' BBC
Brexit
1/ Govt has published a technical paper about the new 'streamlined system' it will put in place so EU nationals can claim UK residency after Brexit ?https://t.co/KsA8MnvbIt

— Nick Gutteridge (@nick_gutteridge) November 7, 2017

See this wee problem, which the original tweetstorm flags in a toned-down manner.

Design a new IT system to be able to process 3million applications in a timely manner, in a year? Uh huh! This government? #NoConfidence

— Suse Nielebock (@fette_cat) November 7, 2017

Wall Street warns Trump team of Brexit 'point of no return' Financial Times

Exclusive poll shows public has lost faith in Theresa May's handling of Brexit negotiations Telegraph

Brexit, the four freedoms, and the indivisibility dogma VoxEU. This is a textbook example a lack of comprehension of what the Brexit negotiations are about. It's interesting to see some Germans take this up, but economics education is dominated by US institutions, so there may be some bleedover acculturation. They are not about pragmatism. The EU, both the EU itself and the individual countries operate on a civil law system, which is much more legalistic and literal-minded than the UK/US common law system. The EU has tended to be even more so as to keep the EU functioning, as in sticking to the rules creates more certainty and some semblance of protection for smaller countries (as in the German-France dominance, which is baked in practically due to the distribution of votes, would be much greater otherwise). The "four freedoms" is a legal position that the EU holds as fundamental and therefore non-negotiable. The UK can whinge all day about how they don't like it and think it is economically destructive. The EU has made clear that they are willing to take economic costs to preserve the EU. And if the parties were economically rational, which is the underlying position here, the UK never would have voted for Brexit in the first place.
UK Government Meltdown. The long-simmering leadership crisis, with May continuing as a dead woman walking way longer than most people though possible due to fundamental cleavages (no one wanting new elections, not enough support for either Johnson or Hammond, the two most powerful people after May) means the impact of wave of scandals is more destabilizing that it would normally be. As Richard Smith pointed out, "Interesting how the focus has now largely shifted from historic sexual abusiveness to current ministerial misconduct, without missing a beat." He also noted that the fixation on the misbehavior is also displacement from dealing with the widening recognition that Brexit is a disaster, but no one has a clue how to back out, particularly in the face of Brexiters who seems to occupy a blocking position not unlike that of the NRA in the US (most Americans favor gun controls contrary to what you'd think reading the press).
Theresa May under pressure to sack Boris Johnson and Priti Patel over humiliating errors Independent

But maybe not: The secret to avoiding more resignations? Just keep adding disasters Guardian

And a cover up!

No 10 knew on Aug 24 that Patel had met Bibi. They knew about the Yuval Rotem meeting. Then tried to get Patel to cover it up, again. Utter chaos at the heart of government. May's future also surely now in question…

— Marcus Dysch (@MarcusDysch) November 8, 2017

Or maybe not:

Downing Street rubbishes that Jewish Chronicle story.
*"It's not true that the prime minister knew about Priti's meeting with Netanyahu before Friday."
*"It's also untrue that Number 10 asked DfiD to remove any meetings from the list that was published."

— Jim Waterson (@jimwaterson) November 8, 2017
Catalonia
Catalan secessionist parties fail to agree on unity ticket for December vote Reuters

Puigdemont received in Brussels with chants of 'president' from Catalan mayors CBC
They won't get rid of me, says Renzi Ansa
Syraqistan
Syria to ratify the Paris agreement, leaving the US alone Politico
Russian Revolution
An Important Centennial Econospeak

Bolsheviks Seize Power Defend Democracy
New Cold War
CHICAGO LAWYERS TRY SELLING SBERBANK LAWSUIT TO MH17 VICTIMS John Helmer
Imperial Collapse Watch
What A U.S. Electric Grid Attack Looks Like OilPrice. I looked into EMP attacks after 9/11. They don't require nuclear weapons. Funny this is a Topic of Concern now but not discussed then.
Big Brother is Watching You Watch
Facebook asks users for nude photos in project to combat revenge porn Guardian. Kevin W: "No, not an Onion story." Chuck L : "What could go wrong?"
Trump Transition
Trump's H-1B Reform Is to Make Life Hell for Immigrants and Companies Bloomberg

The Case Of Wilbur Ross' Phantom $2 Billion Forbes (Scott)
DNC Subpoenaed in 'Dossier' Lawsuit Foreign Policy (furzy)
Virginia
Northam wins big in Virginia, thrilling Democrats The Hill. Brace yourself for the triumphalism.

Ed Gillespie Lost an Election. Then He Was Pulverized by Trump and His Allies. Daily Beast

Bill De Blasio Wins Decisive Re-Election as New York City Mayor Bloomberg. He's a terrible mayor but the Republicans ran a virtual unknown.
Health Care
Maine just resoundingly became the first state to expand Medicaid by ballot initiative Washington Post (Kevin W)

When Everyone Has Health Care Democracy Journal. Carla: "Almost a month old, but still germane. Compares the Canadian system to Bernie Sanders' Medicare for All proposal."

How Doctors Are Getting Rich on Urine Tests for Opioid Patients Bloomberg (resilc)
Tax "Reform"
Multinationals Scurry to Defuse House Tax Bill's 'Atomic Bomb' Bloomberg (UserFriendly). Funny, a tax expert I confer with knew this was coming, that said a lot of multinationals would be unhappy when they got a good look at the details.
A Quarter of Buyouts Could Be Hit by Carried Interest Proposal Bloomberg. This is fake reform. The PE guys will just change behavior.
Paradise Papers
Steve Bannon's Populist Media Empire Is Funded with Offshore Cash | Vanity Fair (furzy). Headlines like this drive me nuts. The money comes from the Mercers. who are Americans, not furriners. They use offshore vehicles to lower their tax rate. Hello, most hedgie and private equity firms also use offshore vehicles. So they are upset to learn that there is gambling in Casablanca? And I'd like to see more than one soi-disant tax expert opine on the supposed novelty of the Mercer's tax structure. Again, I am not saying I approve of this stuff; yours truly has been making noise about the carried interest loophole, "offshore," and other tax gimmicks of the rich for a long time. What offends me is just about no one on the left took interest when various people made noise about it. So literally decades late, well after a massive wealth transfer has taken place, they get upset? That horse left the barn long ago and is now in the next state.
However, the Paradise Papers may have some immediate impact. From Politico's daily European e-mail:
At a meeting of EU finance ministers Tuesday, the U.K., Malta and Luxembourg urged colleagues against imposing sanctions on countries placed on a so-called blacklist of tax havens, which is set to be signed off December 5. The EU has sent letters to roughly 50 countries and territories to warn them they risk being blacklisted as tax havens.
Gunz
It's the Guns. It's Always Been the Guns. Nation (furzy)

After the Texas Mass Shooting, We Can't Afford to Wage War on Science Any More Wired
Shell Gears Up For Peak Gasoline OilPrice
Disney backs down after US media boycott BBC
Sloan: 'We will never again lose sight of what is most important – you, our customer' Wells Fargo Stories (David D). Re the name of this feature, someone in the PR department has a subversive sense of humor and knows how to hoist Wells on its preening sense of self regard. Paging Elizabeth Warren. This is just vile. Merely compensating customers for money stolen is not adequate, particularly when done only under extreme duress. As many Congresscritters pointed out in the first round of Wells Fargo hearings, many customers suffered credit score damage (believe it or not, merely pulling credit reports often, or opening credit card accounts, even if not used, can lead to credit score downgrades because the assumption is that the customer is about to go on a borrowing binge). And what about the roughly 25,000 customers who had their cars repossessed as a result of Wells' abusive conduct? Some may have lost their jobs as a result of being late to work or unable to get to work due to difficultly with/inability to line up other transportation arrangements.
Harvey Weinstein's Army of Spies New Yorker (johnnygl). A must read, because this is amazing reporting.
David Boies: I Didn't Betray The New York Times for Harvey Weinstein Daily Beast. Not very convincing.
A Chicken-Nugget Theory of Capitalism Nation (furzy). A crapification story.
Guillotine Watch
Jet-Set Debt Collectors Join a Lucrative Game: Hunting the Superrich Wall Street Journal. I was tempted to post on this, but it's a long and engaging story of one protracted chase.
Class Warfare
The Moral Identity of Homo Economicus Project Syndicate (David L)

Silicon Valley's 'car people' push homeless crisis to the brink New York Post (audrey jr)
Antidote du jour. From Mary L, in the story Beluga calf found on Cook Inlet beach gets critical care at Alaska SeaLife Center, in the Alaska Dispatch News: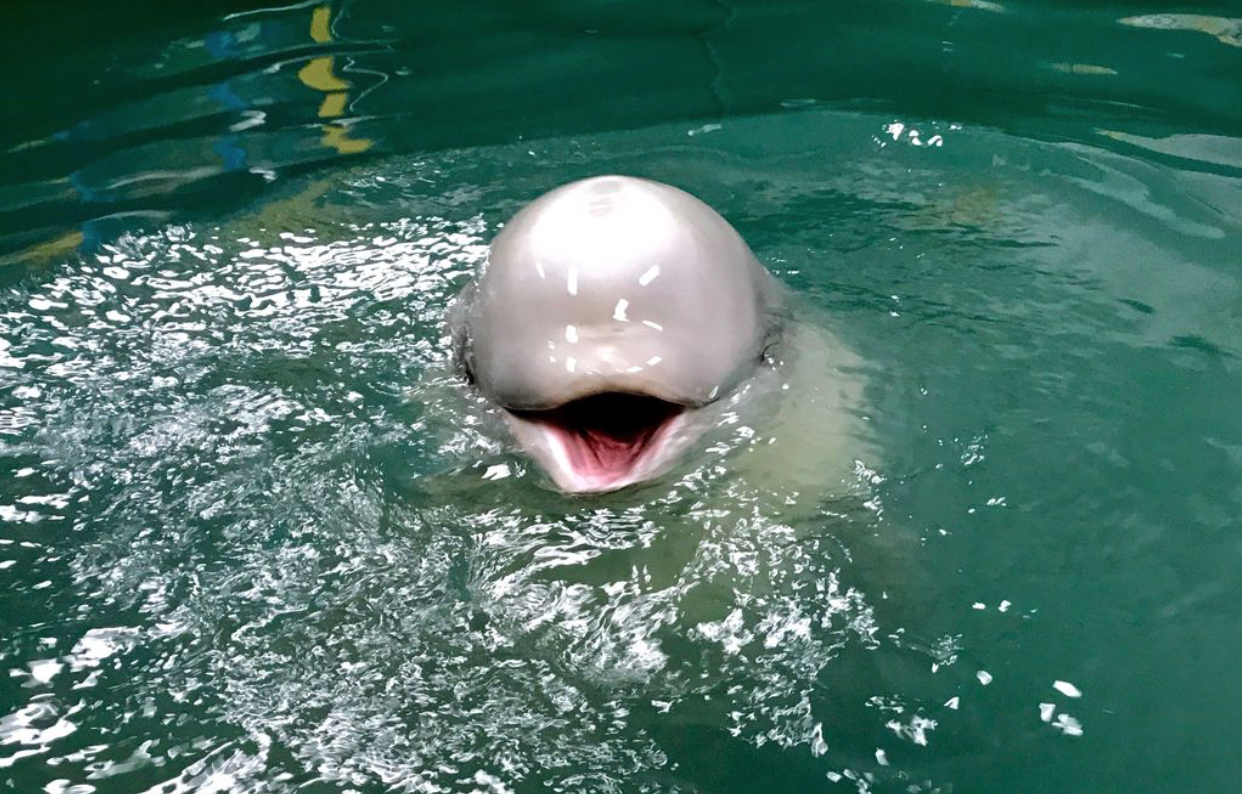 See yesterday's Links and Antidote du Jour here.