By Lambert Strether of Corrente.
Politics
2020
"Poll Excludes Bernie Sanders from List of Potential 2020 Candidates" [Progressive Army]. From Morning Consult/Politico. Guess who wins! Joe Biden!
2018
FWIW, Stuart Rothenberg handicaps the House horse race:

Comment: "Republicans have a 241-194 majority. Democrats need a net gain of 24 seats for a majority. Most likely outcome is modest Democratic gains in the teens to a more dramatic electoral wave."

(I say FWIW, because I haven't followed Rothenberg until now, so I'm not yet sure how to discount him. So remember that tabular presentation is a rhetoric of spurious precision.) And the Senate:

Comment: "Republicans have a 51-49 majority. Early outlook: no net gain to GOP+1-2 seats." NOTE: The Senate cannot initiate impeachment proceedings. If the Democrats can't win by successfully persuading suburban Republicans, especially women, that they deserve to govern because Trump is a boor, a sick man, and a Russian puppet, it would be better for them to lose big, and shed baggage like the horrid Manchin and McCaskill. Addition by subtraction, as they say in baseball.
Realignment and Legitimacy
"The deficit doesn't matter" (interview) [Stephanie Kelton, Christian Century]. "People don't wake up angry in the morning because of the national debt. They're angry because they've lost wage mobility, they're worried about their own retirement, and they're worried about putting their kids through school. If Democrats think that worrying about the deficit is the way to win back Trump voters or get people to the polls, it's not." Well worth a read; Kelton on top form (and in an unexpected venue).

"Is Something Neurologically Wrong With Donald Trump?" [The Atlantic]. All I can say is that I physically saw Trump speak in Bangor for well over an hour in July 2016, and he improvised his speech for that time. No word salad at all, no repetition, no nothing. (Granted, his rhetorical style isn't mine, and I wouldn't have called his language crisp, but he was clearly compos mentis.) So if in fact these stories are true, whatever hit him had rapid onset. However, this seems to be the latest talking point in the Acela corridor, and I give it all the credence I'd normally give tendentious court gossip; it's also a variation and heightening of the existing liberal trope, used for Bush as well, that conservatives are all stupid and crazy. Neither of these two points completely rule out the possibility raised by the article, of course, since the Presidency is a stressor, but I set bar is pretty high for those who yammer wolf on a daily basis over the decades.

"The Wolff lines on Trump that ring unambiguously true" [Axios]. Worth noting that none of these lines refer to Trump's supposed neurological difficulties (a point Wolff is pushing).

"One Hillary Clinton supporter's rotten political empire" [WaPo]. A well-deserved and long-overdue calling out of the odious David Brock. "The career of the silver-haired smear artist has come full circle with a report in the New York Times that Brock directed $200,000 from his political action committee empire into an effort to encourage women to go public with accusations of sexual offenses against President Trump — and that one of Brock's most devoted donors kicked in even more. (My effort to get a response from Brock for this column was unsuccessful.) That news comes nearly a quarter-century after Brock launched his lucrative brand by walking point on the so-called Arkansas Project. Funded through a seven-figure donation by Pittsburgh billionaire Richard Mellon Scaife to the American Spectator magazine, the project sent Brock rooting through the misdeeds — whether real or fictitious did not appear to matter — of then-President Bill Clinton during his years as governor of Arkansas." In the same way that Brock spent $1 million paying Clinton trolls in 2016, thereby putting the burden on every online Clinton supporter to prove they were not a troll, Brock proposes to pay women accuse Trump of sexual misconduct, thereby putting the burden on every female Trump accuser to prove they were not paid. ("Drag a dollar bill through a trailer park, you never know what you'll find," as arch-Clintonite James Carville famously said of Paula Jones.)

"White voters are moving to the South — and making it more Democratic" [WaPo]. "[R]ecent research suggests that Democrats are also benefiting from another phenomenon — whites who have moved to the South. Since World War II, Americans have been migrating South. That's picked up in recent years, aided by a relatively strong economy and — as anyone north of the Mason-Dixon line this week will appreciate — balmy winters. According to the U.S. Census Bureau, 10 of the fastest-growing U.S. cities in 2016 were in the South, five in Texas…. In a new article, political scientists Sunshine Hillygus, Seth McKee, and McKenzie Young show that whites who have moved to the South are more likely to be Democratic than lifelong Southerners."

"The Math Behind Gerrymandering and Wasted Votes" [Wired]. "The 'efficiency gap' is a simple idea at the heart of some of the tools being considered by the Supreme Court." An excellent explanation, well worth a read as background for Gill v. Whitford.

"Group Mounts Ballot Effort to Remove Legislature from Redistricting Process" [Oklahoma Watch]. "Represent Oklahoma Inc., which is applying to be a social welfare nonprofit and has launched a website, has set a $400,000 fundraising goal to put a state question on the 2018 ballot that would let voters decide whether to transfer redistricting duties to an independent, nonpartisan commission."

"Researchers can now make neighborhood voting predictions from Google Street View images" [TechCrunch]. "Led by Stanford computer vision scientist Timnit Gebru, the team of researchers used software to analyze 50 million images of street scenes and location data. Their goal was to find data that could be used to predict demographic statistics at the zip code and precinct (which usually contain about 1,000 people) level…. In an article published in the Proceedings of the National Academy of Sciences, the team wrote that their technology can supplement the American Community Survey, which costs more than $250 million each year to perform. Since the survey is also labor-intensive, with workers going door to door, that means smaller areas with populations of less than 65,000 are often overlooked. As technology improves, demographic statistics may eventually be updated in real time, though the researchers noted that policymakers will need to be careful to make sure data is collected only at the community level to safeguard individual privacy."
Stats Watch
Employment Situation, December 2017: "Hiring cooled though employment levels are very high and there's also a hint of wage inflation in December's employment report" [Econoday]. "The payroll breakdown shows two more outstanding months for construction, up 30,000, and manufacturing, up 25,000, in confirmation that housing and the factory sector accelerated into year end. Other industries are more subdued with retail falling 20,000 in results that will raise talk of brick-and-mortar decline while professional and business services rose a subdued 19,000 with the temporary help subcomponent up only 7,000. The average workweek for all private-sector employees came in unchanged at 34.5 hours. The fundamental strength of this report contrasts a bit with the more moderate level of headline payroll growth and does raise the question, one that the Federal Reserve has been repeatedly asking in its Beige Book, whether scarcity of available labor, particularly skilled labor, is holding back business expansion — that employers simply can't find the people they need." And: "U.S. payroll gains slowed by more than forecast in December, wages picked up slightly and the jobless rate held at the lowest level since 2000, adding to signs of a full-employment economy" [Industry Week]. But: "Weaker than expected, with the prior two months revised downward by a net 9,000 jobs. In any case employment growth continues its multi-year deceleration that began with the collapse of oil capex" [Mosler Economics]. "Nothing new here- annual employment growth has been decelerating in a straight line for a long time, coincident with the general deceleration of bank credit, auto sales, housing, etc. all evidence of decelerating aggregate demand." But but: "The headline jobs number was below consensus expectations at 148 thousand, probably somewhat due to weather (snow) during the reference week in December (Weather was the reason I took the "under" [true! –lambert]" [Calculated Risk]. "The headline jobs number was a little disappointing and the unemployment rate unchanged at a low level – but overall a continuation of multi-year trends. Wage growth was disappointing again."
International Trade, November 2017: "Imports, at $250.7 billion, jumped 2.5 percent in the month and offer definitive evidence that domestic demand is very strong. Details on the import side show what is in fact a sizable and welcome gain in capital goods which points to new business investment" [Econoday], "The fourth quarter looks to have been very healthy though the rise in imports, even though it reflects increased domestic demand, will nevertheless hold down fourth-quarter GDP." And: "The US trade balance continues to modestly widen, which given current conditions that include higher oil prices, likely works to keep the $US under pressure" [Mosler Economics],
Factory Orders, November 2017: "November's factory orders report closes the book on what, despite a 1.3 percent headline jump, was not a uniformly strong month for manufacturing." [Econoday]. "Total orders as well as payroll growth in manufacturing have been picking up and though capital goods took a pause in November, the factory sector is on the move, evidenced by a very strong 1.2 percent rise in the month's total shipments."
Institute For Supply Management Non-Manufacturing Index, December 2017: "A little bit of cooling can be a good thing" [Econoday]. "The breakdown shows a very solid 14 of 17 industries reporting monthly growth led by retail which is hint of strength for December's retail sales report which comes out next week. Mining and construction, which are non-service industries that are tracked in this report, both posted monthly gains." And: "Growth was intact for most of the report's key metrics" [Logistics Management].
Housing: "You constantly hear that owning a home is a no brainer in California because you will always get major tax benefits. Well the new GOP tax plan is actually going to benefit California renters while California homeowners in crap shacks will see higher tax bills. It is an interesting tax proposal because the typical US household owning a typical $200,000 home is going to come out ahead. This is your bread and butter 'American' family" [Dr. Housing Bubble]. "However, Taco Tuesday Baby Boomers and Gen X'rs in California have been getting mega subsidies for buying hyper expensive crap shacks. Every tax bill that comes out seems to favor homeowners. In fact, I haven't seen one that hasn't favored homeownership. But the way the tax bill is setup, crap shack owners are going to actually have to pay more and renters are going to benefit nicely from the much larger standard deduction."
Retail: "Sears, Kmart to Close 103 Stores: The Entire List" [247 Wall Street]. Here's the list (PDF). They are finally putting the Sears in Bangor Mall out of its misery. It was the most depressing and demoralizing retail space I've ever been in, so I can only imagine what the stores that were closed ever earlier were like. With Macy's gone, that leaves JC Penney is the only remaining "anchor tenant." "Anchor" implying some sort of permanence or stability, how amusing.
Retail: "Some department stores look to have some life in them after all. Macy's Inc. and J.C. Penney Co. both reported expanding sales for the critical holiday months, offering relatively upbeat outlooks for a retail sector that's been upended by the consumer drive to online marketplaces. Macy's same-store sales rose 1% in November and December from a year ago, while Penney's increased 3.4%" [Wall Street Journal].
Shipping: "Harsh weather adds different strategies to motor carriers' playbooks" [Logistics Management]. "[O]ne thing that has been apparent at [PItt Ohio, a provider of less-than-truckload, truckload, supply chain, and ground services] is seeing customers shift to more sustainable processes, through the replacement of things like oil-based products to water-based products." But water-based products freeze, hence heated trailers!
Shipping: "U.S. shipping prices are reaching the highest levels in years as demand far outstrips truck capacity. Some companies are delaying non-essential shipments rather than scramble to find a truck" [Wall Street Journal]. "Just one truck was available for every 12 spot-market loads needing to be shipped by the end of last week, according to DAT Solutions LLC, leaving the sector at its most unbalanced in more than 12 years. The heavy demand is tracking the strengthening economy, which just went through its biggest jump in holiday sales since 2011. At the same time, some in the industry say new regulations are helping keep trucking supply tight."
Tech: "Some Chinese companies see a path to gaining a bigger piece of a critical, high-value piece of electronic supply chains. The operators are designing semiconductors for the burgeoning field of artificial intelligence…, potentially providing new inroads for a Chinese chip sector that has tried without much success to challenge the dominance of Intel Corp. and Qualcomm Inc." [Wall Street Journal]. "Companies like Horizon Robotics are part of a new crop of chip companies that think they can win the AI chip race, giving them a stronger hand in a market that is a profit-generating bulwark of international airfreight shipping. They face formidable competition from old hands such as Intel and Qualcomm and deep-pocketed new entrants such as Apple Inc. and Google." I dunno about Intel. They may have their hands full for a bit.
Tech: "BlackBerry Ltd.'s efforts to push into self-driving cars took a new step forward as the former smartphone maker signed a deal with Chinese internet giant Baidu Inc. to work together on automotive software" [Bloomberg]. "Baidu will bundle BlackBerry's QNX vehicle operating system into its Apollo self-driving car platform, a set of tools that automakers can use when designing autonomous vehicles. The partnership also includes integrating BlackBerry's more established in-car entertainment software into Apollo."
The 420: "Marijuana-related stocks fell again Friday, extending their prior-session losses after the U.S. Justice Department overturned an Obama-era protection for states that have legalized the plant. The news put the brakes on a strong rally early in the week" [MarketWatch].
Five Horseman: "It's another day of "techs gone wild" as even pokey old Apple takes a stab at a new high" [Hat tip, Jim Haygood].
Today's Fear & Greed Index: 74 Greed (previous close: 72, Greed) [CNN]. One week ago: 53 (Neutral). (0 is Extreme Fear; 100 is Extreme Greed. Last updated Jan 5 at 11:29am.
Gaia
"Intentional Fire-Spreading by "Firehawk" Raptors in Northern Australia" [Bio One]. "Observers report both solo and cooperative attempts, often successful, to spread wildfires intentionally via single-occasion or repeated transport of burning sticks in talons or beaks. This behavior, often represented in sacred ceremonies, is widely known to local people in the Northern Territory, where we carried out ethno-ornithological research from 2011 to 2017; it was also reported to us from Western Australia and Queensland."
"Edward Dorn: When we are all there together / Grasses: An Elegy / beyond the sea of grass" [Tom Clark (via)]. Lovely photo essay.
Neoliberal Epidemics
"To Address Opioids And Diseases Of Despair, Communities Must Build Resilience" [Heatlh Affairs]. "The answers to these questions force us to take a broader, systems-level look at the foundational issues driving these 'diseases of despair.' Only by understanding the underlying causes of these diseases that are holding our communities hostage will we be able to adequately support those who need immediate treatment and 'space' to heal; prevent addiction from taking hold of our loved ones and neighbors; and shore up the overall health and well-being of entire communities."
"The Drug, Alcohol and Suicide Epidemics and the Need for a National Resilience Strategy" [Trust for America's Health] (full report; PDF). " over the coming decade (2016 to 2025) according to a new report, Pain in the Nation: The Drug, Alcohol and Suicide Epidemics and the Need for a National Resilience Strategy, released by the Trust for America's Health (TFAH) and Well Being Trust (WBT)."
Lambert here: That's a World War I "death in the trenches" level of organic damage. There's no possible way that damage won't have political effects, possibly very, very, very bad ones.
More: "From 2006 to 2015, there were 1 million deaths from these three causes. This would represent a 60 percent increase compared to the past decade, if recent trends hold. The study found, however, that these numbers may be conservative, especially with the rapid rise of heroin, fentanyl and carfentanil use. If the nation continues along recent trajectories, death rates would actually double to 2 million by 2025." Everything's going according to plan; see Rule #2 of Neoliberalism! No, but seriously, folks; this is an important report from deep within the establishment, so but and click through to the material under "Report Calls for a National Resilience Strategy"; all the policy recommendations are medical. I've been saying that the "deaths of despair" would only be addressed when the problem could be medicalized, and it looks like that's what's happening here.
Class Warfare
"Publicly, We Say #MeToo. Privately, We Have Misgivings." [Daphne Merkin, New York Times]. "What happened to women's agency? That's what I find myself wondering as I hear story after story of adult women who helplessly acquiesce to sexual demands. I find it especially curious given that a majority of women I know have been in situations in which men have come on to them — at work or otherwise. They have routinely said, 'I'm not interested' or 'Get your hands off me right now.' And they've taken the risk that comes with it. The fact that such unwelcome advances persist, and often in the office, is, yes, evidence of sexism and the abusive power of the patriarchy. But I don't believe that scattershot, life-destroying denunciations are the way to upend it. In our current climate, to be accused is to be convicted. Due process is nowhere to be found." The recent establishment, by "300 prominent actresses and female agents, writers, directors, producers and entertainment executives" of the "Time's Up" action program (site) is a salutary act of noblesse oblige that also shows the strict class limits of the #MeToo movement: There's no encouragement of collective action by working class women whatever. So indeed, "what happened to women's agency"?
"Introduction: Law and Neoliberalism" (PDF) [David Singh Grewal and Jedediah Purdy]. "In most prominent cases, neoliberalism has shielded market relations from particular kinds of politicization. This shielding is, in many ways, its signature move." Stumbled across while Googling, an example of the sort of serendipity that the Tiered Internet would throttle.
News of the Wired
"Dude, you broke the future!" [Charlie's Diary]. This is a really interesting perspective from Charlie Stross, well worth a read. Two nuggets:
And looking in particular at the history of the past 200-400 years—the age of increasingly rapid change—one glaringly obvious deviation from the norm of the preceding three thousand centuries—is the development of Artificial Intelligence, which happened no earlier than 1553 and no later than 1844.

I'm talking about , of course. What lessons from the history of the company can we draw that tell us about the likely behaviour of the type of artificial intelligence we are all interested in today?
I really, really like the idea of corporations as "slow AI" (Stross goes on to justify the concept, IMNSHO, in material I won't quote here.) Second nugget:
What do our current, actually-existing AI overlords want?

Elon Musk — who I believe you have all heard of — has an obsessive fear of one particular hazard of artificial intelligence — which he conceives of as being a piece of software that functions like a brain-in-a-box) — namely, the paperclip maximizer. . The paperclip maximizer is able to improve itself in pursuit of that goal but has no ability to vary its goal, so it will ultimately attempt to convert all the metallic elements in the solar system into paperclips, even if this is obviously detrimental to the wellbeing of the humans who designed it.

Unfortunately, Musk isn't paying enough attention. Consider his own companies. Tesla is a battery maximizer — an electric car is a battery with wheels and seats. SpaceX is an orbital payload maximizer, driving down the cost of space launches in order to encourage more sales for the service it provides. Solar City is a photovoltaic panel maximizer. And so on. All three of Musk's very own slow AIs are based on an architecture that is designed to maximize return on shareholder investment, even if by doing so they cook the planet the shareholders have to live on. (But if you're Elon Musk, that's okay: you plan to retire on Mars.)
On paperclip maximizers, this old Bob & Ray sketch is more a propos than it might seem at first:
* * *
Readers, feel free to contact me at lambert [UNDERSCORE] strether [DOT] corrente [AT] yahoo [DOT] com, with (a) links, and even better (b) sources I should curate regularly, (c) how to send me a check if you are allergic to PayPal, and (d) to find out how to send me images of plants. Vegetables are fine! Fungi are deemed to be honorary plants! If you want your handle to appear as a credit, pleas s e place it at the start of your mail in parentheses: (thus). Otherwise, I will anonymize by using your initials. See the previous Water Cooler (with plant) here. Today's plant (CR):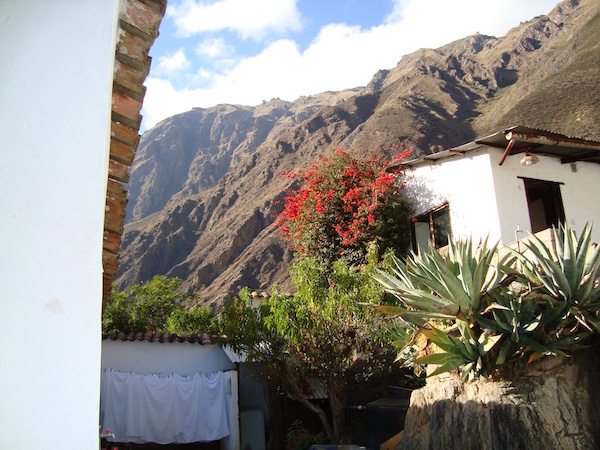 CR: "I took this Ollantaytambo, Peru in 2008 — I imagine it hasn't changed." And on those mountain-tops…. No snow!
* * *
Readers: Water Cooler is a standalone entity not covered by the NC fundraiser. So do feel free to use the dropdown and click the hat to make a contribution today or any day. Here is why: Regular positive feedback both makes me feel good and lets me know I'm on the right track with coverage. When I get no donations for five or ten days I get worried. More tangibly, a constant trickle of small donations helps me with expenses, and I factor that trickle in when setting fundraising goals. So if you see something you especially appreciate, do feel free to click the hat!