By Lambert Strether of Corrente.
Politics
Midterms
"How Badly Has The Corrupt Stench Of The DCCC Spread Across America? Now It's Infected California" [Down with Tyranny]. Fun stuff. "…Gill Cisneros, the 'ex'-Republican lottery winner the DCCC wants to sell the CA-39 nomination to…." California readers, is this over-egging the pudding on Cisneros?

NY: "Cynthia Nixon Asks if Cuomo Is a 'Real Democrat' at Campaign Debut" [New York Times]. Yes, for some definitions of "real," "Democrat," and "real Democrat." More:

In Ms. Nixon's first speech, delivered before a small, mostly African-American crowd in Brownsville, Brooklyn, she outlined the themes of her insurgent bid to knock off Mr. Cuomo, a two-term incumbent, in the Democratic primary: tackling the "very segregated" school system, fixing the subways and addressing the "crushing inequality" in the state.

…. "New York State itself is the single most unequal state in the country," she said.

"This is not something that just happens by mistake. It comes from a choice. It comes from a choice to slash taxes for corporations and the super rich and slash services on everybody else," she said from a podium. "And it's a choice we're used to being made by Republicans like Donald Trump. But for the past eight years, it is a choice that's been made by our governor, Andrew Cuomo."

IL: "Illinois Primaries: Ratings Changes in Two Races" [Inside Elections]. A wrap-up of the whole state. This caught my eye: "At this point, it feels like Democrats expect to gain at least two seats [in November] based on their confidence in a suburban surge in the 6th District and the strength of their nominee in the 12th District. A great night for Democrats would include victories in the 13th and 14th districts as well" (more on these districts).

IL: "While [Republican Governor Bruce Rauner challenger Jeanne] Ives seemed to emerge from nowhere for most Illinoisans, she has worked to carve out a space for herself as a culture warrior since she entered the Illinois House of Representatives in 2013. That same year she called gay relationships "completely disordered" [Belt Magazine]. "Given the ferocity of her ad and her extreme right wing statements, one might assume that Ives represents an area in Illinois' deeply red rural counties. Not quite: She lives in Wheaton, a western suburb of Chicago located in DuPage County that Hillary Clinton won by 53 percent to Trump's 40 percent…. This phenomenon is not limited to Illinois alone. The Detroit suburb of Macomb County voted for Obama twice, but Trump managed to win it by 12 points…. We can observe similar dynamics in the suburbs of Philadelphia. Clinton improved upon Obama's totals in four suburban Philadelphia counties, but Trump managed to flip many of the outer suburbs from blue to red…. The suburban areas, like DuPage County, prove to be the true outliers, and they more than any other region demonstrate the radical splits occurring in American politics and provide a preview of what's to come in the 2018 midterm elections." I'm not sure that the author is throwing Maccomb county into the right bucket (see pollster Greenberg here). Wheaton and Macomb County may both be "suburbs," but if Obama's auto bailout is what flipped Macomb County to him, I don't think Macomb County's economy is the same as Wheaton's, which looks like it's dominated by educational institutions. Nevertheless, if Wheaton flipped from Clinton to Ives… That's pretty volatle.

IL: "Democratic primary turnout was up across the state — overall, it was triple what it was in 2014, according to the Democratic Governors Association" [Politico]. "And turnout was 30 percent higher on Tuesday than in 2010, a more comparable primary election since there was a competitive Democratic primary that year. In an ominous sign, Republicans saw an estimated drop of 30 percent in turnout over 2014, which was a highly competitive primary where Rauner edged out three other top contenders." And–

IL: "The Chicago machine is still humming" [Politico]. "J.B. Pritzker was criticized for being too close to the 'machine,' the Chicago political organization powered by Democratic Party Leader Mike Madigan. So was Dan Lipinski and Kwame Raoul. Yet they all won — Raoul captured the Democratic nomination for attorney general against a crowded field — ensuring that the machine lives on and remains a force to be reckoned with."

IL-03: "Conservative Democrat Dan Lipinski Survives Primary Challenge From The Left" [HuffPo]. "Rep. Dan Lipinski, who has represented his southwest Chicago district since 2005, won a tight primary race on Tuesday night against progressive challenger Marie Newman. Lipinski, co-chair of policy for the centrist Blue Dog Coalition in the House of Representatives, belongs to a dwindling breed of Democrats who oppose abortion rights. The seven-term congressman has also co-sponsored anti-LGBTQ legislation, opposed federal funding for Planned Parenthood, and voted against his party on the Dream Act and President Barack Obama's signature health care law. Progressive politicians and groups backing Newman ― including Sen. Bernie Sanders (I-Vt.), Planned Parenthood Action Fund and EMILY's List ― had hoped to capitalize on the current political momentum and replace so-called 'Trump Democrats' like Lipinski, whose views on abortion and birth control they characterized as 'extreme.'" This is silly. Liberal Democrats are perfectly happy backing "Trump Democrat;" that's what Doug Jones is.
2016 Post Mortem
"The Problem Isn't Cambridge Analytica: It's Facebook" [Forbes]. "When the Obama campaign pushed the boundaries of precision voter targeting, pioneering techniques like peering into the privacy of American's living rooms through their DVRs to see what each individual voter was actually watching on their televisions, the press and public cheered, hailing it as a long overdue modernization of the campaigning process and holding up the campaign's data scientists as miniature heroes showcasing what could be done with data today. In the leadup to the 2016 election, the press and public derided the Trump campaign as apparently being data-devoid, while hailing Clinton's campaign as picking up the data-first mantle from the Obama campaign and pushing it even further." Just another example of what was business-as-usual until Trump did it…

"Trump Hacked the Media Right Before Our Eyes" [Ross Douthat, New York Times]. "But the liberal establishment's fixation on Facebook's 2016 sins — first the transmission of fake news and now the exploitation of its data by the Trump campaign or its appendages — still feels like a classic example of blaming something new because it's new when it's the old thing that mattered more. Or of blaming something new because you thought that "new" meant "good," that the use of social-media data by campaigns would always help tech-savvy liberals and not their troglodytic rivals — and the shock of discovering otherwise obscures the more important role that older forms of media played in making the Trump era a reality…. Where did so many people originally get the idea that Trump was the right guy to fix our manifestly broken government? Not from Russian bots or targeted social media ad buys, but from a prime-time show that sold itself as real, and sold him as a business genius. Forget unhappy blue collar heartlanders; forget white nationalists and birthers: The core Trump demographic might just have been Republicans who watched "The Apprentice," who bought the fake news that his television program and its network sponsors gladly sold them." Amazingly enough (Douthat) this is pretty good, though Douthat forgets to mention that Clinton's "Pied Piper" strategy encouraged "old media" to boost Trump.
Realignment and Legitimacy
"Time is Running Out: Who Will Protect Our Wrecked Democracy from the American Oligarchy?" [Paul Street, Counterpunch]. "Saying that Russia has undermined American democracy is like me – middle-aged, five foot nine, and unblessed with jumping ability – saying that the Brooklyn Nets Russian-born center Timofy Mozgov undermined my potential career in the National Basketball Association."

"Yet if any situation has ever begged for a truth-commission understanding of the role, L'Affaire Russe cries out for a capacious public reporting function. The questions it raises are sweeping and implicate not just presidential conduct but the integrity of an American presidential election. The question may boil down to how urgent Mueller feels the need is for Congress, or the public, to understand what happened—and also the extent to which he can play the needed public education role simply using the tools of the conventional prosecutor" [Lawfare].

"The Population Slowdown in the Outer Suburbs of the East and Midwest" [New York Times]. "Through 2016, about one in four outer-ring suburbs were experiencing more deaths than births, including 18 of 30 such counties in New York, New Jersey and Pennsylvania. Some of the once-fastest-growing counties in the United States are growing no more, and nationwide, the birthrate has dropped to levels not seen since the Great Depression. "It is one of the biggest puzzles of my career as a demographer," said Kenneth Johnson, a sociologist at the University of New Hampshire who has studied the various components of population change for years. "Each year when new data comes out, I expect to see a significant uptick in births, but I have yet to see it." More than 1,200 counties in the United States — home to one in seven Americans — had a negative natural increase in population in 2016. In total, 1,700 counties experienced a negative natural increase at least one year this decade."
Stats Watch
Architectural Billings, February 2018: "While the pace of growth in design activity slowed a bit in February for an ABI score of 52.0 (any score over 50 indicates billings growth), it still reflects a healthy business environment. In particular, firms with a multifamily residential or an institutional specialization continued to report extremely strong billings" [The American Institute of Architects]. "The Architecture Billings Index (ABI), produced by the AIA Economics & Market Research Group, is a leading economic indicator that provides an approximately nine to twelve month glimpse into the future of nonresidential construction spending activity." And: " This index was positive in 11 of the last 12 months, suggesting a further increase in CRE investment in 2018″ [Calculated Risk].
Current Account, Q4 2017: "The current-account deficit increased to a roughly as-expected $128.2 billion in the fourth quarter vs the third quarter's slightly revised $101.5 billion deficit which benefited from $24.9 billion in hurricane-related insurance payment" [Econoday]. "Fourth-quarter details include a swelling in the goods deficit, reflecting rising imports of industrial supplies and consumer goods, and also a deepening deficit in secondary income, here reflecting a decrease in U.S. government transfers."
Existing Home Sales, February 2018: "A jump back higher for single-family homes leads a positive existing home sales report for February" [Econoday]. "Home sales are struggling to move higher, held down by lack of choice for buyers and also high prices. Rising mortgage rates are another negative factor." And: "The rolling averages have been slowing since the beginning of 2017, and they marginally decelerated this month. The rolling averages are continue to be marginally in contraction. Housing inventory is now at historical lows for Februarys – and if you do not have enough houses for sale – then that means home sales cannot improve" [Econintersect].
MBA Mortgage Applications, week of March 16, 2018: "Purchase applications for home mortgages rose a seasonally adjusted 1 percent in the March 16 week, raising the year-on-year gain in the unadjusted Purchase Index by 3 percentage points to 6 percent" [Econoday].
Retail: "True Value To Sell 70% Of Company To Private Firm" [Industrial Distribution]. John Hartmann, president and CEO of True Value: "We are very excited to be partnering with ACON, which has an impressive track record and highly relevant experience and expertise. We believe this is a fantastic opportunity for our retailers that will allow them to unlock the substantial majority of their investment while accelerating the transformation of the company to better serve our customers. We look forward to discussing the compelling benefits of this partnership with all of our retailers, and we are confident that they will support this initiative as the best way to ensure the long-term viability of the independent hardware retailer." See also Retail Dive.
Retail: "Whole Foods calls supplier summit amid Amazon angst" [Reuters]. "Whole Foods will host a summit on Tuesday for up to 200 of its suppliers, amid anxiety about how its ongoing business revamp will play out under new owner Amazon.com… In a restructuring effort underway before the acquisition, Whole Foods earlier this year began requiring suppliers to use a firm of its choosing to restock shelves and run promotions. As first reported in the Washington Post, Whole Foods is charging some suppliers the equivalent of 3 percent to 5 percent of sales to cover the cost of those broker services." Hmm.
Shipping: "February truck tonnage is mixed, according to ATA data" [Logistics Management]. ""Despite a softer February than January, freight remains robust as exhibited in the year-over-year increase,' said ATA Chief Economist Bob Costello in a statement. 'The drivers of truck freight – personal consumption, factory output and construction – are good, plus the inventory cycle is in favor of motor carriers, so I expect freight tonnage to grow at a decent pace in the months ahead.' Costello's takeaways are in sync with overall market sentiment, as well as decent mainstream economic metrics like GDP, retail sales, industrial production, and manufacturing output, among others. But, as has been reported, over-the-road capacity remains very tight, due to the ongoing driver shortage, and the recently-implemented ELD mandate for motor carriers."
Shipping; "Shipping companies world-wide are facing a tough choice on meeting impending emissions rules: Pay many millions of dollars now or perhaps even more later on. It's a multibillion-dollar question facing ocean carriers, and there may be no good answer" [Wall Street Journal]. " Maritime executives say the sulfur restrictions will cost the industry some $40 billion, which will likely be passed along to shipping customers through higher freight prices. With some doubting enough low-sulfur fuel will be available, many operators are turning to sulfur-trapping exhaust scrubbers. But even those may not be enough to meet stricter pollution caps expected in the future."
Shipping: "Analysts say issues involving fleet valuation are growing more important as merger-and-acquisition activity heats up in the trucking market. Many fleet owners have reaped big gains from the new U.S. tax law, giving them cash to buy up other operators and bring in the trucks and drivers they need to take advantage of robust freight demand" [Wall Street Journal].
Shipping: "A $50 million cash infusion into San Francisco-based KeepTruckin Inc. is part of the growing rush by venture funds into businesses aimed at streamlining connections between trucking companies, drivers and shipping customers" [Wall Street Journal]. "[T]he company is building out services around driver apps and electronic logging devices, and the money will back new products like a marketplace linking drivers to available cargo loads. That's an offshoot of the information that comes with ELDs, in what experts say is an example of the greater efficiency and operating revenue that can come with new technology."
Shipping: "FedEx Office, a unit of Memphis-based FedEx Corp., and Walmart Inc., said today they have agreed for FedEx Office to place 500 of its locations inside a number of Walmart's U.S. stores over the next two years" [DC Velocity]. "Besides Walmart, FedEx has retail access locations in nine supermarkets and drug store chains like Walgreens Inc."
The Bezzle: "Toyota Takes Self-Driving Cars Off Road After Uber Accident" [New York Times]. "Two other carmakers, Ford Motor and General Motors, are still performing tests of their self-driving cars on public roads. Waymo, the autonomous vehicle division of Google's parent company Alphabet, and Lyft, Uber's chief rival in the ride-hailing sector, declined to comment on the status of their testing programs on Tuesday…. After the Tempe accident, G.M. said Tuesday, 'our plans to remain unchanged but, as we've said from the start, we will not launch until we are satisfied that it is safe to do so.'"
The Bezzle: "Ether plunges after SEC says "dozens" of ICO investigations underway" [Ars Technica]. "The price of ether, the cryptocurrency of the Ethereum network, has fallen below $500 for the first time this year. The decline comes days after a senior official from the Securities and Exchange Commission acknowledged that the agency had 'dozens' of open investigations into initial coin offerings. The price of ether has fallen 19 percent in the last 24 hours, from $580 to $470."
The Bezzle: "The peculiarities of the US financial system make it ideal for money laundering" [Chuck Grassley, Sheldon Whitehouse Quartz]. "Although dirty money often comes from the most corrupt, unstable countries in the world, it often ends up—ironically—in the United States. Why? Partly because we have the most stable financial system in the world, and these malefactors seek rule-of-law protection for their ill-gotten gains. But they also come because our system is so opaque."
Tech: "Facebook, Cambridge Analytica and our personal data" [I, Cringely]. "There are hundreds — possibly thousands — of companies that rely on Facebook data accessed through an Application Programming Interface (API) called the Graph API. These data are poorly protected and even more poorly policed. So the first parts of this story to dispel are the ideas that the personality test data obtained by Cambridge Analytica were in any way unusual or that keeping those data after their sell-by date was, either. That doesn't necessarily make the original researcher without blame, but the Cambridge folks could have very easily found the same data elsewhere or even generated it themselves. It's not that hard to do. And Facebook doesn't have a way to make you throw it away (or even know that you haven't), either. Facebook never really tried to protect its data in any big way. They have a rate limiter to slow down the number of pulls through the API, but it is (maybe was depending on events of this week) all very lenient. The only trick is getting Facebook members to authorize you. Facebook's safe harbor, you see, is the fact that you have authorized this specific release of personal data. Often, however, the Facebook member has no idea they have authorized anything."
Tech: "Facebook hosts emergency staff meeting on the Cambridge Analytica crisis" [Daily Dot]. "Facebook is in crisis mode. The social network will reportedly hold an open meeting on Tuesday for all employees to discuss how political analytics firm Cambridge Analytica illegally harvested data from 50 million users, the Verge reports. and provide background on the incident, which caused Facebook's stock to plummet in premarket trading on Monday. The meeting, reportedly scheduled for 10am PT, will have a polling feature so concerned staff can ask questions. This will be the first time Facebook brings together its entire team to discuss the scandal." And "Facebook CEO Mark Zuckerberg Will Speak About Data Crisis in Next 24 Hours" [Bloomberg]. "Zuckerberg's silence so far on the escalating crisis has only fanned the flames, sending the shares tumbling in recent days. The CEO's remarks will be aimed at helping to rebuild the public trust, according to the person familiar with the plans… The stock reversed an earlier decline on the news."
Five Horsemen: "Dip buyers lift Facebook back to market performer, matching the S&P's gain from last April" [Hat Tip, Jim Haygood].
NakedCap Mania-Panic Index: "The mania-panic index gained one point to 41 (worry) as buying of put options declined" [Hat Tip, Jim Haygood]. (The NakedCap mania-panic index is an equally-weighted average of seven technical indicators derived from stock indexes, volatility (VIX), Treasuries, junk bonds, equity options, and internal measures of new highs vs new lows and up volume vs down volume … each converted to a scale of 0 to 100 before averaging, using thirty years of history for five of the seven series.)
Rapture Index: Closes down one on Earthquakes. "There has been no major quakes in recent days" [Rapture Ready]. Record High, October 10, 2016: 189. Current: 184.
Net Neutrality
"New Jersey Takes Up Net Neutrality: A Summary, and My Experiences as a Witness" [Freedom to Tinker], A report from a technologist. " In such a committee hearing, advocates and lobbyists abound (on both sides); technologists are rare. I suspect I was the only technologist in the room. Additionally, most of the people in the room have jobs to make arguments that serve a particular stakeholder. In doing so, they may muddy the waters, either accidentally or intentionally. To advance their arguments, some people may even say things that are blatantly false (thankfully that didn't happen on Monday, but I've seen it happen in similar forums). Perhaps surprisingly, such discourse can fly by completely unnoticed, because the people in the room—especially the decision-makers—don't have as deep of an understanding of the technology as the technologists. Technologists need to be in the room, to shed light and to call foul—and, importantly, to do so using accessible language and examples that non-technical policy-makers can understand." I'm not sure about this "techologist as neutral arbiter" concept.
Big Brother Is Watching You Watch
"How Europe is better at protecting data than the U.S. — and what the Stasi and Nazis have to do with it" [MarketWatch]. "From a legal standpoint, everything that EU lawmakers do on this front, GDPR included, is based on the bloc's Charter of Fundamental Rights. This document includes rights to privacy and the protection of personal data, neither of which is explicitly protected under the U.S. Constitution. But that's largely down to Europe's past experiences. 'With some of the European countries, particularly the Germans, there is the memory of the Stasi and, before that, the memory of the Nazis,' said Paul Bernal, a technology law lecturer at the University of East Anglia's School of Law… With those collective memories, it is hardly surprising that Europeans, particularly those northern and eastern regions, take privacy and data protection so seriously."
Dear Old Blighty
"It's Increasingly Obvious The Grenfell Inquiry Will Not Bring Justice And Change My Community Needs" [HuffPo]. "As I look at the burnt-out shell of Grenfell Tower today, it is being covered slowly in white plastic – now up to about the sixth or seventh floor. This material cover-up prompts me to be aware that there also appears to be a cover up and whitewashing of the public inquiry." See NC on Grenfell Tower here and here.
Gaia
"Complex Animals Led to More Oxygen, Says Maverick Theory" [Quanta]. "According to one unorthodox theory, the evolution of diverse, complex animals that fed in shallow waters and then returned to greater depths each day helped to oxygenate the ocean during the Cambrian Period…. [Nicholas Butterfield's] hypothesis focuses on diurnal vertical migration, a daily process during which sundry organisms, ranging in size and complexity from zooplankton and sponges to fish and squids, migrate between shallow and deeper waters to find food and avoid predators. By feeding up above and metabolizing down below, the animals scrub and help ventilate the ocean, raising oxygen concentrations at the surface while driving anoxic regions to greater depths. This redistribution of oxygen would also have improved the transparency of the water column, allowing light to penetrate farther down and escalating predators' reliance on vision at deeper and deeper levels when hunting. The subsequent evolution of larger, deeper-diving visual predators would then have pushed the "oxygen minimum zones" to even lower depths, creating a feedback loop." Big if true!
"Complex behavior arose at dawn of humans" [Science]. "More than 320,000 years ago in the Rift Valley of Africa, some early innovators adopted a new technology… [T]hese toolmakers in the Olorgesailie Basin in Kenya chose as raw material shiny black obsidian and white and green chert, rocks they had to get from distant sources or through trade networks. In another first, they chiseled red and black rocks, probably to use as crayons to color their bodies or spears—an early sign of symbolic behavior…. By analyzing artifacts over time at one site, the papers also show that these behaviors developed as climate swings intensified, supporting the idea that environmental variability drove innovation."
"American cockroaches thrive in cities, thanks to their incredibly long genomes" [Science]. "Compared with other insects, the genome of the American cockroach (Periplaneta americana) is the second largest sequenced to date after the locust… But the secret to its urban success may lie in another part of the genome. The American cockroach has genes that code for more than 150 scent receptors and 500 taste receptors, the most found in any insect so far. These, coupled with hundreds of other chemical receptors, are likely the reason cockroaches are such effective scavengers…" They'll be around long after we're gone….
Guillotine Watch
"This Couple Got Married at the Walmart Where They Met So Their Coworkers Could Come" [MSN]. "Originally, they were planning to get married in a private ceremony at home, but then they realized many of their coworkers wouldn't be able to get time off to attend. So they decided to bring the wedding to them. Naturally, their guests loved it."
Class Warfare
"How Cities Are Divided By Income, Mapped" (maps) [City Lab]. "Put simply: As the rich cluster together, the poor get poorer, because the effects of living in poor neighborhoods are passed down from one generation to the next. That's why dismantling economic silos within a city can boost its total well-being and economic health."
"Their Pay Has Stood Still. Now Oklahoma Teachers Could Be the Next to Walk." [New York Times]. "Across the state, teachers say they make ends meet by selling their blood plasma, or by working second jobs as luggage handlers, Uber drivers or in lawn maintenance."
News of The Wired
"Utah governor signs law legalizing 'free-range parenting'" [Deseret News]. "The bill, which Gov. Gary Herbert announced Friday that he'd signed, specifies that it isn't neglectful to let kids do things alone like travel to school, explore a playground or stay in the car." Good news!
"The Glory That Was Yahoo" [Fast Company]. Fun fact: "Thanks to its entrepreneurial instincts and strategic acquisitions, Yahoo was well ahead of the curve in nearly every internet category. But it failed to capitalize on its early leads, leaving the field to be dominated by later entrants. Yahoo Briefcase, for instance, did cloud storage long before the likes of Dropbox, Box, and Google Drive."
* * *
Readers, feel free to contact me at lambert [UNDERSCORE] strether [DOT] corrente [AT] yahoo [DOT] com, with (a) links, and even better (b) sources I should curate regularly, (c) how to send me a check if you are allergic to PayPal, and (d) to find out how to send me images of plants. Vegetables are fine! Fungi are deemed to be honorary plants! If you want your handle to appear as a credit, please place it at the start of your mail in parentheses: (thus). Otherwise, I will anonymize by using your initials. See the previous Water Cooler (with plant) here. Today's plant (WB):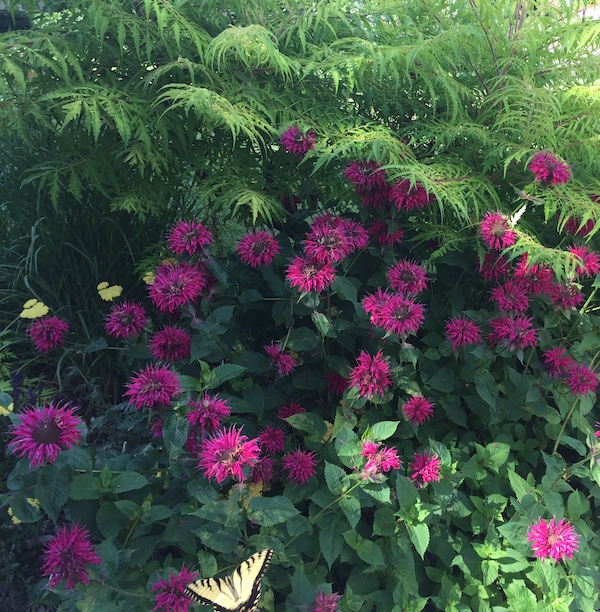 Bee balm and butterfly. Bee balm creates masses of color, as you see, and attracts hummingbirds as well as pollinators. It's invasive and requires no care. The perfect plant for me!
* * *
Readers: Water Cooler is a standalone entity not covered by the NC fundraiser. So do feel free to use the dropdown and click the hat to make a contribution today or any day. Here is why: Regular positive feedback both makes me feel good and lets me know I'm on the right track with coverage. When I get no donations for five or ten days I get worried. More tangibly, a constant trickle of small donations helps me with expenses, and I factor that trickle in when setting fundraising goals. So if you see something you especially appreciate, do feel free to click the hat!