Giraffes surprise biologists yet again PhysOrg (Chuck L)
See NYC's Most Adorable Predators: The Baby Peregrine Falcons At 55 Water Street Gothamist. NVI: "Scroll down for the video."
Putin made a show of crossing the new Crimea bridge. But he was upstaged by a cat National Post
Oklahoma Woman Mauled To Death By Pack Of Wiener Dogs CBS Miami (UserFriendly)
Why do we give dogs a better death than we give ourselves? Aeon (Chuck L). Because overwhelmingly people love their dogs. The motives of those dealing with people who are old or have chronic ailments cannot be assumed to be as pure.
The African Anthropocene The Bulletin of the Atomic Scientists (JTM)
Having Babies on Mars Is Going to Be a 'Titanic Challenge' DailyBeast (furzy). I continue to be amazed at this discussion. Mars has among other things, different gravity, radiation. as this article points out, light in a very different part of the spectrum due to atmospheric differences, and no greenery (greenery has been found to be important to mental health). People who live on Mars are likely not to live very long. Living in lead domes with pressurized air is probably as good as it gets.
CONGRESS' LATEST MOVE TO EXTEND COPYRIGHT PROTECTION IS MISGUIDED Wired
In defense of fish parasites Salon (Dr. Kevin)
North Korea
Trump's Newest Threat To North Korea Makes A Deal Impossible Moon of Alabama (Chuck L)
The Scot behind firms which laundered $7 billion out of Russia David Leask and Richard Smith Herald Scotland. That's our Richard Smith!
India is freaking out about rising oil prices CNN (Kevin W)
Why Germans Are Getting Fed Up with America Bloomberg (UserFriendly)
Syraqistan
'Killing Gaza': A New Documentary on Palestinians Under Siege Real Network

Gaza massacre ends American political oath: Israel support is bipartisan Mondoweiss. Chuck L: "I hope this is spot on, but I'll believe it when I see it."

How Europe Can Keep Money Flowing to Iran Bloomberg (furzy)
Big Brother is Watching You Watch
Google Removes 'Don't Be Evil' Clause From Its Code of Conduct Gizmodo (Chuck L)

Steve Wozniak tells us 'We've lost our privacy and it's been abused' Business Insider (Kevin W)
Trump Transition
CBC endorses Capuano in Massachusetts Democratic primary Politico (Shane)
GOP revolts multiply against retiring Ryan The Hill
'This Bill Is Killing Us': 9 Sex Workers On Their Lives In The Wake Of FOSTA Huffington Post. UserFriendly: "I was so pissed that Bernie voted for this.​"
Health Care
"He also sent a text to a nurse that said, "You need to make this patient go bye-bye," –> He's being put up on a whole bunch of fraud charges. Where's the murder charge? pic.twitter.com/YDwXd5AE8q

— Matt Stoller (@matthewstoller) May 18, 2018

Congress and regulators slow to respond to drug pricing and shortage problem The Hill (UserFriendly)
Gunz
Alleged shooter at Texas high school spared people he liked, court document says CNN

'No Way To Prevent This,' Says Only Nation Where This Regularly Happens The Onion. Bob K: "The Onion runs this piece every time there's a mass shooting. They must be up to 20 by now."

Parkland school mass shooting survivor David Hogg after Texas high school mass shooting:

"Get ready for two weeks of media coverage of politicians acting like they give a shit when in reality they just want to boost their approval ratings before midterms."

— Micah Grimes (@MicahGrimes) May 18, 2018

The Gun Controversy Is Smaller Than You Think Bloomberg (furzy)

Authorities trying to determine how a box of ammunition fell from a military helicopter and crashed through the roof of a Texas school. https://t.co/Mp5e7mAkyk

— The Associated Press (@AP) May 18, 2018
Black Injustice Tipping Point
Call Them by Their Names FAIR (UserFriendly, Chuck L)
Fake News
Time to ditch Wikipedia? A look at a Wikipedia editor's long-running campaign to discredit anti-war campaigners and journalists Five Filters (Chuck L)

Sinclair Broadcast Group Faces Backlash Over Scripted Promos: 'This Is Extremely Dangerous to Our Democracy' Variety. Robert H: "Interesting video compilation."
The Truth About Banking: Former Top Regulator Speaks Out Epoch Times (Chuck L)
Maersk to Cut Services as It Battles Shipping Glut Wall Street Journal (Kevin W). Lambert has featured this story in Water Cooler.
Companies including Symantec are using 'ghost revenue' to calculate bonuses MarketWatch (Chuck L)
Guillotine Watch
Resentment of Crazy-Rich Americans Isn't Just Envy Bloomberg (UserFriendly)

It's a fairytale for the modern age. An age filled with flying deathbots and murderous inequality Guardian (Dr. Kevin)
Class Warfare
The fallacy of GDP as a measure of prosperity: prison expenditure counts, but housework doesn't South China Morning Post (furzy). Another take on a long-standing issue.

Home Depot Employees Are Broke, Sick, and Disappointed SplinterNews (furzy)

Illegal Repo Practices Adam Levitin, Credit Slips and the underlying story: The surprising return of the repo man Washington Post (J-LS)
Antidote du jour (Ray P). From this Tweetstorm, with more snow leopards munching on their tails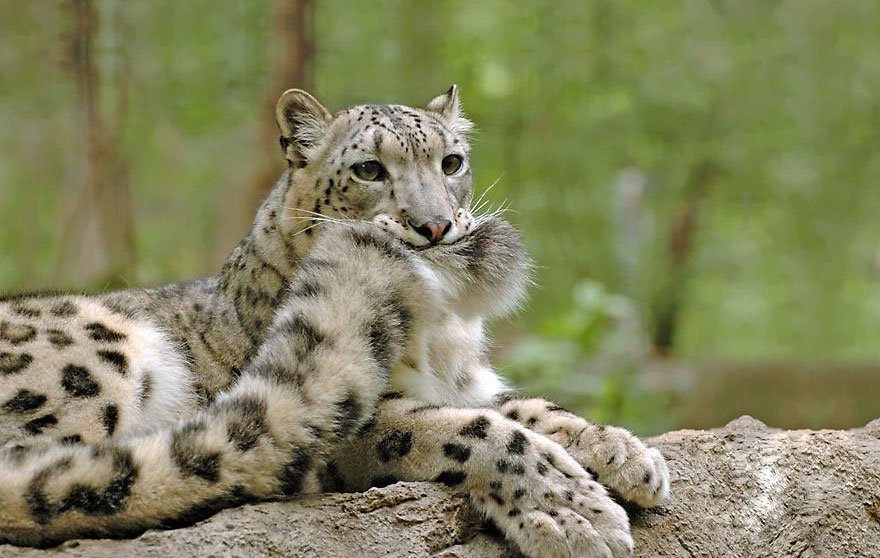 See yesterday's Links and Antidote du Jour here.